Eating in right proportion and making sure that we include every important nutrient in our meals is very necessary. Not only adults, we have to even see that our kids are eating properly and getting the required nutrients from their daily food. Most of us face problems in feeding our family green vegetables, especially the leafy vegetables which includes Spinach, Fenugreek Leaves, Amaranth Leaves etc. Some of us prefer eating these vegetables but some don like it due to their bitter taste.
What to do in such case? How to feed your family the green vegetables? How to make sure they are taking in the necessary nutrients?
Well, we have an answer to all your questions. We have some gravy recipes which you can make on a daily basis which includes these green leafy vegetables. These curries are absolutely delicious and each and every curry has a different and unique taste. Some of them are with onion and garlic which adds a flavour to the curry, while some are without onion and garlic which tastes equally delicious and can be eaten on festivals or during your fasting days. These curries belong to different Indian cuisines and have a different due to the use of local masalas. Palak Paneer is made in North Indian Style which has whole spices and the day to day masalas whereas Puli Keerai has tamarind and curry leaves. Due to its different taste and texture, you can make these curries often at home and make your family fall in love with the green vegetables.
We all love this curry! Cubes of paneer in rich spinach gravy are absolutely delicious and are found on every restaurant's menu card. So why to wait? Make this delicious curry at home with the day to day ingredients. In this recipe, spinach is steamed, pureed and simmered along with subtle spices and cottage cheese (paneer). Along with the richness of protein in the paneer and vitamins and minerals in the spinach, it makes it a wholesome, healthy and low-fat dish.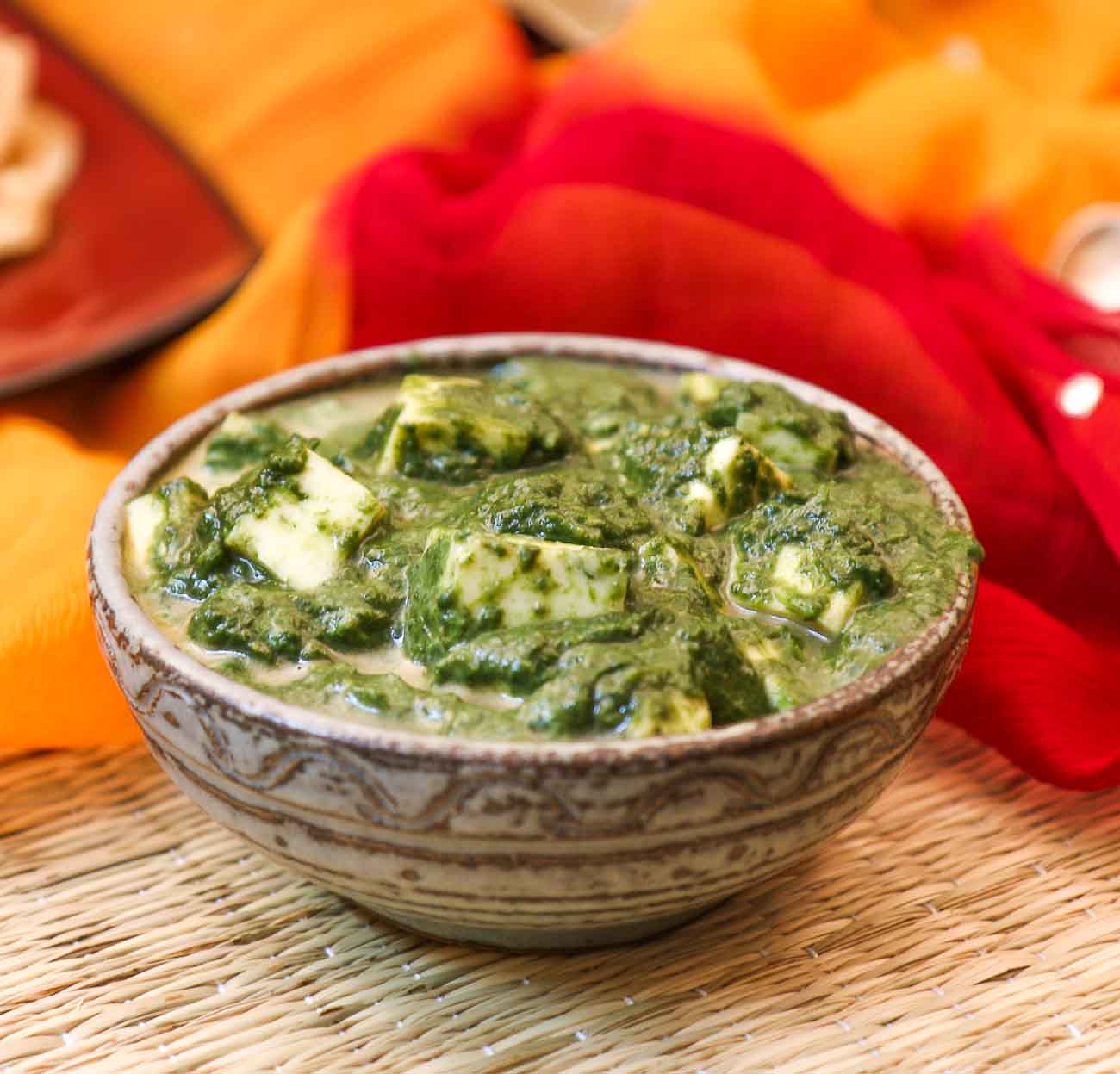 Who has not heard about the every famous 'Sarson Da Saag' and 'Makki Di Roti'! It is a very traditional winter recipe from North India made from a mix of greens like mustard leaves, spinach leaves and bathua. The most important greens for this recipe is the sarson, also known as mustard. I sometimes combine it along with spinach and methi as well or sometimes just spinach, based on the availability of the greens. Serve the Sarson Ka Saag along with a Spiced Corn Flat Bread which is known as Makki Ki Roti.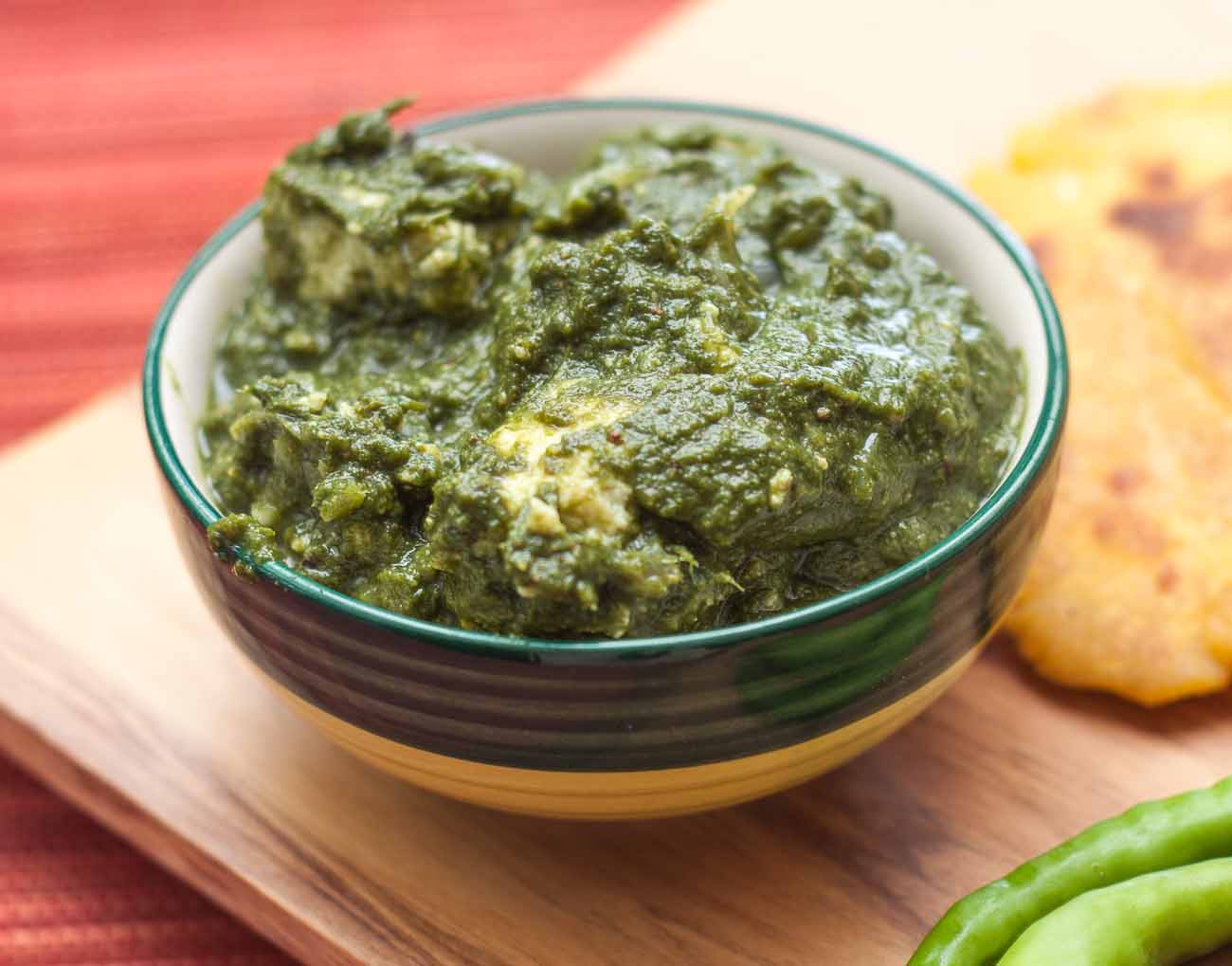 Just like Palak Paneer, Palak Matar is very flavourful yet simple recipe to prepare. The simple spices used in it render a beautiful flavour and aroma to the dish. Spinach is a super food loaded with nutrients and along with the sweet and delicious green peas makes it even more nutritious. Make sure, you prepare the tadka with ghee to bring out the smokiness and make it even more delicious.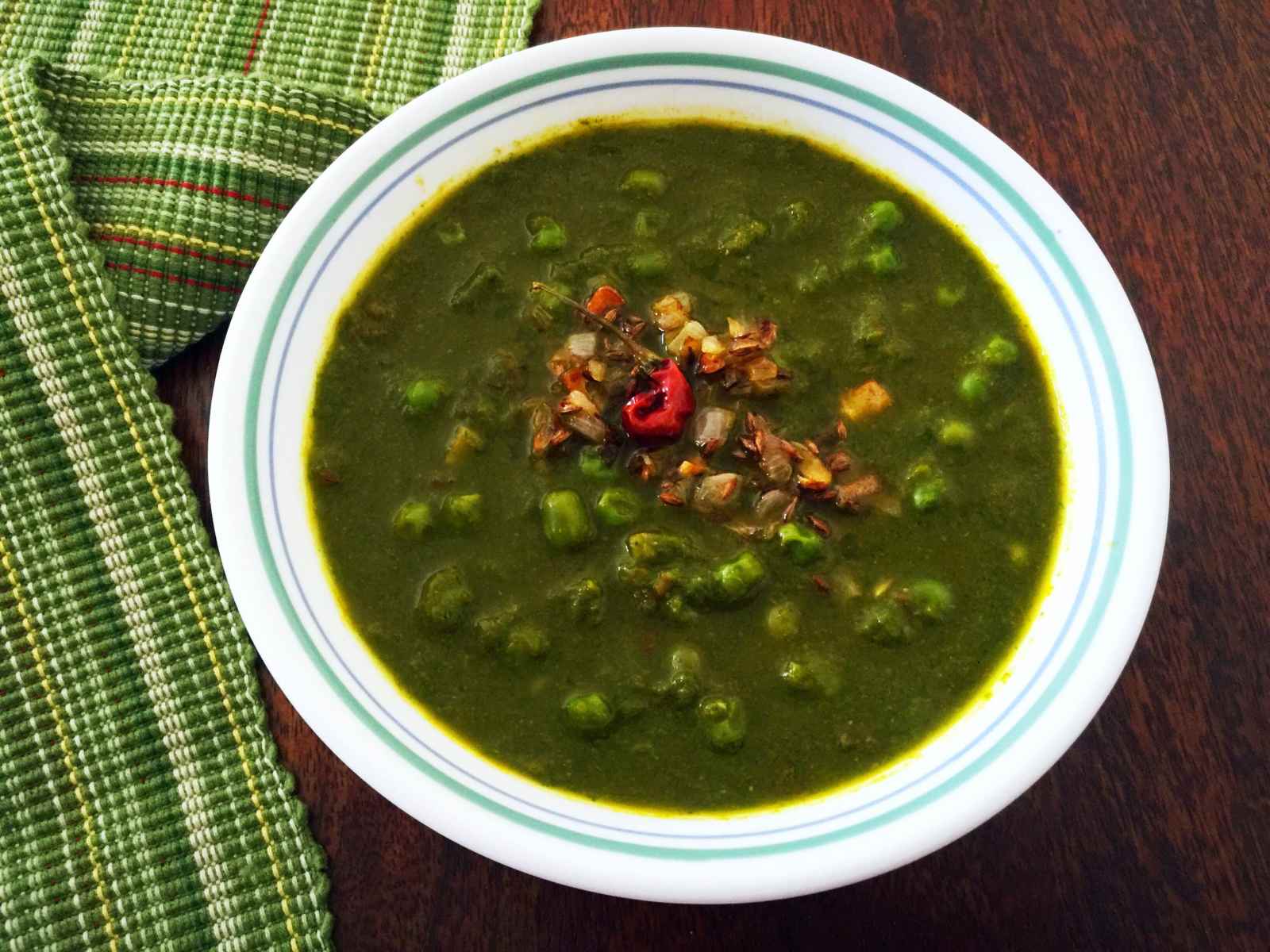 This recipe is a rich and flavourful vegetarian sabzi made with paneer. Hariyali in Indian language means the colour "Green" which comes from the gravy made with a combination of coriander leaves, mint leaves, green chillies and ginger. The combination of everything green, sounds delicious right?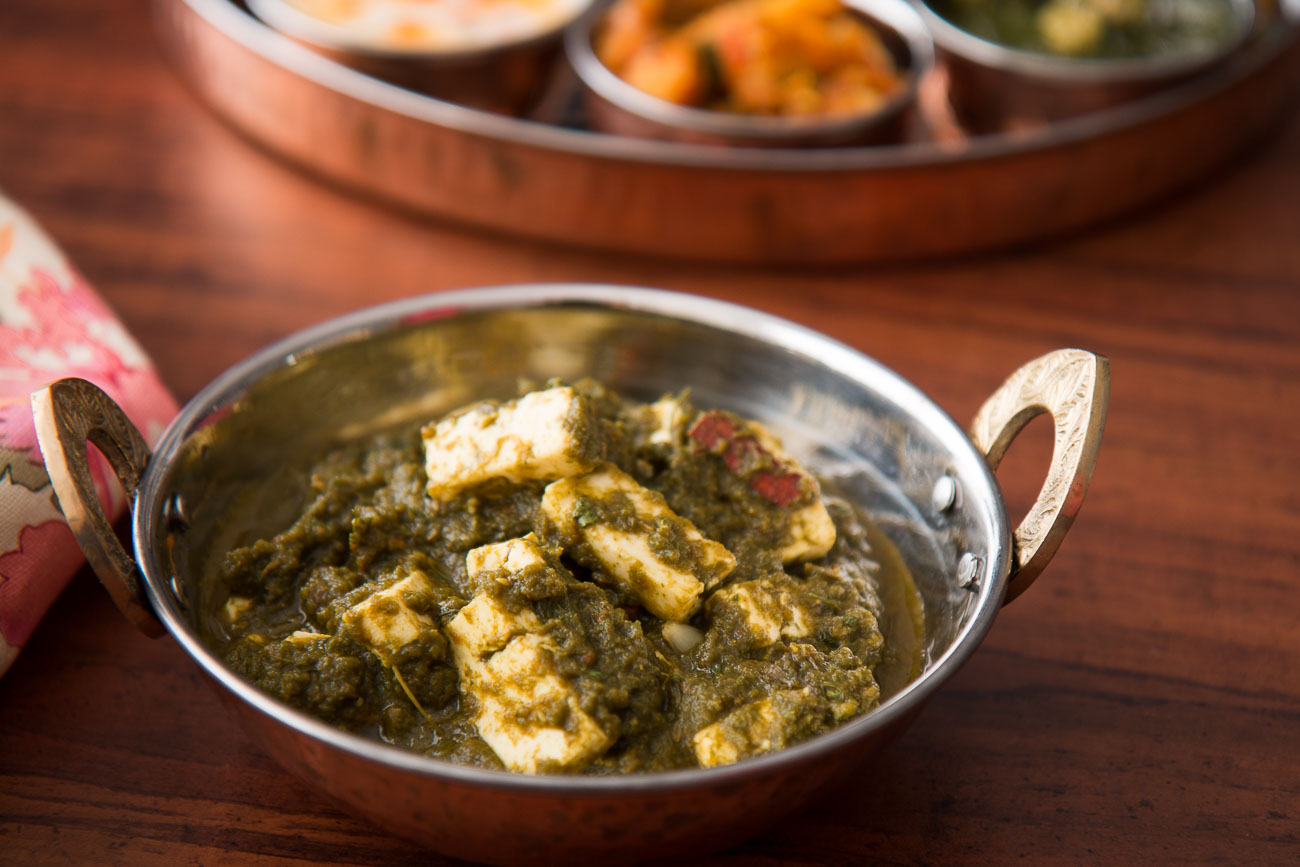 It is a North Indian gravy made with roasted makhana blended in a creamy palak gravy. This is a dish that is famous during the festival of Navratri where people fast according to their tradition. Since there is no onion and garlic added, it makes a perfect dish to be eaten while fasting.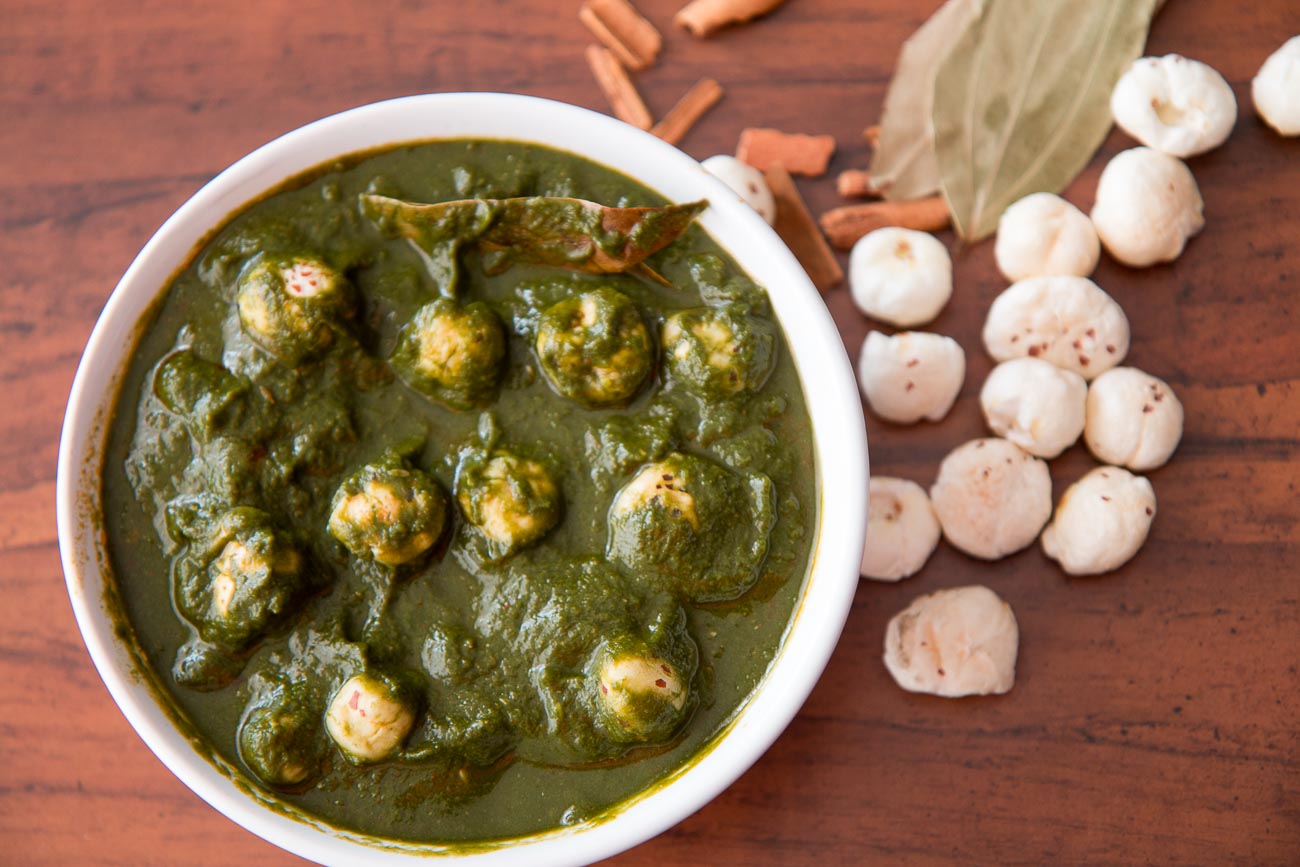 It is a delicious combination of corn, spinach, and spices. This dish is made without onion and garlic and serves as a great side dish with phulka or pulav. The freshness of spinach makes this dish even more tasty and flavourful.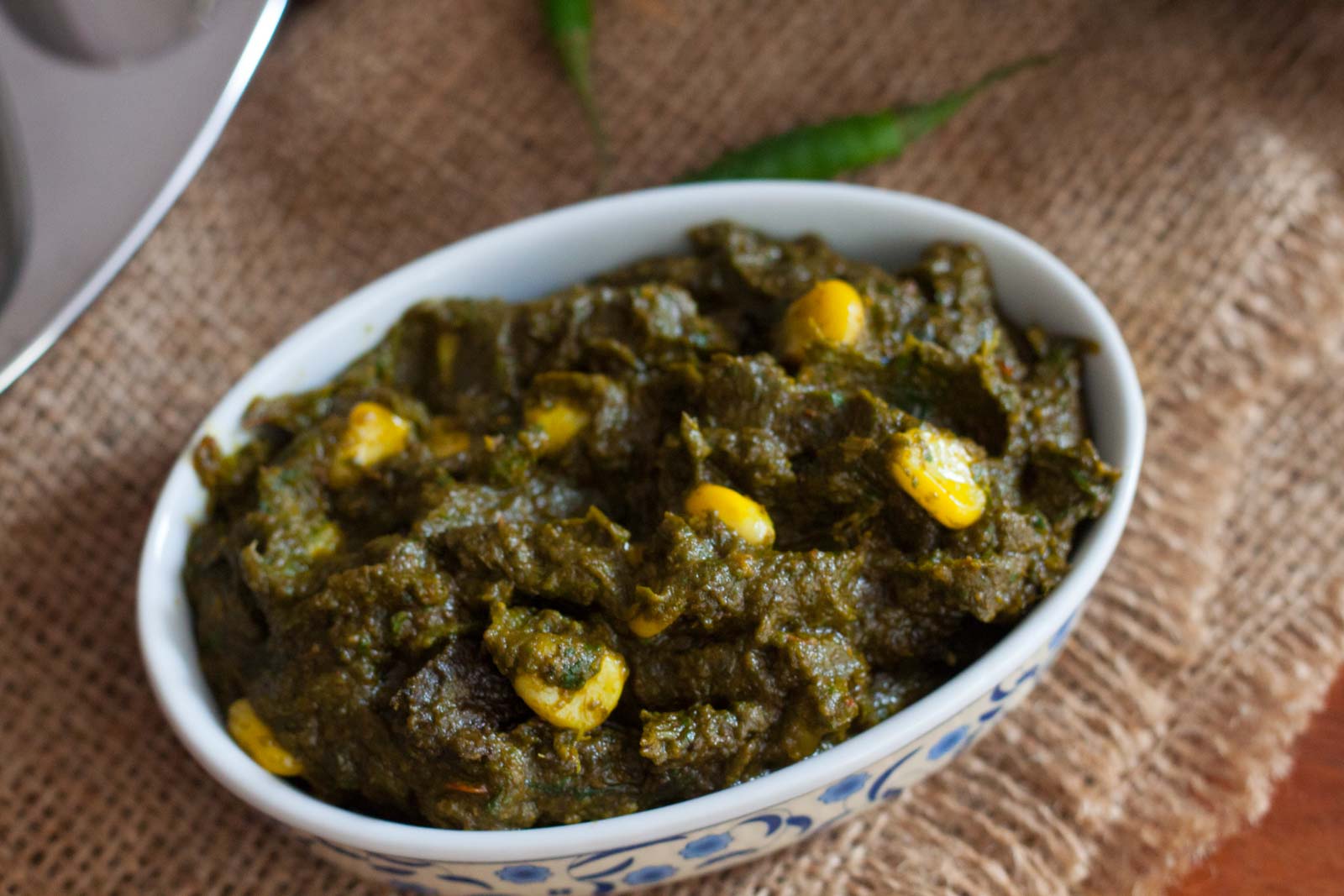 Puli Keerai is a traditional South Indian Recipe that serves the main course. It is more like a sambar or rasam that goes well with rice. Puli Keerai is a simple recipe that doesn't need any special ingredient. The spinach that is used gives a good amount of iron to the body. It is flavoured with tamarind and other masalas and then tempered with mustard seeds and curry leaves.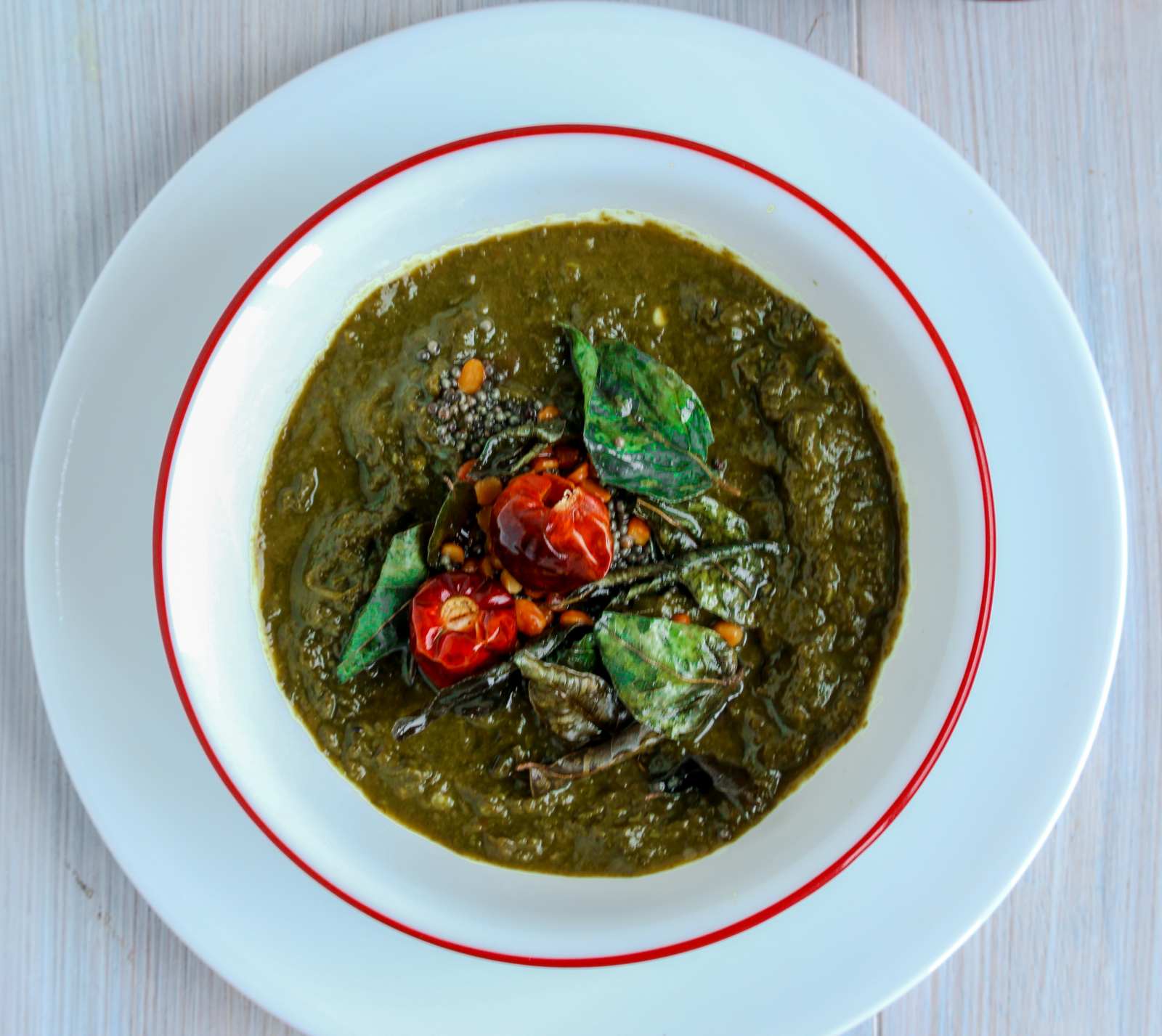 This is a western version of koftas cooked in a luscious green curry made with a blend of coriander and mint leaves. The curry has a bursting of flavours when seasoned well with some dried oregano and cinnamon powder. The thick creamy texture is acquired by the addition of coconut milk in the curry. The Koftas are made from sweet potato and spinach and is fried till crisp. The koftas are then dunked into the flavorful curry.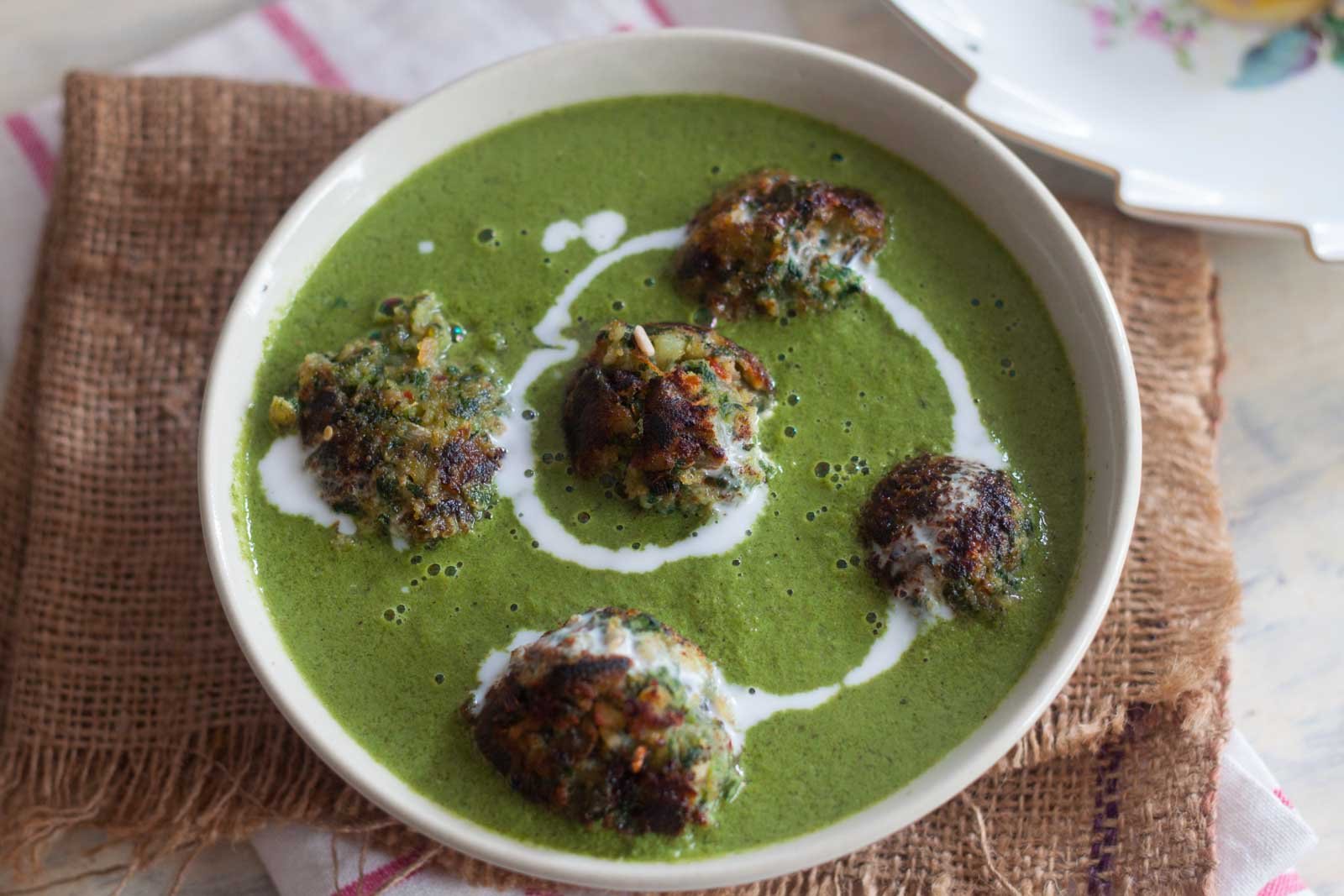 It is a speciality from Himachal Pradesh. Split Black Urad Dal dumplings are first steamed and then fried. They are then added to the Spinach-Curd gravy, that is flavoured with basic spices powders and whole spices. Addition of dill leaves and saunf powder makes this recipe different from the usual palak gravy dishes.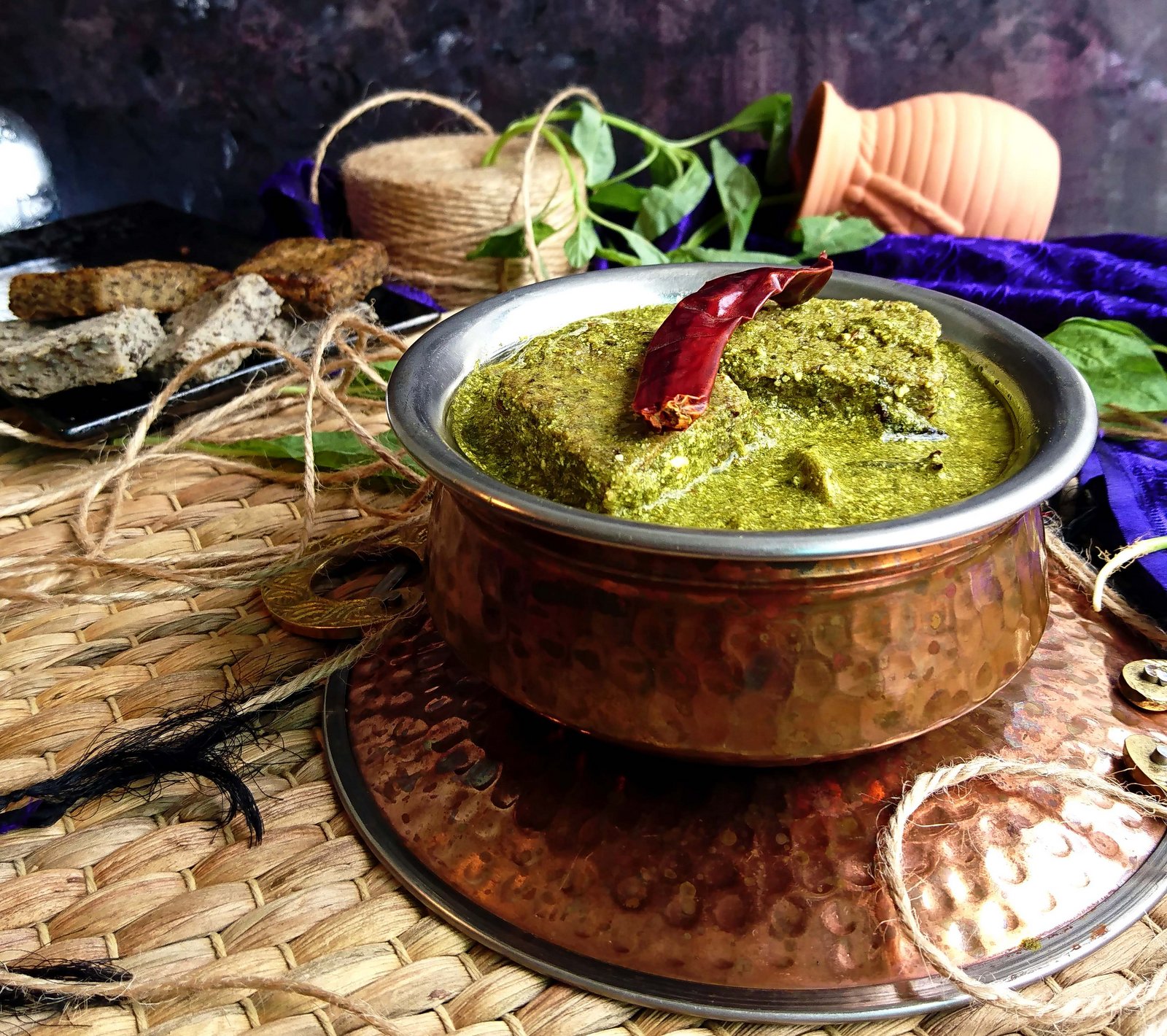 It is one of the popular side dish recipes with paneer in the creamy fenugreek & spinach gravy. Methi leaves are used in different curries because they are so much flavourful and very healthy. This gravy is prepared by blanching equal amount of fenugreek leaves and spinach leaves and grinding them to fine paste for curry. The curry is prepared using mustard oil which adds more flavour to the curry. Saag Tofu- This recipe is a twist to the traditional Saag Paneer.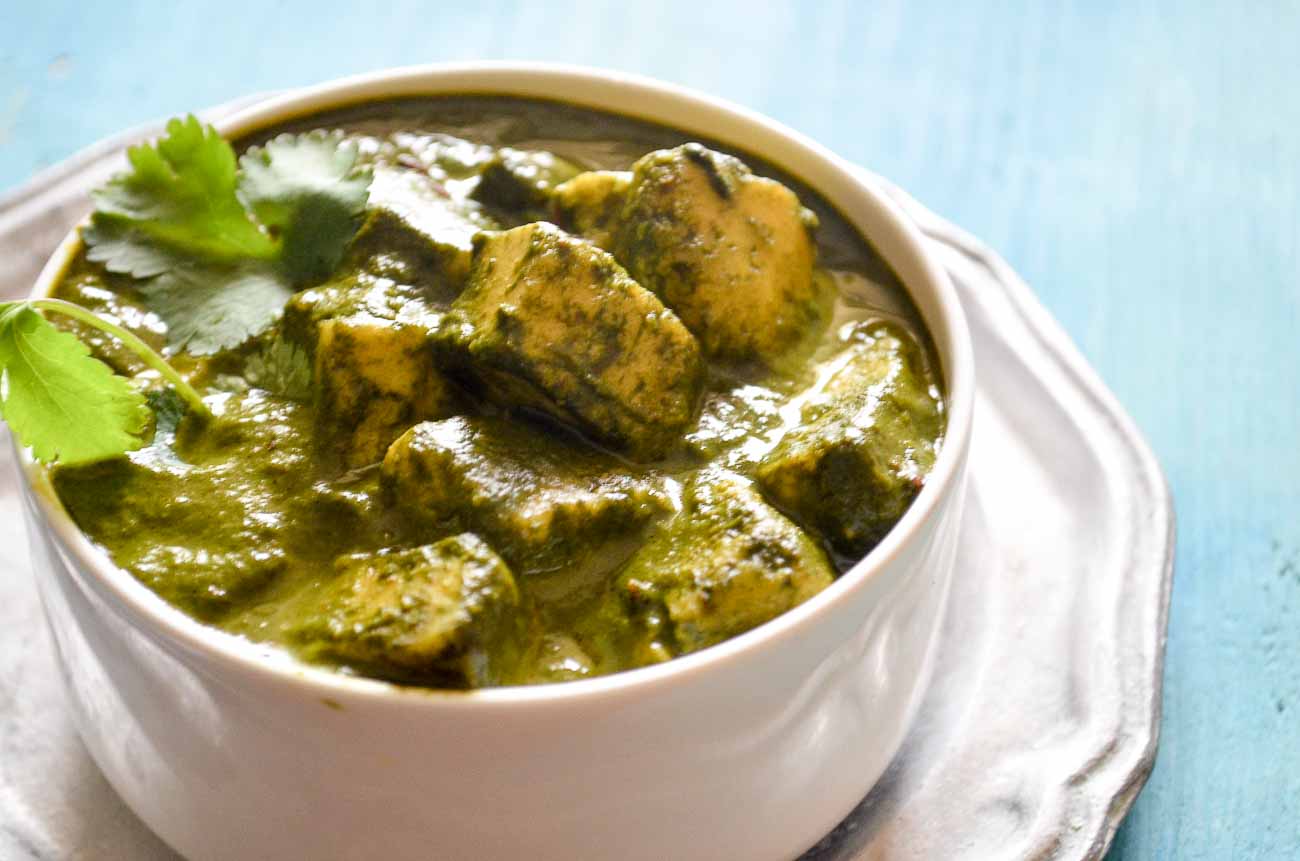 This recipe is a twist to the traditional Saag Paneer. Saag, is a spiced North Indian dish that is made from fresh greens, like mustard leaves and spinach leaves. The addition of garlic, and ginger along with garam masala brings out the flavours of the delicious and classic recipe.