Our eating habits have changed dramatically in recent times with availability of ready to eat foods in the market which are lip smacking tasty.
In addition with our increasingly fast paced lifestyles, we have begun to fill ourselves up with highly processed foods like pizza, chips, biscuits, desserts, aerated drinks, foods from a roadside vendor/ street cafe for convenience.
This is happening sometimes purely due to lack of time but a lot of times due to easy access to these foods and snacks. It is hard to avoid such foods in our everyday lifestyle, but what is possible is, to understand how can we moderate the consumption of such processed foods by exercising portion control in our daily meals. There is plenty of research on how large portion sizes can have an impact on health.
To effect change, the key is to change the way we snack and eat our everyday meals mindfully keeping portion sizes in mind. In addition to this, it is important to understand and implement ways we can replace junk and unhealthy foods with healthier snacking options.
Understanding Mindful Eating
When babies are born and begin feeding, they are known to eat when they are hungry and stop feeding when they feel full.
But as we grow up, we tend to be exposed to a lot more food, fad diets, irregular meal times, work pressure, stress, lack of exercise and a whole lot more. These changes to our lifestyles incites us to overeat, thereby making us unable to stop eating when we are actually full and in turn throws the entire cycle of eating into a tailspin.
When we consistently overeat, even if it's healthy food, it tends to leave us feeling a bit tired, sluggish and eventually overtime throws our body weight and health off the charts.
When it comes to keeping good health, losing weight or even fighting lifestyle related diseases like diabetes, hypertension, high cholesterol and more - maintaining and eating the right portion sizes which includes, adding the right food groups in our diet plays a key role.
Portion control along with mindful eating is one of the core essences of good nutrition, apart from the micro & macro nutrients we add to our diet. It is not about losing weight or counting calories. It is a healthy habit we can adopt to develop a positive relationship we have with our food and our body.
Also, for maintaining good health, apart from eating mindfully it is also important to maintain an active lifestyle by incorporating everyday walks, yoga and strength training in our daily routine.
How Does One Measure A Portion
A portion is the amount of food you serve on your plate. It is the amount of food that your body needs during a meal or a snack.
It can be hard to measure every portion of the food you eat but yet there are some simple ways to know if you are eating the right portion sizes.
One of the keys to mindful eating is to eat the right foods when you are hungry and stopping when you your mind says its full or is getting full. Hence it is vital to pay attention to your portion size when watching your diet. In addition, paying attention to your portion size and eating a balanced meal will give your gut enough time convey the signal to the brain that you are satiated and are getting full.
To get a feel for how much carbs, protein, fats and veggies to have in a meal, use the plate or a palm rule to measure out portions. You will find many examples below on various ways to eat more mindfully in the right portions that your body needs.
Let's Look At Ways To Exercise Portion Control In Our Everyday Diet
1- Include Right Food Groups In Your Everyday Meals
Eating Healthy begins at home. The food we cook at home from Roti, Dal, Sabzi, Sambar, Rasam, Kootu, Curry, Poriyal, Palya, Kuzhambu, Saru, Chutney, Dahi, Chaas, Pickle etc are exactly what we should be eating everyday.
Making your food healthy is about using the right cooking techniques, right ingredients and cooking with fresh seasonal ingredients. In addition we need to limit the consumption of pre-processed foods for snacking as well as during the process of cooking.
What we miss a lot of times, is to include the right food groups in our everyday meals. The question we must ask ourselves everyday is "How do I cook and eat a well balanced meal?".
Most often, a typical Indian meal plate can have one Sabzi, one Dal, 3 or 4 Roti, a bowl of rice Rice, salads like kachumber, Chaas/ Dahi. Often this makes a great meal. If you are doing this already, then you are halfway there.
A great way to think of planning a menu for a meal, is by cooking a variety of dishes and adding colors to your plate. Your plate should look colorful and include food from the various food groups. This ensures your body is getting the adequate nutrition.
Once you have included the right food groups in your meal, it's important you exercise portion control so we don't over eat. One of the ways, we can ensure we can incorporate the right portion sizes is by using measures which are practical and something we can sustain.
For example, using slotted thali plates (image below) or using katories helps us in measuring the portions of the food. The slotted plates also ensure that you cook a variety of dishes for as many slots/ cavities that are there in the slotted plate. Slotted plates also ensure that you eating only what you have served yourself on the plate.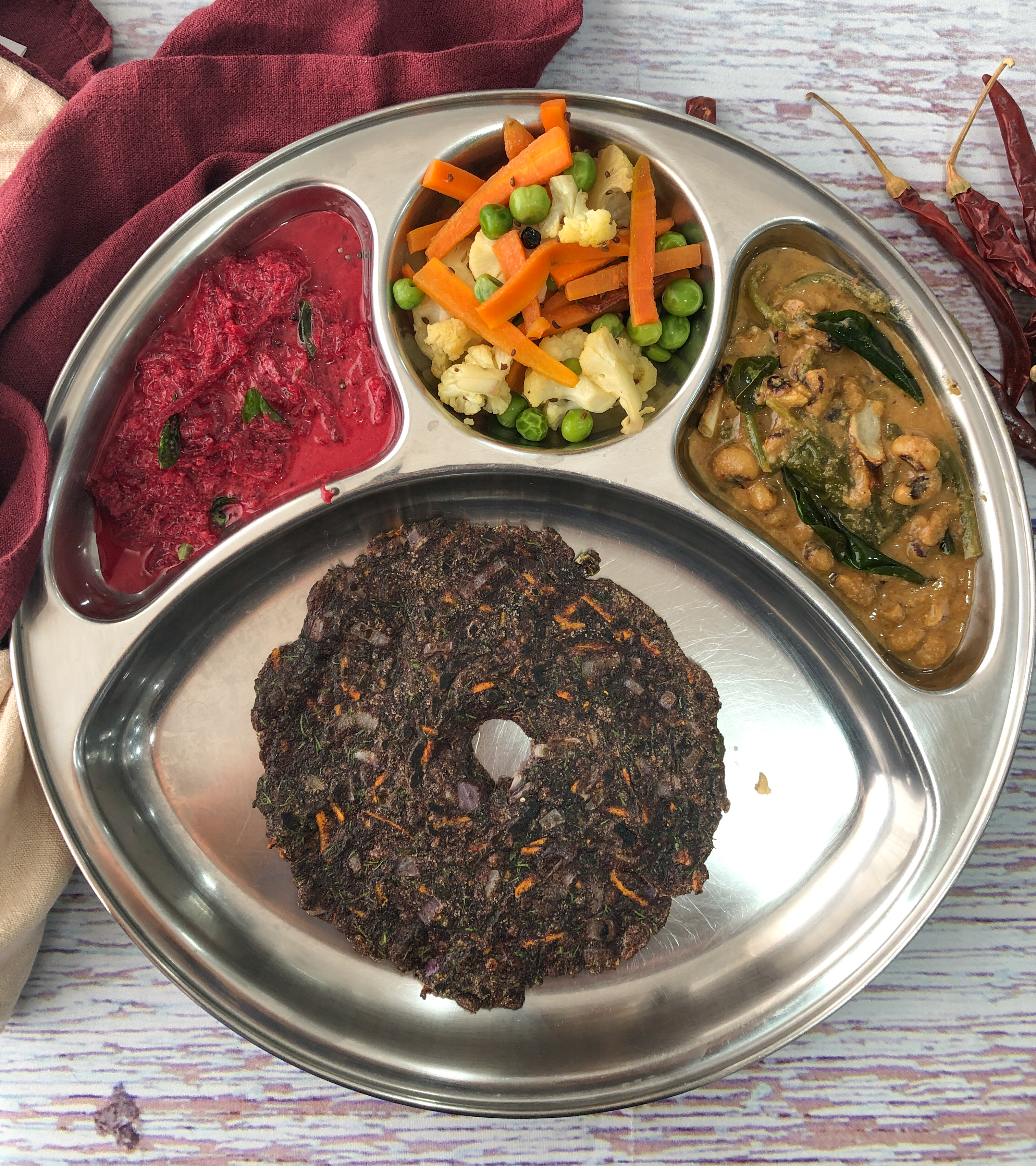 Below are some of the important food groups you can pay attention to when you are cooking a meal at home.
Protein
Proteins are essential building blocks that help the body build and repair tissue, muscles, cartilage and skin, as well as pump blood. Most Indian's fail to meet their daily protein requirement in their everyday diet.
Research suggest that about 30% of your daily diet should consist of protein. Proteins can be in the form of whole dals, paneer, tofu, chana, rajma, milk, dahi, green vegetables, eggs, sprouts, chicken or fish.
Therefore, having one helping of protein based dish with every meal is essential for maintaining good health. Protein rich foods, help you keep fuller for longer, as your body takes its time in digesting them.
Having adequate protein during you meals, slows down the digestion process and helps us feel more satisfied and less likely get quick bout of hunger pangs during the day.
Fats
There are good fats and bad fats and most often people tend to avoid any food that is fatty. As a general principle it is a good thing, but our body does require a certain amount of fats and here's why. Dietary fats are essential to give your body energy and to support cell growth. Fats help protect your organs and are essential for the body as they synthesise hormones, store vitamins and provide energy.
Research suggest that your diet must comprise of healthy fats – polyunsaturated, monounsaturated and Omega-3 fatty acids. Using restricted quantities of ghee, mustard oil, coconut oil, sesame oil, groundnut oil, sunflower oil or even rice bran oil is the most optimal way to consume fats. In addition, there are many foods we already eat - milk, curd, eggs, chicken, fish; all of them also contain good fats that are important for our diet.
What is important to note is to avoid deep fried foods and highly processed foods which contain a lot of trans fat.
Once again, it is important to exercise portion control in the amount of healthy and unhealthy fats we eat. If curd is healthy, it does not mean we live on a curd diet and eat more than our body can take. If ghee is good for us, it does not mean we cook in ghee and eat only ghee rich foods. Eating all fats in the right portions is extremely important.
And that portion, is something you can determine based on your body type, your requirement for health and suggestions given by your nutritionist or doctor.
Carbohydrates
Carbohydrates are important for the body, as it is one of the main sources of energy.
It is important, to choose and eat the right kind of carbs. Avoid carb rich processed foods like bread and biscuits which are also known to be simple carbohydrates. When making rotis, parathas, make your atta multigrain by adding flours like ragi flour, jowar flour, bajra flour which are whole grain flours that contain complex carbohydrates.
If you are a rice eater then opt for brown rice or millets which have more fibre and nutrition. If you are making dosa batter, then add millets like ragi, bajra, jowar to increase your fibre content.
Adding fibre rich carbohydrates, packed with nutrients also known as complex carbs to the diet helps slow the digestion process and keeps you feeling full for longer.
Vitamins & Minerals & Fibre
Vitamins and minerals especially Vitamin A, E, B12, D, Calcium and Iron are essential for the body. Vitamins and Minerals help in better metabolism, muscle function, bone health and cell production.
It's important to include a good portion of fruits, vegetables, green leafy vegetables, colourful salads, nuts, dry fruits through the day either in your meal or during the mid morning snacks or the evening snack.
Include a lot of raw vegetables in the form of salads in at least two meals. Indian salads are great, because they are simple and quick to make and can be made tasty and chatpata with locally available ingredients. Adding raw vegetables and fruits in your diet will also ensure you get the adequate fibre your body needs to stay healthy.
2- Eat Slowly
Eating slowly is often ignored when we are sitting for a meal with family on a table or when we are having lunch at office or even at a restaurant. When there is a lot of food kept on a table, or when there is a lot of work on your mind, we tend to eat fast and in the process miss maintaining portion sizes.
Research has shown that it takes 12 or more minutes for food satisfaction signals to reach the brain. By eating slowly you can ensure you are giving enough time for these important messages to get communicated between the gut brain and the main brain.
The benefits of slow eating can bring in a lot of health to our lives and one of the simplest things we can practice. Chewing well and eating slowly helps in better digestion. Eating slowly, also helps us be mindful about our portion sizes which help in weight loss or weight maintenance.
On the other hand, eating quickly leads to poor digestion, increased weight gain, and lower levels of satisfaction that we have eaten enough.
3- Being Mindful About The Food Your Eat
Being mindful is an exercise which is very important to practice in today's times. Our lives our fast paced and packed with various activities and duties we need to perform during the day. During this process, we tend to forget the most important parts of our day - which is meal and snack times. We tend to pay less attention to it and try to pack in activities which keep our mind stimulate with everything else but food.
Here is where being mindful about the food you eat comes in, which can help you lead a healthy lifestyle.
A great way to be mindful about what goes into your body is to keep the mobile phones, TV, books, newspapers and the miscellaneous distraction out of your sight or the dinner table.
If you are at home, with the family, ensure that you have a well laid out table with plates and spoons, and food is laid out on the table in small serving bowls. These small tips help bring mindfulness into what you eat and how much you eat. Your focus is on your food and the time you spend with your family. You know what you are eating and what is going into your plate and your body.
If you are at work on your desk, then closing your laptop and keeping your phone turned facedown will help you focus on the food in your lunch box.
Having the least amount of distractions help us focus on the food we eat, helps us be in the moment with family, friends and colleagues and most importantly help us eat portion controlled meal.
4- Lets Get Started!
By putting the above principles to practice with focus on the quality of food and not on the quantity, we can all walk towards a future of good health. Keep in mind, apart from eating right, it is also important to be active, get some exercise everyday and also strength training if you can.