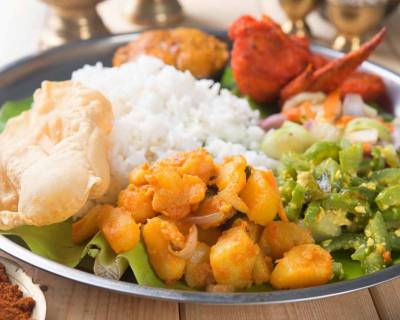 Know More About Tamil Nadu Cuisine And Its Traditional Recipes
We all get reminded about Masala Dosa, idli, vada when we talk about Tamilnadu Cuisine, but there is a lot more than idly, vada, dosa, and sambar. The food is very and will make your taste buds go crazy. In Tamil Nadu has a lot of sub-cuisine in them like Karaikudi, Chettinad, and kongunadu.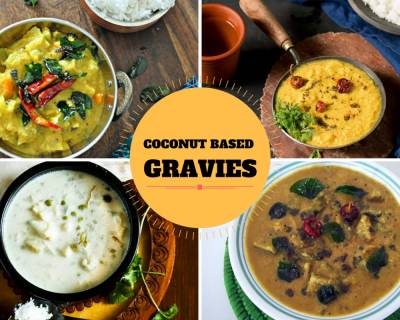 26 South Indian Coconut Based Curries Which Will Make You Crave For More!
The combination of vegetables, dry spices and coconut is to die for! The rich taste, flavour and the aroma of these coconut based gravies can make anyone hungry. Coconut based gravies are majorly made in South Indian and Goan households and are served along with steamed rice and a dollop of ghee. The Coconut gravies are either made with the use of fresh grated coconut or coconut milk. Coconut milk is made by mixing the grated fresh coconut with water and then the milk is squeezed through a cheesecloth.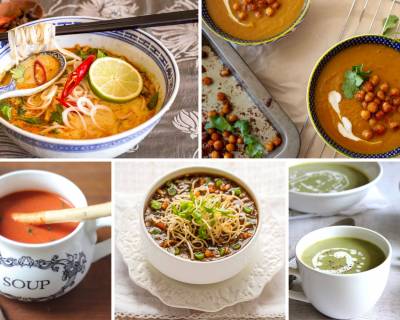 Soup Recipes That Are Healthy, Easy & Make A Complete Meal
Soups are commonly enjoyed before a meal as an appetizer - it is a liquid food where we cook the meat or vegetables in water and add few spices to them to give a good flavor. Soup is an important dish to a meal; like salads, soup also has many health benefits that do good to our body. Few even follow a diet where they just consume soup which is a healthy diet that can be followed, it might sound difficult but it works out pretty well.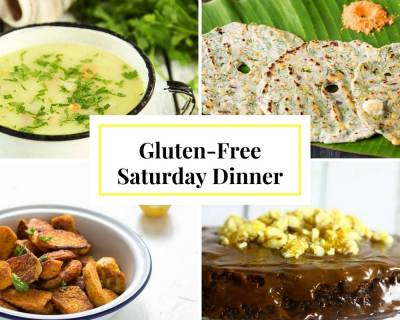 Gluten-Free Dinner Idea For This Saturday
Gluten is a composite of proteins found in wheat, barley, rye and other closely-related species. Though wheat stands next to maize and rice as staple food of the world, some health problems arising due to its gluten content cannot be overlooked. Long term consumption might bring gluten-related disorders like coeliac disease, gluten sensitivity and certain allergies relating to digestion and skin. Gluten-free diet improves general digestion and avoids the possible effects of gluten-containing foods.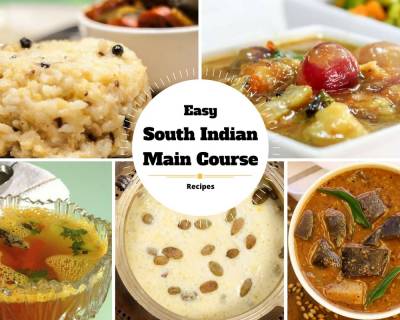 Easy To Make South Indian Main Course Recipes for Beginners
The newlywed couple needs to work together in the kitchen to achieve harmony. Daily chores go on smoothly only when all members of the family work in sync. Too busy in studies and career, young women might be aware of basics of cooking and might want to learn more once everyday cooking begins. Also, this Aadi masam/ Ashaada maasa* could be tough time for South Indian grooms having blessed with pro cooks as wife. Now that the new wife is off to her parents' place, it could be tough to cook just about anything like in bachelor days. It is always good for amateur cooks to try new recipes and get perfect with their cooking skills and get used to cooking.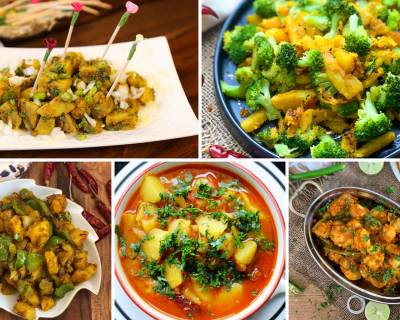 190 Potato Recipes | Aloo Recipes - Traditional, Easy, Healthy & Tasty
Potatoes are considered to be the best comfort food for all let it be in any form, a lot of us simply indulge in them. Potatoes are a staple food in many countries and is consumed in very large quantity all around the world. It is a vegetable which is easy to store and use and one can easily whip up a quick dish out of potatoes and serve them immediately when we have sudden guests over.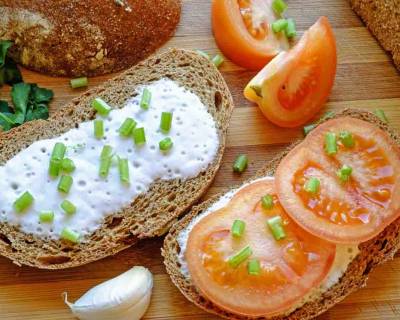 45 Healthy Yogurt Recipes for Any Meal
Yogurt is a favorite dairy product for most of us. You can have a yogurt plain or you can whip it along with fruits or sweeteners by spoon of sugar or honey to it. Yogurt is produced by fermenting milk with a starter culture like Lactobacillus bulgaricus or Lactobacillus casei. These beneficial bacteria are known as probiotics that are known to improve digestion and prevent common gastrointestinal disorders. Read more about the benefits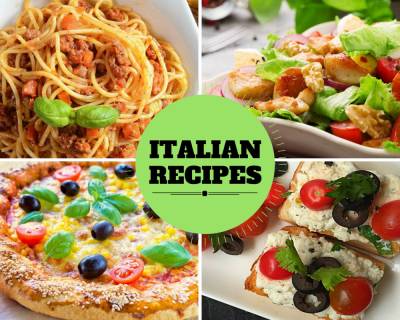 70 Lip Smacking Italian Recipes Which You Can't Resist Eating
Someone has rightly said, "The trouble with eating Italian food is that five or six days later you are hungry again" and you can't just resist that craving. It's a fact that everyone loves Italian food, whether he/she is a kid or an adult. From Pizza, Pastas to Soups, this cuisine offers such a wide variety of food which is absolutely delicious. Traditionally, Italian cuisine includes ingredients like breads, tomatoes, all kinds of meat, fish and cheese and the combinations of these food items are just amazing.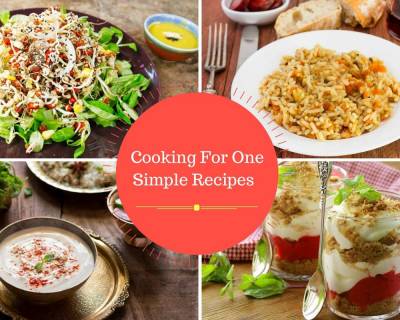 Whip Up A Carrot Pulao, Burani Raita & Salad For Yourself & Look Out For A Surprise Recipe Inside
So let's make cooking for just one exciting. This week, we have an exiting and yet simple menu that you can whip up in 45 minutes with a little planning. Apart from the Carrot Pulao, Raita and the Bean Sprout Salad, you have not just added the vegetables, but also the vitamins and protien to make a complete meal. And what is most fun is the treat that we can give ourselves once a week with a Fruit Trifle. So go ahead, make the recipe for yourself and if there are leftovers, dont forget to take it to school/ college or work and share it with your friends.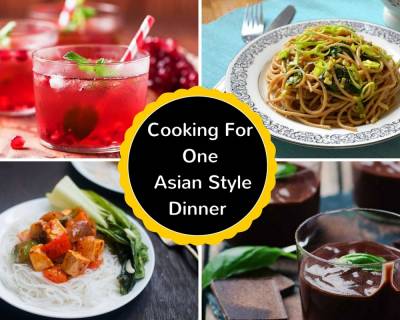 Love To Cook For Yourself? Try A Fancy Asian Style Dinner For A Weekend
Have you planned for your special this week, if not yet here is a menu idea which you can try for yourself this week? Fold your sleeves and get ready with all the ingredients you want for your solo night. Here are few recipes that have starter, main course and dessert recipes that can be prepared and served to make your solo night easy and happy.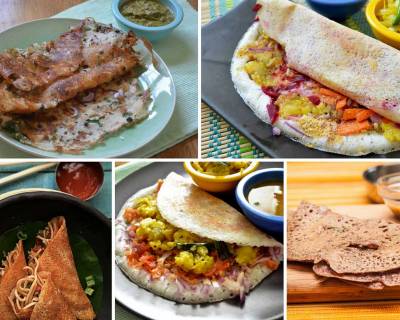 67 Dosa Recipes You Will Love - Variety Dosa | Masala Dosa | Instant Dosa
Dosa is one versatile South Indian food which comes with the goodness of one of more pulses and fits in almost any time of the day. This Indian pancake recipe prepared usually from the fermented batter of lentils or black gram and rice. Dosas can be prepared crisp and thinner, as we find Khali Dosa or Plain Dosa, but Dosa can also be prepared thicker and softer with the same batter, to call it set dosa. Either add onions, coriander, and green chilies to prepare onion dosa or complement semolina and slightly change the recipe to make rava dosa, the palatability only enhances.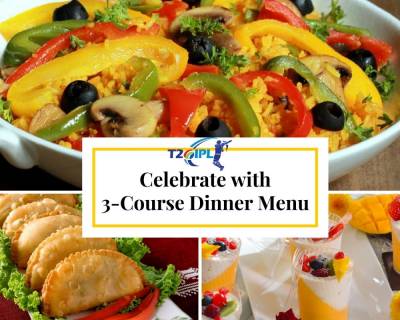 Celebrate IPL Finals With 3-Course Dinner Menu
India is a happening place for cricket. Cricket players have a larger celebrity status in India than most of the other cricket-playing countries. A month-long devoted expectation of IPL fans has risen to a crescendo with the final match being scheduled in Bangalore and are awaiting a nail-biting exciting match to appreciate.