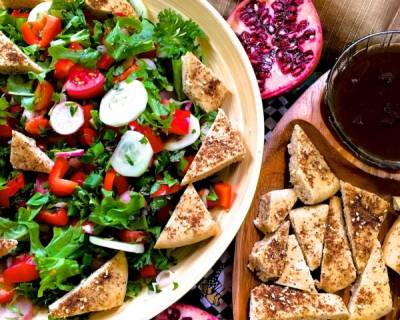 3 - Course Homemade Mediterranean-Inspired Dinner (#SaturdayNightDinner)
Although it originated in the countries and cultures surrounding the Mediterranean Sea, Mediterranean Cuisine has fast become popular in restaurants across the world. It is not uncommon to find a pretty authentic Mezze Platter on many menus in restaurants we frequent, but few go beyond just the basics that we know. However the cuisine is rich, diverse and very hearty, gleaning from multiple countries such as Lebanon, Morocco, Turkey, Spain, Portugal, Egyptian and Greek cuisines too. Often called Lebanese food, or food from the Middle East too, a Mediterranean menu usually is hearty, featuring the staples like good quality Olive Oil, wholesome legumes and some kind of flatbread. With a little preparation, this is an easy and delicious cuisine to cook in your own home. We will show you how.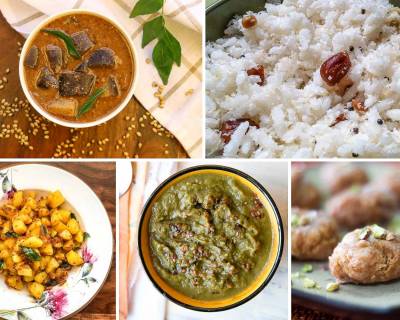 South Indian Thali Meal To Ring In The Festival Of Diwali
Get into the festive spirit with a traditional South Indian thali. As we welcome the festival of lights, your home is probably already abuzz with activity and your kitchen, a scene of hectic preparations. While you get your annual dose of Festive Sweet And Savoury Favourites and plan that Cocktail Menu for your Diwali Party - here is a traditional home-cooked South Indian meal menu to bring back some comfort to all your planning.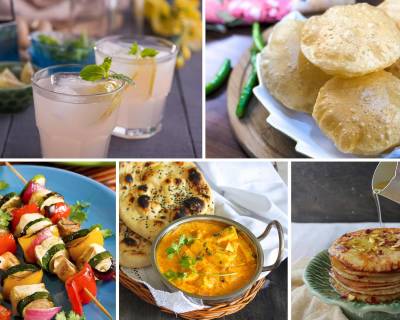 4 Course Diwali Party Menu To Celebrate the Festive Season
It's hard to resist the temptation to celebrate Diwali when there is a party with a lot of good food and drink, hearty conversation and cheer included. Whether you are really religious, understand the traditional significance or even celebrate the festival annually, here's a party menu that is going to get you in the spirit of the festival. If you haven't been invited to a Diwali bash as yet this year, how about you host it yourself?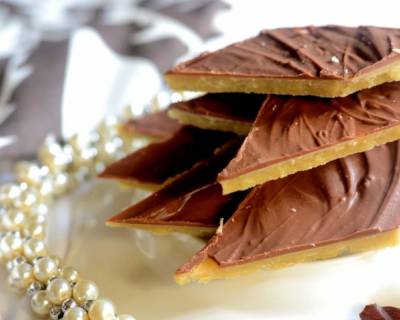 Top 18 Must Try Sweets and Savoury Recipes for Diwali
With the festival of lights around the corner, your kitchen must be buzzing with activity. Knowing you must be at your busiest best we thought we'd share some ideas on the sweets and savouries that can be prepared for this festival. The shared recipes also make great favours that you could take for your friends as gifts to add a personal touch.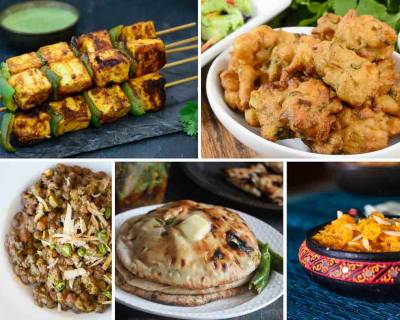 4 Course Punjabi Dinner You Can Enjoy With Friends & Family
A delicious Punjabi dinner is a perfect excuse to have a party at home with friends and family. In this section we are ticking off all the classic Punjabi recipes, from Pindi Chole to Achari Paneer Tikka and Stuffed Kulcha and Gajar Ka Halwa to top it off. So get into your kitchen and whip this meal up for your loved ones. It's the perfect way to get into the festive spirit!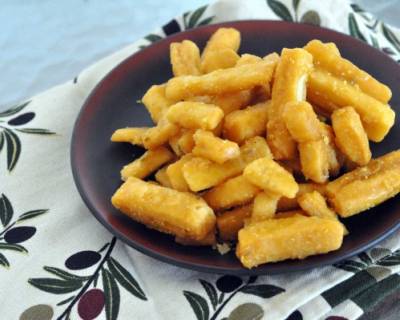 Karva Chauth - Customs & Traditions with Authentic Homemade Recipes
There is something incredibly romantic about the festival of Karva Chauth and for me, this romance was created long before Shahrukh and Kajol made the festival popular with DDLJ. Every year I would see my parents showing love and affection publicly, something that was typically not a common thing in our household.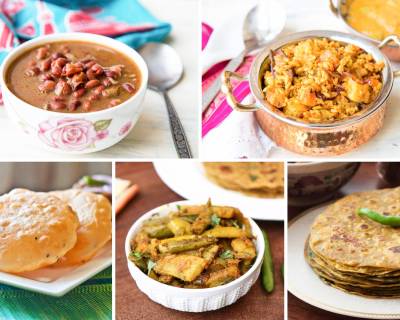 Top 12 Must Try Vegetarian Recipes Across Indian Regional Cuisines
Today, we bring to you must have recipes from across the country that are most popular on Archana's Kitchen. It's an experience in itself to look at the kind of diversity we have in our country on the food front. And we have it all right here, just for you. So go right ahead and feast your eyes and your tummies to the most delightful spread we have for you here.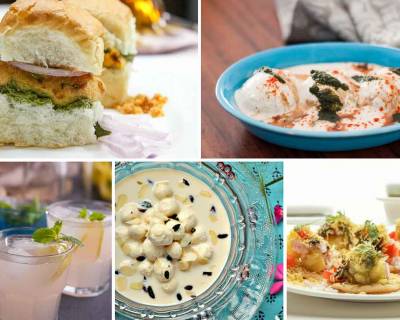 3 Course Menu For A Weekend Chaat Party
It's the weekend and with festivities in full swing, this week's dinner calls for some extra celebrations. Dining options that are away from the ordinary. Something zesty, that will bring the whole family and your closest friends together. So we have for you a selection of mouth-watering chaats – spicy, tangy, sweet, cool, crunchy – this list covers it all. Making a medley of flavours that of some of the most loved chaats from across the country. There's no better way that a festival to celebrate with a party that centres around food!
15 Best Recipes With Oats On Archana's Kitchen
As you already may have read, Oats is a species of cereal grain loaded with nutritious properties and health benefits including lowering harmful effects of cholesterol and controlling diabetes and cardiovascular disease. Packed with more dietary fibre than any other grain and containing vitamins of the B-family like B-1, riboflavin, niacin, thiamin, vitamin B-6 and folate, oats can help in metabolizing carbohydrates, proteins, fats and nucleic acids from your food consumed, allowing the body to use energy drawing from it.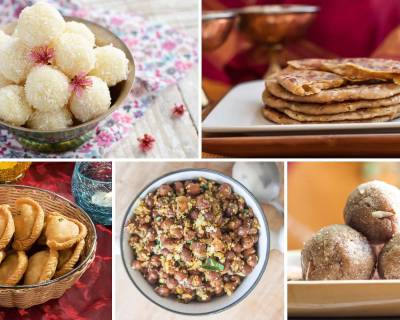 Top 10 Recipes For Ganesh Chaturthi
Ganesha Chaturthi is a Hindu festival celebrated in honour of the elephant headed God, Ganesha. The festival is observed in the Hindu calendar month of Bhadrapada, starting on the Shukla Chaturthi. The festival usually lasts for 10 days, ending on Anant Chaturdashi (fourteenth day of the waxing moon period). Like any other festival, this too has a few popular dishes that are made during the time the festival is being celebrated. Here are the top ten savory and sweet recipes for the festival. We, at Archana's Kitchen wish you the best for this festival and hope you'll like the recipes shared with you.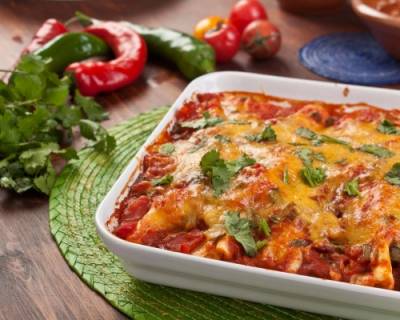 3 - Course Homemade Mexican Style Dinner
Late to the explosion of world cuisine in India and a slightly newer entrant to join the Indian food party is Mexican cuisine. A glorious combination of Mesoamerican food with a touch of European flavours and Spanish elements, the hallmarks of Mexican cuisine are beans, corn and chillies. Also common are native Mexican ingredients and produce like avocados, tomatoes, cocoa and vanilla. Contrary to popular belief, Mexican food is not complicated to make. Neither is it difficult to source ingredients for. This week's Saturday Night Dinner is a Mexican spread that is wholesome, covers all the essentials and most importantly, that can be made quite easily right in your home. With a little preparation and a good shopping list, you can throw this meal together quite easily and perk up a weekend dinner with your family.
As usual, pick a minimum of one dish from every set below to make a 3-course meal. Of course, you can feel free to choose more, if more than one item in each row catches your fancy!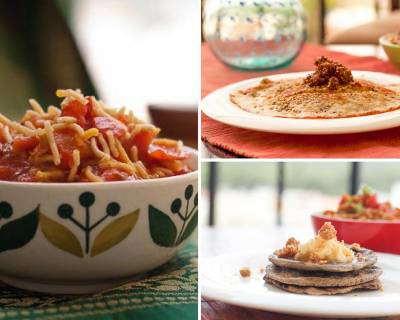 26 Jain Recipes For Paryushan Parva (A Time Of Purification Observed By the Jain Community)
One of the most widely celebrated and significant festivals for the Jain community, Paryushan Parva is quite different from what one expects of a typical Indian festival that is celebrated with pomp and festivity. On the contrary, Paryushan is a solemn occasion that is observed as a time of penance and purification. Over a period of eight days for Śvētāmbaras and 10 days for Digambara, usually occurring during the months of August or September, people of the Jain community reflect, introspect immerse themselves in penance or various kinds as a means to purify the mind, body and soul of all toxins.
During this time, apart from the rituals that are performed, meditations and prayers offered, people also fast for as many days as possible. Many subsist on sipping water through the day, alone. Those who partake of meals, observe several restrictions. Usually all root vegetables, green leafy vegetables and honey are avoided. This really pares down an already vegetarian diet, eliminating even basics like ginger, garlic, coriander, curry leaves and so many things we take for granted.
To commemorate the occasion, here is a list of 35 recipes that are can be made during the time of Paryushan.
Note: Some of these recipes may have ingredients like honey, ginger, coriander, curry leaves and green chilies, but if you are observing the fast in its totality, simply eliminate them while preparing these dishes.