Kerala Style Christmas Plum Cake Recipe

Madhuri Aggarwal
On

Friday, 11 December 2015 00:46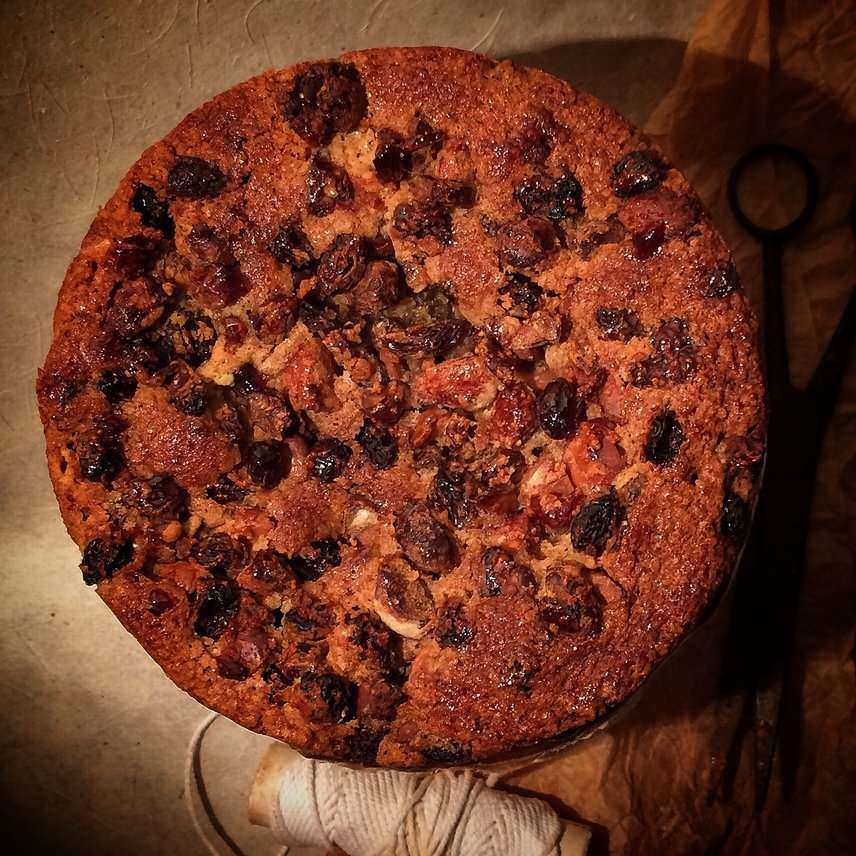 Kerala Style Christmas Plum Cake Recipe is a boozy, dark, intense cake that is made in advance for Christmas. The nuts and dry fruits are steeped in the liquor of choice, and the cake is additionally loaded with nuts making it a wholesome cake full of bite.
This Plum cake is a recipe I have been following for years and is now a foolproof recipe that I turn to every Christmas. For best results, make it in advance and store it in a dark cool place for the flavours to deepen. You can either make it for Christmas or slice it and store it as a tea time treat or a snack box option for your kid too. This cake is rich and wholesome at the same time. Once you have tasted it, you will want to make an extra one and save it for New Year's as well! Serve it at your Christmas party this year, for sure!
Here are some other tea time favourites that could also grace your Christmas party table this year:
Ingredients
Ingredients to be soaked in rum/ orange juice
100 grams

Raisins

100 grams

Glazed Cherries

100 grams

Dried Figs

100 grams

Tutti frutti

50 grams

Badam (Almond)

50 grams

Cashew nuts

100 ml

Rum

, or orange juice (adjust)
Main Ingredients
100 grams

Butter (unsalted)

125 grams

Ghee

300 grams

Caster Sugar

4

Egg yolks

1 teaspoon

Vanilla Extract

3 tablespoons

Candied orange peel

1/4 cup

Caramel Sauce

1

Orange

250 grams

All Purpose Flour (Maida)

1/2 teaspoon

Baking powder

1/4 teaspoon

Baking soda

1 teaspoon

Cinnamon Powder (Dalchini)

1/4 teaspoon

Nutmeg powder

1/2 teaspoon

Cloves (Laung)

, powdered
1/2 teaspoon

Dry ginger powder

1/4 cup

Milk

4

Egg whites

3 tablespoons

Lemon juice

4 tablespoons

Sugar
How to make Kerala Style Christmas Plum Cake Recipe
To begin making the Kerala Style Christmas Plum Cake Recipe first line a 9″ tin with grease proof paper and set it aside for later use.

Soak the dry fruits (raisins, dry cherries, cashew, almond, tutti frutti, dry figs, soaked in rum or the juice of 3 oranges, preferably for a month, if not a day in advance, at least)

Drain the soaked dry fruits, next and retain the soaked rum in a bottle for later use.

Place the soaked dry fruits and the juice of an orange in a sauce pan. Cover it, place it over a medium heat and allow it to cook until the juice is absorbed.

If you are making a non-alcoholic version, soak the dry fruits in the juice of 3 oranges overnight or for a couple of hours at least. When baking the cake, cook them in the same juice until all the juices are absorbed.

If for some reason you have not pre-soaked the fruit, you can also soak and cook them instantly in 50-50 mix of rum and orange juice to get the intensity of flavour in a shorter time. For best results, pre-soaking the fruit is recommended.

Next, spread the cooked dry fruits on a plate and let it cool completely.

At this stage, preheat the oven to 180 C.

In a large mixing bowl, sieve together the all purpose flour, baking powder, baking soda and all the spice powders.

Add the soaked, cooked mixed fruits in the flour and mix well so that the fruit is completely coated. Keep this aside. Tossing fruits in flour is to avoid fruits falling to the bottom of the cake during baking time. It will ensure that the cake remains studded with fruit, right through.

Cream together the butter, ghee, egg yolks and the castor sugar until it is light and fluffy.

Add flour-fruits to the butter mixture, alternating with milk. Ensure that you begin and end with additions of the fruit mixture. Stir well with spatula to blend uniformly.

Next, beat the egg whites till they are stiff peaks. Add 4 tablespoons sugar and lime juice and beat again. Now, fold in the egg whites to the cake mixture. Add the caramel and orange candied peel and mix it using a spatula.

Pour plum cake batter into prepared pan. Smoothen it well (If you like an uneven top, save a small handful of floured dry fruits and sprinkle it on top or arrange some blanched and peeled almonds in a pattern or you can sprinkle some dried cherries on top )

Place the plum cake in the preheated oven and bake for about 90 - 105 minutes or till a toothpick inserted in center comes out clean.

Check for doneness after 60 minutes, as the cooking time will vary from one oven to another.

When cooked through, remove the tin from the oven and let it sit in the cake tin to cool slightly.

When the cake is still warm pour 1/8th cup rum or brandy over the cake and remove from the tin and cool it over a cooling rack.

Serve it at Christmas or slice and store away for a tea time treat.

Once the cake has cooled completely, sprinkle some more alcohol over it and cover it tightly with clingfilm. Then wrap it in aluminium foil or brown paper and store it in a dark cool place.

Sprinkle some alcohol over the Kerala Style Plum Cake once in 4 days or a week, as this really deepens the flavours.

If you do not want to keep it out, you can also refrigerate it, and remember to thaw it a day before Christmas or when you are serving it.

The Kerala Style Plum cake keeps refrigerated for at least 3 months.