Homemade Whole Wheat Bread Recipe
If you love baking, then you must try this whole wheat bread recipe. It has a simple set of ingredients like flour, salt, milk, honey and a good quality active dry yeast. Make slices of this bread, toast it, slather some butter and jam and simply enjoy!

Archana Doshi
On

Thursday, 24 October 2013 16:58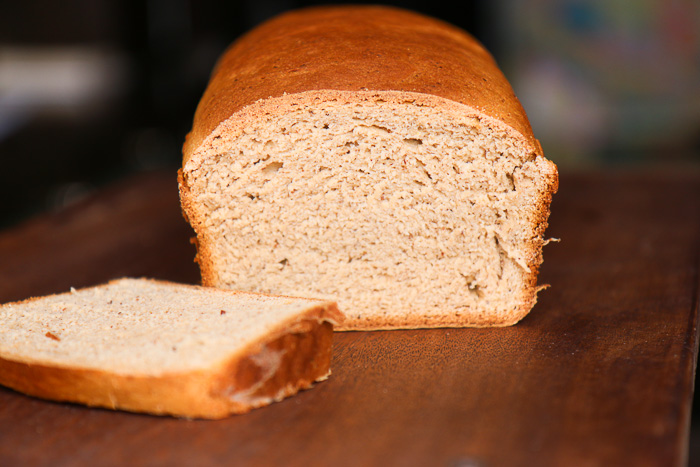 The whole wheat bread is a quick simple and easy recipe that you can make once a week and use for the entire week. All you need is a pure whole wheat flour and some instant dry yeast. The whole wheat bread recipe has a beautiful nutty flavor and has a sweet taste from the honey.
Important Note: A lot of times, the 100% whole wheat bread becomes too heavy. So I sometimes do a half and half. This means half of whole wheat flour and half of all purpose flour. When I use half and half then the bread is able to hold itself and also makes perfect sandwiches.
So please try this recipe with both 100% and also half and half. You can then choose what you like better.
Serve Homemade Whole Wheat Bread Recipe by making it into a sandwich with Pear and Apple Coleslaw Recipe.
If you like this recipe, try more recipes like
Whole Wheat Bread - Before Baking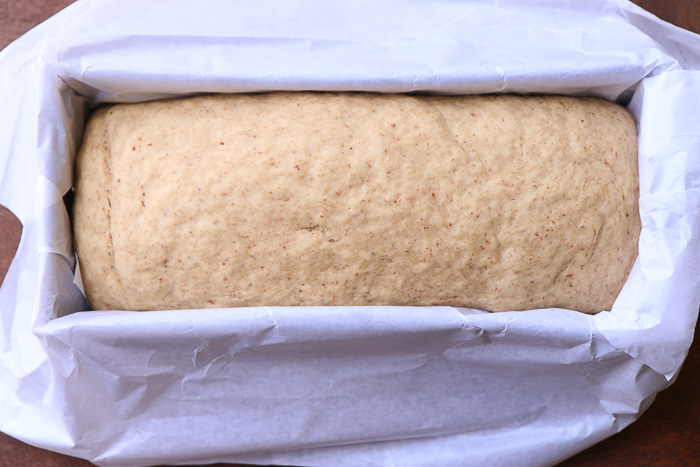 Whole Wheat Bread - AFTER BAKING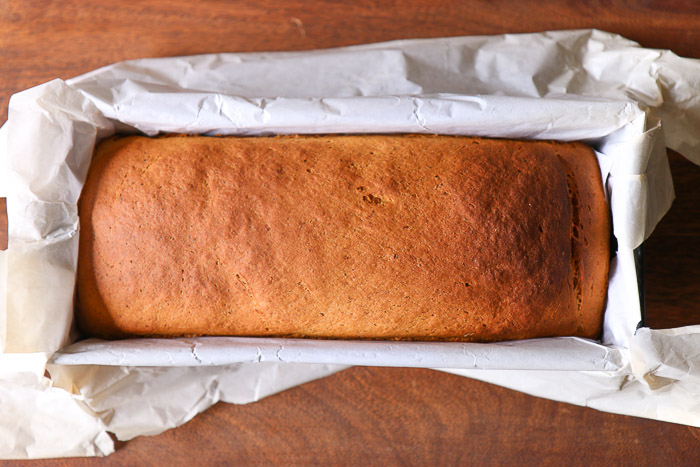 Ingredients
1 cup

Whole Wheat Flour

1 cup

All Purpose Flour (Maida)

2 teaspoons

Active dry yeast

1 cup

Milk

, luke warm
1/2 teaspoon

Salt

2 tablespoons

Butter (Salted)

2 tablespoons

Honey
How to make Homemade Whole Wheat Bread Recipe
To begin making the Homemade Whole Wheat Bread recipe, we will first combine flours, yeast, warm milk, honey, salt, butter into the bowl of the stand mixer.

With its dough hook on, knead the dough until it is soft and pliable.

If you are using a stand mixer, this process takes a good 7 to 10 minutes for the dough to come away from the sides of the bowl.

Make sure you knead well if you are using your hands to knead the whole wheat bread dough.

You should knead for at least 10 minutes after the dough has come together. This process is important for the dough to be fluffy and soft. Kneading also helps develop the gluten that is required.

The bread dough should be smooth and non sticky. This recipe of whole wheat dough makes 1 small loaf. Based on the size of the loaf pans you have, you can place the dough well shaped into the loaf pan.

I like to line my loaf pans with parchment paper, so the bread once baked can be pulled out of the pan easily. Also do butter the butter paper and flour it as well. Else you will have layer of paper sticking on the bread.

Allow the whole wheat bread dough to rise for a couple of hours until you see a dome shaped bread. Make sure you allow the bread to rise in the loaf pan, so the bread takes the shape of a loaf and rises the similar way.

Preheat the oven to 180 C and place the risen bread in the oven and bake for about 30 to 40 minutes until you notice that the top of the bread has a crusty look.

Serve the Homemade Whole Wheat Bread for breakfast without any guilt to your family. You can make this once a week based on your consumption.

Note: Since this bread has no preservatives, I like to refrigerate it after a couple of days so it stays for about 5 days fresh and soft.