Office Lunch Box Recipes & Kids Lunch Box Recipes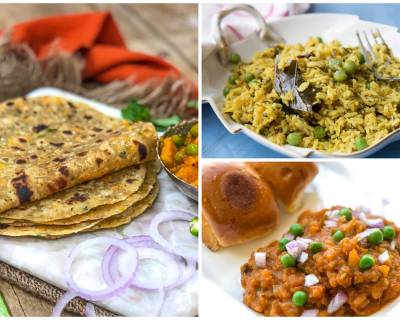 Kids Lunch Box Menu Plan - Cabbage Carrot Onion Pudina Thepla, Methi Matar Pulao And More
Kids spend so much time at school that it is important to pack a good lunch box for them to fuel them through the various activities that they do at school. Good healthy food keeps kids more active and alert. They end up concertinaing better when they have eaten a good meal. This week we have some healthy and nutritious recipes lined up that you can pack into your kids lunch box.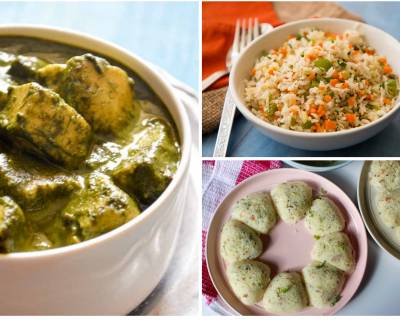 Kids Lunch Box Menu Plan- Sabbakki Rava Idli, Methi Chaman & More
We are back again with our super delicious Kids Lunch Box Meal Plan for this week and it has some easy to make and everyday recipes that are wholesome and nutritious. Eating healthy meals is very important and it is really difficult to decide on what to make every day. Therefore to make your life easier follow our meal plans for easy cooking.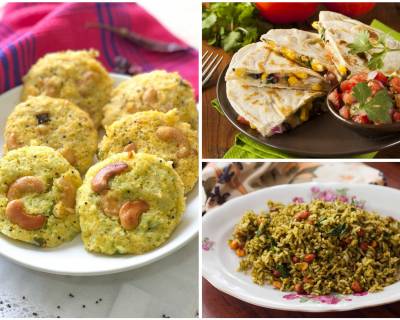 Kids Lunch Box Menu Plan-Healthy Vegetable Paratha Rolls, Broccoli Rava Idli & More
Here is another weeks plan of Healthy Vegetarian Kids Lunch Box Recipes. We have South Indian Lunch box Recipes like the Broccoli Rava Idli Recipe and Kothamalli Karuveppilai Sadam Recipe. We have also included a no onion no garlic Paneer in White Gravy Recipe and some tasty Healthy Vegetable Paratha Rolls Recipe and Corn & Soy Quesadillas Recipe.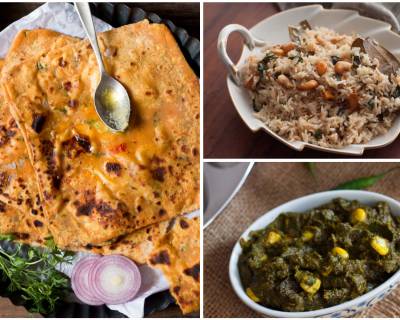 Kids Lunch Box Menu Plan - Pumpkin Carrot Idli, Leftover Dal Paratha & More
A Lunch box should not only be healthy but also tasty. But coming up with new ideas to cook different lunch boxes everyday can be quite tiring. Here we have a weeks Kids Lunch Box Menu Plan to make things easier for you. This week's kids lunch box menu plan contains Healthy Pumpkin Carrot Idli Recipe with Kadale Chutney Recipe, Leftover Dal Paratha Recipe, Masala Carrot And Peas Sandwich Recipe, Thengai Paal Sadam Recipe - Coconut Milk Pulao and Jain Style Corn Palak.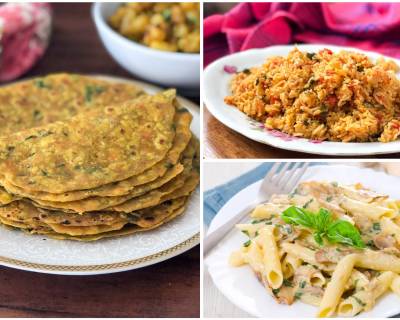 Kids Lunch Box Menu Plan-Karuveppilai Podi Idli, Paneer Bhurji Wraps & More
Here is another week of Kids Lunch Box Menu Plan to help you pack healthy Lunch Boxes for your kids without any hassles. This week's Lunch Box Recipes includes Karuveppilai Podi Idli Recipe-Spicy Lentil & Curry Leaves Powder Tossed Idli, Paneer Bhurji Wraps, Penne Pasta Recipe In Alfredo Sauce With Roasted Mushrooms, Cocoa Banana Almond Date Smoothie, One Pot Tomato Rice Recipe Using Preethi Electric Pressure Cooker - Thakkali Sadam , Healthy Carrot Methi & Mooli Thepla Recipe and Tamtari Chole.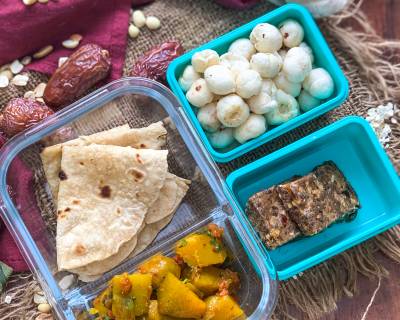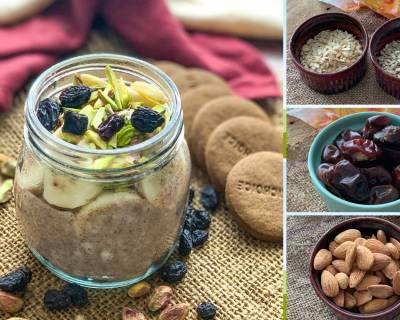 Importance of Healthy Snacking & Packing A Healthy Office Dabba
Sedentary lifestyle and work is tipping most people into obesity and increasing all risks of diabetes, high blood pressure and other health problems. One of the ways that you can control all the above is by eating healthy. Instead of having three large meals and overeating at meal times, it is better to break down your meals into five smaller meals. Two of which should have small and healthy snacks.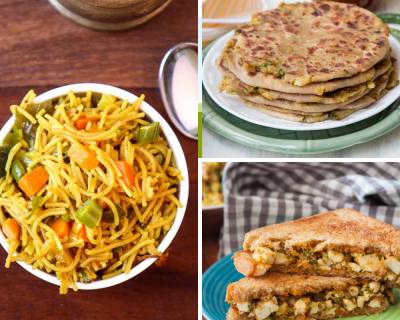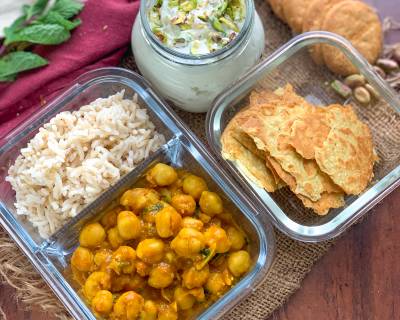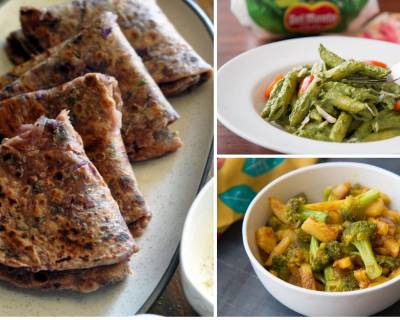 Office Lunch Box Menu Plan-Cabbage and Methi Paratha, Nellikai Chitranna & More
This week's Office Lunch Box Menu Plan has some tasty and nutrient packed recipe which are simple to make. To ensure you get the right amount of protein required for your body functions we have included high protein salad recipe like the Fresh & Juicy Chickpea Salad with Fruits & Vegetables, Kala Chana Salad and Moong Sprouts Salad with Grated Carrots & Coriander Recipe.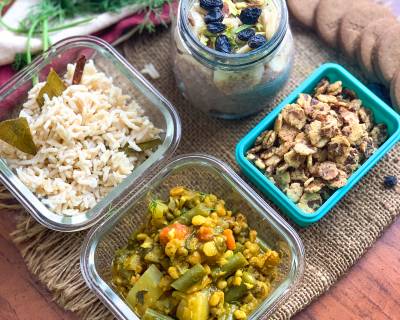 Office Lunch Box Menu Plan-Foxtail Millet Pilaf, Lauki Yakhni & More
Try this weeks Office Lunch Box menu plan which has amazing recipes Foxtail Millet Pilaf with Methi Raita Flavoured With Garlic, Lauki Yakhni, Hara Dhania Paratha and Moong Sprouts Salad with Grated Carrots & Coriander ,Green Mango Masoor Dal, steamed rice and Manipuri Style Karotkhabi Kanghou ,Ragi Wheat Phulka, Badanekaayi Gojju, Crunchy Carrot Peanut Raita, Rawal Pindi Style Chole, Hara Dhania Paratha and boondi raita.