Eggless Carrot Cupcake Recipe with Cream Cheese Frosting
A wholesome and yet a delicious cupcake recipes that is made whole wheat flour and grated carrot mixed in the batter with cooking oil to create a moist and soft cake. The cupcake is made eggless by using a flax meal egg replacer. Serve the cupcakes as a party dessert along with your other party desserts.

Archana Doshi
On

Tuesday, 21 August 2012 13:13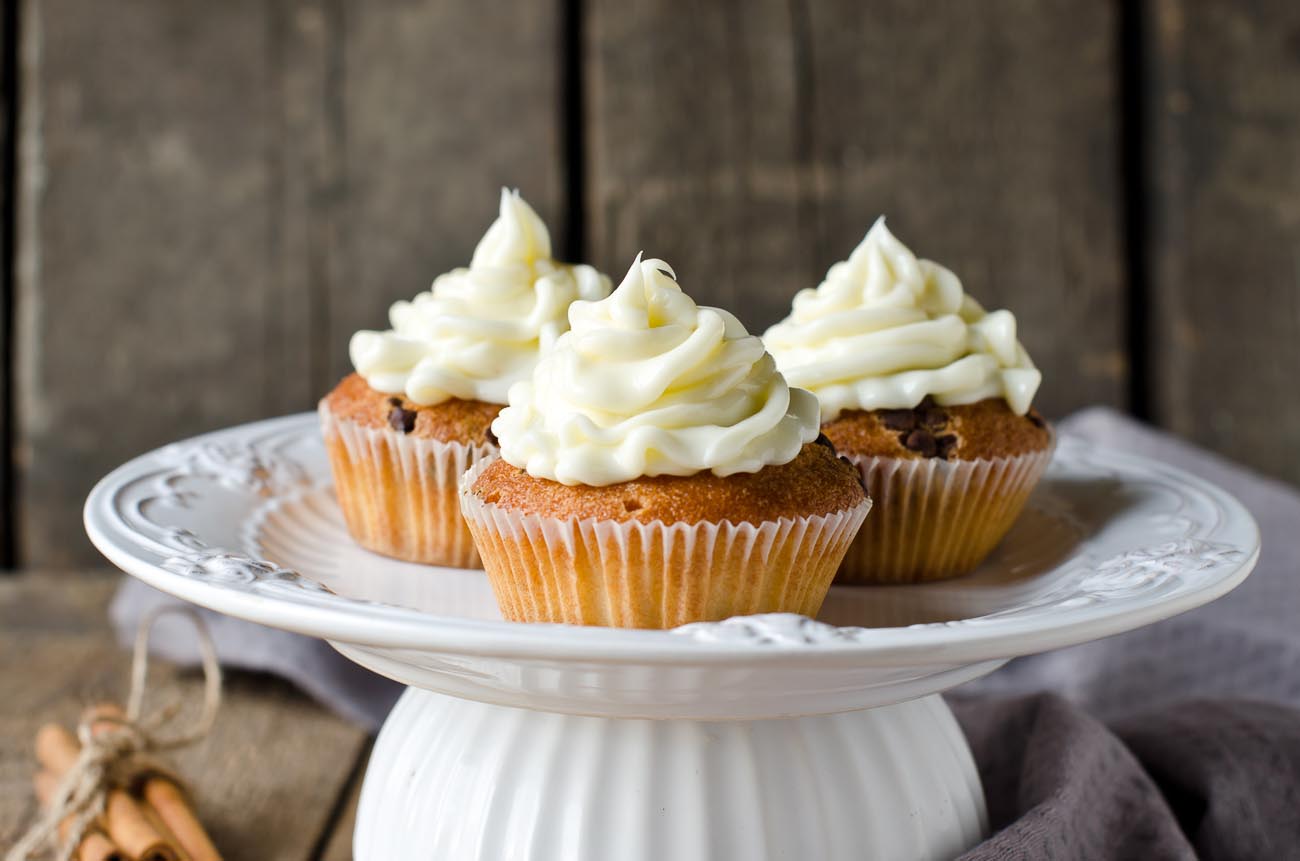 The Whole Wheat Carrot Cupcake Recipe is a nutrition packed cake, that is wholesome yet delicious. After years of experimentation with whole wheat flour, I have come with a recipe that is just perfect, moist and yet has a light crumble. The first time I tasted a carrot cake was at a Canadian Friend's home. I loved them so much, that when I made it for my children they loved it too. In this recipe I have show how you can make the cake eggless too.
Serve the Whole Wheat Carrot Cupcakes with or without Cream Cheese Frosting for a breakfast or send them for a school snack too.
If you are looking for more cupcake recipe here are some :
Ingredients
3/4 cup

Wheat Berries/ Whole Wheat

1/2 cup

All Purpose Flour (Maida)

2 teaspoons

Baking powder

1/4 teaspoon

Salt

3/4 cup

Brown Sugar (Demerara Sugar)

1/2 cup

Oil

1 cup

Carrots (Gajjar)

, finely shredded
1/2 teaspoon

Vanilla Extract

1/2 teaspoon

Cinnamon Powder (Dalchini)

, ground
1/4 cup

Whole Almonds (Badam)

, finely slivered
For Flax Meal Egg Replacer
2 tablespoons

Flax seed powder (flax meal)

6 tablespoons

Chilled water

Ingredients for the cream cheese frosting
115 grams

Britannia Cream Cheese

, kept at room temperature
3/4 cup

Icing Sugar

1/2 teaspoon

Lemon

, or orange zest or grand marnier liqueur
How to make Eggless Carrot Cupcake Recipe with Cream Cheese Frosting
To begin making the Carrot Cupcake recipe, we will first preheat the oven to 175 C. Line 12 standard muffin cups or 20 mini muffin cups with paper cupcake liners.

Sift together the flours, baking powder, salt and cinnamon. Keep aside.
To make the flax meal Egg Replacer
If your recipe asks for 2 eggs, measure 2 tablespoons of flax meal along with 6 tablespoons of water. Stir well and let the mixture rest for about 15 minutes. This process of resting helps the flax meal mixture develop a gelatinous consistency similar to eggs.
To make the Batter
In a large bowl or the bowl of the stand mixer with the paddle attachment, combine the brown sugar, oil and flax meal egg replacer)until well combined and fluffy.

Once the mixture is fluffy, add in the carrots and vanilla essence. Add the flour mixture and beat until well combined. Finally stir in the slivered almonds.

Spoon the carrot cupcake batter among the muffin cavities. Fill the muffin cups only to little more than the 1/2 its mark. Bake the carrot cupcakes in the preheated oven for about 12 to 15 minutes, until a tester like a knife or toothpick when inserted into the center comes out clean.

Once the cupcakes are baked, remove from the oven and allow it to cool completely.

Our next step is to proceed to make the cream cheese frosting for the carrot cupcakes.

Now using the whisk attachment of the stand mixer, beat the cream cheese, sugar and zest together until smooth and fluffy.

Once the cup cakes have cooled completely, frost them with the above cream cheese frosting and optionally top with more slivered almonds. You can store the cup cakes with and with out frosting refrigerator for at least 4 to 5 days.

Serve the Whole Wheat Carrot Cupcakes with or without Cream Cheese Frosting for a breakfast or send them for a school snack too.