Ever wondered about since how long are burgers eaten? Though like most other foods, the exact origin is a bit of controversy, earliest mentions for the hamburger runs to a book published in 1700's. Back then, anything with ground beef and bread with sauces was referred to as hamburger. Now with time, they have evolved into what we know today, burgers. Burger is a sandwich of bread roll that makes a frail attempt to hide the delicious patty, cheese, pickles, veggies and sauces; the cheesiness blended with the crunch of the patty and the tang of pickled veggies and salad leaves in the burger is worth drooling for.
The patty that is used in burgers can be either fried, shallow fried, grilled or broiled. Both fresh veggies and pickled veggies are used in preparing the burger. Mustard sauce, ketchup, cheese spread, mayonnaise, and various other sauces can be used to prepare burgers. Traditional burger buns have a fine and crusty layer on top but all the more soft and chewy within.
Burger is a recipe that is liked by kids and adults alike. This is a relatively mess-free recipe to feed to kids who are above 5 years. If you are hesitant about the burgers that are available in restaurants, why not make one of your own, at the comfort of your kitchen? Well, here we have come up with 10 recipes of burgers that are easy to prepare and be served either with fries, wedges, cheese balls, or just like that for kids and adults. Rest assured, the burgers are worth drooling for; you might even be left unsatisfied with eating just one!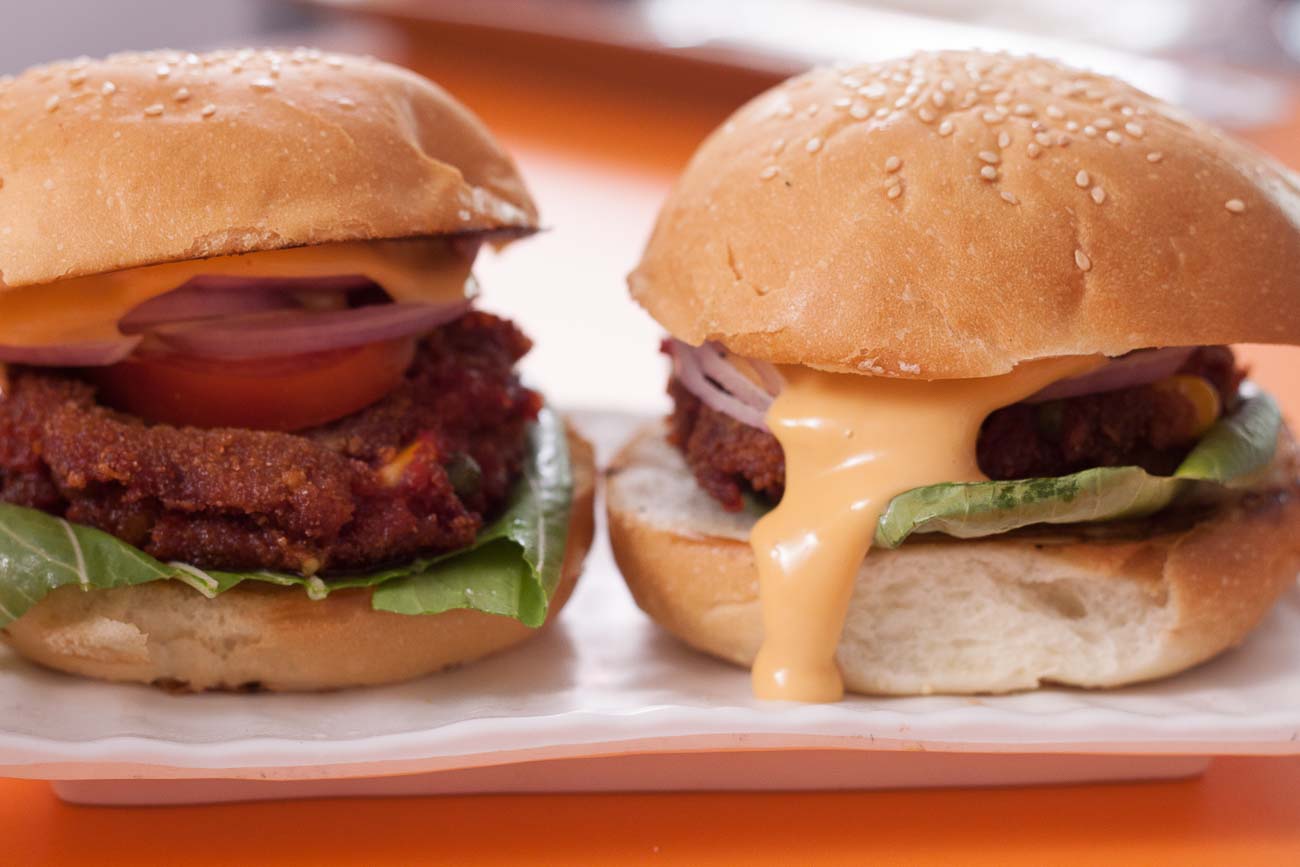 The Veggie Chop Burger is an Indo-western vegetarian burger where the bun is sandwiched with a desi style vegetable cutlet. The chop is crunchy outside and soft inside; placed between a soft whole wheat burger buns with choice of your fillings like onion slices, tomato slices, crunchy lettuce leaves and a nice dollop of the Veeba Burger Mayonnaise.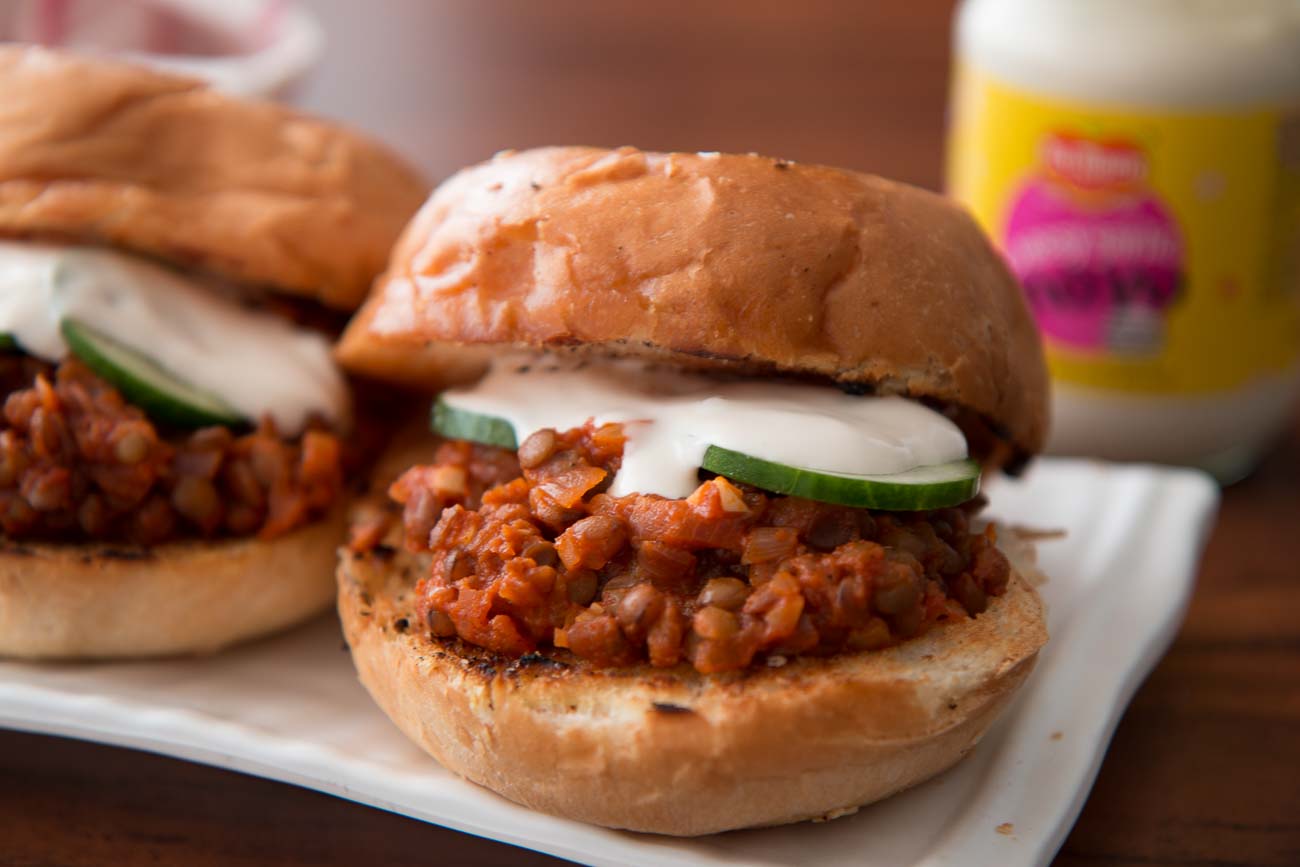 Vegetarian Sloppy Joe Recipe is a healthy Burger that is stuffed in with lentils. As lentils are always at our kitchen pantry it becomes much easier to make this burger in a jiffy for your kids. The stuffing is made with masoor dal and simmered in a delicious tomato gravy. Once the stuffing is made all you have to do is now to just assemble it with and drop a tablespoon of Del Monte Cheesy Garlic Mayo to add in the extra flavor and taste to the burger.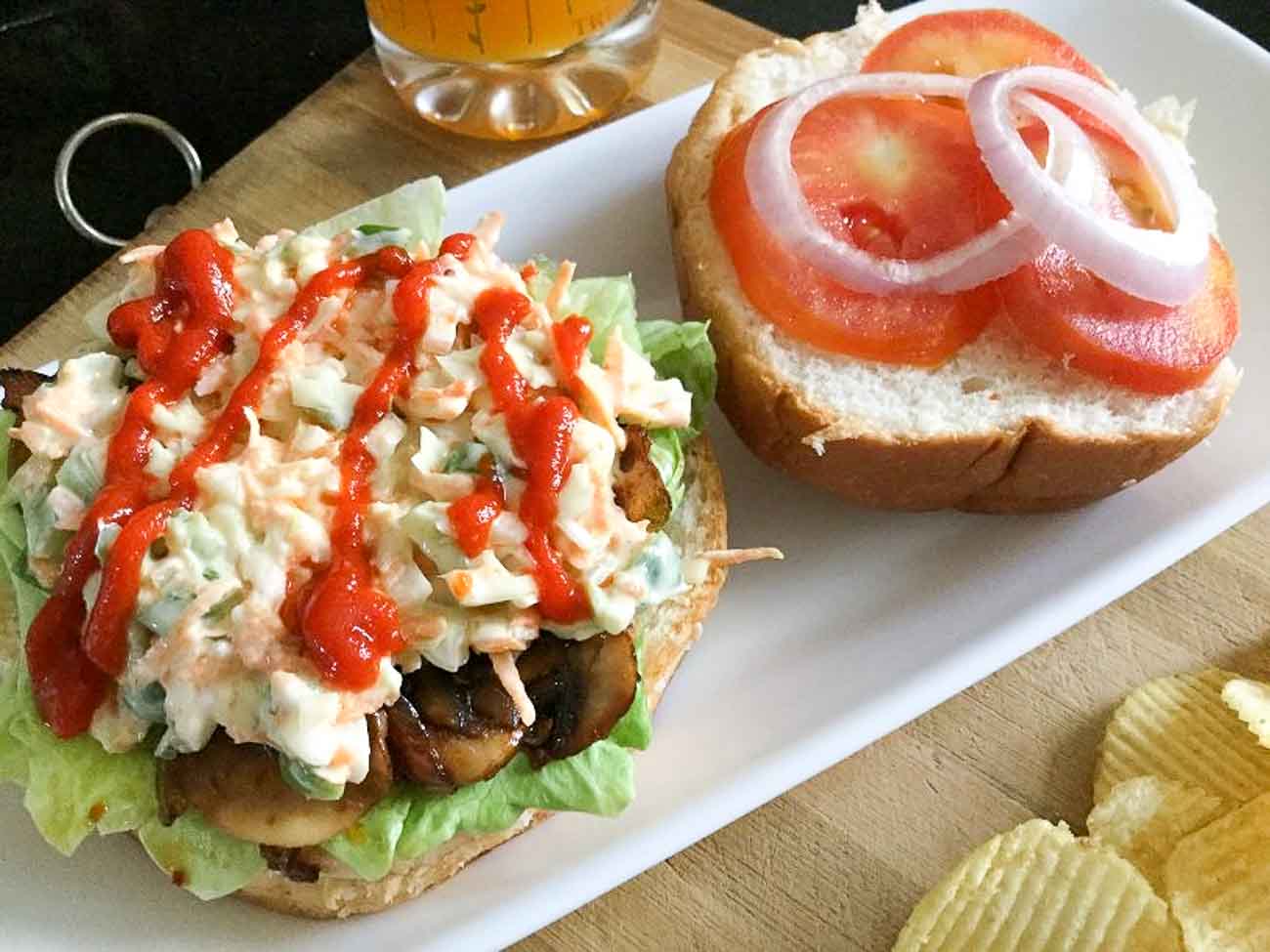 The Spicy Mushroom Veggie Burger Recipe is a spicy vegetarian burger, layered with a spicy mushroom stir fry, crunchy and creamy coleslaw and fresh slices of tomato and onions with a dash of chili or sriracha sauce for an extra spice!!
Serve the Spicy Mushroom Veggie Burger as a wholesome and quick weeknight dinner along with Zucchini Salad Recipe with Thai Hot Chili Dressing and a glass of Watermelon Cranberry Mocktail Recipe or serve it to kids as an after school snack.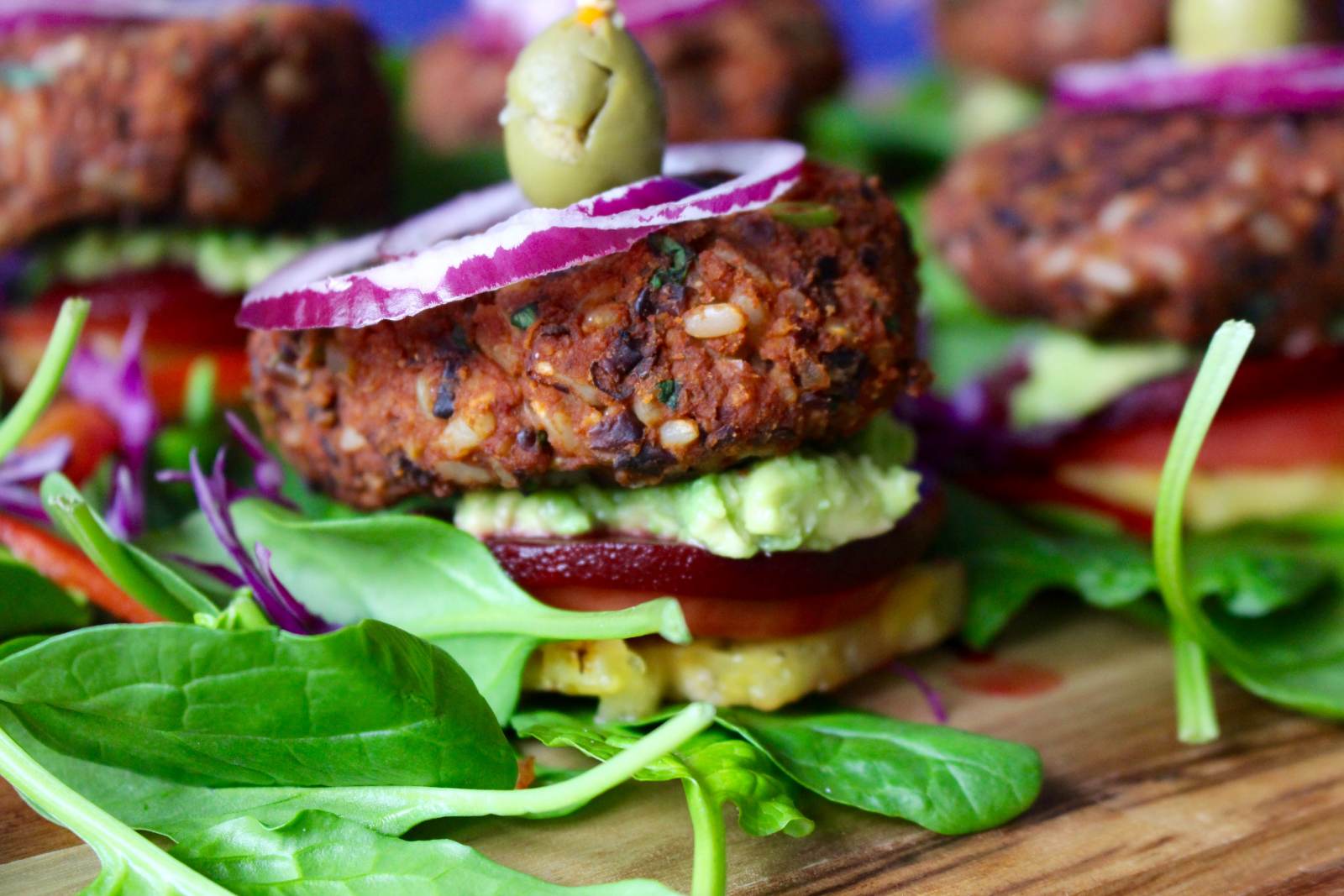 This black bean burger recipe is cooked on a pan or a grill with very less oil. These burgers without bun get their moisture from all the juicy vegetables and the avocado and you won't miss a tomato sauce even if you miss out dipping the burgers in a sauce. Make this for a tea party and see how they fly off a platter. This is a vegan-friendly recipe as well. These Healthy Black Bean Burger Recipe without bun is a great way to make children eat the proteins.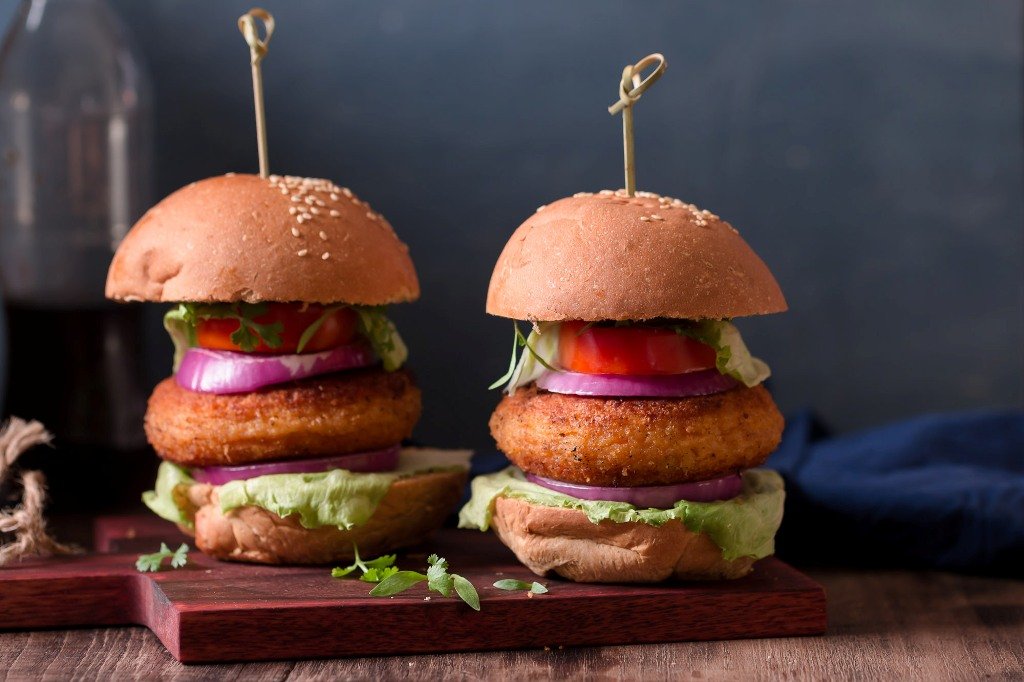 When it comes to fusion vegetarian burgers, Aloo Tikki burger comes first to our mind. The most popular Indo-western vegetarian burger would be this aloo tikki burger. Potatoes can turn any dish into the most delicious ones. Crunchy outside, soft inside shallow fried potato patties(aloo tikki), between soft whole wheat burger buns with choice of your fillings like onion slices, tomato slices, crunchy lettuce leaves, cheese slices and if you like to flavor it, add flavored eggless mayonnaise to the buns. It's so simple to put this burger together, you don't have to go out to eat delicious burger. Make them at home and enjoy healthy, hygienic, delicious burger at your home itself.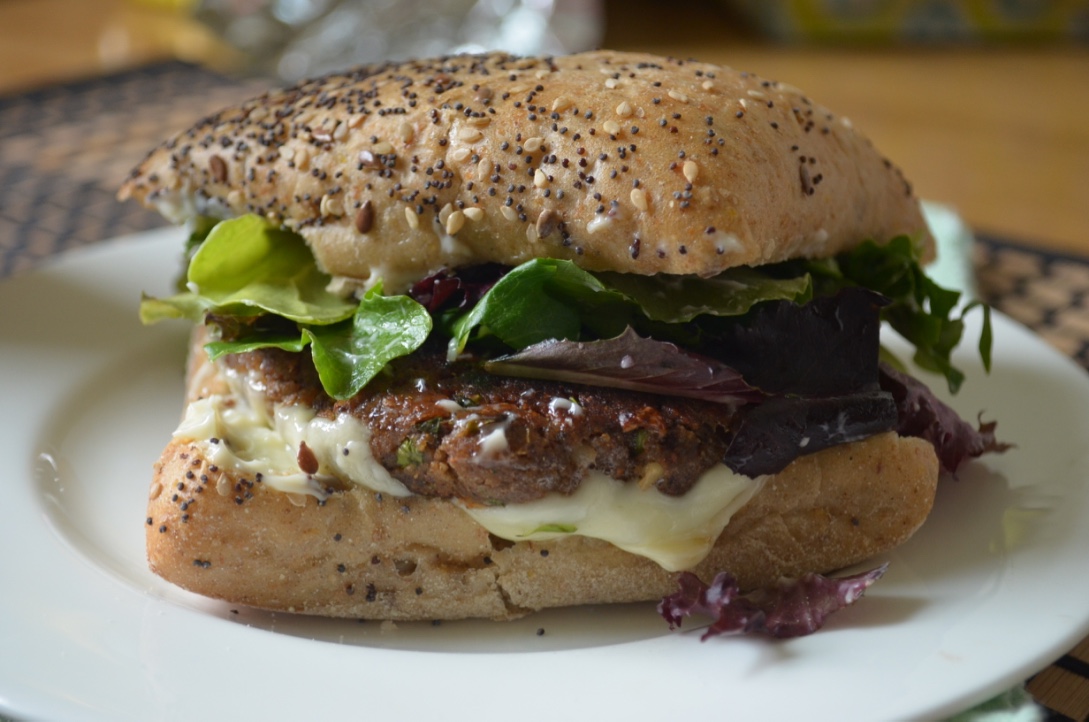 Five Spice Bean Burger is a burger with beans as the basic ingredient is a wholesome delicious burger that makes a perfect one dish weeknight dinner. The flavors that are added into the Burger is the Chinese Five spice powder that has Cinnamon, Cloves, Fennel, Star anise and peppercorns that are roasted and powdered fresh. These fresh spices are very flavorful and blend well with the beans making the Five Spice Bean Burger packed with flavors.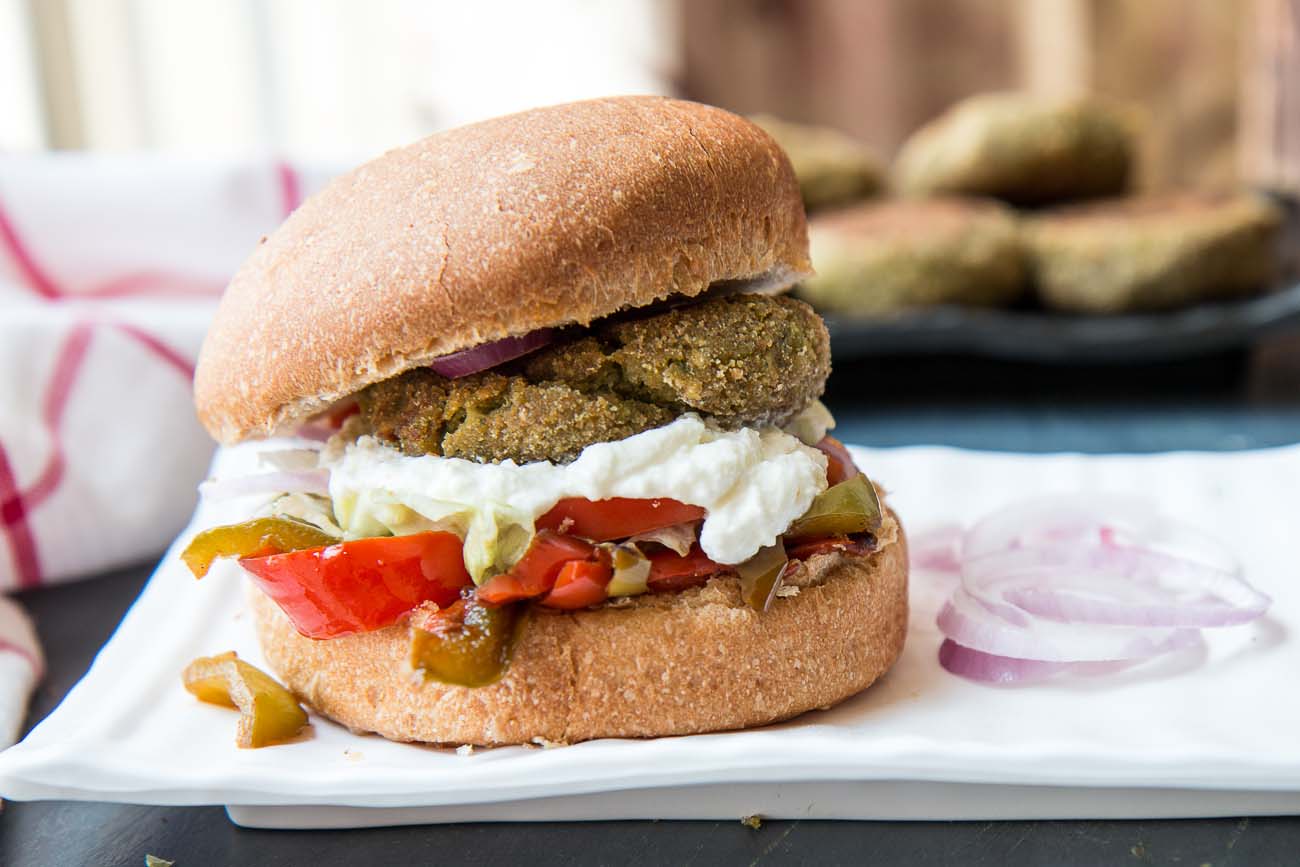 The Veggie Burger With Spinach Cauliflower And Oats Patty is a wholesome burger that is packed with nutrition from cauliflower and protein from the oats and chickpeas. Most often we make burger patties out of potatoes and vegetables or soy, but here is a different take, that makes a great way to consume oats, vegetables and chickpeas all in a tasty delicious way.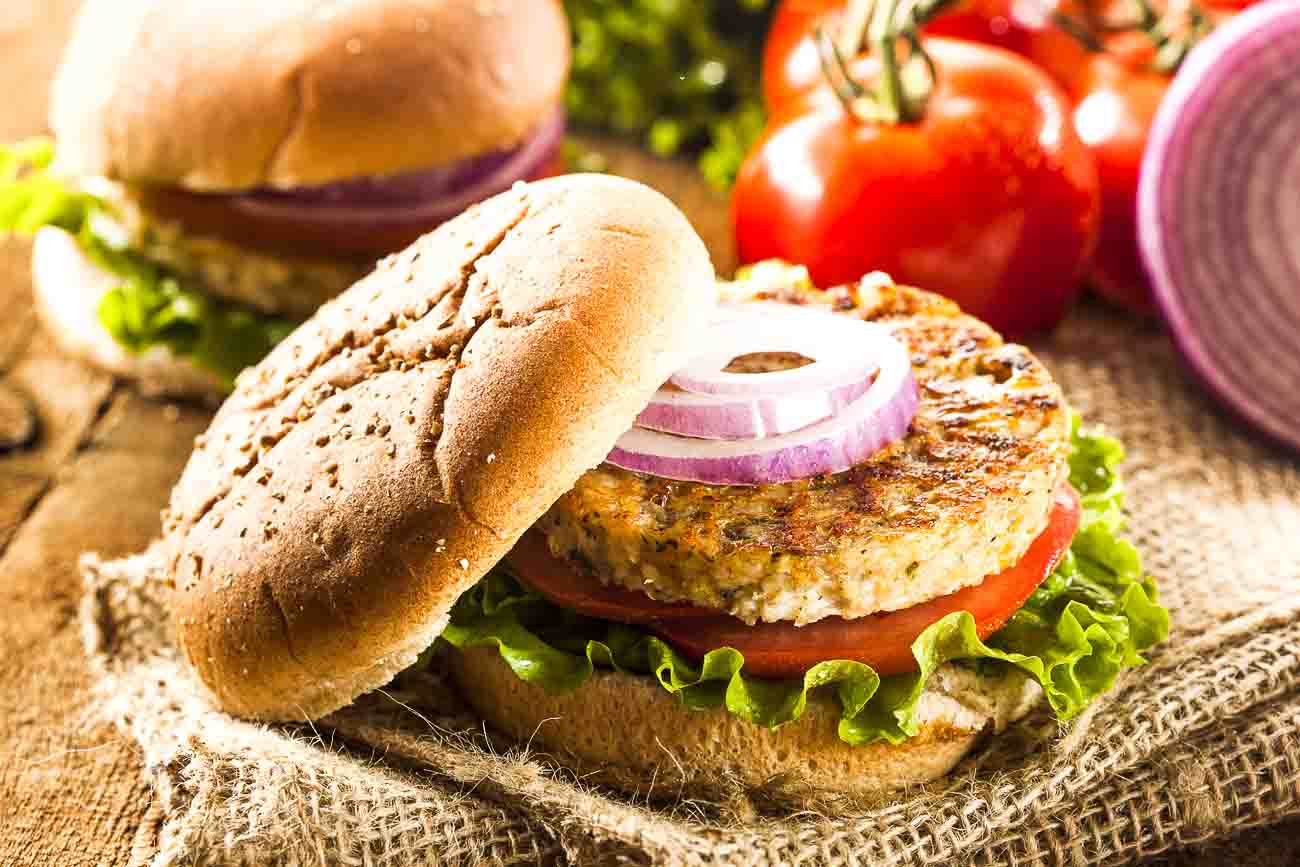 The Homemade Black Bean Burger Recipe is a classic Vegetarian Burger that is packed with protein from kidney beans, oats and the whole wheat burger bun. Black Bean is more commonly used in Latin American cuisine, but you can also use a dark red kidney beans for this burger recipes. They have a creamy texture and rich flavor. You can now wrap the Homemade Black Bean Burger into parchment paper and take them for summer picnics or have a fun summer afternoon lunch with a smoothie.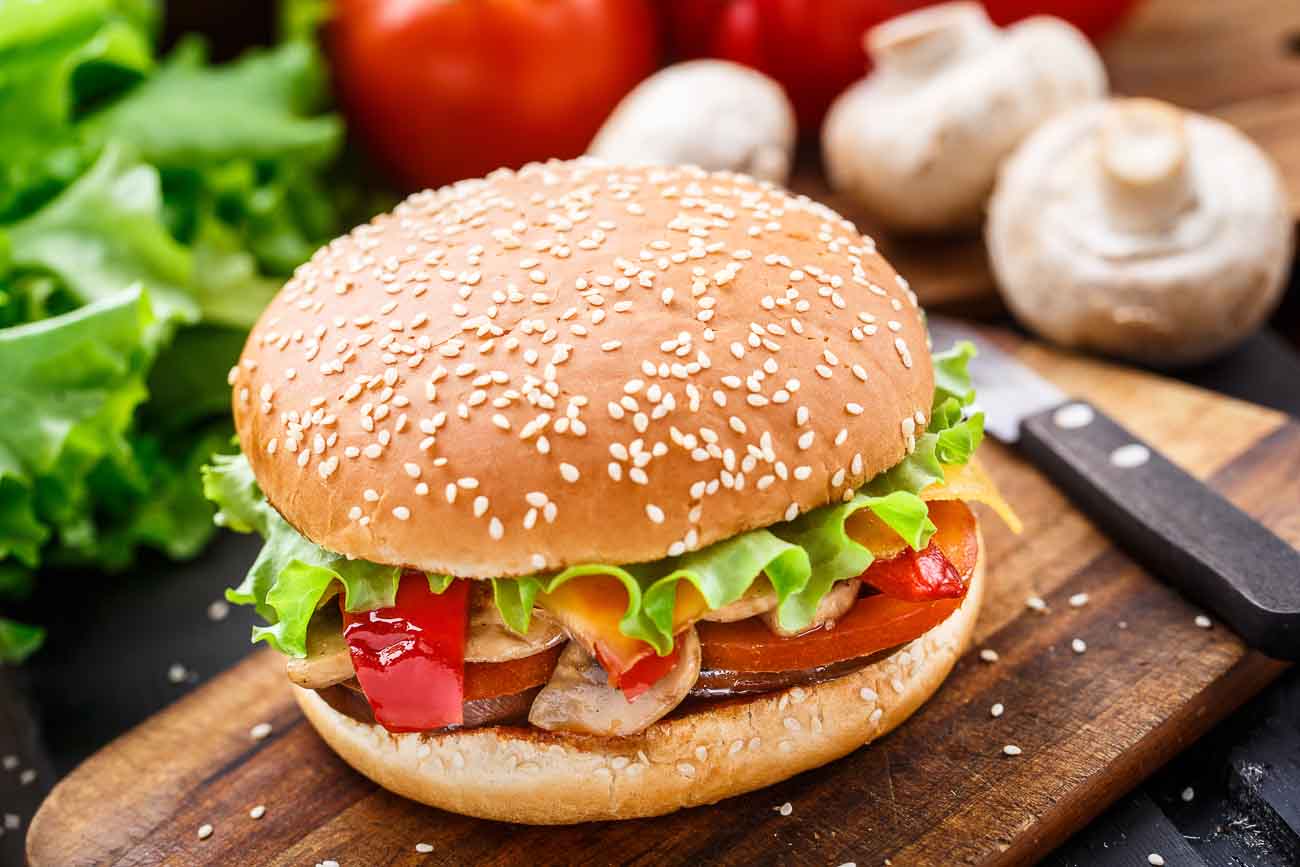 The Roasted Vegetable Burger Recipe with Hummus is a quick and healthy sandwich that can be made quick for those busy weeknight dinners, parties or even can be packed for a picnic lunch or kids lunch box. The Hummus in add to the protein and the nutrition content in this burger recipe. To compensate for the heavy nature of hummus and the bread, I like to add in some roasted vegetables to make it more juicy and soft. Serve the Roasted Vegetable Burger with Hummus along with a tall glass of Orange Juice and Oven Baked Sweet Potato Fries Recipe for a wholesome meal.
The Vegetarian Chickpea Burger Recipe make perfect one dish dinner for those Friday Movie Nights at home. The chickpea is simple to put together and makes a dinner under an hour when you have all the ingredients handy. To make your dinner preparation simpler you can prepare the chickpea pattie ahead of time and spend under 30 minutes to get the dinner on the table. You can also serve the Vegetarian Chickpea Burger as a wholesome snack for the kids birthday parties, along with Sweet Potato & Rosemary Crisps/ Chips and Mango Flavored Mixed Fruit Popsicles Recipe.