Packing a healthy and tasty Lunch Box for yourself is very important. Also we have to keep in mind that the food we are packing for the lunch box is fulfilling the daily nutrition intake which gives them energy to work. Here is one such Lunch Box idea which we are sure you will love it.
This lunch box has a delicious Classic Grilled Tomato Cucumber Chutney Sandwich which is filled with the goodness of Tomato & Cucumber and has Green chutney which gives an extra flavour to the Sandwich. We have not added Cheese in this Sandwich but you can always add it for yourself. Along with the sandwich, we have also packed Almond Broccoli Soup which provides extra energy to the kids as it is filled with protein. There is no rush or chaos to prepare this dish before you leave for office or pack the lunch box for kids. At the same time your healthy diet is also monitored.
The delicious Lunch Box Meal Consists of :
1. Classic Grilled Tomato Cucumber Chutney Sandwich Recipe

Classic Grilled Tomato Cucumber Sandwich With Chutney Recipe is a delicious vegetarian breakfast recipe that is filled with sliced tomatoes and cucumbers, with a fresh coriander and mint chutney. It is loved by everyone in every Indian home and the addition of the chutney in the sandwich and grilling it along with cheese makes this sandwich heavenly. In this recipe we have not used cheese, but you can add a slice of cheese for the kids as well.
If you like this recipe of Classic Grilled Tomato Cucumber Chutney Sandwich, you can also try other Sandwich recipes which you can pack in Lunch Box for your Kids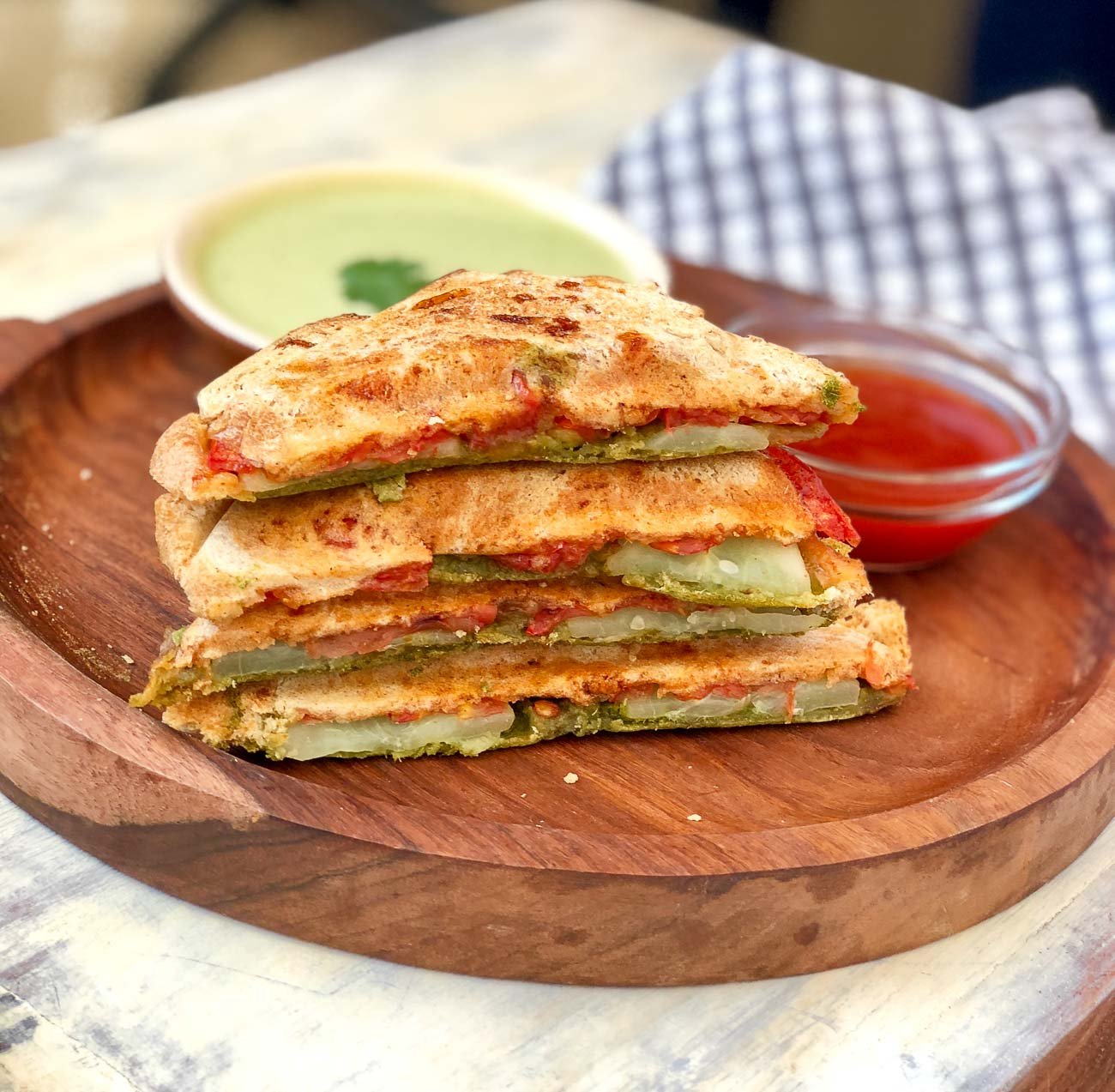 This Broccoli Almond Soup Recipe is a wholesome soup packed with necessary nutrients you require for your everyday activities. Creamy and delicious, this soup consists of Broccoli and some almonds for texture, flavour and a little extra protein, you end up with a nutritionally balanced meal that tastes great. Both Broccoli and Almong have numerous benefits.
Broccoli is high in many nutrients, mainly protein and it also includes Fiber, Vitamin C, Vitamin K, Iron and Potassium, while Almonds have great medicinal value and like all of us know it is good in taste.
If you like this Soup, you can also try other Soup recipes for your Vegetarian Dinner such as
.