Scrambled Paneer Sandwich Recipe
Scrambled Paneer Sandwich Recipe, a delicious sandwich which is filled with grated paneer sauteed with onions and nigella seasoning. Give it a try and we are sure you gonna love it!

RUBY PATHAK
On

Thursday, 22 June 2017 12:02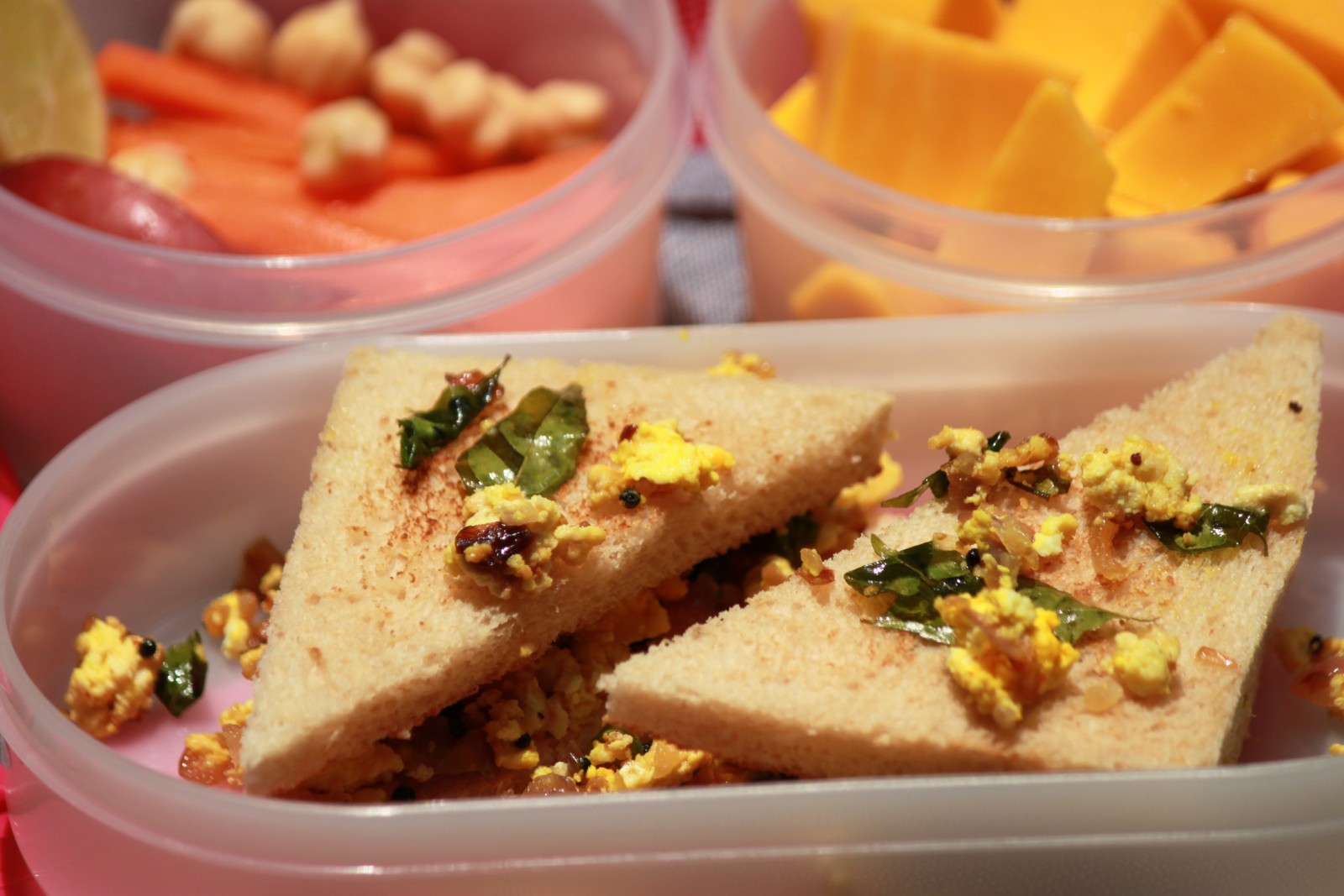 Scrambled Paneer Sandwich Recipe is a high protein sandwich recipe that is easily done in the morning's rush hour and can be made for lunch boxes. Fresh homemade paneer or Chenna can be made the same day or the previous night.
You can either add the finely chopped green chillies, or omit them if serving to kids. You can also add a pepper seasoning if you want to replace the green chillies. You may also add a teaspoon of ghee on each bread slice while toasting them to make them crispy, or simply dry toast them on the tawa.
Serve Scrambled Paneer Sandwich Recipe along with Fresh Fruits and chopped carrots in the lunch box, or along with a glass of Rose Lassi Recipe as an after school snack.
Did you know: Perhaps common knowledge by now about paneer is a good source of protein especially for vegetarians who do not get their intake from meat products. 100g of paneer yields about 18g of protein which is good for people who weight train as they need protein for muscle building and repair. Cottage cheese contains all the essential amino acids needed for it to qualify as a complete protein. Eat cottage cheese, and you'll boost your intake of calcium and selenium. A single serving of either full-fat or low-fat cottage cheese provides all the selenium you need in a day. This selenium fights the aging process due to its antioxidant function, and it also supports immune system function. In addition, cottage cheese contains calcium, an important component of healthy bone tissue. Know more
If you like this recipe, try more kid-friendly lunch box Sandwich Recipes like
Diet:
High Protein Vegetarian
Ingredients
200 grams

Paneer (Homemade Cottage Cheese)

, grated
1/4 cup

Onion

, finely chopped
1

Green Chilli

, finely chopped (optional)
1/2 inch

Ginger

, chopped
1/4 teaspoon

Mustard seeds (Rai/ Kadugu)

1 pinch

Kalonji (Onion Nigella Seeds)

1/4 teaspoon

Turmeric powder (Haldi)

1 tablespoon

Fresh coconut

, grated
5

Curry leaves

1 tablespoon

Cashew nuts

, chopped/broken finely
2 teaspoons

Oil

Salt

, to taste
6

Whole Wheat Brown Bread

, cut diagonally
How to make Scrambled Paneer Sandwich Recipe
To begin making the Scrambled Paneer Sandwich Recipe, prep all the ingredients, grate paneer and finely chop onions, cashewnuts, ginger and green chilli (if you are using. You can skip green chillies altogether if you are serving for kids who do not like spicy sandwich).

In a small frying pan, heat a bit of oil. Once the oil is hot, add mustard seeds on a low medium heat, and allow them to splutter. Once they splutter, add nigella seeds, green chilli and curry leaves. Saute for a few seconds.

Add the chopped onion and ginger pieces, and on a medium heat, fry them by stirring occasionally until lightly browned.

Reduce the heat to low, add the grated coconut, paneer, turmeric, cashewnuts, salt and stir till the paneer is well fried and there is a delicious cooked smell from the sandwich filling.

Check on seasoning to adjust to your taste, you may add black pepper (freshly ground) to the mixture, stir well to combine and turn off heat.

Allow the filling to cool down a bit, if you want to accelerate cooling, you can transfer the sandwich filling paneer mixture to a plate, spread and place on the countertop for a faster cooling.

Meanwhile, on a flat skillet, place the diagonally cut breads and toast them on low heat until browning a bit. Flip and toast further for about half a minute till the other side is also browned.

Either prepare the sandwich by smearing a good amount of scrambled paneer on the toasted breads, or pack the stuffing in a separate container for your kids for lunch.

Serve Scrambled Paneer Sandwich Recipe along with Fresh Fruits and chopped carrots in the lunch box, or along with a glass of Rose Lassi Recipe as an after school snack.