Soft and Succulent pieces of Mutton in fiery and spicy Red Gravy, that is how we define LAAL MAAS, which is a very popular dish in Rajasthan. Just like Dal Baati Churma is a must have in Rajasthan, Laal Maas is another dish that you must try if you visit any city in Rajasthan. It is a heart of every Non Vegetarian meal, that will surely satisfy your taste buds to the T.
The main ingredient that plays an important role in the making of Laal Maas is Kashmiri Dry Red Chillies or Dry Red Chillies. It gives a rich red colour to the gravy and therefore the name Laal Maas where Laal means Red. Yogurt and Garlic are also other main ingredients that gives this a even better and rich taste.
It is on the menu of every Hotel, be it a 5 star property or a small hotel on the side of the road, but the actual taste is in the Laal Maas, which is either made in villages or the road side dhabas. They make Laal Maas in a traditional way, on the old style Chulhas, which is made of sand and the fire is generated by wood and coal, giving it that rustic flavour.
Laal Maas is considered a food of Royals, as it was made with the meat which was hunted by the Raja Maharajas. In olden times, laal maas was made with wild game meat, such as boar or deer and chillies were used to veil the gamy odour of the meat. Traditionally, it is served with Phulkas or Baatis, which are whole wheat balls which are usually baked. It is also served with Rotis like Makki Ki Roti and Bajre Ki Roti in Rajasthan.
But, if you love Laal Maas or want to try it, you don't have to take a trip to Rajasthan, you can just make it in your own kitchen. Yes, it's that easy. It is a gravy that tastes better when marinated well and slow cooked till the mutton is properly cooked and the gravy becomes rich and fiery. Here, we will show you the step by step process on how to make the Laal Maas.
Masala Required To Make The Marination For Mutton:
We will start making a paste in which we will marinate the Mutton and it will also become the base of our Gravy. Firstly, we will soak the red chillies in water for about 10 minutes.
Once it is done, we will heat 1 cup water in a saucepan. When it starts boiling we will add soaked Dry Red Chillies, Bay Leaf, Black Cardamom, Green Cardamom, Cinnamon Stick, Cloves and Cumin Seeds. Let it Boil for about 6 to 8 Minutes.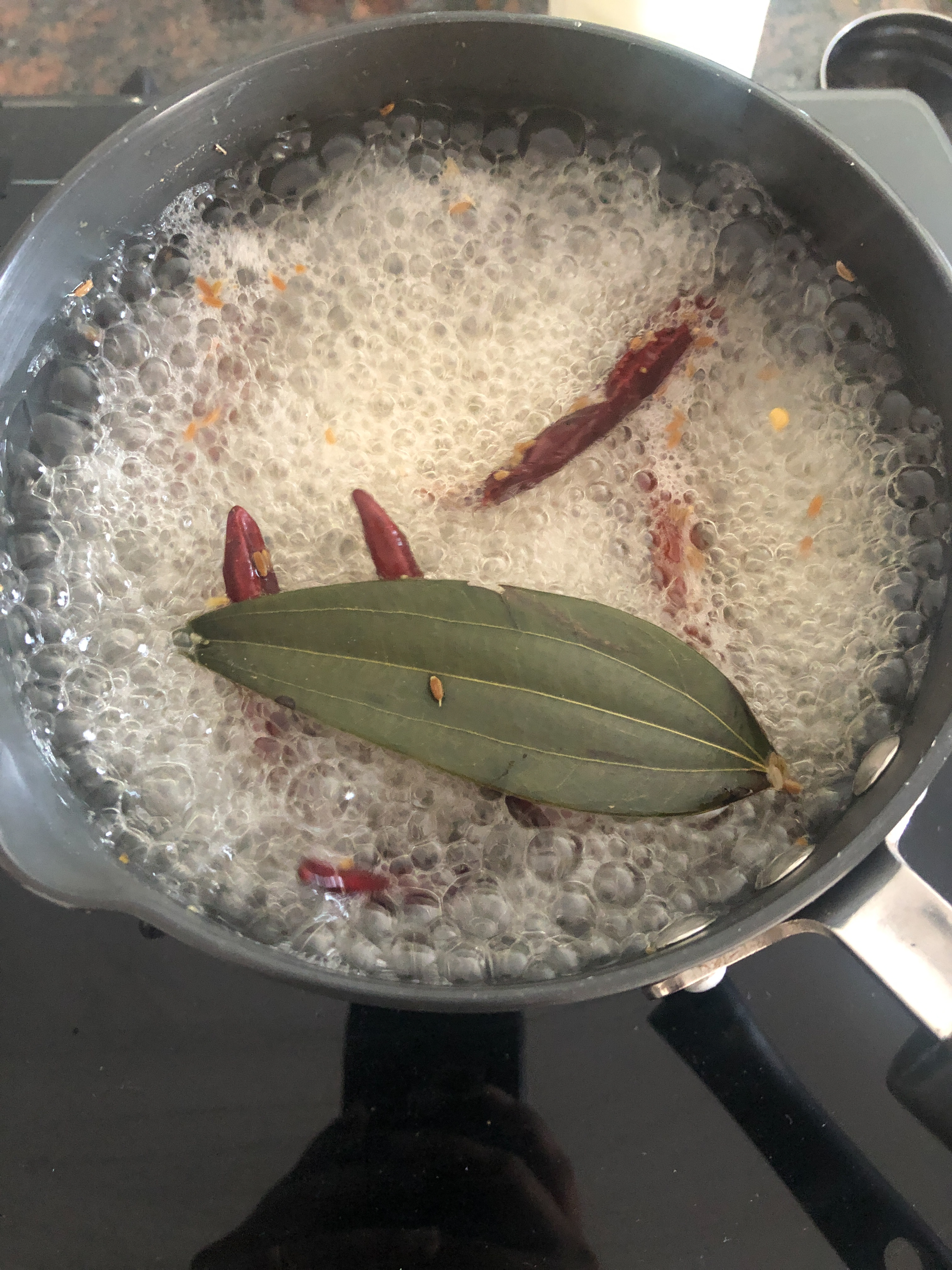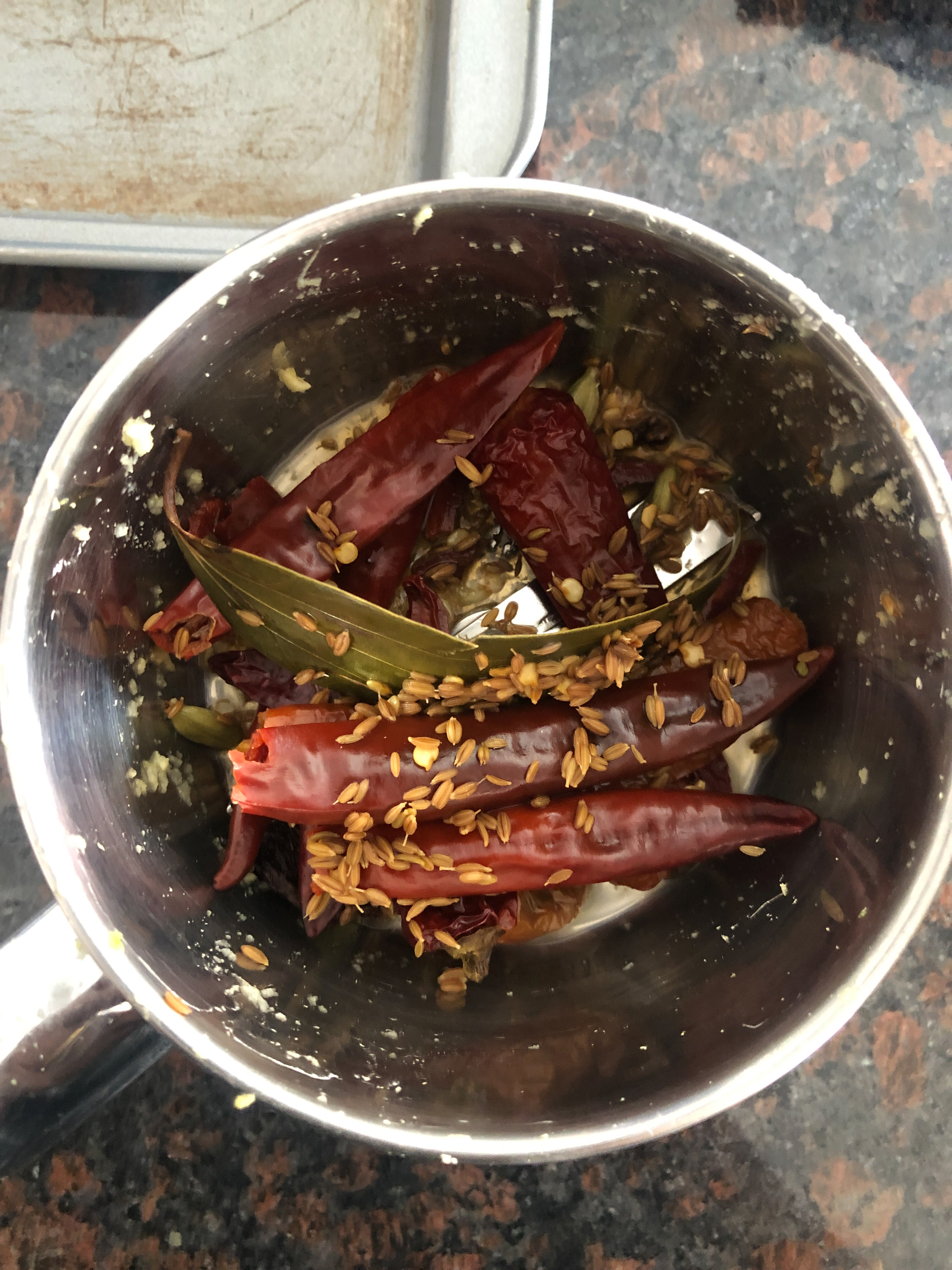 After 6 to 8 minutes, switch off the stove and keep the water aside. Take out the Dry Masala and let it cool down. Once it cools down, add the same to a mixer grinder and grind it into a smooth paste. Your marination is ready.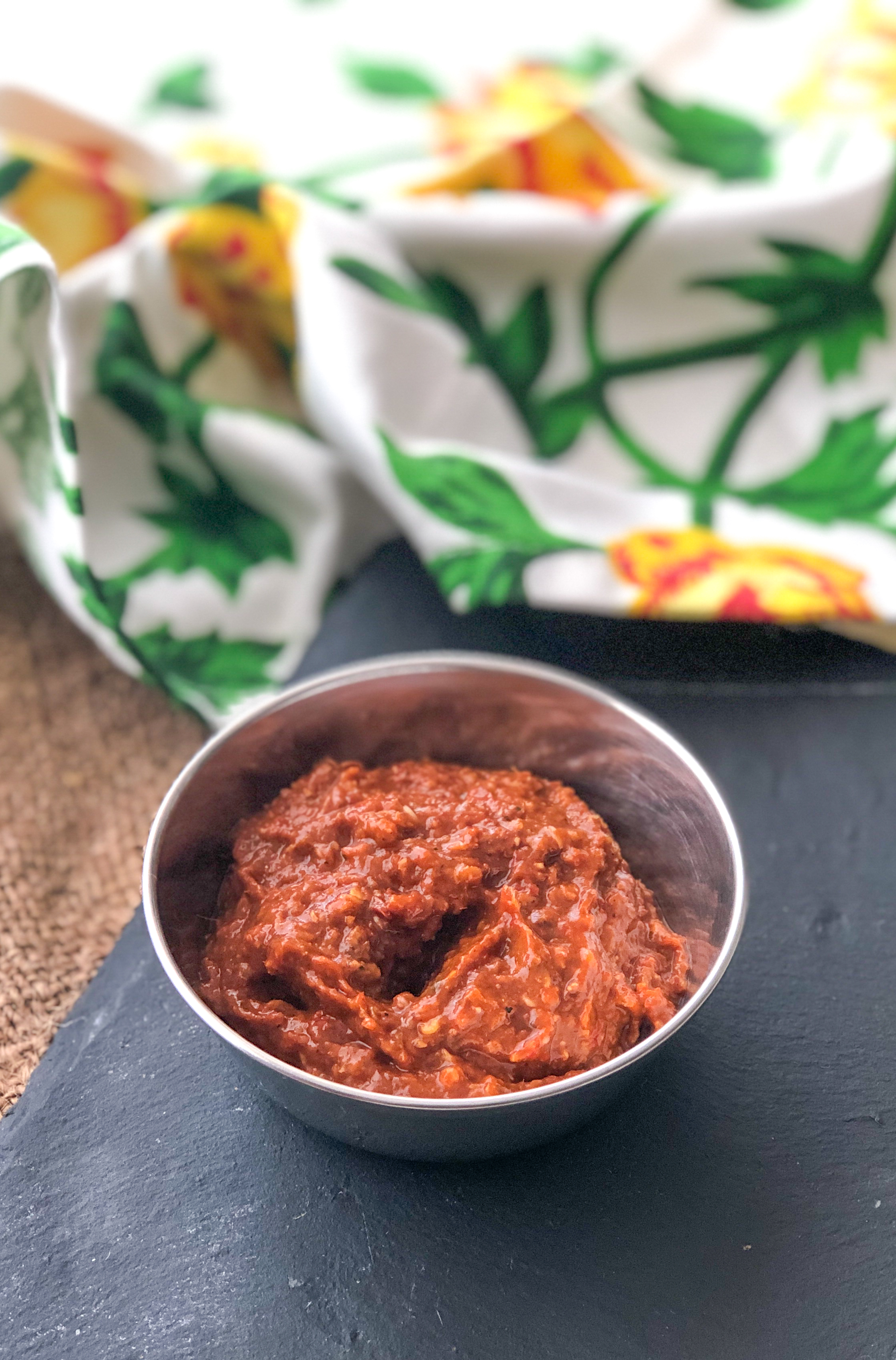 Process Of Marinating The Mutton:
Once the marination is ready, we will start marinating the mutton. Wash the mutton pieces very nicely and add it in a big bowl. Add the grounded Red Chilli Paste, Curd, Salt, Turmeric Powder, Cumin Powder, Coriander Powder and one tablespoon Ginger Garlic Paste. Mix everything well and keep it aside covered for about an hour. You can also keep it for more than a hour, because the more we marinate, the tastier it will be.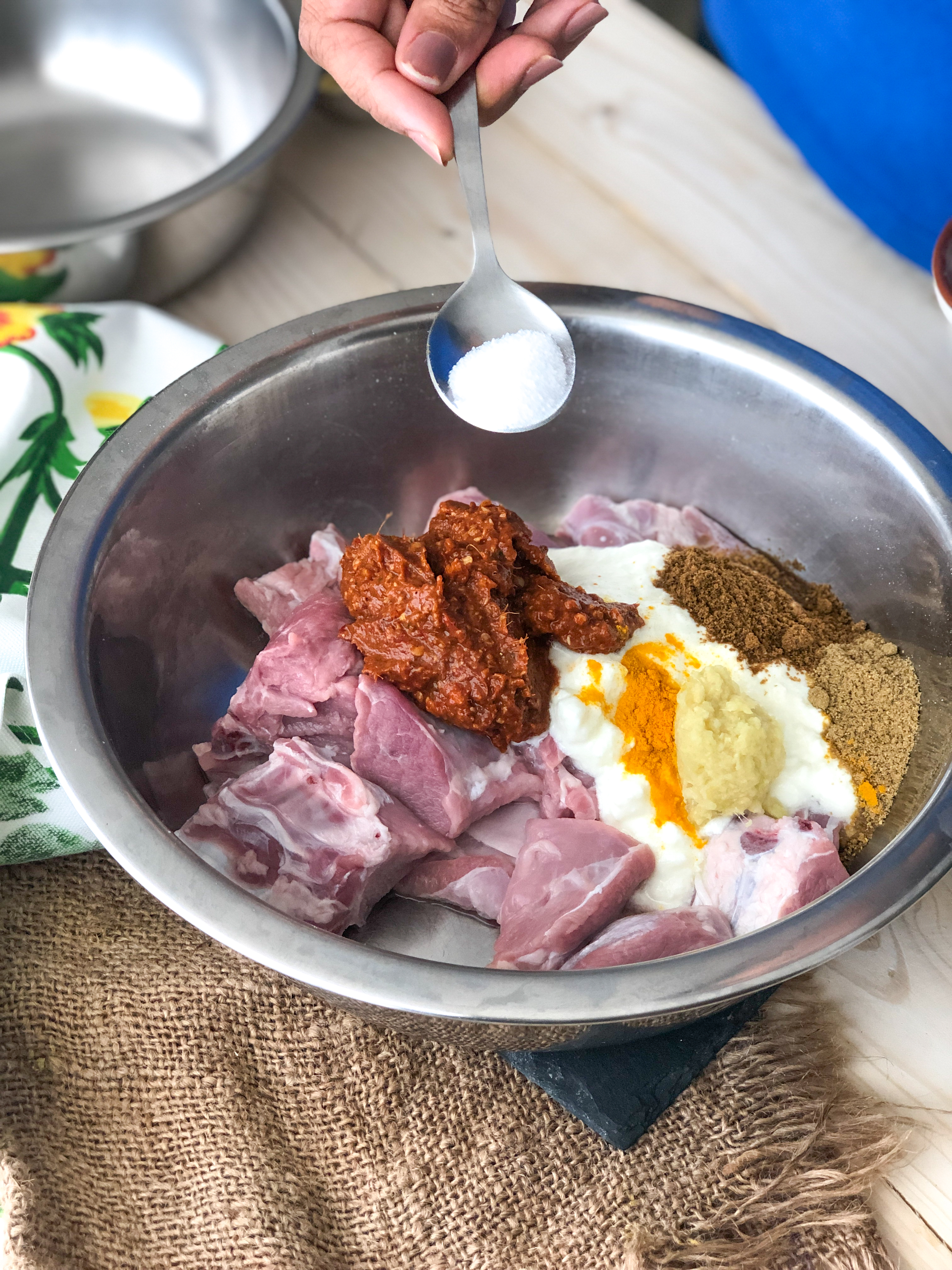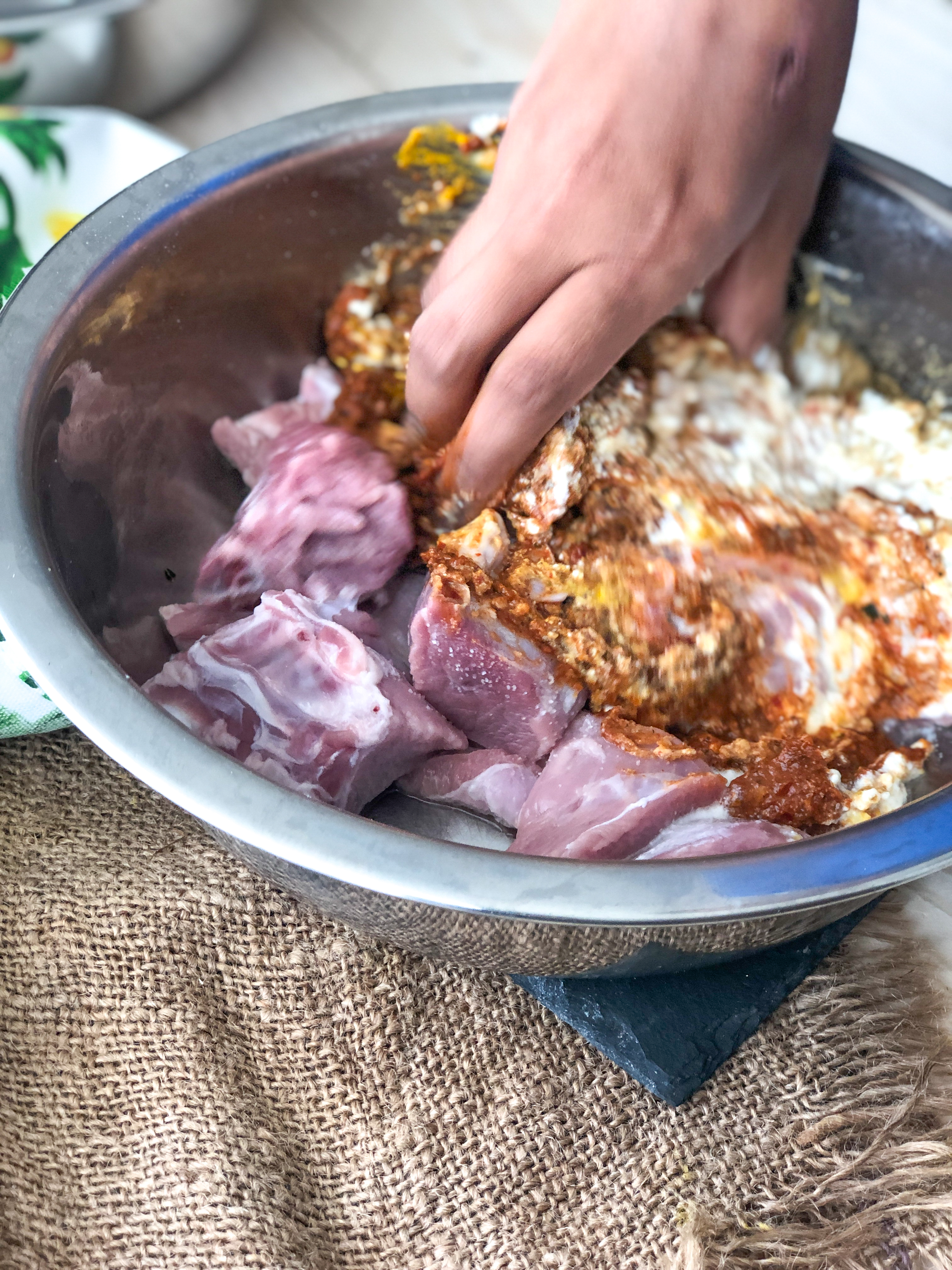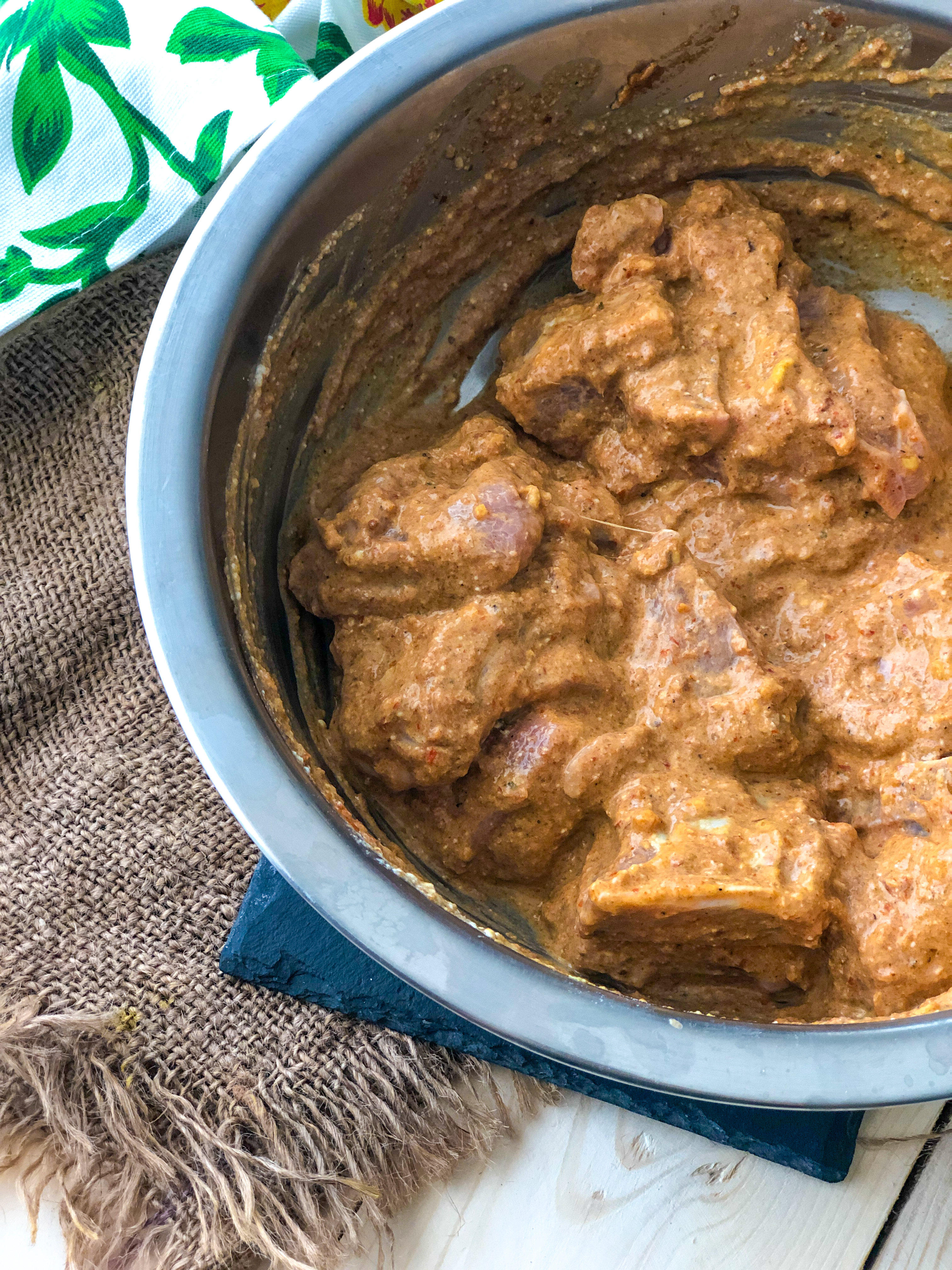 Preparation Of Laal Maas:
To begin making the Laal Maas Recipe, firstly heat the required ghee in a heavy bottomed pan. Make sure that you use Ghee and not oil, as the taste will differ, as the authentic Laal Maas is only made in Ghee.
Once the Ghee is hot, add in the onions and let it cook till they become soft and translucent. Once the onions are soft, add in the remaining Ginger Garlic paste and cook for about 2 to 3 minutes. Once done, add in the marinated Mutton pieces along with the marination. Mix it well.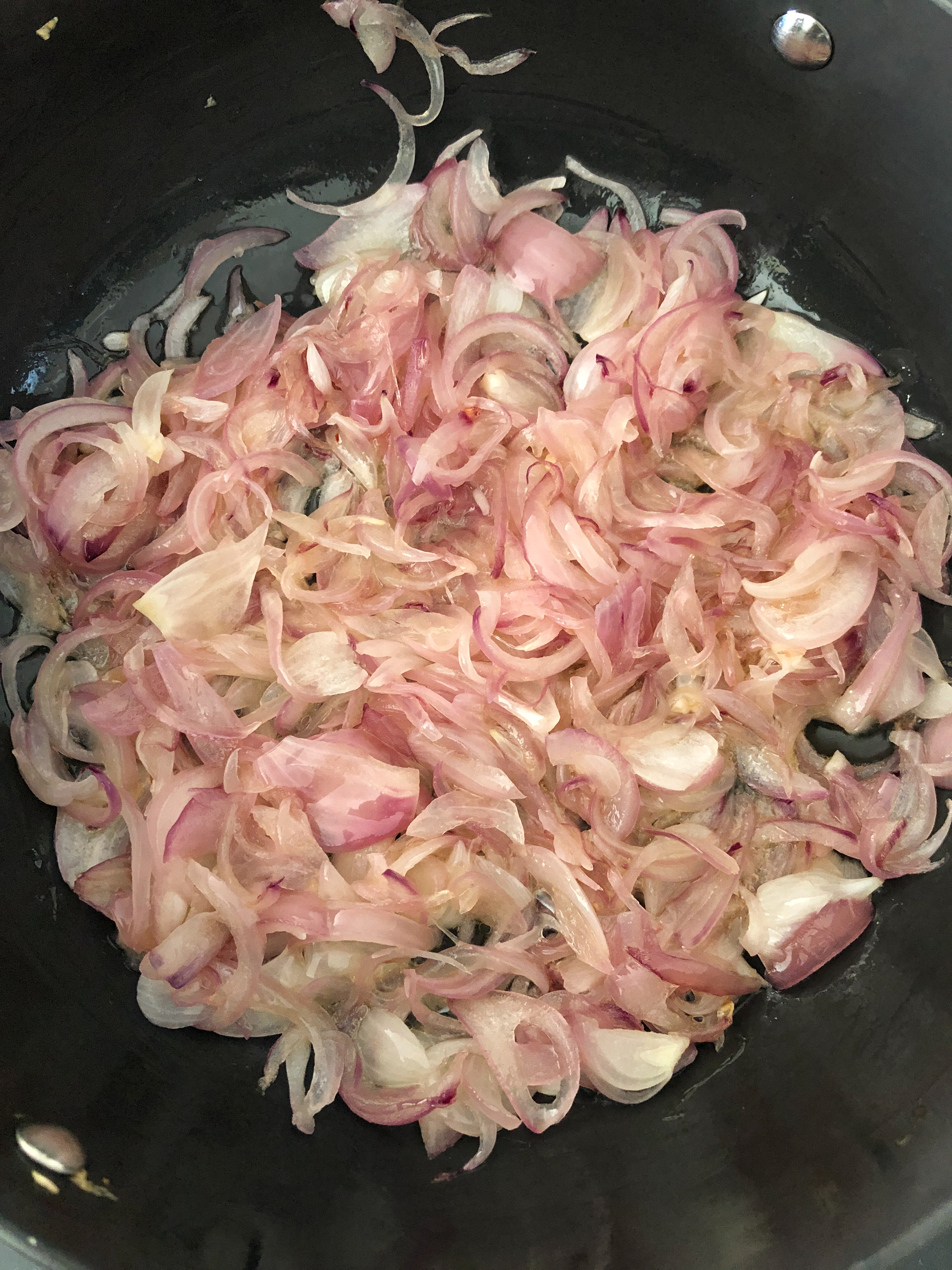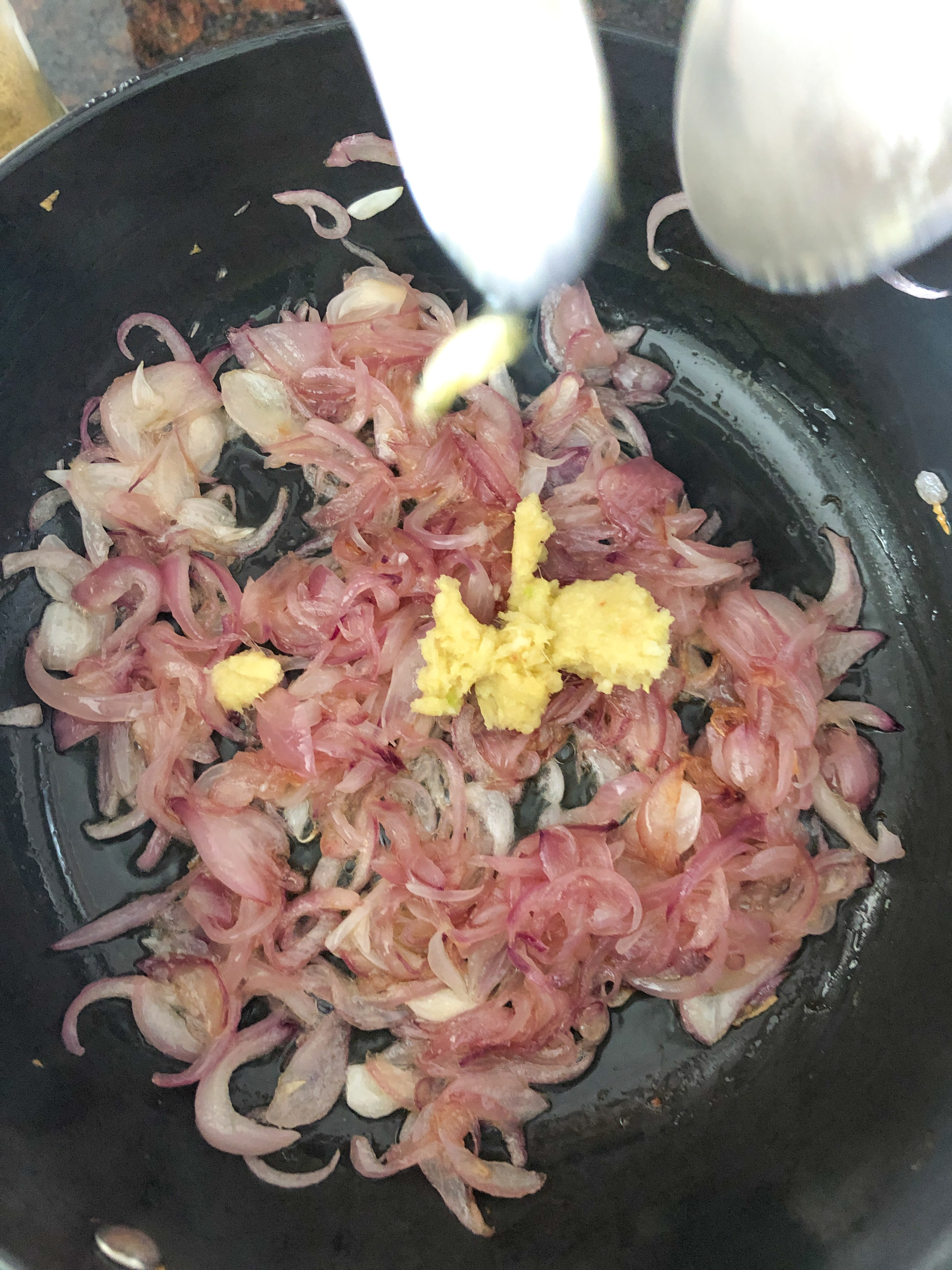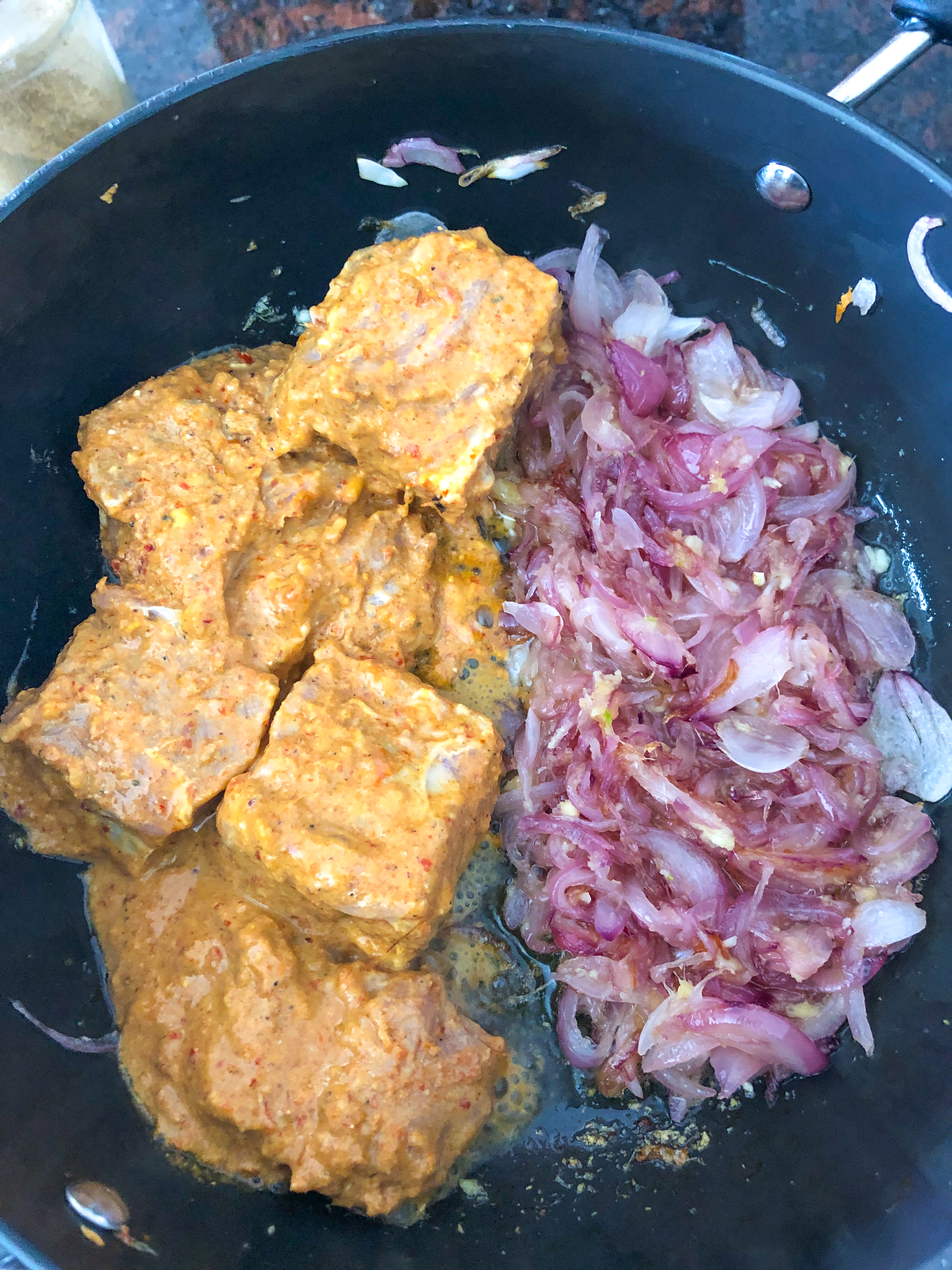 Once this is done, add in the water in which we boiled the red chillies and other masala. Add more Water if you want more Gravy and cover it. Let it cook on low heat for about an hour. Keep stirring in between to make sure that it doesn't get burnt.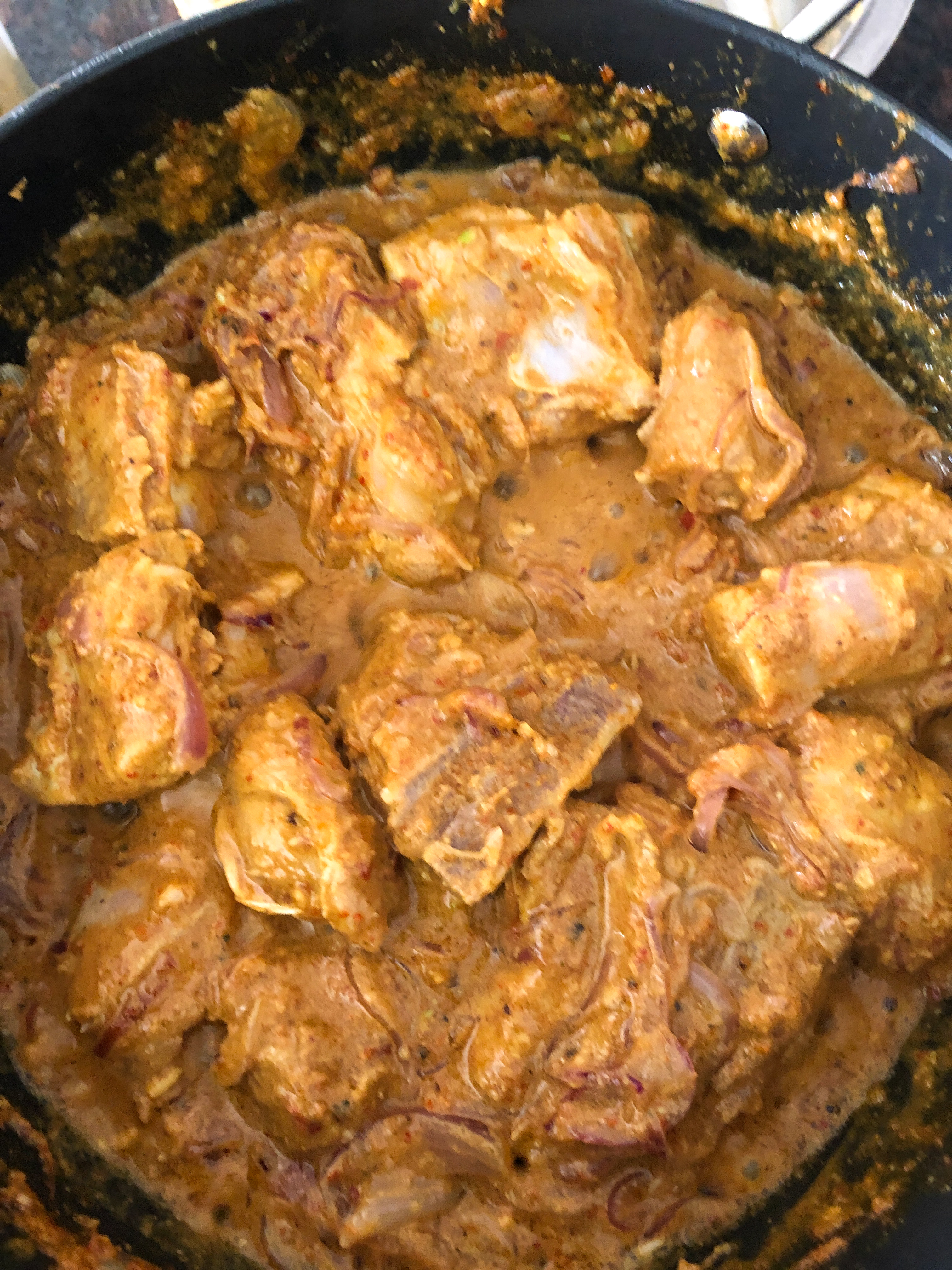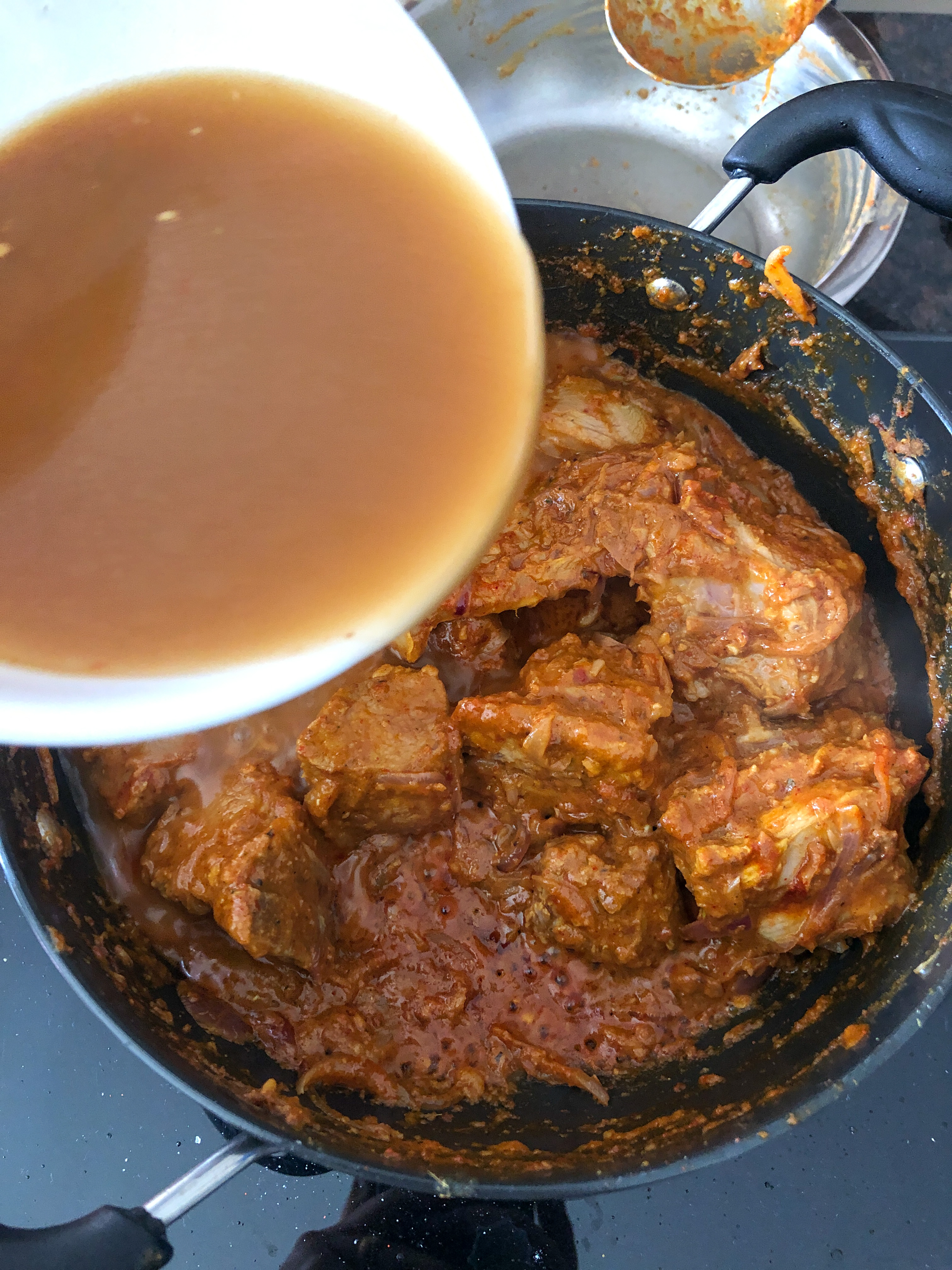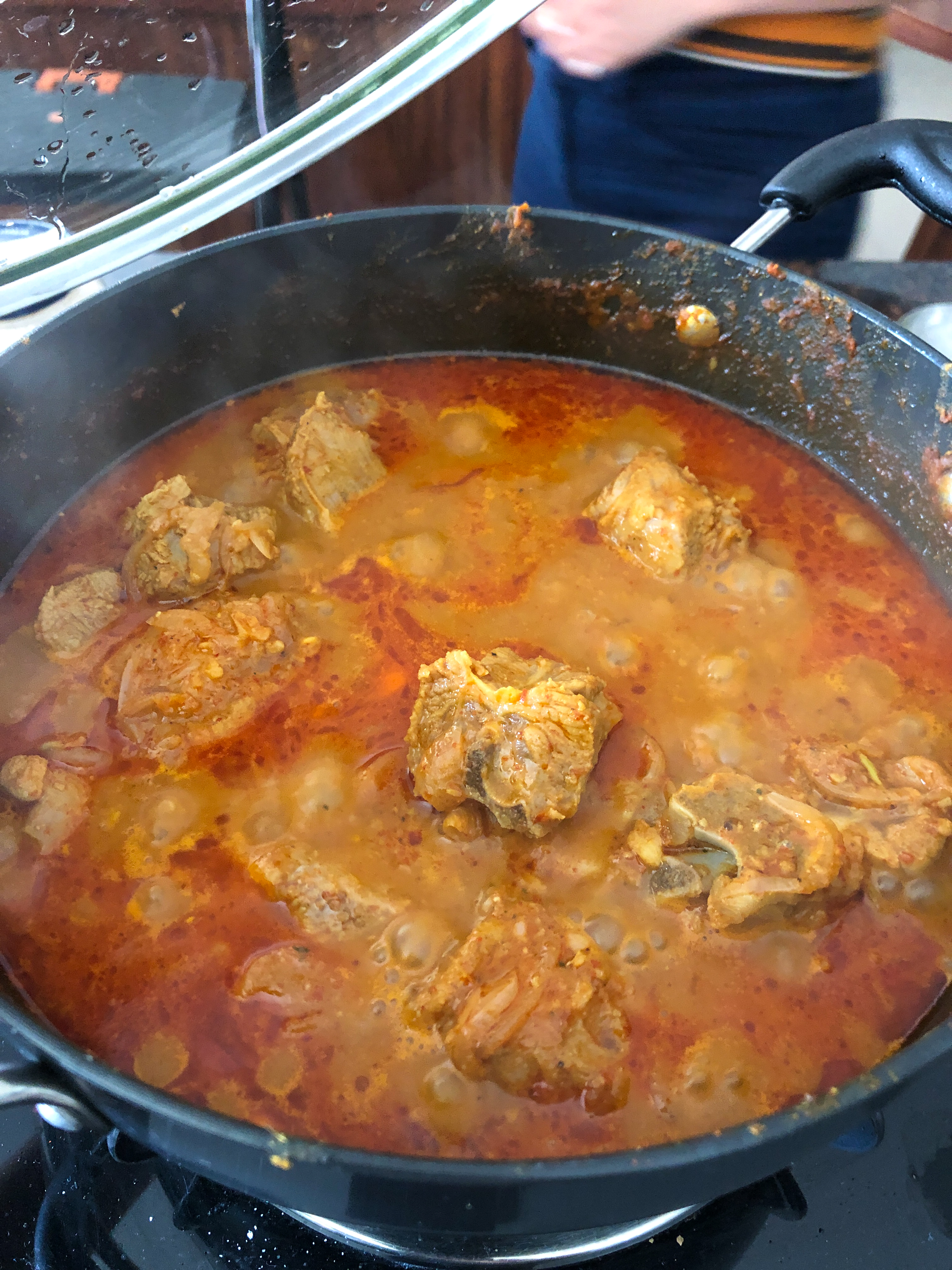 Once you see the gravy getting rich, deep red and thick, switch off the gas and garnish it with finely chopped coriander leaves. Slow cooking process used in this dish makes the gravy more rich and delicious. Serve this Mouth watering Mutton recipe, Laal Maas along with Phulka, Baati, Bajre Ki Roti, Makki Ki Roti or even along with Steamed Rice.