The airy pockets of sweetish fragrance that is trapped inside a bread is the secret story that is told only to the teeth and tongue. The minute and mild crackling of bread that is heard only when the bread is held close to ears and squeezed gently is the proof of its freshness and the tale of its perfect bake. We like to dip these slices of bread in soups, stews or just with a delicious cup of coffee. Bread is also an accompaniment to pasta, gnocchi and likely. Many continental and Italian main course is incomplete without buttered crisp slices of flavoured breads.
We bring a pound of fresh bread home, savour it during our meal. But what do you do with a few slices of leftover bread other that bringing it up to your breakfast table the next day as toasts and sandwiches? Well, there are lot of possible recipes that you can whip up with leftover breads. Many recipes that call for fresh bread can do away with 2day old breads from our pantry. Why waste them, or be devoid of using them creatively in whipping up a meal? Here are those 10 possibilities starting from a classic bread pudding to Indian upma, or even including those few pieces of leftover bread in the appetizers and main course recipes for dinner. Try them and you will love the twist you can provide to prepare amazing meal when used along with other right ingredients in our pantry.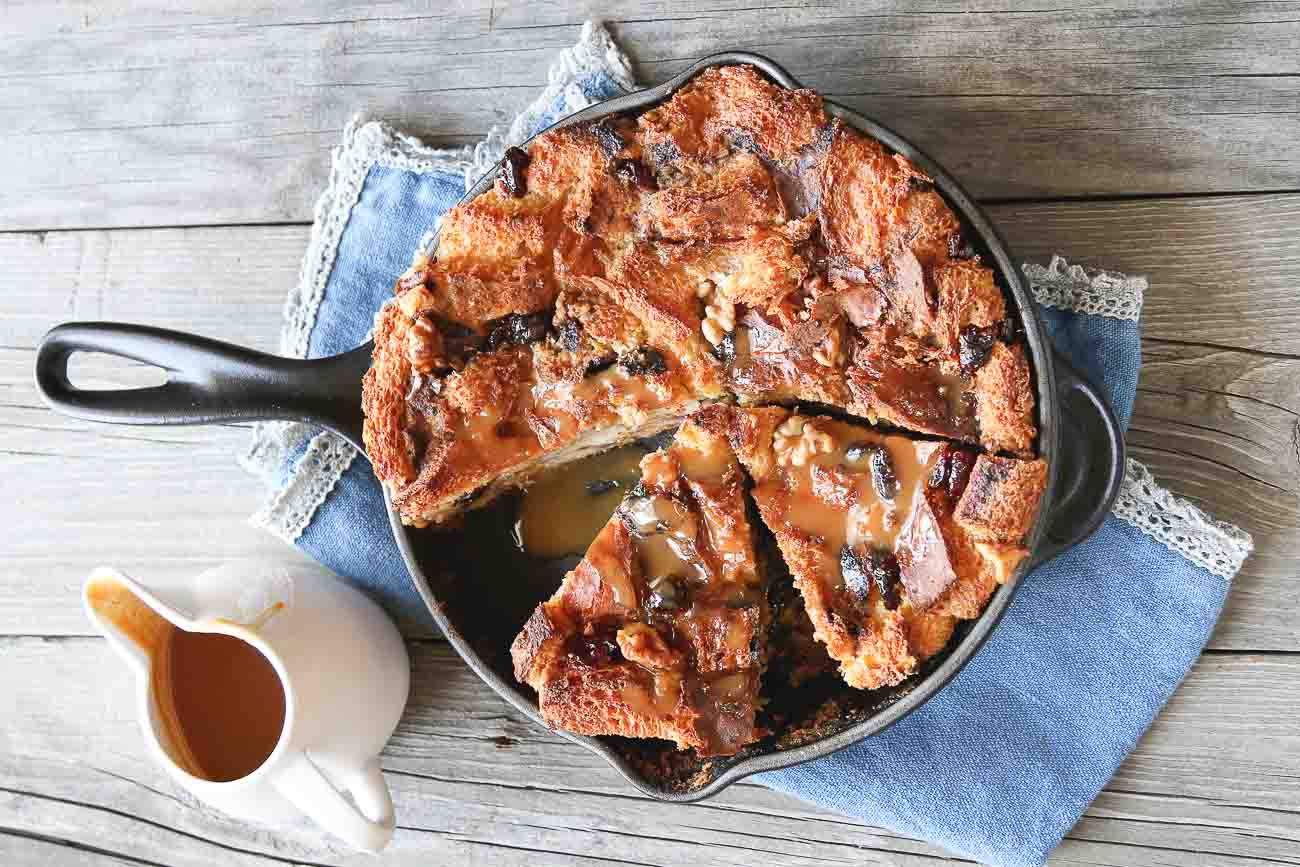 The Old Fashioned Bread Pudding Recipe is an easy and a classic recipe of the bread pudding. As the weather begins to near the winters I have puddings on my mind. The most favorite among my kids is the bread pudding which of course the simplest of all the puddings one can make. Soft, moist and yet have a great texture of bread. The best part about bread puddings is that you could use any kind of bread, croissants to loafs, to buns to old bread that needs to be consumed and is sitting in the fridge.
Serve the Old Fashioned Bread Pudding for the warm winters or even for your holiday parties.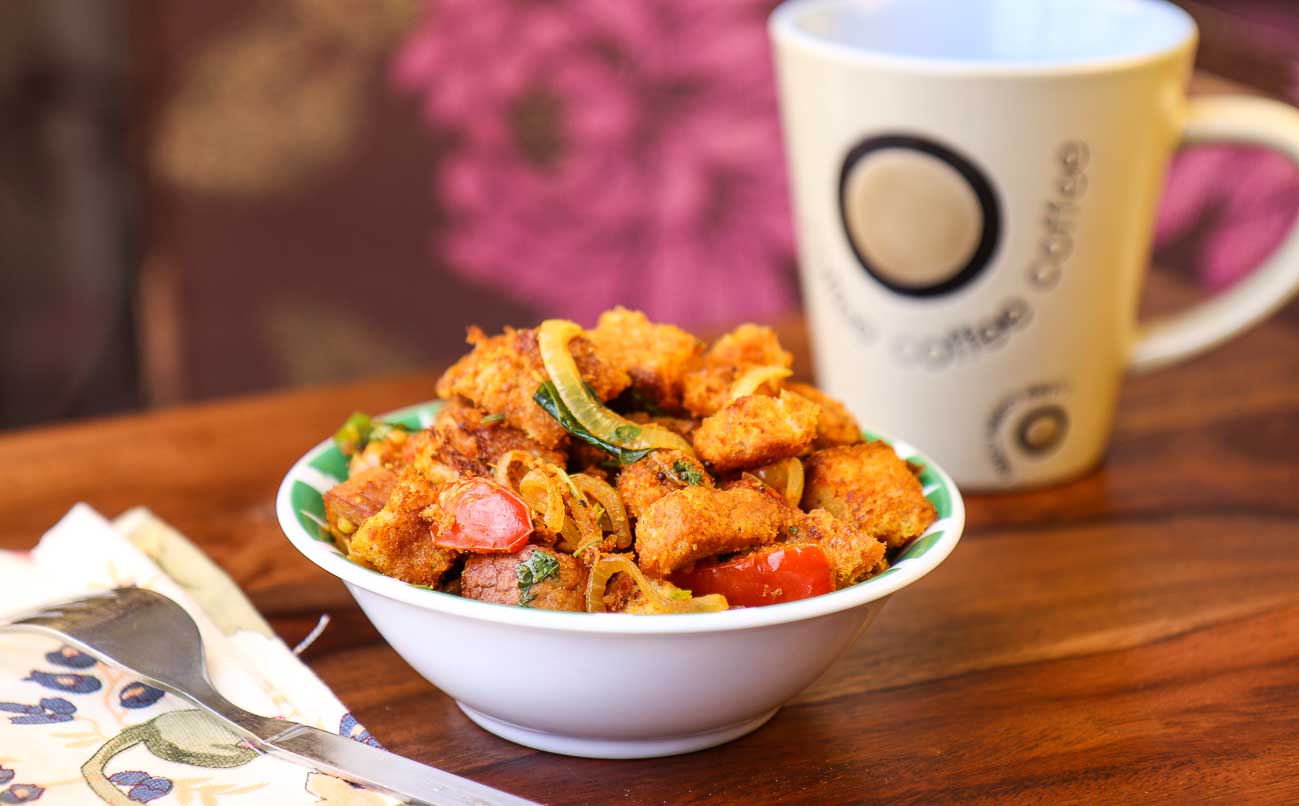 The Bread Upma Recipe is a dish that we look forward to whenever we have excess bread lying around the refrigerator. This recipe is a great way to use any kind of excess bread. The addition of onions, green chillies, sambar powder and fresh herbs like coriander leaves along with toasted buttered leftover bread is super delicious. You can make this recipe when you have more leftover bread slices and can be made with other french breads as well.
Serve the Bread Upma Recipe for a healthy breakfast along with Papaya Banana Smoothie Recipe.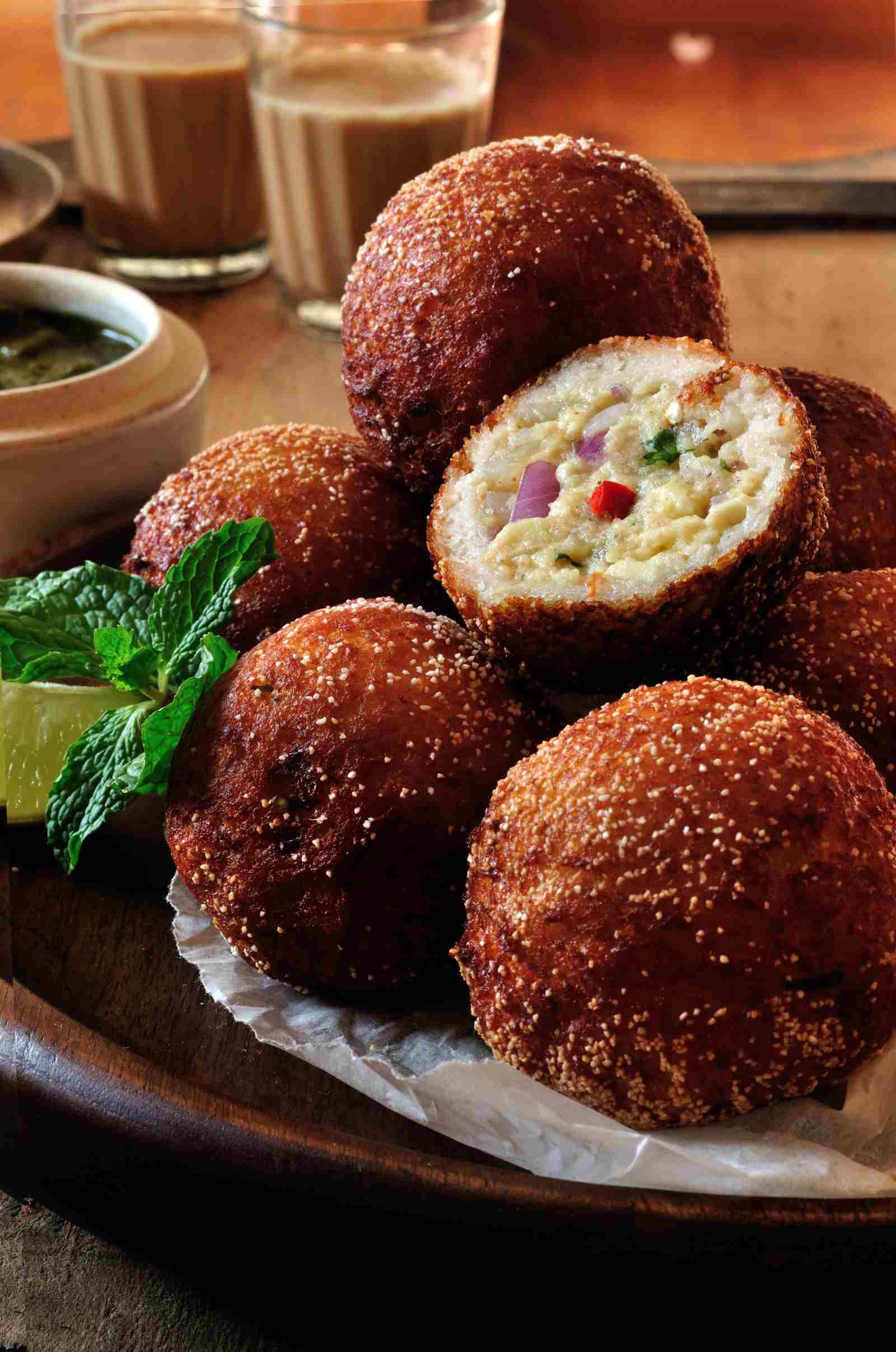 Paneer Stuffed Bread Fritters Recipe is a delicious party appetizer and tea time snack that can be made with leftover breads. Super crisp, deep fried fritters stuffed with paneer bhurji, they're perfect for entertaining a crowd over a cup of chai or to kick off a party. Easy to throw together and they taste best when eaten freshly made, serve these Paneer Stuffed Bread Fritters with Pudina Chutney as an appetiser or with Ginger Cardamom Chai to perk up your tea time.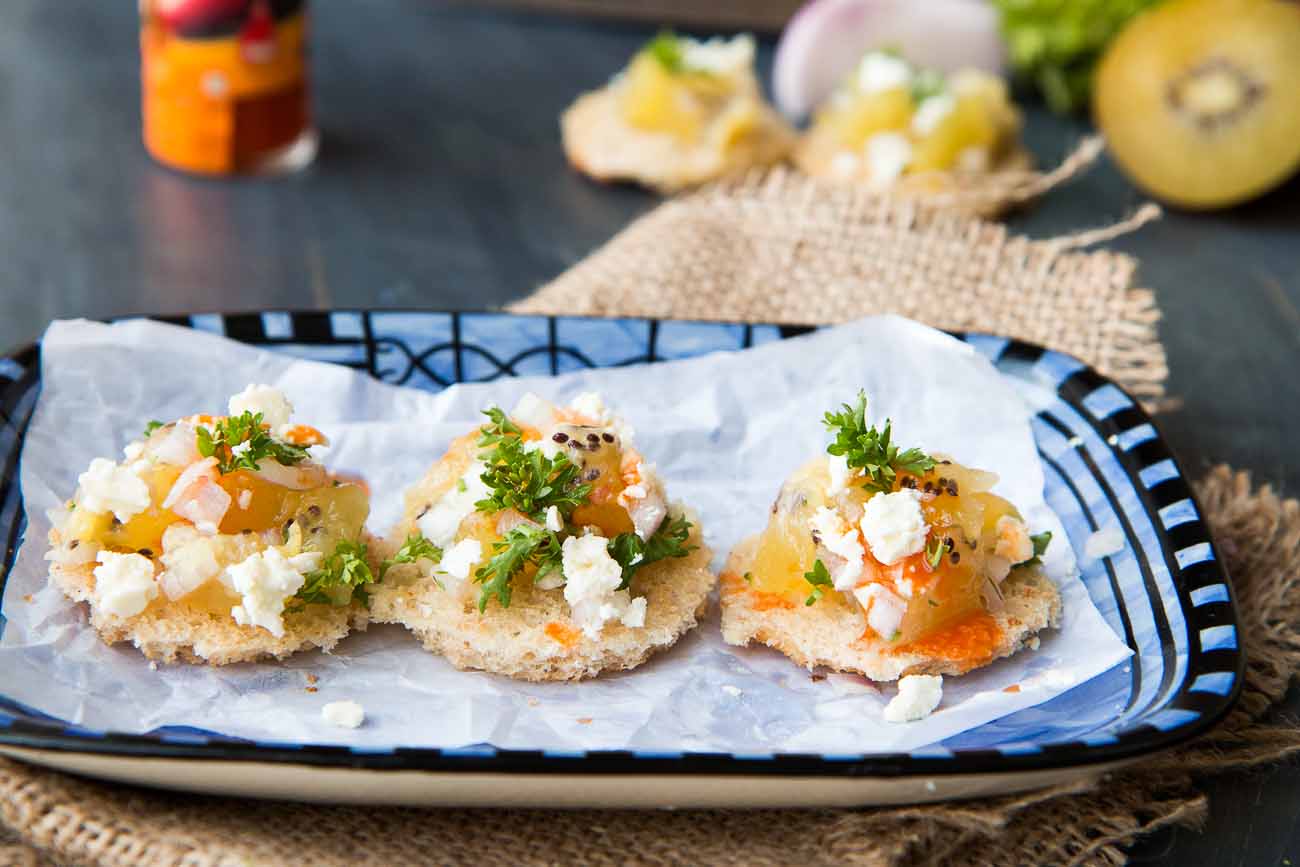 The Spicy Kiwifruit Salsa & Feta Toasties are made from fresh Zespri Kiwifruit that have a golden color and is sweet and full of taste. These Kiwi fruits, make perfect desserts or a tea time snack like the one in this recipe. In this recipe the Kiwifruit blends well along with the tabasco sauce, herbs and feta. You can take only the moist and soft part of the two day old bread instead of using the dried edges.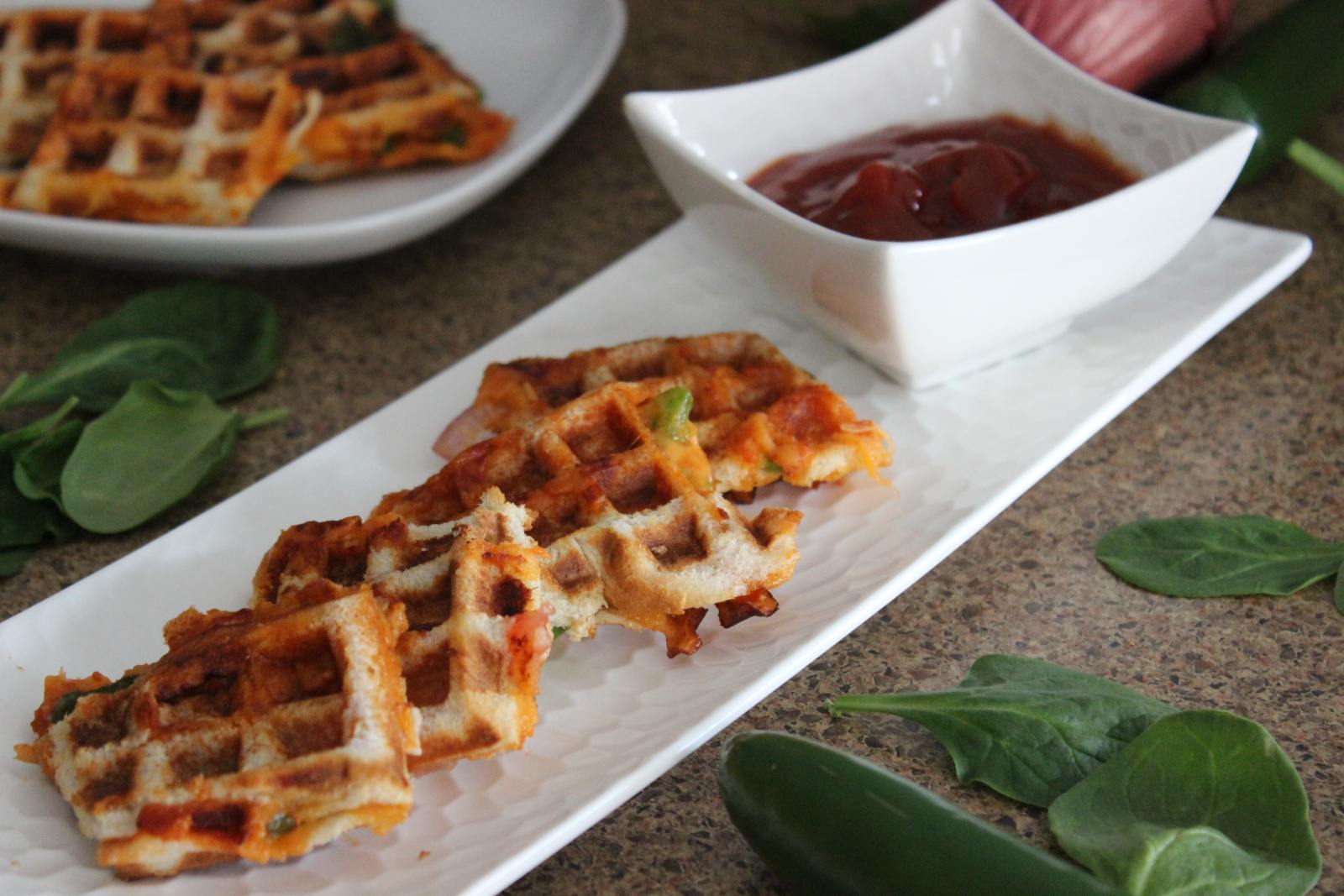 Basically waffle is a leavened batter or dough cooked between two plates, patterned to give a characteristic size, shape and surface impression. Waffles are eaten throughout the world, particularly in Belgium and have dozen regional varieties. Bread Waffle Pizza Recipe is a twist to the normal waffle by using leftover bread and lots of vegetables and cheese. You can use any vegetable of your choice. Serve Bread Waffle Pizza Recipe for breakfast along with tomato sauce, and Ice-Apple And Plum Rose Juice Recipe.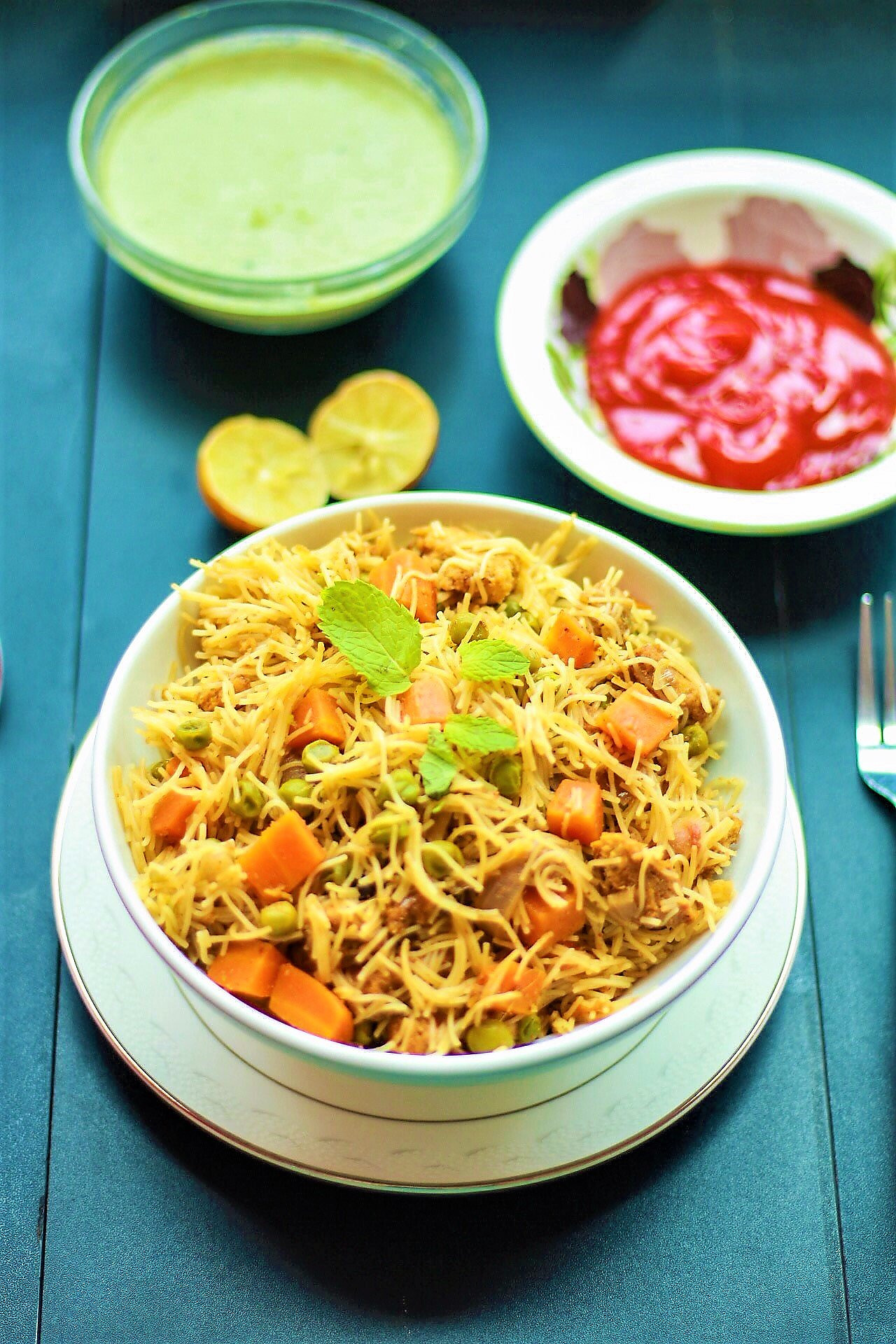 Semiya Biryani is a quick, tasty recipe that can be had for breakfast, lunch or dinner. This biryani is a great alternative to normal vermicelli upma. This biryani goes well with chutney, raita or kurma. It is easy to prepare when you want to fix your hunger pang. Remember that this recipe uses on few slices of leftover bread and hence this recipe is an option when you have less pieces of bread that is leftover.
Serve Semiya Biryani along with Tomato Onion Cucumber Raita for your breakfast or light dinner.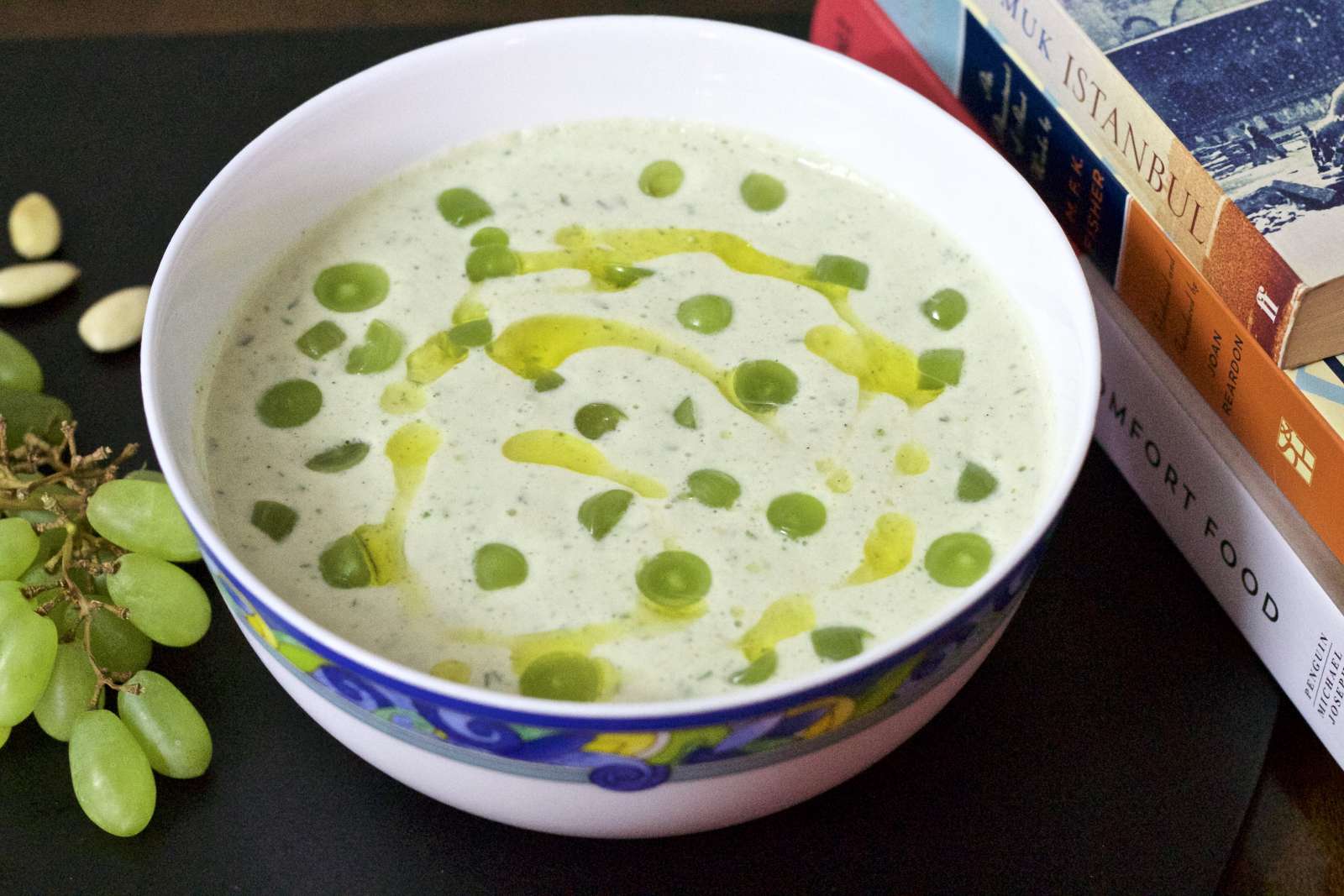 Ajo Blanco Recipe (Chilled White Grape and Almond Gazpacho) is a chilled, 'No Cook' version of the white gazpacho of Spain, with green grapes, almonds, olive oil, vinegar, cucumber, bread & garlic. This recipe also uses only a few pieces of leftover bread and hence is useful to use up that last portion of bread that is left from the previous day.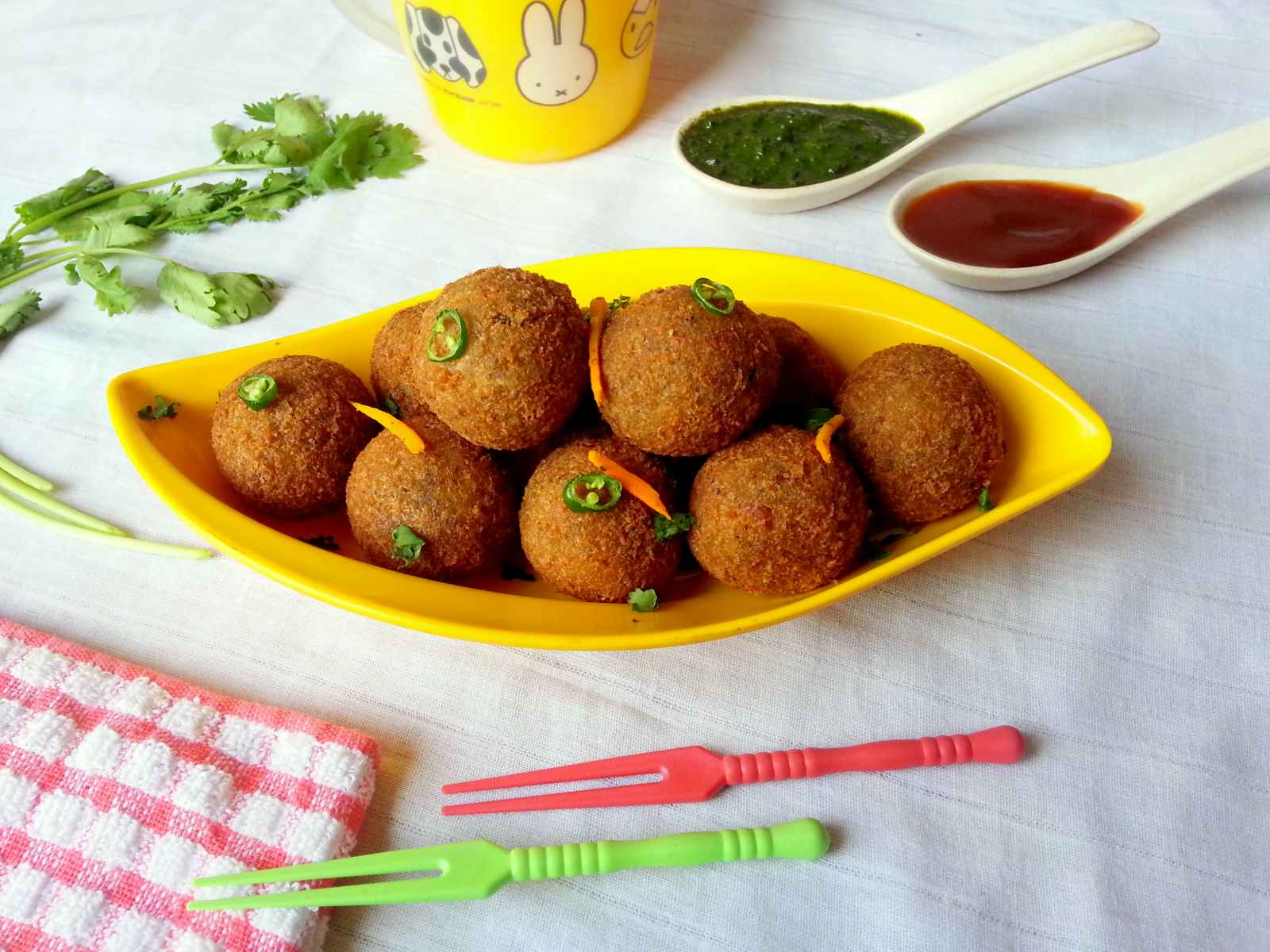 Cashew Nut Stuffed Paneer Balls are a tasty treat that serve as a perfect starter for any party. They can be served as a delicious tea time snack too.These deep fried paneer balls are crunchy on the outside and soft from within. The roasted cashew stuffing gives a nice nutty flavor and bite, to the otherwise soft paneer balls.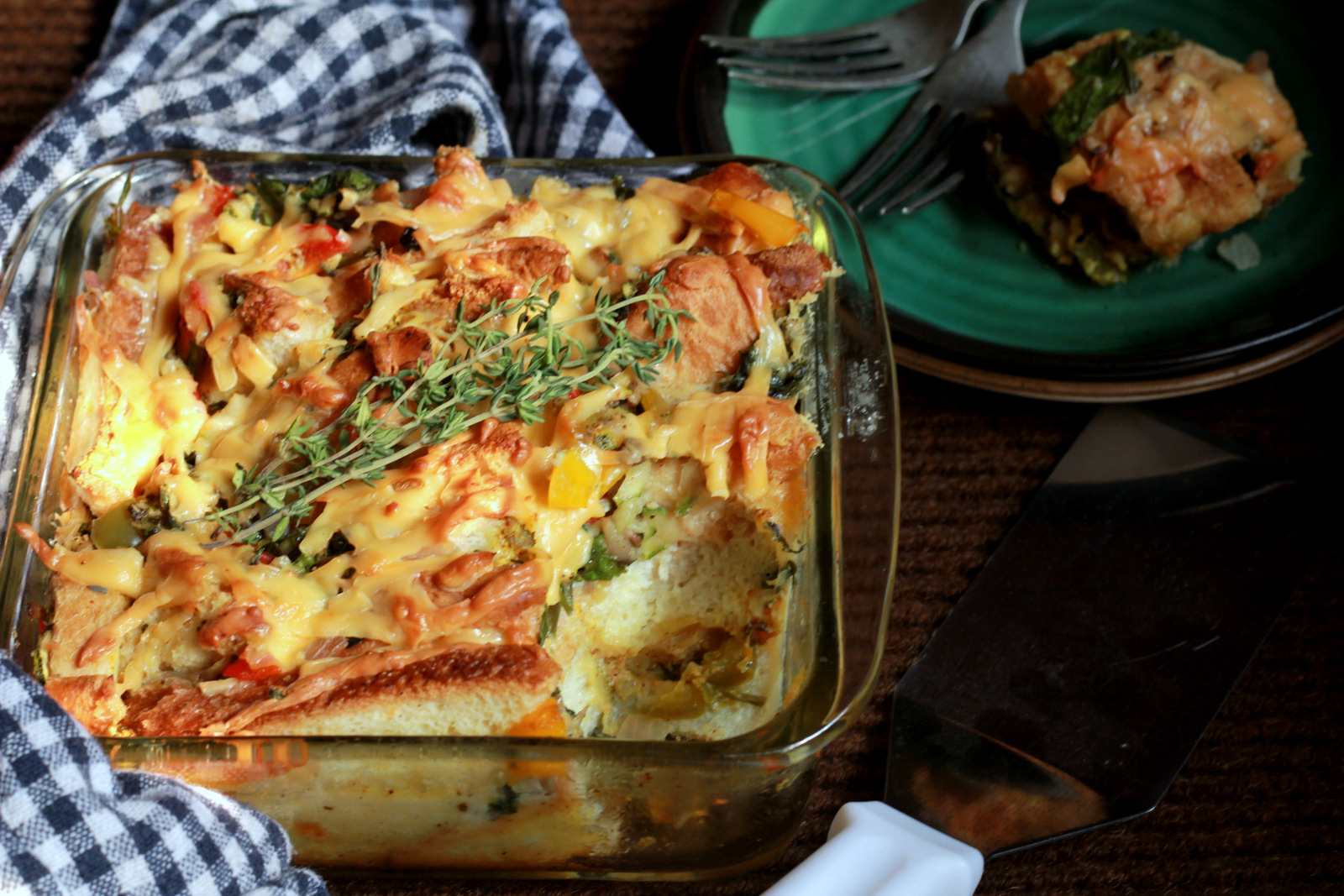 If you are looking for ideas to use leftover bread and if you prefer a warm savoury casserole to a sweet one, this Savoury Bread Pudding is for you. To make this hearty Savoury Bread and Butter pudding, vegetables along with some cheese, fresh herbs and english Mustard are sandwiched between leftover day old (or more old) bread slices, topped with a simple mixture of milk, eggs, herb, cheese and baked till the custard sets.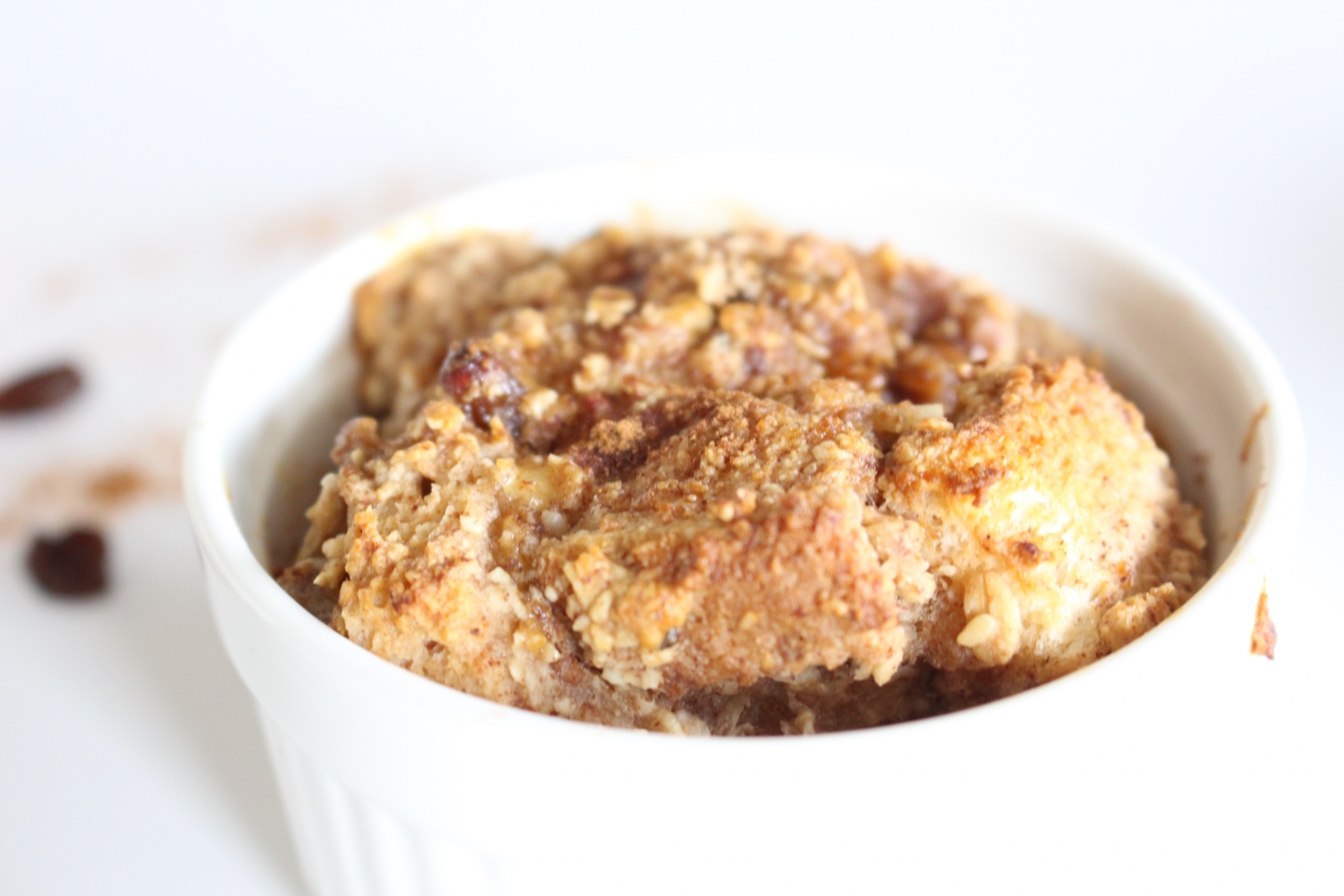 The French Toast made from multigrain bread and oats, flavored with vanilla, nut butter and maple syrup makes this a delicious and wholesome breakfast. Simple ingredients like banana, oats, milk, and bread can make this delicious and wholesome breakfast. Instead of multigrain bread, you can use almost any leftover bread to create this recipe.