Savoury Bread Pudding Recipe
Savoury Bread Pudding Recipe is a rich creamy- crunchy bread pudding packed with vegetables and slices of buttered bread, that makes a great main course dish. Serve it during the winter or monsoon season along with a glass of wine.

Madhuli Ajay
On

Monday, 04 April 2016 00:10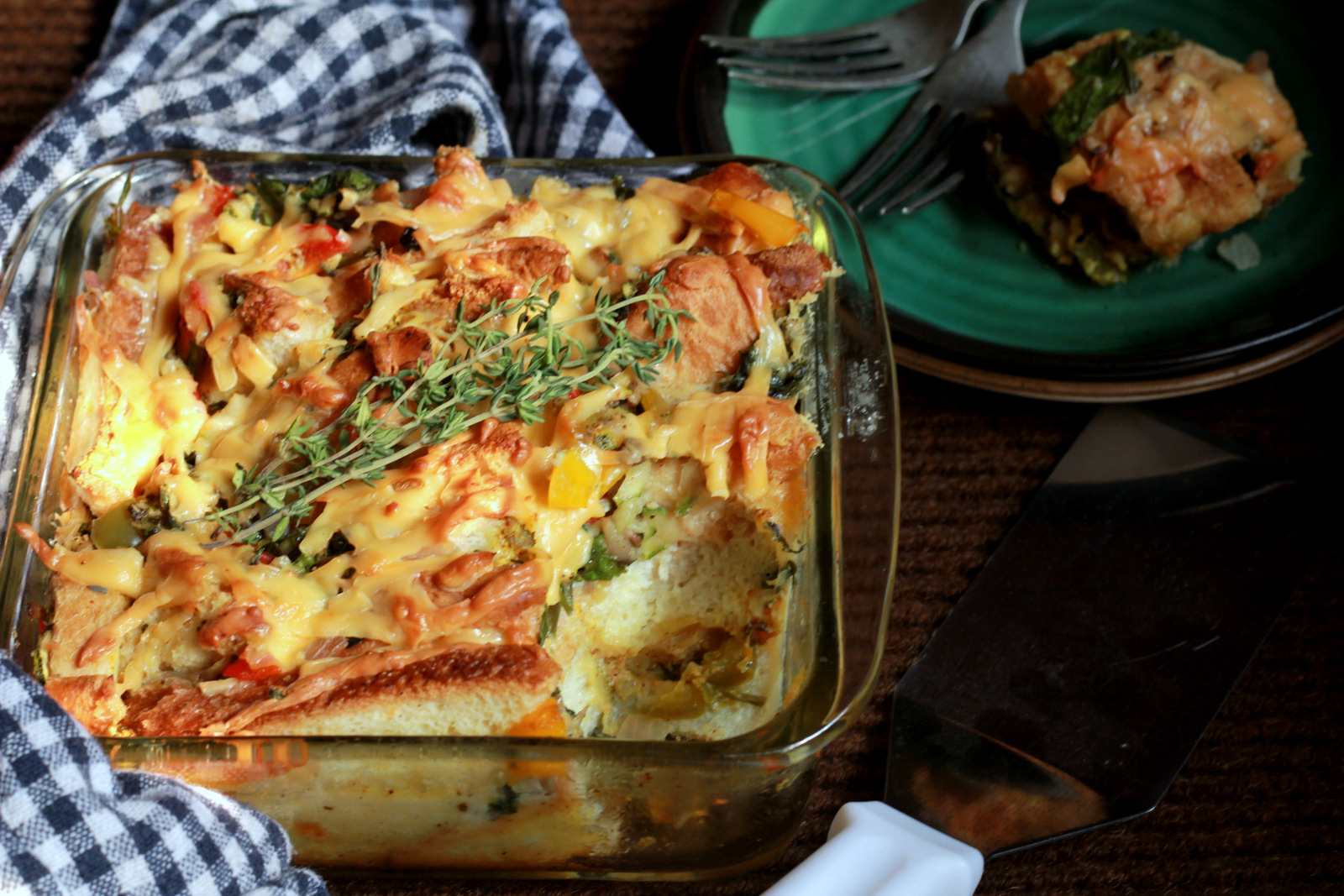 If you are looking for ideas to use leftover bread and if you prefer a warm savoury casserole to a sweet one, this Savoury Bread Pudding is for you. To make this hearty Savoury Bread and Butter pudding, vegetables along with some cheese, fresh herbs and english Mustard are sandwiched between bread slices, topped with a simple mixture of milk, eggs, herb, cheese and baked till the custard sets.
You can use any vegetables and herbs depending on availability or your choice. You can skip the butter for in case of diet restrictions, but if used, it provides a rich taste to the pudding. It is simple, satisfying and easy to make.
Serve the Savoury Bread Pudding as dinner on a cold winter evening, along with a glass Lavender Lemonade Cooler Recipe and Eggless Choco Lava Cake Recipe for dessert.
If you like this recipe, you can also try:
Ingredients
6

Bread slices

, preferably a day-old bread
1/2

Green zucchini

, grated
1

Carrot (Gajjar)

, grated
1

Red Bell pepper (Capsicum)

, finely chopped
1 cup

Spinach Leaves (Palak)

, chopped
6

Button mushrooms

, finely chopped
1

Onion

, finely chopped
3 cloves

Garlic

, finely minced
2 teaspoon

Olive Oil

4 tablespoon

Dijon Mustard

1 sprig

Fresh Thyme leaves

, or oregano or any herbs of choice
2 teaspoon

Black pepper powder

, crushed (or red chilli flakes)
2 cups

Milk

2

Whole Eggs

, lightly whisked
1 cup

Cheddar cheese

, grated and for topping as well
4 tablespoon

Butter

, + 1 tablespoon for greasing the baking dish

Salt

, to taste
How to make Savoury Bread Pudding Recipe
To begin making the Savoury Bread Pudding, first grease a 7 inch baking dish with butter. Preheat the oven to 180 degree Celsius.

Heat olive oil in a small pan and add onion, garlic and sauté for a few seconds, till the onions turn translucent.

Add the mushrooms and stir fry till they begin sweat. Add the rest of the vegetables - zucchini, carrots, bell peppers and spinach, salt and 2 teaspoon pepper and give it a good mix. Take off the heat and add the herbs.

Butter 3 slices of bread and spread the english mustard paste over it. Spread 1-2 tablespoon vegetable mixture on each slice and top it with some grated cheese.

Cover with another bread slice to form a sandwich. Cut each sandwich diagonally into 4 triangles.

Place each triangle vertically in a baking dish. Cut edge placed down.

Sprinkle the leftover vegetable mixture over the bread slices.

In a small mixing bowl add the whisked eggs. Add the milk and whisk till it blends in with the eggs. Add salt and whisk again.

Pour this egg-milk mixture over the arranged sandwich slices and sprinkle herbs, cheese, pepper on top.

Bake in the oven till the custard sets, for about 18-20 minutes. Do not over bake as the pudding will get too dry.

If you think the top of the pudding browns faster cover it with an aluminium foil. Serve hot.

Serve the Savoury Bread Pudding as dinner on a cold winter evening, along with a glass Lavender Lemonade Cooler Recipe and Eggless Choco Lava Cake Recipe for dessert.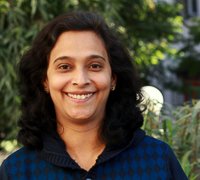 Giving up a lucrative career tinkering with Analytical equipments, Madhuli Ajay chose to tinker in her Food lab- developing new recipes & satisfying her culinary travel cravings. She has been sharing heirloom recipes on her blog 'My Foodcourt' for the past 9 yrs. Madhuli bakes to feed her soul. Testing recipes & photographing food for a cookbook, has fuelled her food photography passion. Based in the gorgeous 'Wine Capital' of India Nashik, Madhuli also loves spending time in her little kitchen garden.