Shalgam Ke Kebab Recipe (Turnip Patties)
A deliciously irresistible appetizer

Bhavita
On

Friday, 24 February 2017 00:00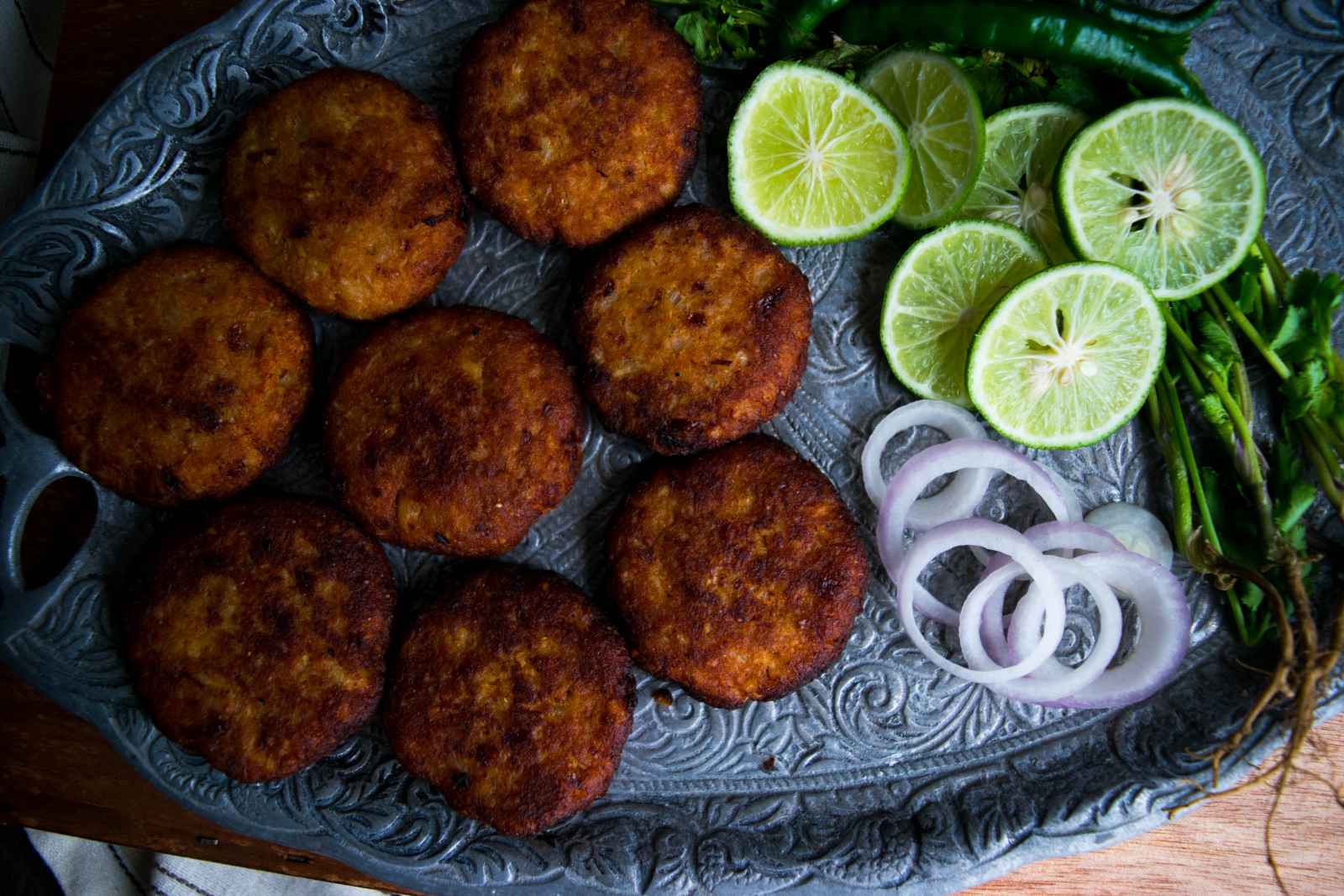 Shalgam Ke Kebab recipes, a North Indian dish is an easy delicious vegetarian option made with pantry staples and is a welcome change from the usual aloo and paneer. It is a delicious way to include turnips in your diet if you do not fancy the taste of turnips otherwise. It is a simple recipe that can be cooked with minimum items and can be made when you do not have too much time on your hand.
Serve Shalgam Ke Kebab with green chutney as a party appetizer or with masala chai as an evening snack.
Other recipes that you can try with turnips are:
Ingredients
500 grams

Turnips

1

Onion

, thinly sliced
2 tablespoons

Chana dal (Bengal Gram Dal)

, powdered
1/2-1 teaspoon

Salt

1/2-1 teaspoon

Red Chilli powder

1/2 teaspoon

Garam masala powder

Oil

, for frying
How to make Shalgam Ke Kebab Recipe (Turnip Patties)
To begin making the Shalgam Ke Kebab recipe, first make the chana dal powder. For this, add chana dal to a pan and on low heat roast it till you start to get a toasted smell (about 2-3 minutes); keep stirring frequently so it doesn't burn. Take it off the heat and let it cool; once cool grind the dal to a powder in a food processor/ dry grinder. You can make a big batch of this and store in an airtight container.

Next, Cut each turnip into four pieces; add the turnip pieces to a pot of water and put to boil. Boil the turnips till cooked through and soft then drain and discard the water.

Wrap the turnips, 2-3 pieces at a time, in a muslin/cheesecloth; squeeze well to remove all excess liquids from the turnips.

Heat 2-3 tbsp of oil or ghee and fry the sliced onions to a golden brown; take out the onions with a slotted spoon and drain on paper towels. Grind together the cooked turnips and fried onions.

In a bowl, take the turnip and onion mixture, and add salt, chana dal powder, garam masala and red chili powder; mix well to combine. Taste for salt, add more if required.

Make balls and divide into equal portions. Flatten each ball (use slightly wet hands if required) to give the kebabs a smooth and even shape. Using 2-3 tablespoon of oil, fry the kebabs on low-medium heat till golden brown.

The Shalgam Ke Kebab recipe is now ready to be served with green chutney as a party appetizer or with masala chai as an evening snack
You can make the chana dal powder in a larger quantity and store in it in an airtight container. It can be used to bind various vegetarian and meat kebabs
.Make sure to squeeze out all the liquid from the cooked turnips so you get a crisp kebab that also holds its shape well and is easy to fry.