Kashmiri Style Tchat Goji Recipe (Turnip & Dry Red Chillies)
A delicacy from kashmir that uses turnips which are cooked with whole spice and mashed nicely with a ladle. It takes less time to prepare and can be cooked in a jiffy. It has simple flavours like tikka masala, hing, sugar and dry red chillies. Serve it along with roti and dal to make a complete meal.

Karthika Gopalakrishnan
On

Saturday, 22 October 2016 00:00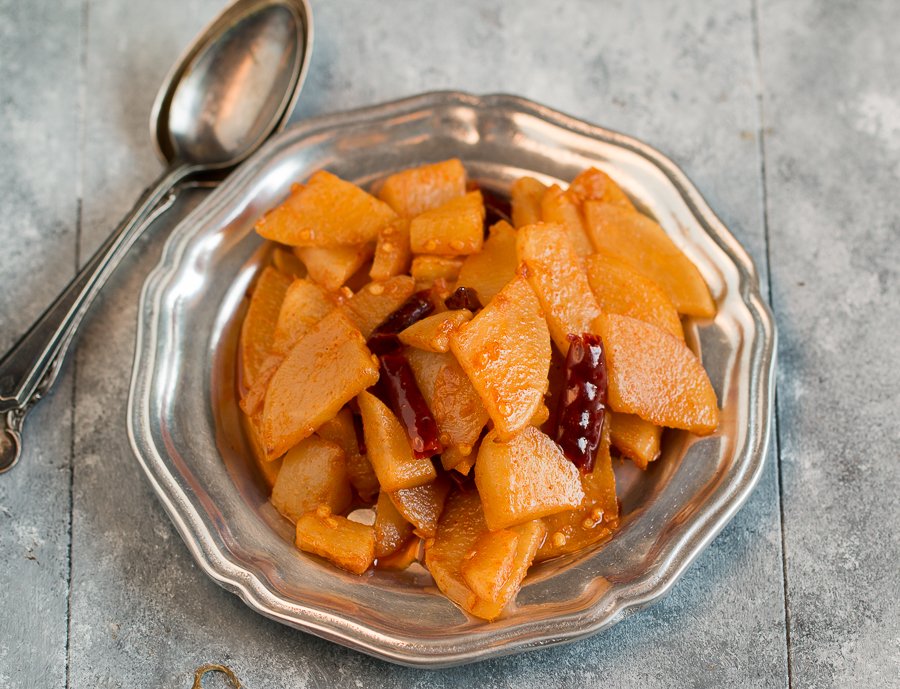 Tchat Goji is a Kashmiri delicacy prepared using turnips. Turnips are usually an underrated vegetable but this is an uncomplicated delicious recipe. Turnips are cooked with spices and finally mashed with the ladle. It can be prepared in a few minutes and tastes delicious with roti or rice.
You can stuff the Tchat Goji mashed turnips inside the roti and enjoy on the go or enjoy with hot steamed rice and kachumber salad.
Other recipes that you can try with turnips are:
Ingredients
1

Turnips

2 tablespoon

Oil

3

Dry Red Chillies

1/2 teaspoon

Tikka Masala

1/4 teaspoon

Asafoetida (hing)

1/2 cup

Water

Sugar

, A pinch
1/2 teaspoon

Salt
How to make Kashmiri Style Tchat Goji Recipe (Turnip & Dry Red Chillies)
To begin the preparation of Kashmiri Style Tchat Goji, wash turnips and cut them into thin wafer-like slices.

In a non-stick pan, add oil and heat it over medium flame.

Once the oil is hot, add turnips, hing, sugar, and salt.

Add dried red chilies and combine them well.

Cook the turnips with lid covered on high flame for about 6-7 minutes until the turnips become soft. Ensure to stir them occasionally to avoid turnip sticking to the bottom of the pan.

Once turnips become soft, add tikka masala and mix them evenly.

Now, add water to the pan and cook until the water is absorbed completely.

Gently mash turnips with the back of your ladle. I haven't mashed them as I love to enjoy turnips as it is when compared to mashed one.

The authentic dish calls for mashing turnips.

Serve the Kashmiri Style Turnip Tchat Goji either by stuffing inside roti or with steamed rice and kachumber salad.