Who can forget the sharp and tangy taste of a homemade achaar? Many of us would also have childhood memories of overeating pickles and being caught in the act by elders; also of upsetting our digestion since we didn't know when to stop licking on one pickle after the other! Have you also tried to mildly recreate that tinge of sharp flavours in appetizers and side dishes?
Achaar or pickle is part of every Indian households staple diet. Invented to preserve vegetables and make them last longer during times when refrigerators didn't exist or were not as accessible, pickles are now used as an additional condiment in most Indian meals. Here are a few recipes that have been carefully curated to splash in the achaari flavour in various ingredients. You will be surprised to find just more than condiment and side dishes when it comes to achari flavoured recipes. Its also the appetizers and main course you can cook with a sharp achari flavour. Try making them once in a while to feel good about the traditional concoction of pickle-spices and indulge in its lingering flavours which will make you stay with it for a long while you might even make your mind to skip a dessert!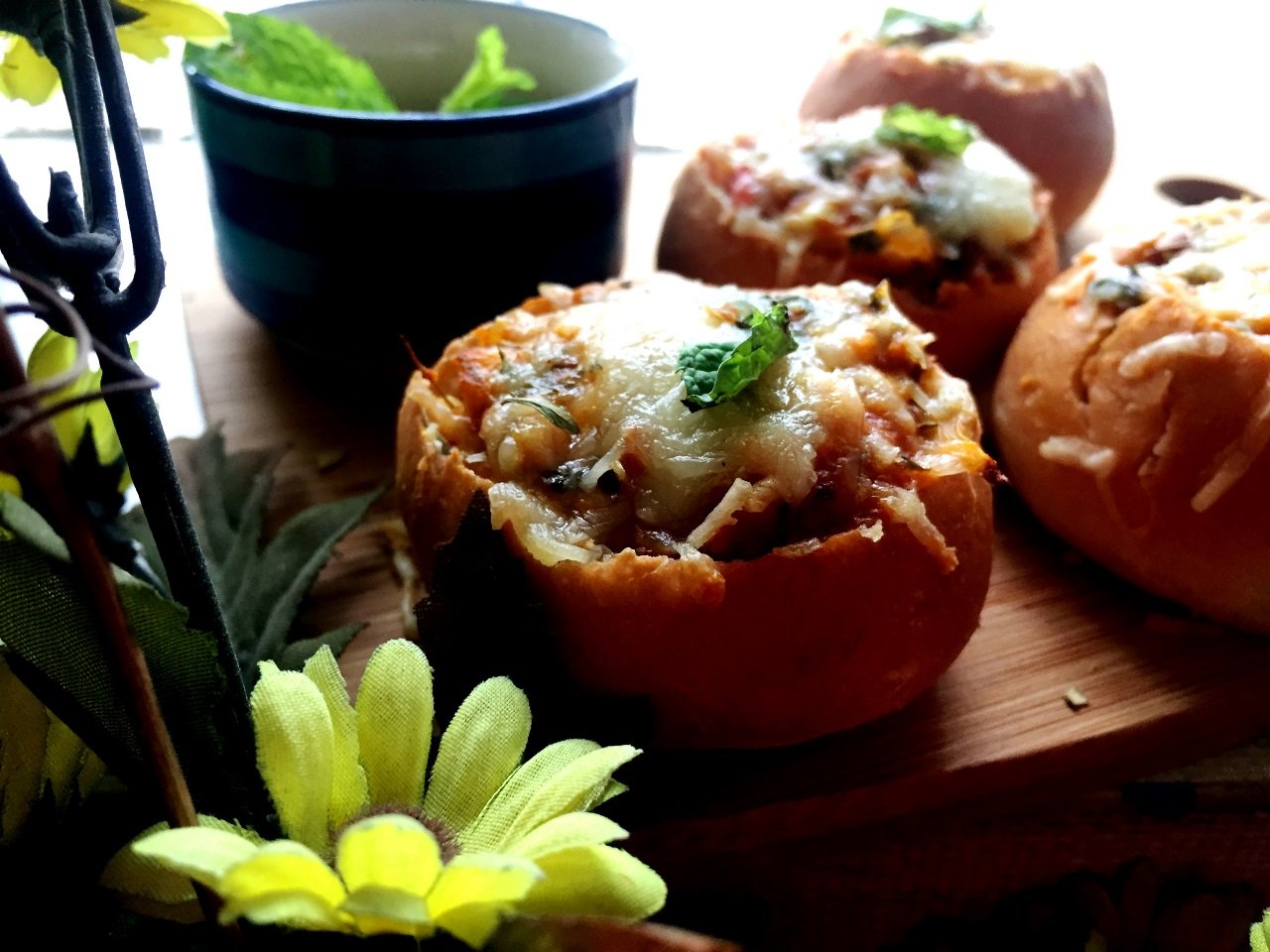 Achaari Paneer Mini Bread Bowl with Cheesy twist is another recipe which I have developed lately. I love the aroma of freshly baked breads and when you top it with mozzarella, its heaven. The dish is simple yet exotic and looks extremely beautiful. Do try them with Cheesy twist is an excellent party snack which can make you a star chef among friends and family.
Achari Paneer Tikka is the most popular vegetarian appetizer in the Punjabi Cuisine. The word achar in Hindi means pickle. Paneer cubes marinated in an achari marinade makes an aromatic, flavorsome party snack. A blend of pickling spices goes into the marinade giving a distinctive flavor to the panner. You can either grill the marinated paneer pieces on a grill pan over the gas, can use a charcoal barbecue or can do it in the microwave grill as well. Vegetables can be marinated in the spices and stored in an airtight box in the fridge a day before the party.

The Achari Masala Puri Recipe is a delicious recipe of the Indian Puri that is spiced with achar masala or even a pickle masala. All you have to do is combine the pickle into the wheat flour and make a dough and fry it. It makes a great snack as it is and even adds a twist to the regular Puri.

Achari Paratha Roll, a very spicy and filling recipe which can be packed for lunch or served as dinner. For the filling, any combination of vegetables can be tried. The achari filling in the paratha will surely refresh your taste buds, as it is spicy and tasty.

Whole Wheat Achaari Aloo Tacos is an idea of Indo-Mexican Fusion Recipe. Mexican whole wheat or corn flatbread, the tortillas are rolled or folded with varieties of fillings. The flatbread is even sometimes baked until crisp. The Achaari Aloo Tacos are a delicious combination of whole wheat tortilla/roti and Indian pickled potatoes with their peel intact.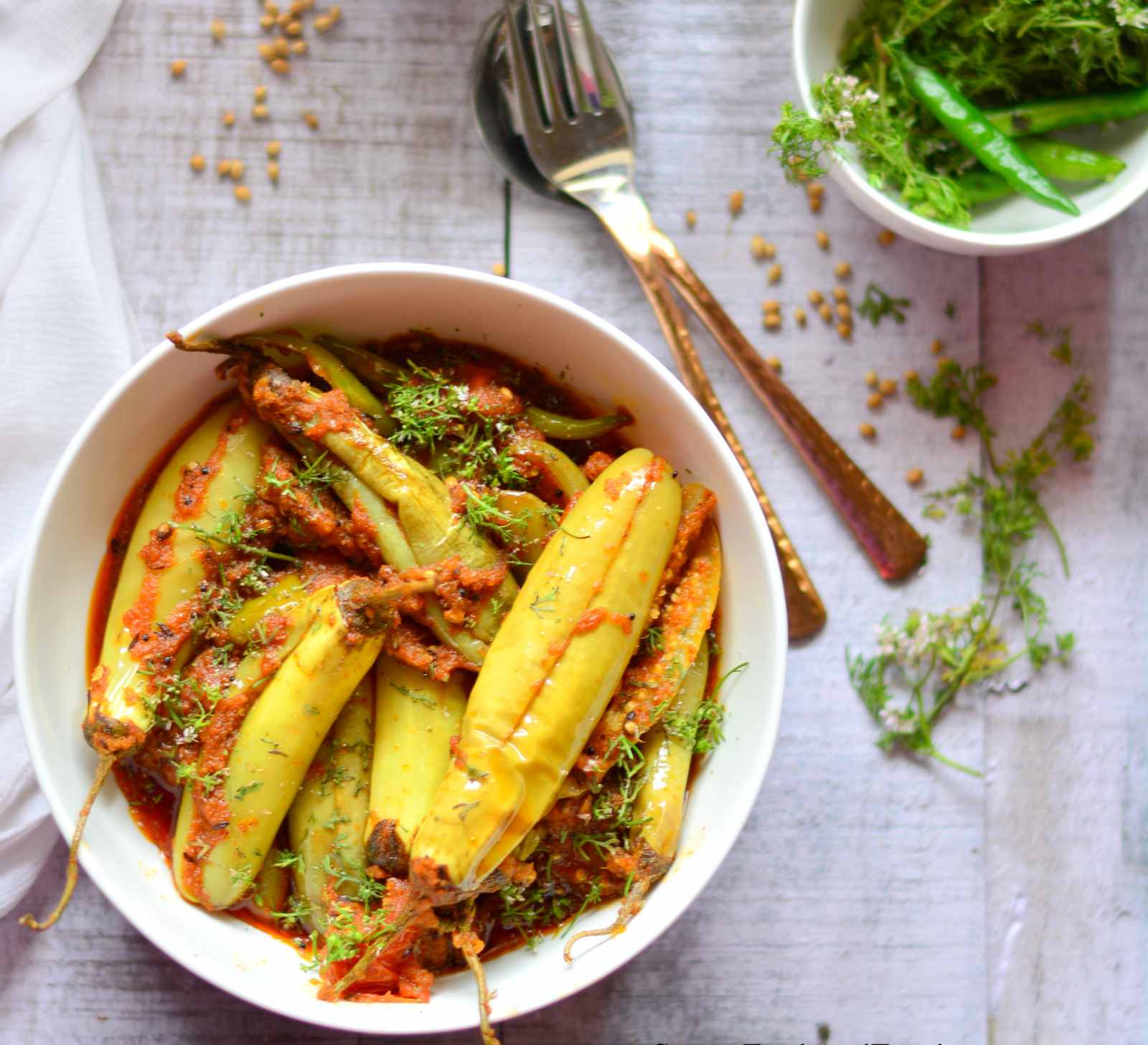 The Safed Achari Baingan Recipe is a delicious recipe that is made with the lighter whitish-green version if the eggplant/ brinjal. Serve the Safed Achari Baingan Recipe along with hot Phulkas smeared with ghee.

Amla Mirch Ka Achari Subzi Recipe (Gooseberry & Green Chilli Subzi), a dry curry that has the right amount of sourness and spiciness in the dish. This subzi has all the flavors of Achari masala which is made from fennel seeds, onion seeds, fenugreek, coriander seeds, & mustard seeds.

The Achaari Aloo Gobi Recipe is a quick and easy recipe of cauliflower that is made from spices that are used to make a pickle. This Achaari Aloo Gobi Recipe combines the flavor of achaar with a family favorite gobhi aloo and gives it a new twist, that makes for a delightful lunch with hot Phulka's.

Achari Kaddu Ki Sabzi Recipe is a dry Indian dish that has the right flavors of spiciness and strong flavors of Garam masala. The subzi can be made any busy day to pack it for your lunch or just simply have it for dinner.