Beetroot, also called as Chakundar in Hindi is one of the healthiest vegetables we use in the kitchen. While you can make different types of recipes from it, there are many delicious side dishes which you can make for your Indian meals. From Pulavs, curries to parathas, Beetroot can be used in many ways. Also, it is good to include it in our meals, as it helps us to fulfill the daily nutrition intake for our body. You can also include the beetroot greens in your meal, as they are equally good for your health.
The benefits of eating Beetroot are as follows:
Beetroot is of exceptional nutritional value; especially the greens, which are rich in calcium, iron, and vitamins A and C.
Beetroots are an excellent source of folic acid and a very good source of fibre, manganese, and potassium.
It also helps to maintain the hemoglobin level which helps to avoid anemia.
Also helps to prevent cancer due to its anti-carcinogenic properties.
Beetroot is an excellent source of antioxidants, therefore good for your skin as it helps in anti-aging. As it also contains Vitamin C, it helps with skin discoloration and pigmentation too.
So make one of these dishes for your meal next time you have Beetroot sitting in your fridge. These recipes are delicious and a great way to feed Beetroot to your family.
This is a simple beetroot stir fry dish which is flavoured with aromatic sambar masala. It is also mildly flavoured with garlic cloves pounded with freshly grated coconut. It is easy to make and can be served with your South Indian meals. Serve Karnataka Style Beetroot Palya along with Mixed Vegetable Sambar and Steamed Rice.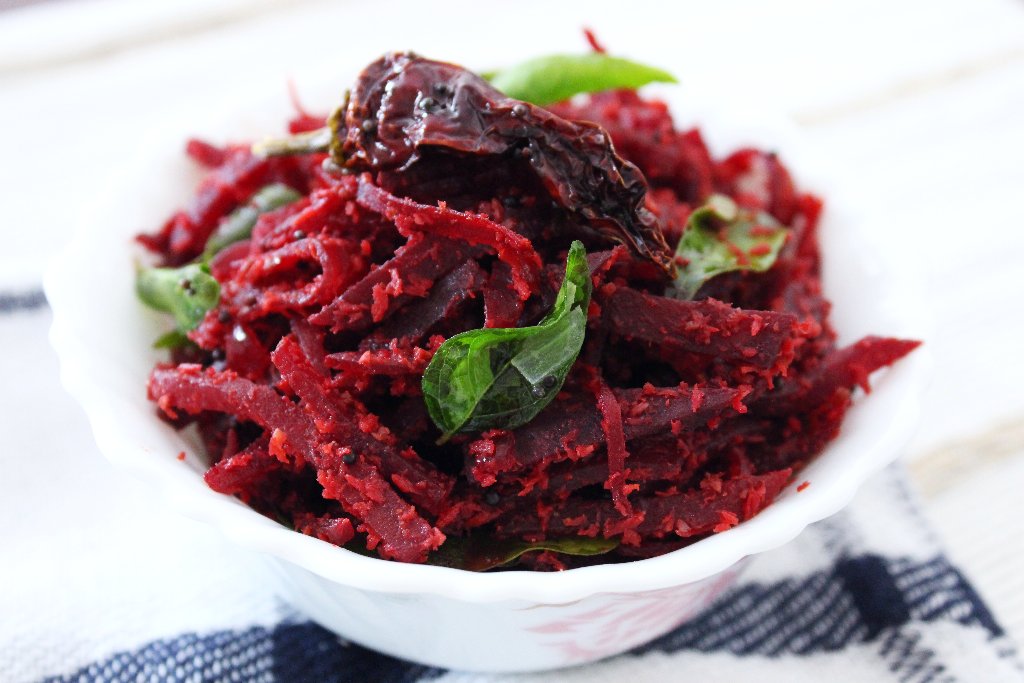 This is a comforting side dish made with medley of moong dal and beetroot which is pressure cooked and tossed with ground masala and tempered. The dish is so quick and easy to make and can be made during any time of the week. Serve Tamil Nadu Style Beetroot Kootu along with Vegetable Stew and Whole Wheat Lachha Paratha.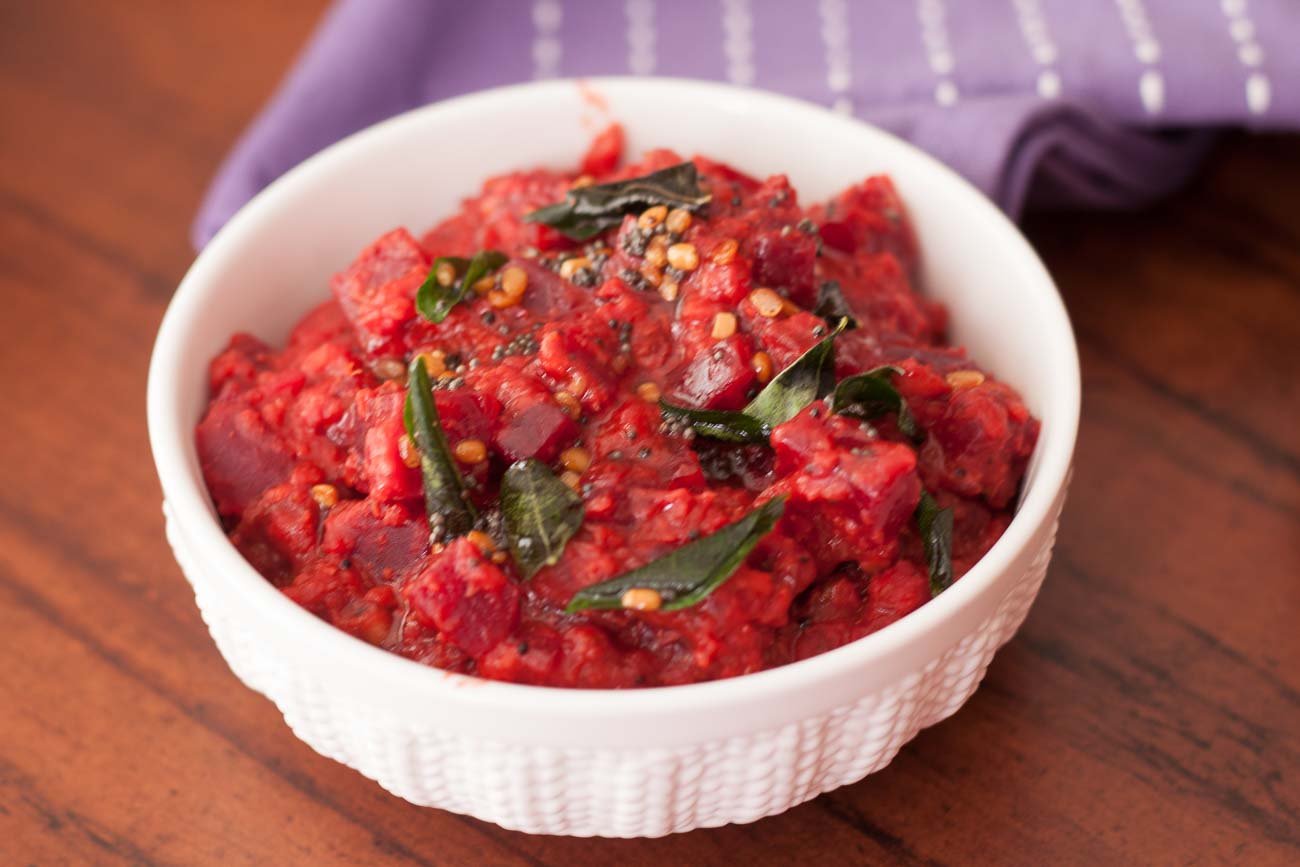 The Beetroot Poriyal Recipe also known as Beetroot Curry is a delicious and healthy preparation of the beetroot vegetable. In this recipe, the beetroot is steamed and seasoned with mustard leaves, curry leaves, asafoetida, and coconut. Sometimes, we add finely chopped onions as well to give it an added flavour. It is a very nutritious dish which can be served to children from 6 months of age. Serve Beetroot Poriyal along with Jeera Rasam and Steamed Rice with a dollop of ghee.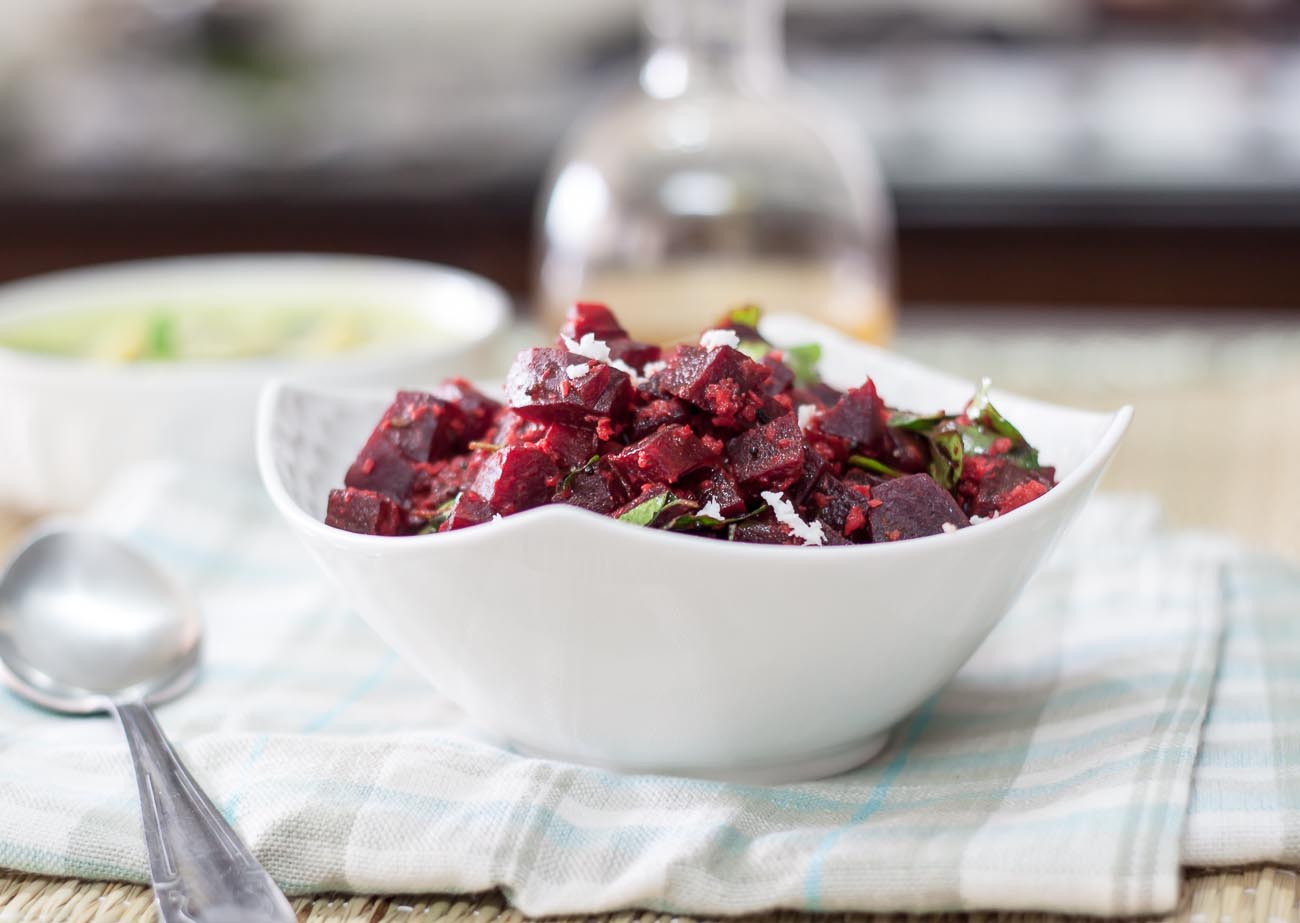 Thoran is a typical Keralite dry vegetable dish made with finely chopped veggies like cabbage, beans, beetroot etc with lots of grated coconut. This popular dish is an integral part of Onam Sadhya as well as eaten as a side dish with daily meals in Keralite homes. The beauty of this dish lies in the fine chopping done with skilled hands. Serve Beetroot Thoran along with Tomato Onion Sambar and Steamed Rice.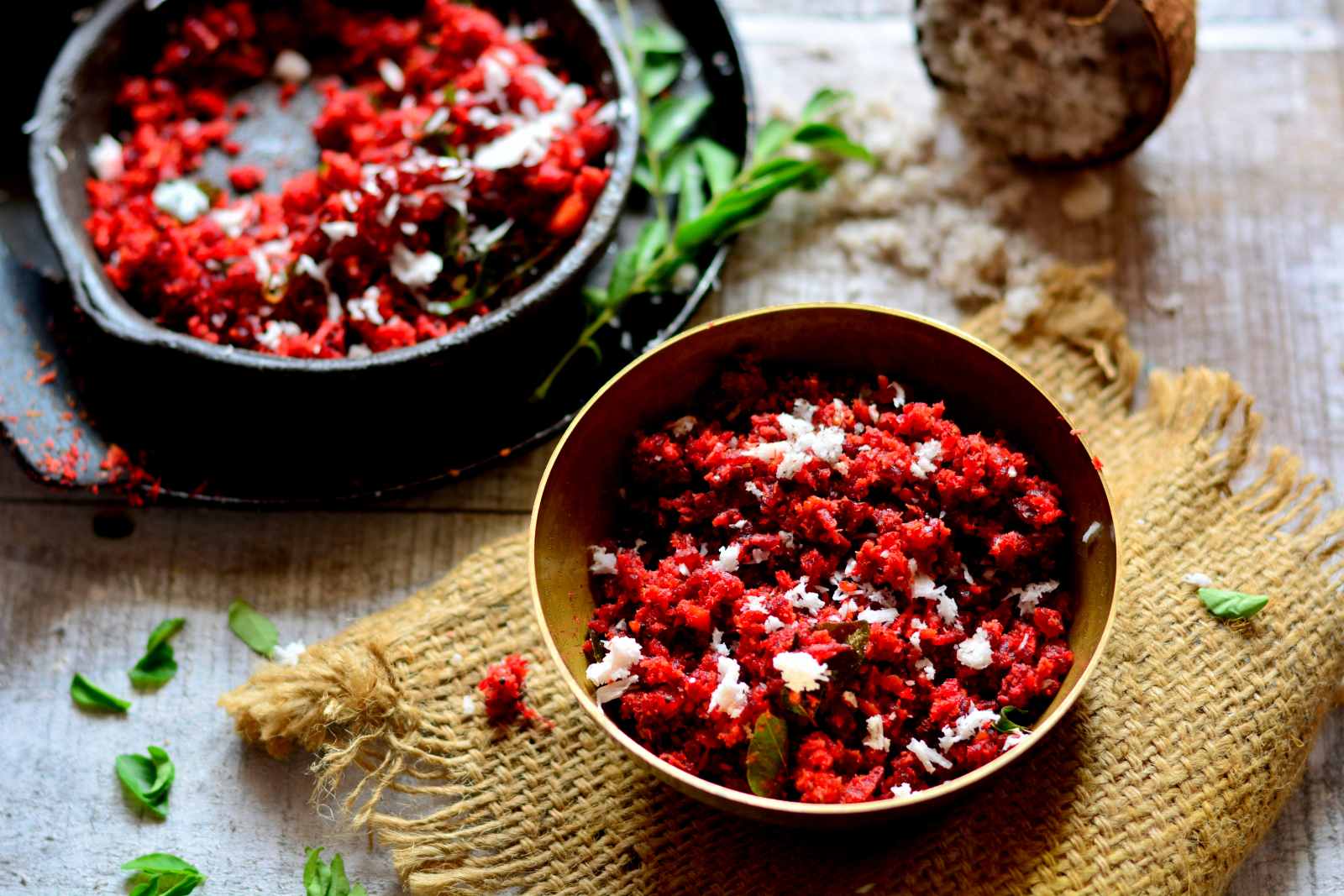 Chettinad Beetroot Kurma Recipe is a delicious beetroot curry cooked using the aromatic spices. The use of freshly roasted and ground Chettinad masala makes it very delectable. Beetroot is known for having antioxidant properties making it beneficial for skin, hair, and health over all. Serve Chettinad Beetroot Kurma along with Kerala Parotta and Tomato Onion Cucumber Raita for an everyday meal.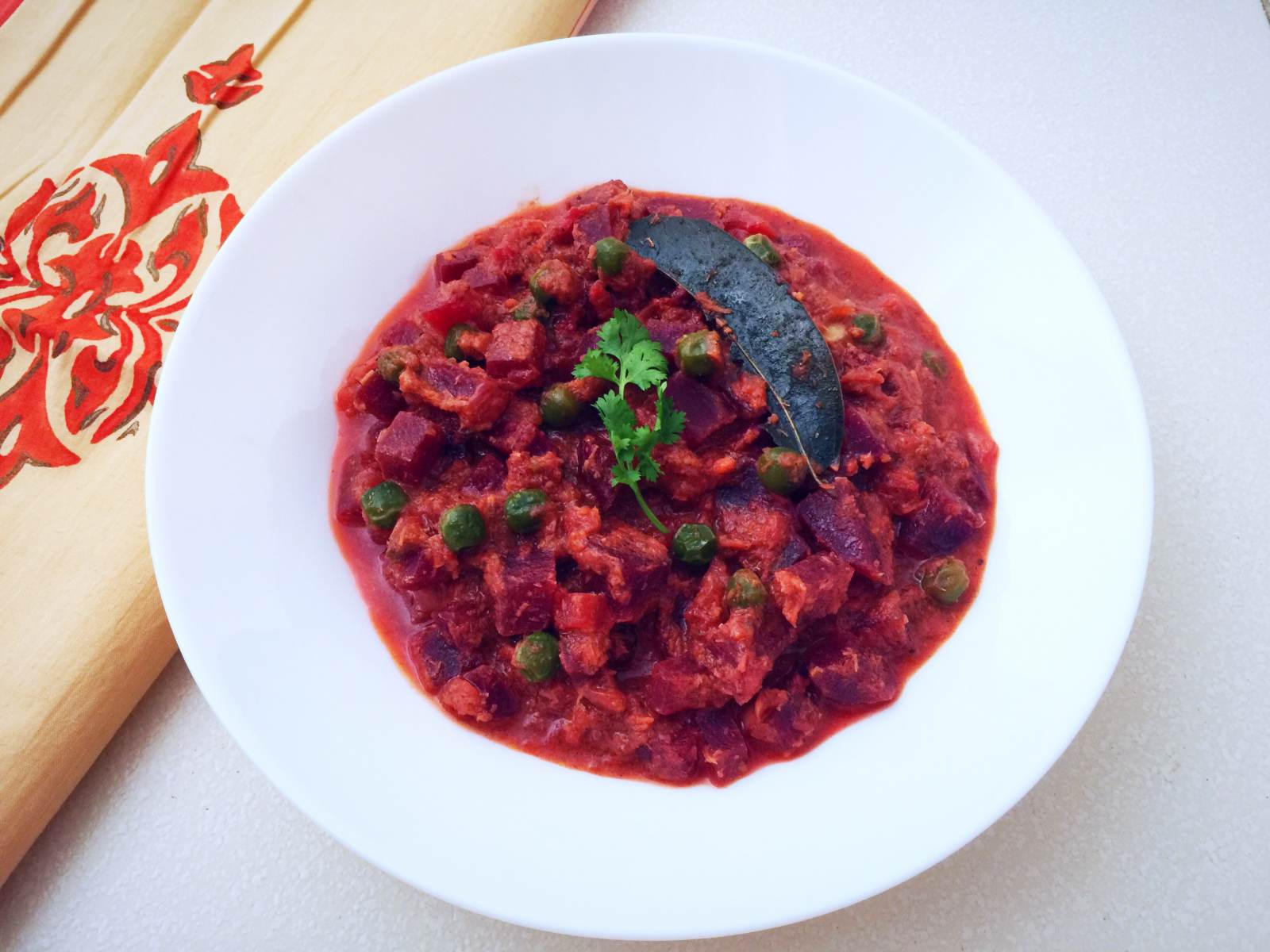 The Beetroot Moong Phali Sabzi Recipe is a wholesome simple sabzi that is flavored with peanuts, coriander powder, and amchur. The addition of peanuts brings in a delicious crunch to the recipe. Serve Beetroot Moong Phali Sabzi along with Lahsuni Dal, Boondi Raita and Tawa Parathas.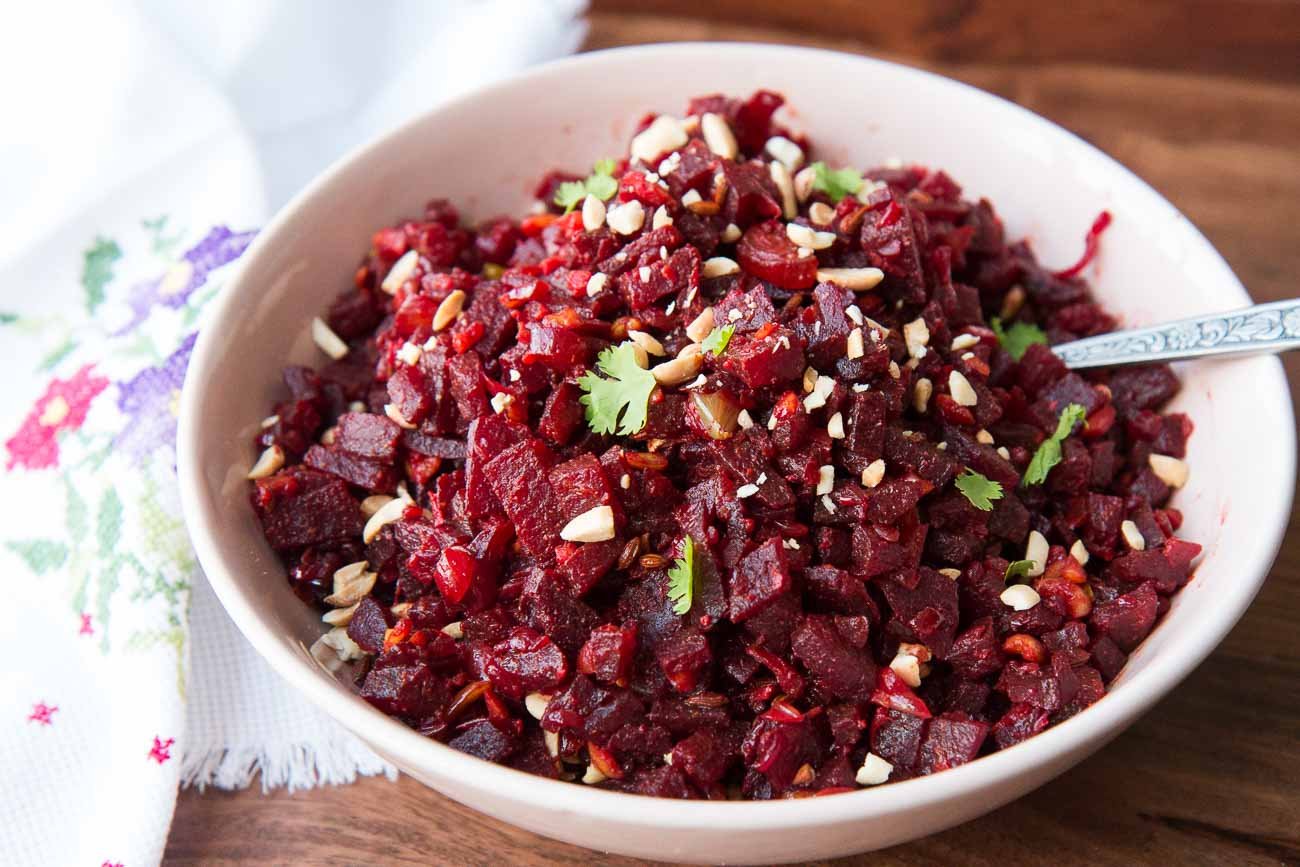 It is an extremely easy and healthy way of cooking beetroot so that the nutrients are not lost during the cooking process. It is easy and can even be packed in your lunch box. Serve Andhra Style Beetroot Vepudu along with Keerai Sambar and Steamed Rice for a weekday meal.