Easy Vegan Date Roll Recipe
Tasty vegan rolls made with dates

Reena Vyas
On

Wednesday, 08 February 2017 00:11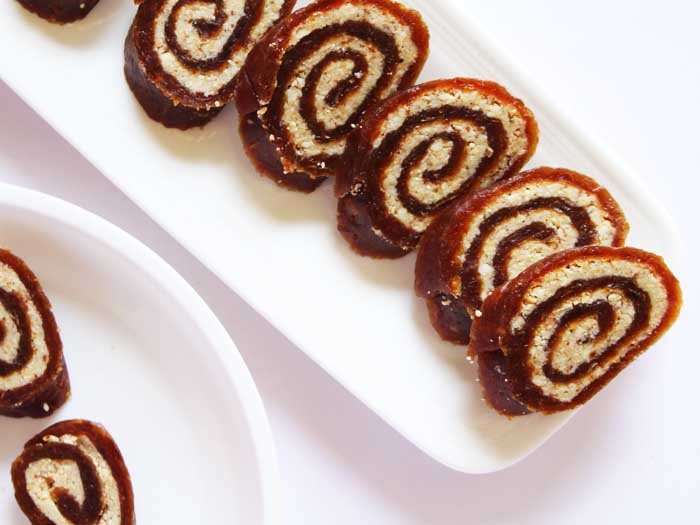 Easy Vegan Date Roll Recipe is a sweet dessert recipe which is gluten free. There is no added sugar either. Make this easy to prepare dessert and impress your guests in your next tea party or dinner party. Serve Easy Vegan Date Roll Recipe along with other assorted desserts after dinner.
If you like this recipe, you could also try our other dessert recipes like
Note: You can store Easy Vegan Date Roll Recipe into air-tight container for 2 weeks at room temperature.
Ingredients
250 grams

Dates

, seedless
200 grams

Mixed nuts

, chopped or ground, (I used peanuts, walnuts, cashews, almonds)

Almond butter

, or any vegan butter, as needed
How to make Easy Vegan Date Roll Recipe
To prepare Easy Vegan Date Roll Recipe, clean the dates and ensure that they're deseeded. Then add dates into grinder and grind till smooth paste, in a mixer grinder. Add almond butter or ghee for proper mixing.

Roast the mixed nuts well and grind them too.

Place them into grinder and grind it. Now add vegan butter and make crumby texture like dates mixture.

Now take plastic surface, and take date mixture into it, roll out to flat to a half inch thick sheet. ensure that both the dates and mixed nut are rolled out evenly, and to same dimensions, such that they can be rolled together.

Cover the surface of dates with nuts mixture. Gently press the mixture onto dates.

Now roll out flat surface and make roll out of it. Handle with care by pressing every roll.

Then let the roll rest for 10 minutes into the freezer.

Then, cut the roll by slicing it by half-inch thick pieces.

Your Easy Vegan Date Roll Recipe are ready to be served as dessert or as a healthy after school snack.