Do you have guests coming home this week and want to give them a comforting meal? Here at Archana's kitchen, we brainstorm and come up with wholesome meals, so that you don't have to think every morning or evening about what to serve to your guests or family members. Our meal plans are there to keep your tummy full yet surprise your taste buds with the amazing flavours of the vegetables cooked in various spices and served in the form of a main dish or an accompaniment.
So in this meal plate, we have a Murungakkai Vendhaya Keerai Sambar filled with the nutritious Vendhaya Keerai or Methi leaves and Drumstick. Next we have a Jeera Milagu Rasam which makes for a perfect second course – it is especially good for those who are down with cold. A delightfully flavourful side dish of Pavakkai Poriyal and Cabbage Poriyal adds for a perfect accompaniment to the sambar and rasam. A small portion of tomato rice along with a cup of curd makes for a perfect meal.
In today's meal plate,
Murungakkai or Drumstick and Vendhaya Keerai makes a delightful combination when added in a sambar. The leafy texture and the flesh of the drumstick when eaten together makes a superb combination.
If you are looking for more Drumstick Recipes, here are some: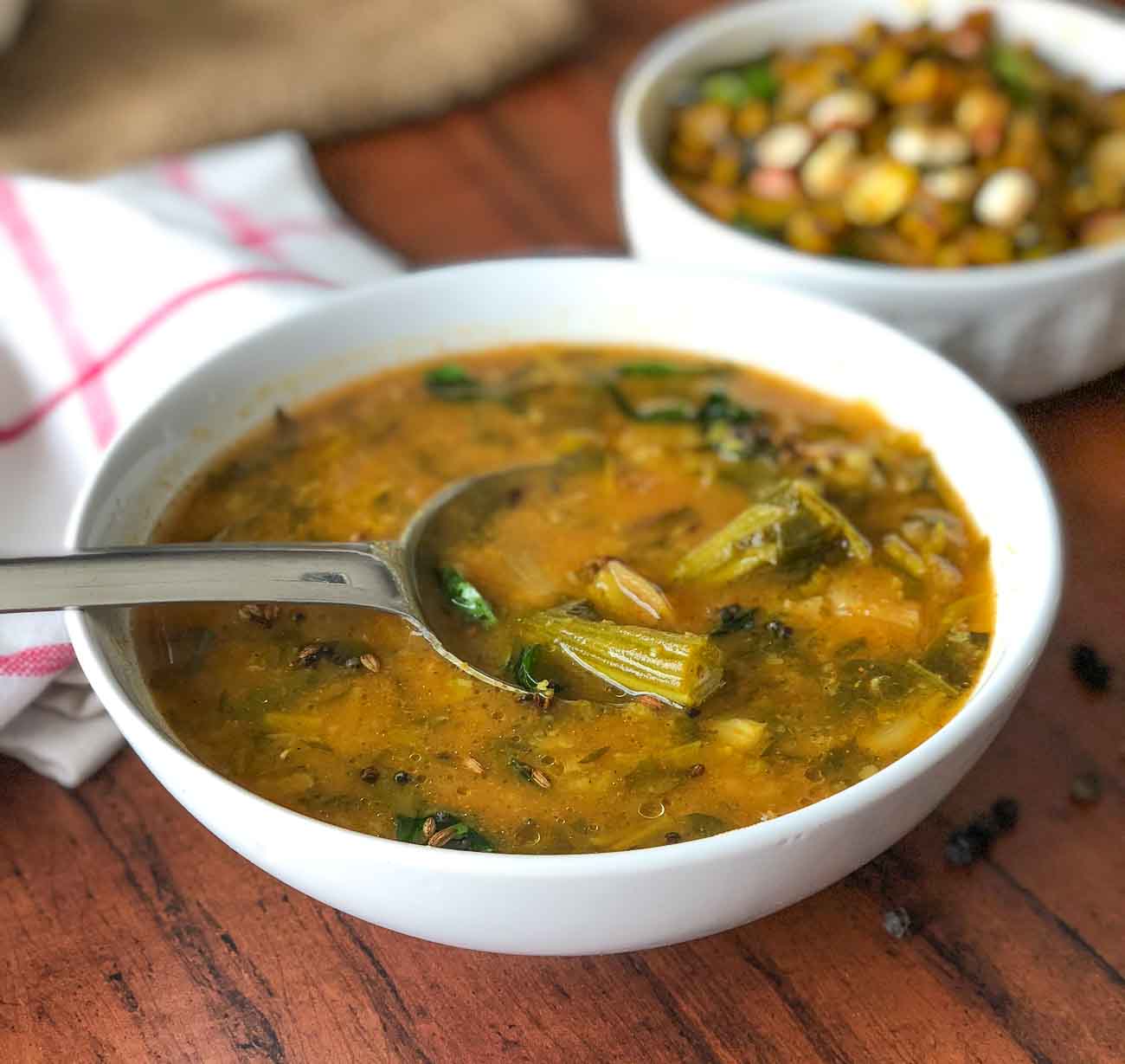 Jeera and Milagu (pepper) combined with the tanginess of the tamarind creates a deadly combination for your taste buds. Jeera aids digestion and pepper is good for cold. This rasam can be eaten with rice or can be consumed as a soup. It warms you up and is great to be had during cold season.
If you are looking for more Rasam recipes, here are some: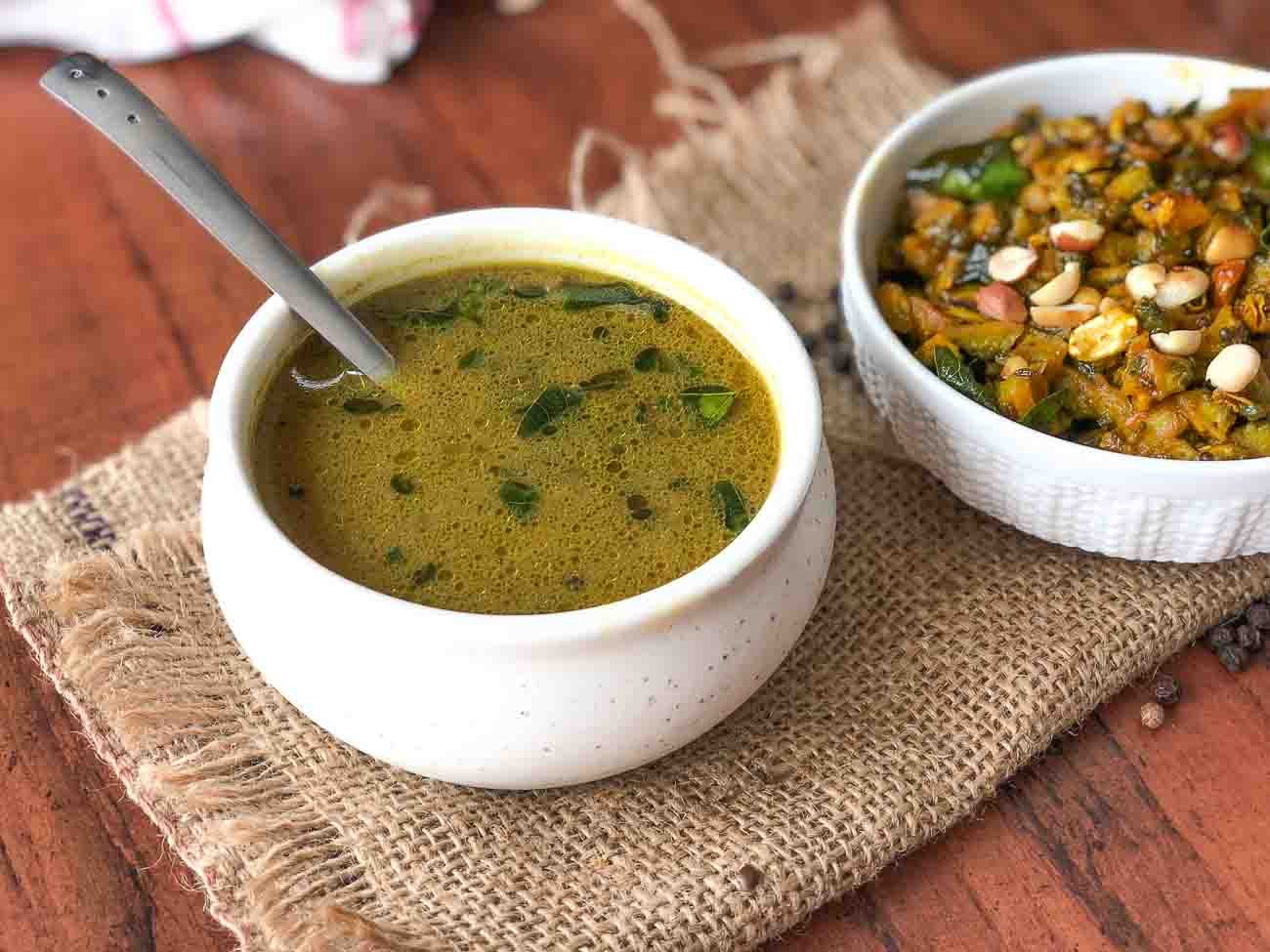 Cabbage, a vegetable packed with fibre and water adds the perfect amount of roughage that is needed for this meal. It is a quick recipe to make and can be assembled quickly.
If you are looking for more Poriyal Recipes, here are some: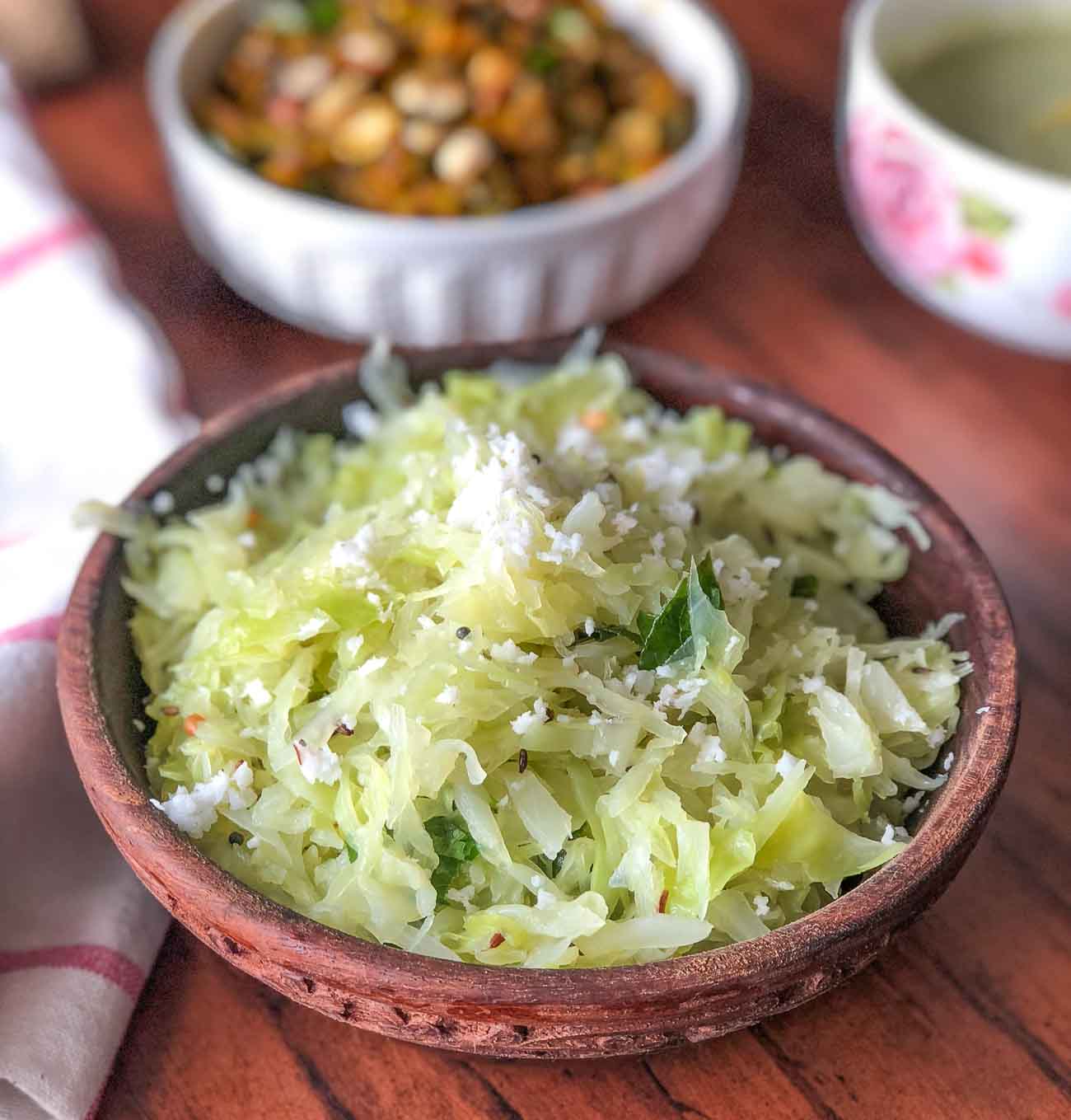 Pavakka or Bitter gourd can be made wonderfully tasty by adding the correct blend of sweet, sour and spicy thereby masking the intense bitterness of the vegetable. Bitter gourd, is known to help diabetics, helps in maintenance of hair and skin and aids in weight loss.
If you are looking more bitter gourd Recipes, here are some: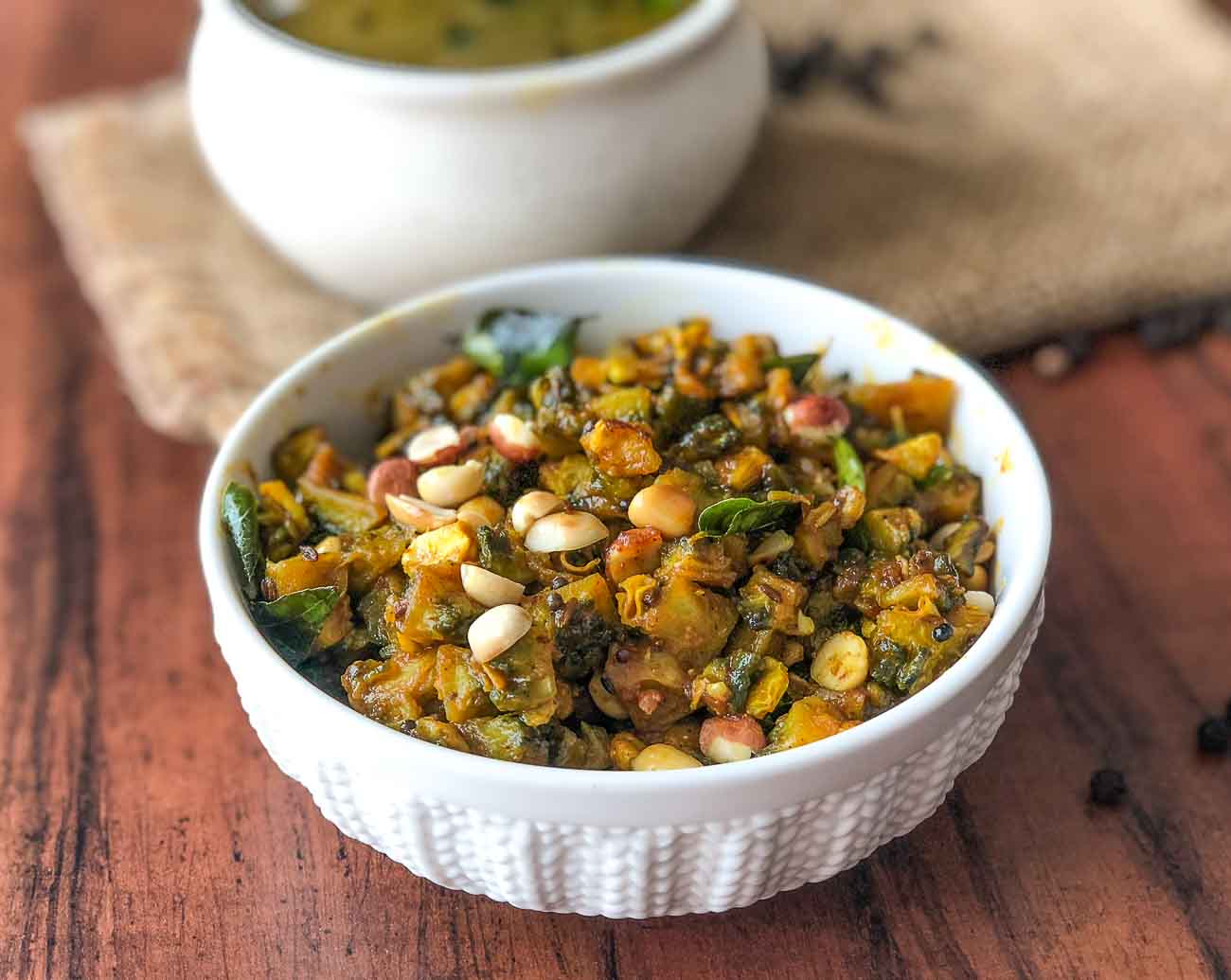 It is easy to make and packed with the flavours of tomatoes, cardamom and sambar powder. If you have some left over rice, just add in the tomatoes and spices in oil, add the rice, give it is a mix and you are good to go.
If you are looking for more mixed rice recipes, here are some: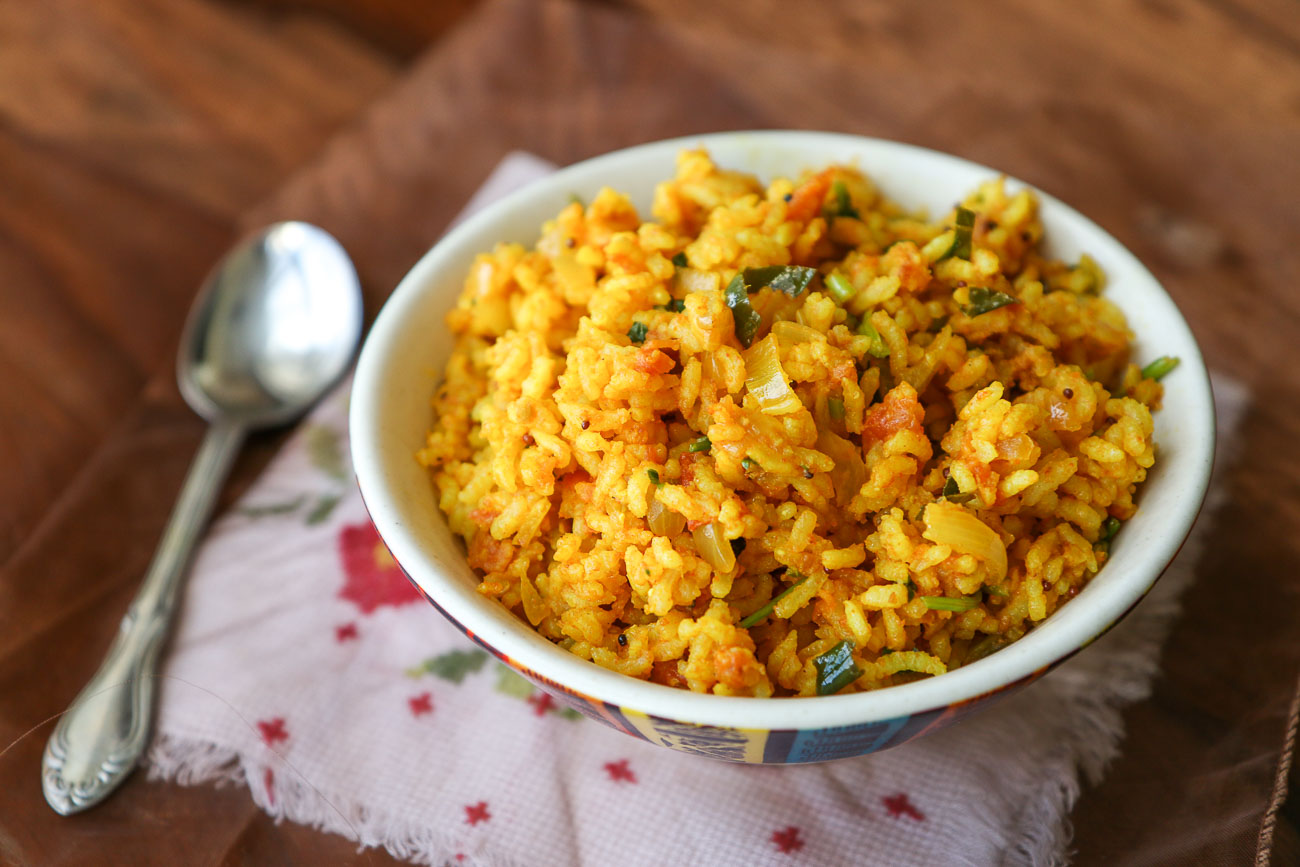 The staple meal of any South Indian meal, is easy to make. Steamed rice can be quickly made in a pressure cooker. It gives the same texture to the rice as an open pan method.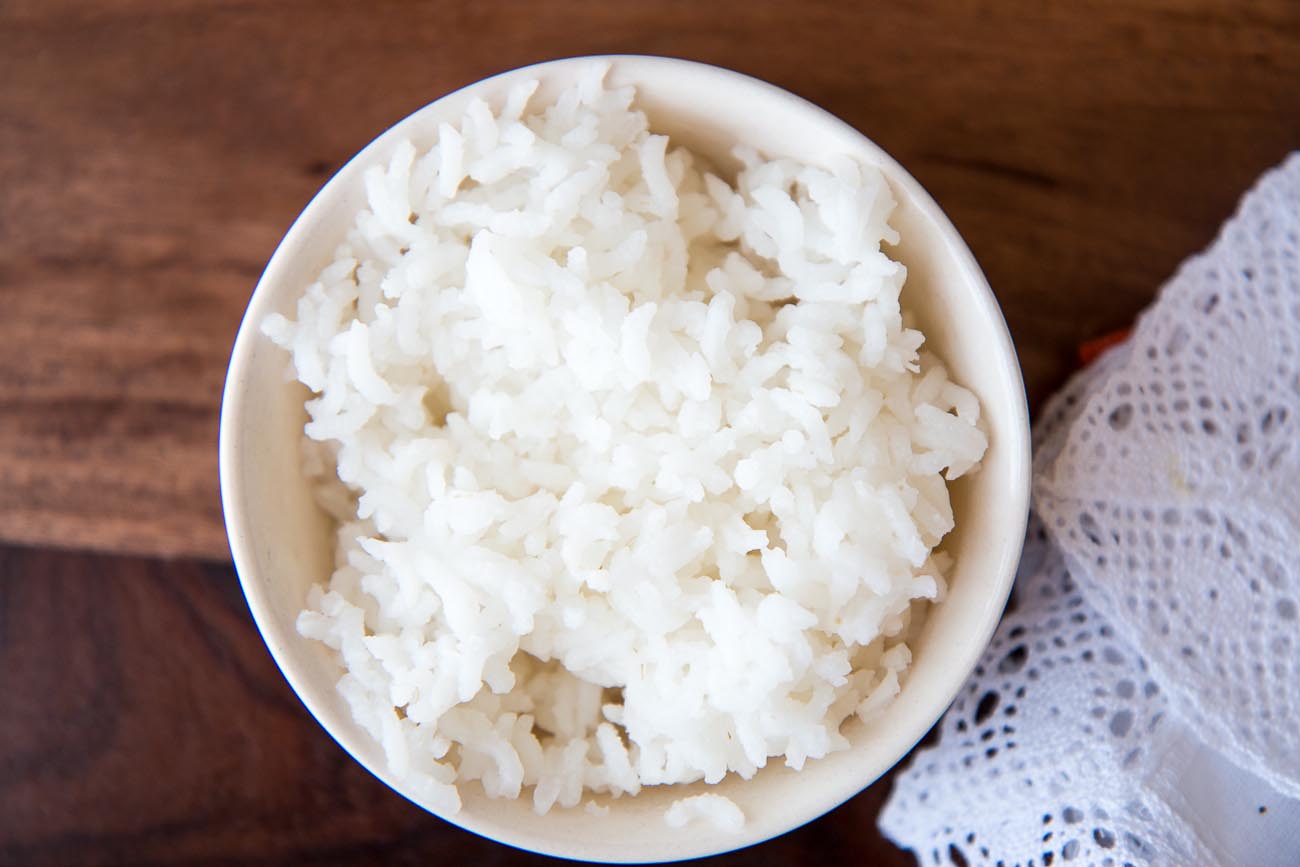 Curd is a staple used in most households in India. It is used either as accompaniment or an ingredient in dishes. Curd neutralises the acids in the stomach and makes for a perfect ending to any meal. Make curd at home easily with the recipe below.