Hyderabadi Vegetable Biryani Recipe

Archana Doshi
On

Saturday, 07 June 2008 15:23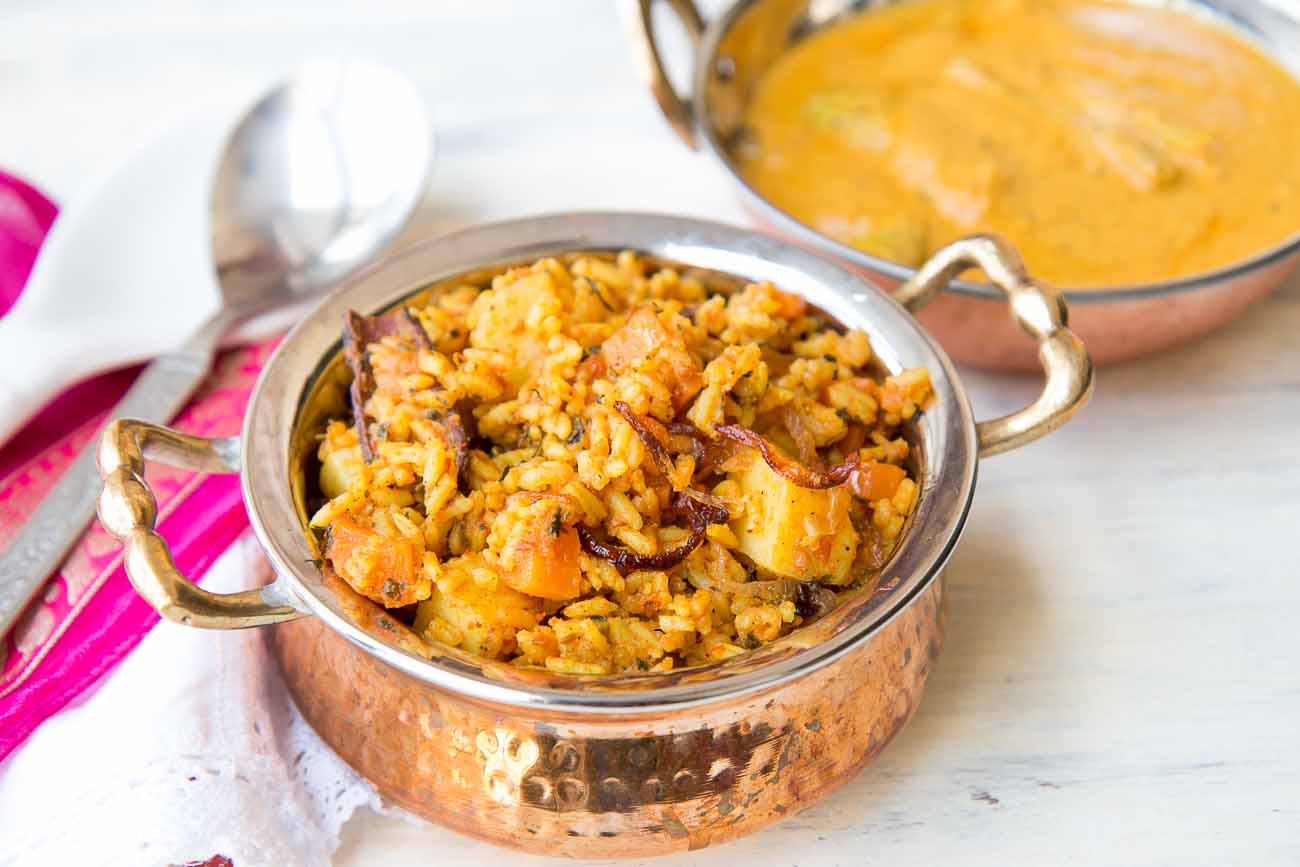 Hyderabadi Biryani is a traditional celebration meal made using meat and rice and is a staple of Hyderabadi cuisine. This recipe was shared to me by a Muslim friend who makes the most awesome Biryani that I have tasted. The recipe of Hyderabadi Biryani has a few stages to making it. I make it in many different ways and the one mentioned below is one of the methods to make it super delicious.
Serve Hyderabadi Vegetable Biryani Recipe along with Onion Tomato Cucumber Raita, Tadka Raita or any other Raita of your choice.
If you like this recipe, you can also try other rice recipes such as
Ingredients
1/2 cup

Green beans (French Beans)

, diced and steamed
1/2 cup

Carrots (Gajjar)

, diced and steamed
1 cup

Cauliflower (gobi)

, cut into florets and steamed
1 cup

Potato (Aloo)

, boiled, peeled and cubed
To be ground into paste (Grind the below ingredients to a paste and keep aside)
6 cloves

Garlic

2 inch

Ginger

1

Onion

, roughly chopped
2

Green Chillies

Main ingredients for biryani
2 cups

Basmati rice

, rinsed
1 cup

Tomatoes

, finely chopped or pureed
1 cup

Curd (Dahi / Yogurt)

1 inch

Cinnamon Stick (Dalchini)

4

Cardamom (Elaichi) Pods/Seeds

, peeled with seeds only
2

Bay leaves (tej patta)

1 teaspoon

Turmeric powder (Haldi)

1 teaspoon

Red chilli powder

1 teaspoon

Coriander Powder (Dhania)

Salt

, to taste

Cooking oil

, required for cooking
Ingredients for garnishing
3 sprig

Mint Leaves (Pudina)

, freshly chopped
1/2 cup

Onion

, sliced and caramelized
How to make Hyderabadi Vegetable Biryani Recipe
To begin making the Vegetable Hyderabadi Biryani, we will first cook the rice with 2 cups of water along with salt and 2 tablespoons of oil and keep aside. Cooking in a Sauce Pan helps in maintaining the texture of the rice to be half cooked.

This rice will be only half cooked as we are adding only half the about of water to cook the rice. The rice will then get cooked further along with the masala below.

The next step is the power steam the vegetables in a steamer. Place the vegetables in a steamer, sprinkle some salt and steam them, until partially cooked. Keep this aside.

Pound the cardamom, cinnamon and cloves well in a pestle and motor and keep the spice powder aside.

Heat two tablespoons of oil in a large saucepan; add the onion garlic and ginger paste and sauté on medium heat until the color has changed and the raw smell from the onions goes away.

Add the turmeric powder, chilli powder, coriander powder, the spice powder and bay leaves. Sauté for a few seconds until combined.

Add the finely chopped tomatoes or the tomato puree. Sauté the tomatoes for about 5 minutes, add the yogurt at this point and simmer for another 5 minutes until it is bubbling and gets a good aroma.

Finally add in the mint leaves potatoes, steamed vegetables, half cooked rice, chopped mint leaves and any additional salt that is required. Give the vegetable biryani a taste, to make sure the overall salt and spice levels are good to go.

Sauté for a few minutes until it gets combined with the rest of the masala. Turn the heat to low. Cover the pan witha tight fitting lid and simmer until all the biryani rice is puffed up and cooked completely.

Once the Vegetable Biryani cooked, turn off the heat keep the pan covered for about 5 more minutes before you can serve.

Open the pan and give the Vegetable Biriyani a gentle stir, to combine all the masala and vegetables into the rice. Garnish the Hyderabadi Vegetable Biryani Recipe with caramelized onions and serve.

Serve the Hyderabadi Vegetable Biryani with Hyderabadi Bagara Baingan or Hyderabadi Mirchi ka salan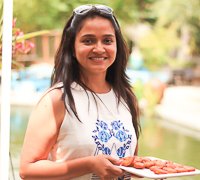 Archana Doshi is the founder of Archana's Kitchen. Archana launched Archana's Kitchen in 2007 as a way to keep track of her and family's recipes, and along the way grew it into one of the most popular cooking websites in the world. Archana is dedicated to helping home cooks be successful in the kitchen. Archana says "I hope you enjoy cooking recipes from my website where the sole effort is to make cooking simple for you. When you try out one of our recipes, we are longing to hear back from you. Do take your time to come back and share your comments, as your feedback means a lot to me"