Here's a delicious and wholesome Portion Control Meal Plate which includes Turai Moong Dal, Aloo Gobi Ki Sabzi, Bharwa Karela with Sweet Potato Filling, Bitter Gourd Peel Puri, Carrot, Radish & Peanut Salad with Lemon and Spring Onion and Peanut Raita.
Turai Moong Dal is a delicious Dal which is filled with proteins. As much as you can try to add vegetables into your dal everyday like how we have added bottle gourd with toor dal. This will help you gain Protein as well as nutrients from the vegetable. Along with Dal, we have served Aloo Gobi Ki Sabzi and Bharwa Karela. Karela also called as Bitter Gourd is rich in Dietary fiber and Vitamins. We have stuffed it with sweet potato which is an excellent source Vitamin A and less in calories.
To complete the meal we have, Bitter Gourd Peel Puri, Carrot, Radish & Peanut Salad with Lemon and Spring Onion and Peanut Raita. We have also used the peel of the bitter gourd to make a delicious puri, in that way we have made use of all the parts of the vegetable. A salad by the side is always good to keep your palate fresh as you enjoy a complete meal plate.
Tips To Portion Control:
You can reduce the number of Puri in this meal plate according to your diet. If you prefer Phulka or Steamed Rice, you can add 1 Phulka or a small portion of rice in this meal plate instead of Puri.
In place of Raita, you can also serve a bowl of plain curd.
If you are avoiding carbs, you can skip the Puri and increase the portion of your vegetables and Salad and add a protein.
Below are the quantities we have used for a complete portion control meal. You can use these suggestions based on your dietary requirements.
Total Calories: 380 calories
Turai Moong Dal - 1/2 katori
Bharwa Karela - 1 piece
Aloo Gobi - 1/2 Katori
Salad - 1/2 Katori
Methi Puri - 2 piece
Raita - 1/2 Katori
Read the Guidelines for Healthy Eating Using Portion Control to incorporate healthy eating habits into your everyday lifestyle.
The dal has a subtle sweetness that it gets from the ridge gourd (turai), the vegetable itself. When combined with a little bit of spice and cooked along with the lentils it imparts a soft and tender texture to the palate.
If you are looking for more Dal Recipes, here are some :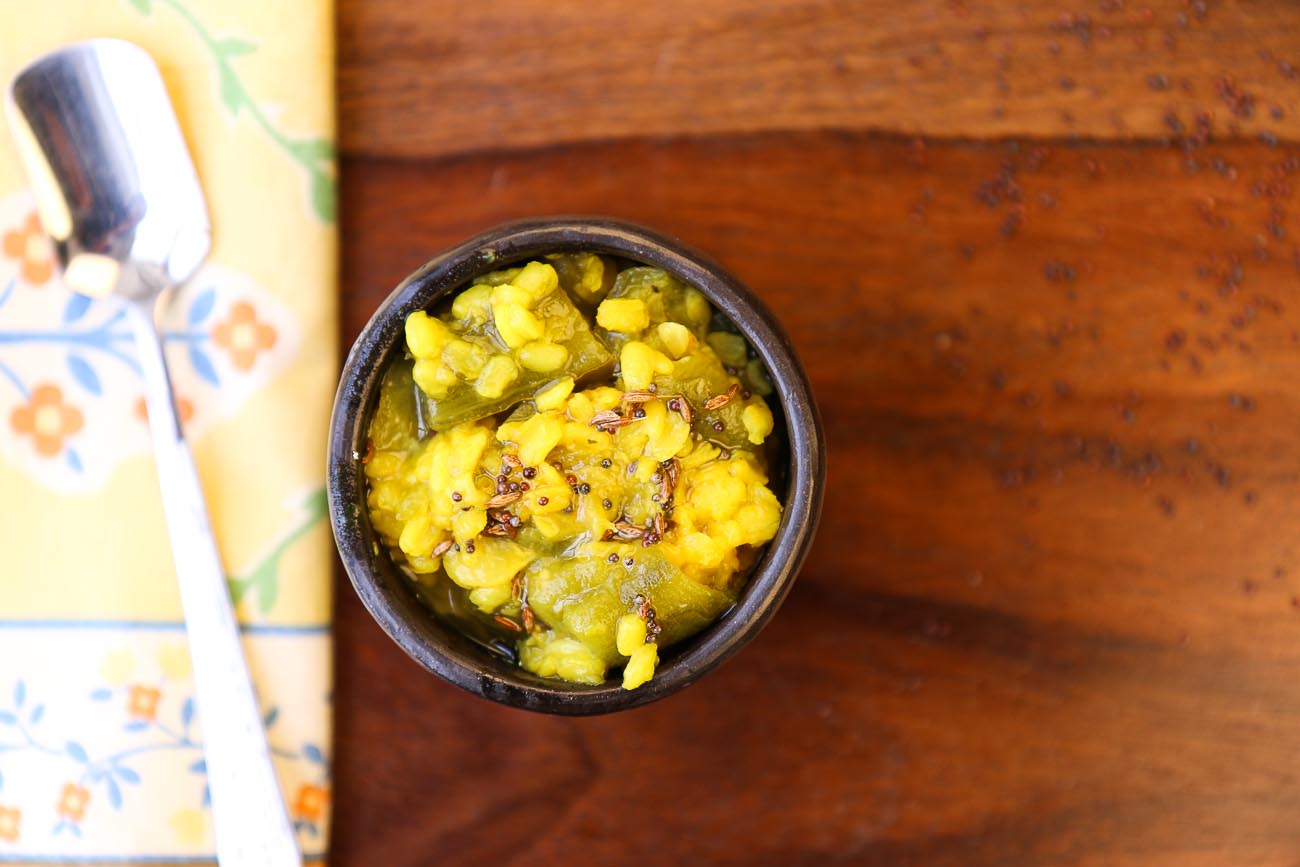 2. Aloo Gobi Ki Sabzi Recipe (Spicy Potato and Cauliflower Vegetable)
A simple and quick recipe that can be made in one pot with the least amount of cooking time. The delicious flavors from the cauliflower, when combined with garam masala powder along the fresh tomatoes brings out a rich texture and flavour of the aloo gobi sabzi.
If you like this recipe, you can also try other Gobi Recipes for your everyday meals: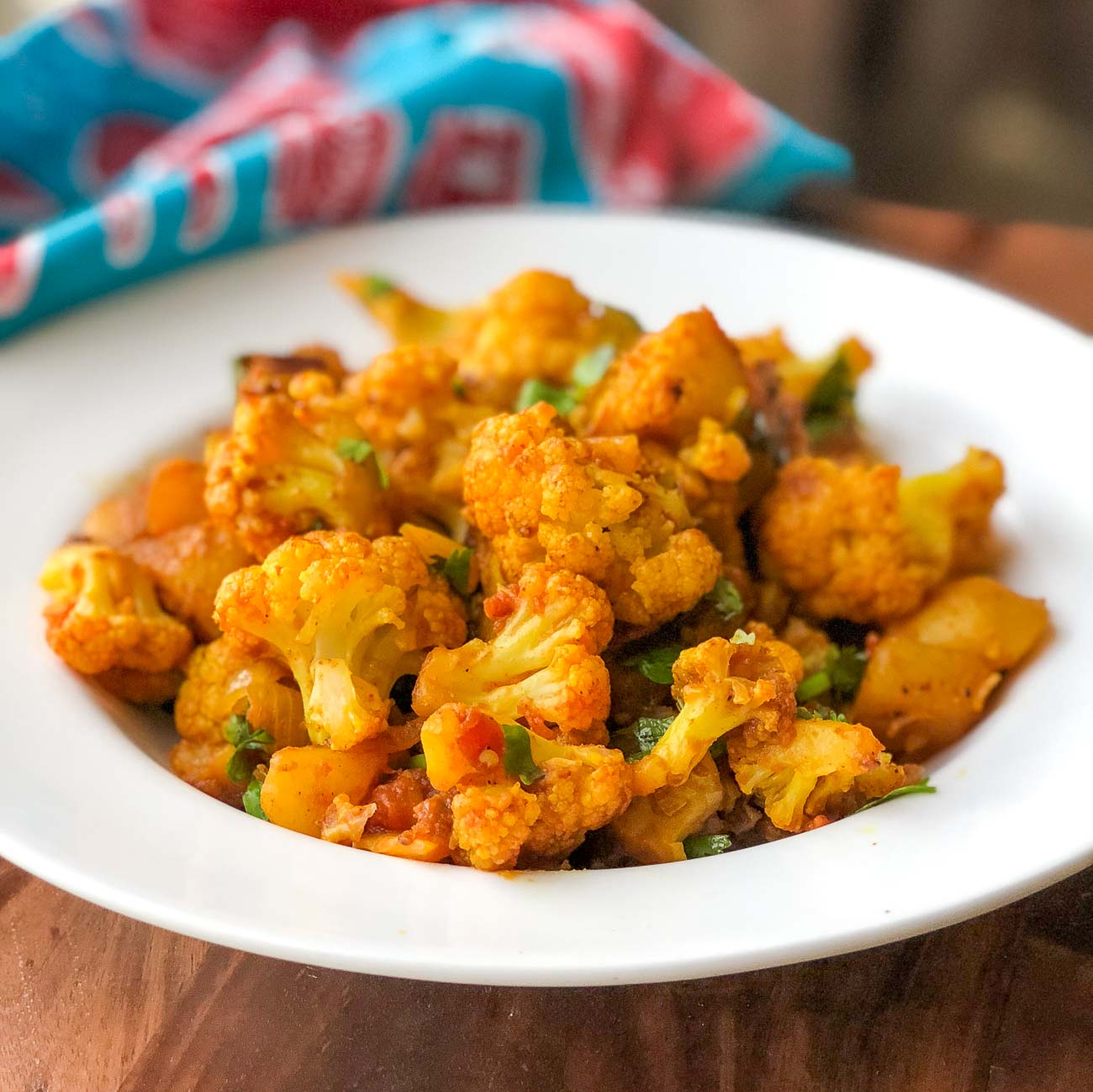 3. Bharwa Karela with Sweet Potato Filling Recipe
Stuffed with tangy and spicy sweet potato dry masalas, this makes a great accompaniment to Panchmel Dal, Rice and Roti. The delicious sweetness takes away the bitterness from the bitter gourds and make it a mouthwatering spicy dish. Sweet potato makes it a great substitute as a healthy ingredients instead of potato.
If you are looking for more Bitter Gourd Recipes, here are some :
4. Bitter Gourd Peel Puri Recipe
An innovative trial on a very famous Indian bread that is fried in deep oil. The bitter gourd peel is often thrown away and is not used in most of the dishes because of the strong bitterness from the vegetable. But very little it is known about its nutritional benefits to the skin.
It contains Vitamin C which is very much need for the skin and hair. This helps as a powerful antioxidants which reduces all the negative radical from the body. By adding bitter gourd into the puri dough it also helps to give a good crunchy texture and as well can be paired with various gravy dishes. You can also serve Phulka or Tawa Paratha with this meal.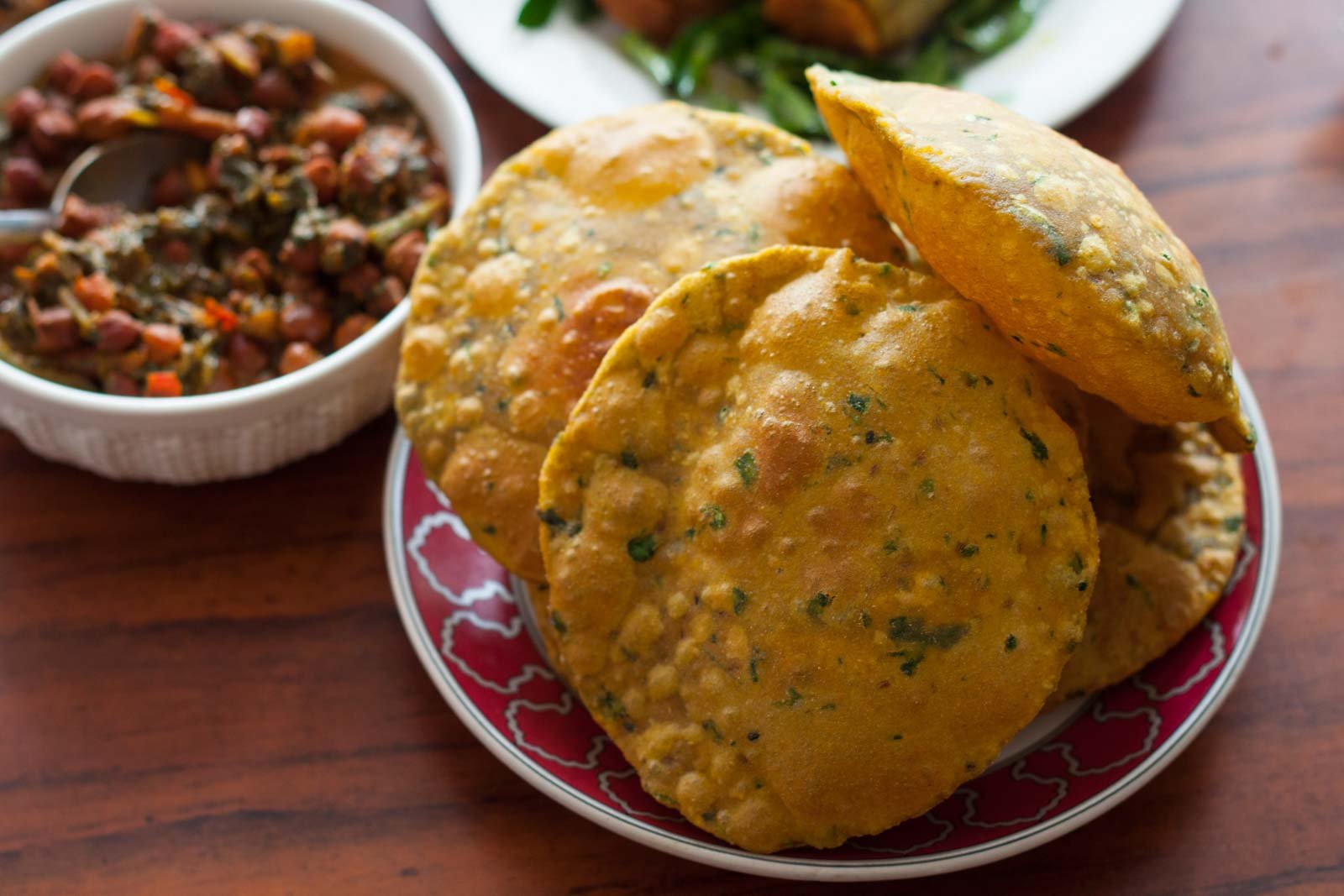 5. Carrot, Radish & Peanut Salad with Lemon Recipe
A refreshing quick salad that can be prepared to have it along with your main course. The carrot and radish are grated freshly and then tossed with some toasted peanuts, chopped green chilies and chopped coriander leaves. Then finally is drizzled with lemon juice and served fresh. By adding fresh vegetables will help you gain good amount nutrients completely. You can also try our Satvik Carrot Sprout Salad Recipe.
6. Spring Onion and Peanut Raita Recipe
A wonderful combination of freshly chopped spring onions and toasted peanuts mixed along with cumin powder. It is one of those refreshing raitas that goes really well with various Indian dishes as your sides. This raita is refreshing, cool and tasty, and goes equally well with rotis as well as rice dishes.
You can also try other Raita Recipes such as,