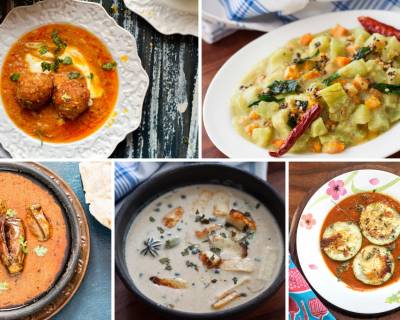 204 No Onion No Garlic Gravy Recipes From Across India
Onion and Garlic, are two very common ingredients that is used in Indian Cooking. Addition of onion and garlic in any recipe makes it more flavorful and delicious. But, there are many people who don't prefer using these ingredients in their cooking, especially the Jain community due to religious reasons. Some might not use because of allergy issues or some people might not like the taste and texture of the same. We also avoid food with onion and garlic during our Fasting days.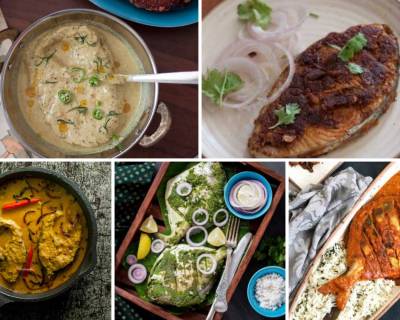 64 Indian Fish Fry And Curry Recipes That You Won't Be Able To Resist
India is a country with vast coastlines and many rivers flowing through it. There is an abundance of sea food variety available in the markets and everyone love fresh fish either made into a curry or fried. Each fish has its own flavor and texture and that is the reason why fish is so popular. Fish is not only tasty, but healthy too. Fish is a rich source of Omega-3 Fatty Acids which keeps our heart and brain healthy.
Fish is often called as "BRAIN FOOD". It is high in Protein and Vitamin D. There is a great diversity found across India when it comes to making the same fish. Here we have a wide variety of Fish Curry and Fish Fry Recipes, that you can relish for your everyday meals or you can also prepare them for your house parties or family get together.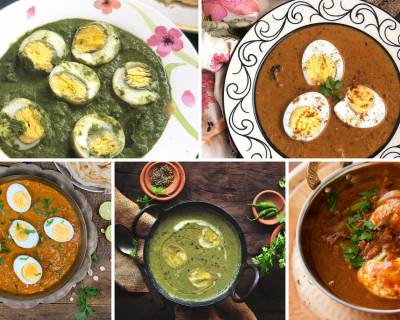 26 Mouth Watering And Easy To Make Egg Curry Recipes From India
Egg, a great source of Protein is a must in all the Egg eaters diet. It is a great way to include protein in your everyday diet and it also keeps you filled for a longer time. Not only Protein, Eggs are rich sources of selenium, vitamin D, B6, B12 and minerals such as zinc, iron and copper. There are many ways that you can eat an Egg for your breakfast, lunch and dinner. The healthiest way is to boil the eggs and eat it for breakfast.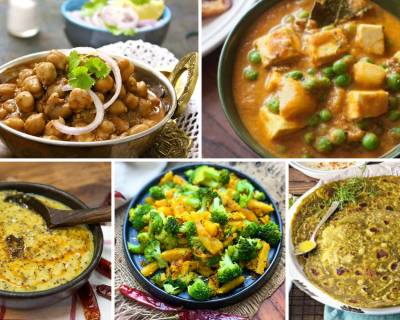 273 High Protein Indian Vegetarian Main Course Recipes For Body Building & Weight Loss
Protein is the building block for our body. It is an important component of every cell in our body. Our body repairs tissue with the help of proteins. Our bones, muscles, skin blood, nails and hair are mainly made of proteins. Protein is a macro-nutrient that means that our body needs a relatively large amount of protein for normal functions. And unlike fats and carbohydrate the body does not store protein and so we need to have a protein rich diet to be healthy. Depending on age and sex, a healthy adult needs about 50-60 grams of protein everyday. For a body builder it is around 120 grams. The more active you are, the more proteins you need.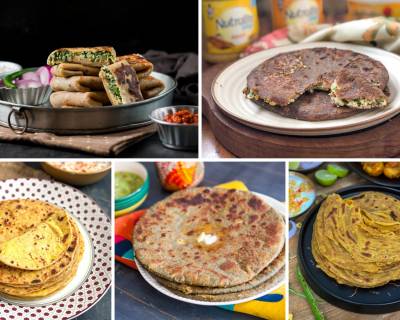 90 Paratha Recipes That Are Healthy, Delicious & Easy To Make
PARATHA, an Indian bread that is made in almost every household all over India. There are many types of Parathas, but mainly they are categorized into two, one is Basic Parathas and the another one, Stuffed Parathas. While the basic Parathas can be served with Dals, Gravies etc, Stuffed Parathas can be had on its own along with Pickle, Curd, Raita or Chutneys. You can have them for any meal of the day, whether it is Breakfast, Lunch or Dinner.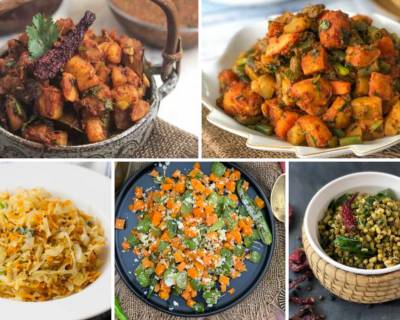 270 - No Onion No Garlic Dry Sabzi Recipes From Across India
In our everyday cooking, we tend to eat onion, garlic and spices, but when we talk about Sativik food onions and garlic is not included. We mostly associate no onion no garlic recipes with Jain Recipes or Ayurvedic Recipes. Here we have a collection of No Onion No Garlic Dry Sabzi Recipes from across India that you can make and enjoy with your meals.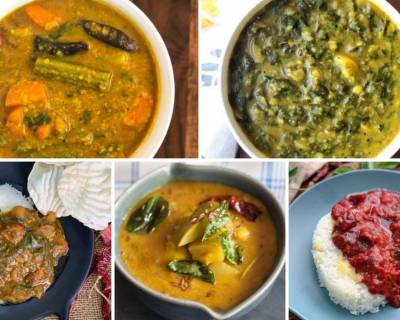 27 Best Sambar Recipes That You Can Try For Your South Indian Meals
When you walk through the streets of South India, you can often hear a whistle or two of the pressure cooker going off in most houses in the mornings and the aromas of sambar wafting through the air. Most homes usually prepare Sambar once or twice a week and serve it for breakfast along with Idli, Dosa or Vadas and for lunch along with hot steamed rice with a dollop of ghee, a Thoran or Palaya and Papad on the side. Idli Sambar and Dosa Sambar have become quite popular across India and is hot selling in most restaurants.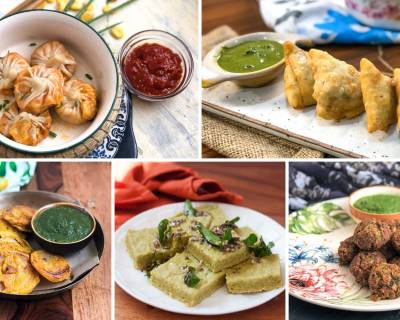 Delicious Indian Vegetarian Snack Recipes For Rainy Season
With sun killing us with its scorching heat, we look forward to the rain to cool us down. This brings in the subtle chill and the winds along with the petrichor that gives us some relief from the heat. With such a lovely weather, we always end up craving for some hot snack dishes which we can enjoy with a hot cup of tea. And in India, every state has their own monsoon delicacy to suit their taste buds. There are many options to serve during the monsoon season such as hot pakoras, bajji, samosa, corn, dhokla, vadas and the list goes on and on.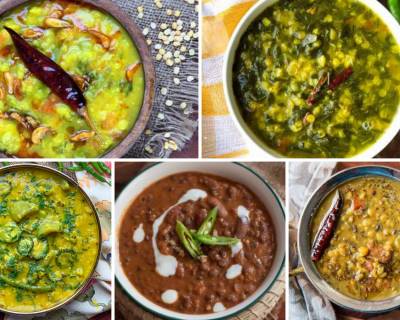 184 Delicious Collection of Indian Dal Recipes That You Must Try In Your Kitchen
Dals, Pulses And Legumes are an integral part of an Indian Diet. For vegetarians, it is the main source of protein and is consumed in different forms across India.There are various ways in which Dals and Lentils are cooked across India and Dal recipes varies from each region depending on the use of local masala and style of cooking.
Most often a meal is incomplete without a Dal. Dals can be eaten with hot steaming Rice or any Indian Bread. Therefore, here we have lined up a collection of Dal and Legumes Recipes From Across India which you can make and serve to your family and friends for a wholesome meal.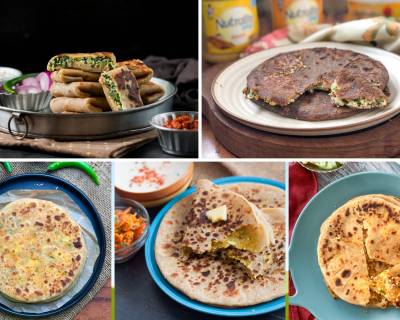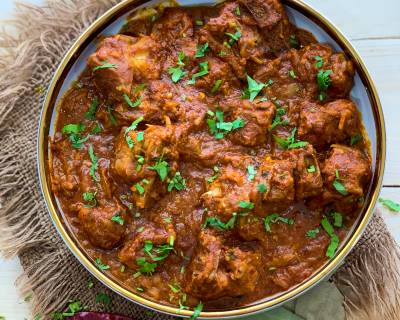 Laal Maas - The Heart Of Rajasthani Non Vegetarian Meals
Soft and Succulent pieces of Mutton in fiery and spicy Red Gravy, that is how we define LAAL MAAS, which is a very popular dish in Rajasthan. Just like Dal Baati Churma is a must have in Rajasthan, Laal Maas is another dish that you must try if you visit any city in Rajasthan. It is a heart of every Non Vegetarian meal, that will surely satisfy your taste buds to the T.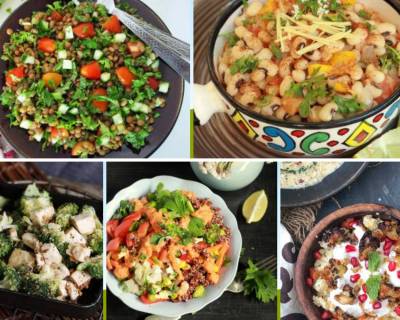 34 Appetizing High Protein Salads That You Can Make For Your Next Meal
Salads, usually served as a side dish with your meal is a great way to add some extra nutrition to your meals. Most of us know only certain recipes of salads that we make at home on everyday basis, but you can always make them interesting. From refreshing salads to high protein salads, there are many that you can make with interesting dressings that gives it more flavour and makes the salads tastier.
If your planning for a light dinner meal, then you can make a nice healthy salad for your dinner. You can also serve these salads along with your meals or pack it in your Lunch Box to munch in between your meals or whenever you are hungry.