Ramadan, also known as Ramzan in India, is the festival of Muslims, which is celebrated during the ninth month of their Islamic Calendar. During the Ramadan month, followers of Islam fast from the break of dawn and break their fast after the sunset by eating dates and milk before the food.
Eid Al-Fitr "festival of breaking the fast" marks the end of the Ramadan month is an important religious holiday celebrated by Muslims worldwide. Friends and family celebrate this festival by buying new clothes, giving gifts to dear ones and prepare a festive meal with Biryani being the highlight of the feast.
Biryani plays a major role in making the iftar parties hearty and flavorful. For a delightful biryani to be made, you need a non-sticky, long grain rice that is flavorful and delicious. We found that Fortune Biryani Special Basmati Rice has the longest basmati rice grain and gives biryani a royal look. When cooked with this rice it gives a perfect texture, beautiful aroma and imparts an irresistible taste to the biryani that will leave you wanting for more.
Did you know Basmati rice is gluten-free and low in fat? It contains all eight essential amino acids, folic acid, and is very low in sodium and has no cholesterol. In addition Basmati Rice has a low to medium glycemic index meaning that energy is released at a slower, steadier rate leading to a more balanced level of energy.
Most often festive food when cooked in lot of ghee or oil, makes you feel heavy and bloated. A good alternative would be to use physically refined Fortune Rice Bran Health Oil that is low in cholesterol, rich with goodness of Gamma Oryzanol. Gamma Oryzanol is an exceptional component of rice bran oil, which is known to improve good cholesterol and reduce bad cholesterol. It also has squalene, which is great for the skin as well.
In addition, the oil is also fortified with Vitamins A and D, which will help us in vision maintenance and improved absorption of calcium.
Let's make this Eid healthy and flavorful by making this delicious meal for our friends and family.
Mutton Biryani
This Mutton Biryani is made using Fortune Biryani Special Basmati Rice where the mutton is marinated with spices for half an hour and then cooked in a gravy of onion, ginger, garlic, tomatoes and spices. Saffron is another important spice that is added to make it royal and flavorful just like how the Nizam's would make it.
Each region has a way of making Biryani differently. You can either make in a single pot using a pressure cooker or by using the "Dum Cooking" method. Dum Pukht is a process of slow oven cooking technique where the meat and vegetables are cooked over a very low flame. Layers of spices and masala along with the partially cooked rice are packed in a large cooking vessel. The lid of the cooking vessel is sealed along with the bottom container using wheat dough. This process of cooking brings out rich aromatic flavors to the biryani
Here are a few more biryanis you can make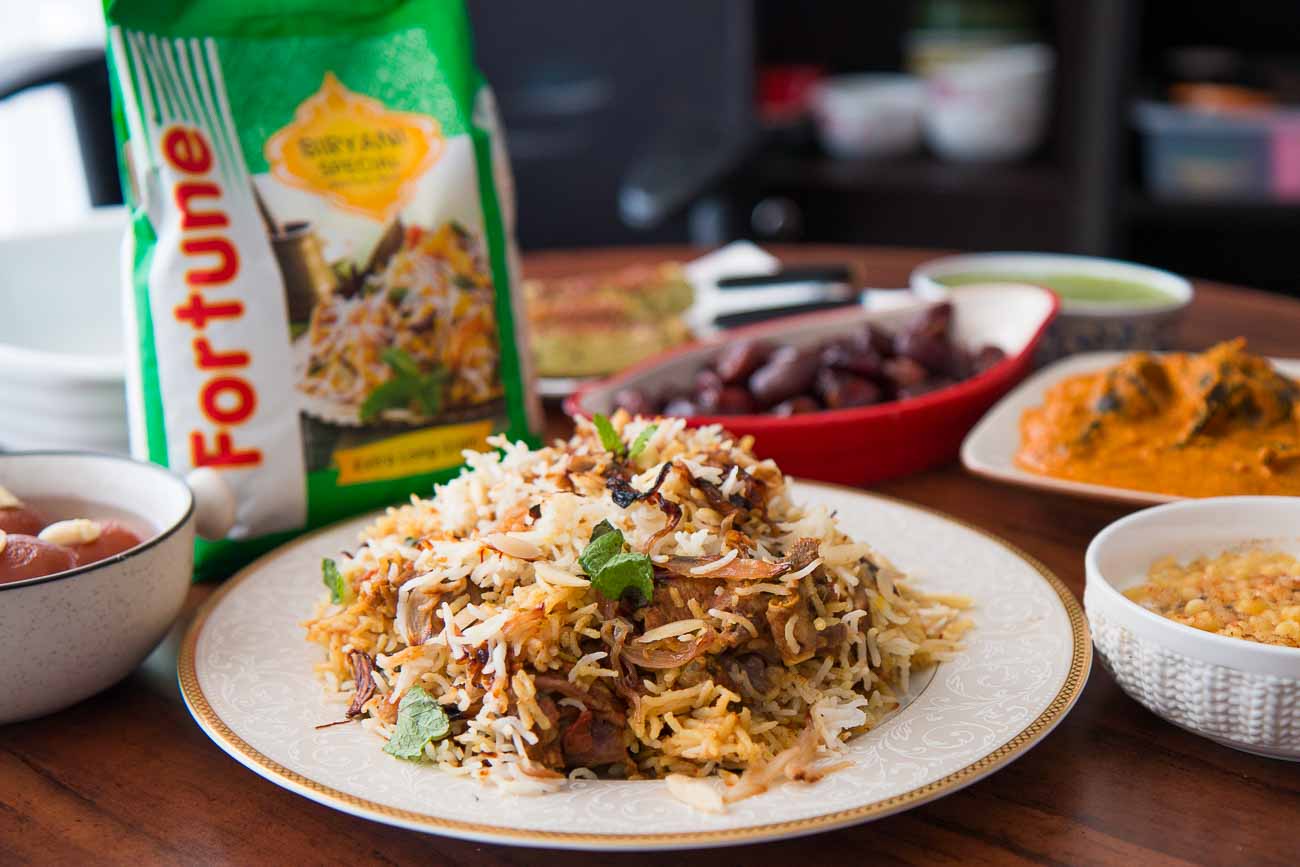 Hyderabadi Bagara Baingan
Hyderabadi Bagara Baingan is a delicious preparation roasted brinjal that is simmered in a tangy peanut and sesame curry. Ginger, garlic and green chillies are sautéed in Fortune Rice Bran Health Oil, along with spices that makes this dish royal adding to the Nawabi touch. Since the Bagara Baingan uses rich set of ingredients it said to be one of the main dishes served in Nawabi Darbar (royal court) making it fit for kings and queens palettes.
You can add Mirchi Ka Salan to the festive EID meal to make it more royal.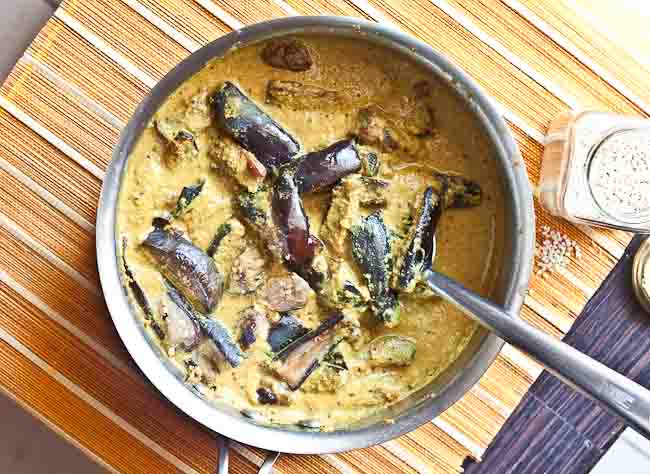 Mutton Shami Kebab Recipe
Kebabs are an integral part of Iftar meals that are great to have as an appetizer or as side dish with the main meal. The Mutton Shami Kebab from the Mughal Cuisine is cooked along with Bengal gram and blended along with whole spices to give it a perfect texture and taste. Pan-frying it along with Fortune Rice Bran Health Oil makes it healthy and light on the tummy too. You can serve this kebab along with Mint Chutney and a Yogurt Dip.
If you like a lot more appetizers for your festive meal, here are a few of our favorites that you must try.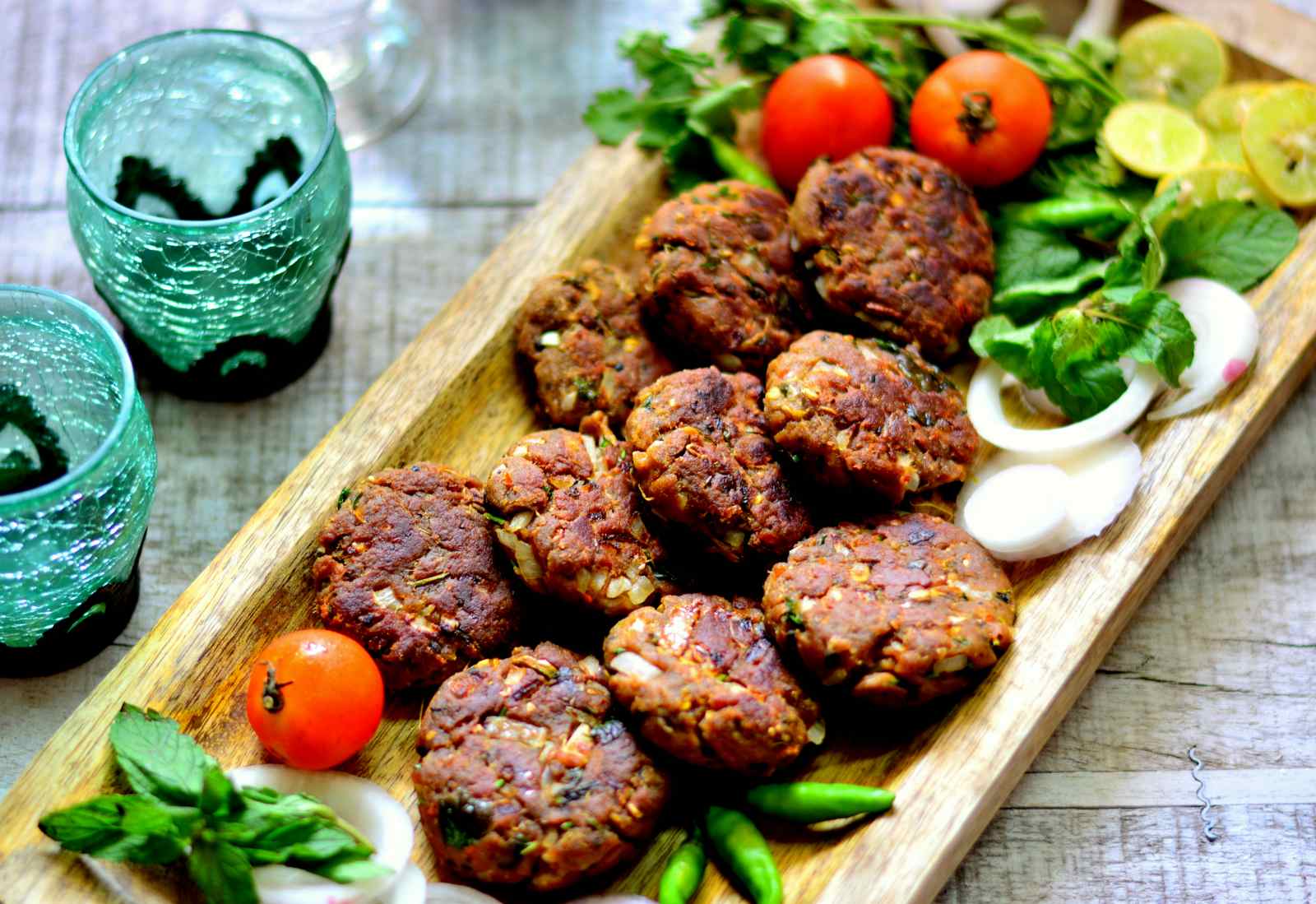 Boondi Raita Recipe Spiced With Black Salt
Boondi Raita flavored with black salt or chaat masala makes a cooling accompaniment that goes perfectly along with the Mutton Biryani. You could choose to have the boondi crisp or soft when you make the raita. To keep it crisp, add it just before you are ready to serve your meal. Apart from boondi raita, you can make raita with a combination of fruits and vegetables like tomatoes, onions, and cucumbers or even along with sautéed spinach to make a Palak Raita. Here are some of our favorite Raita combinations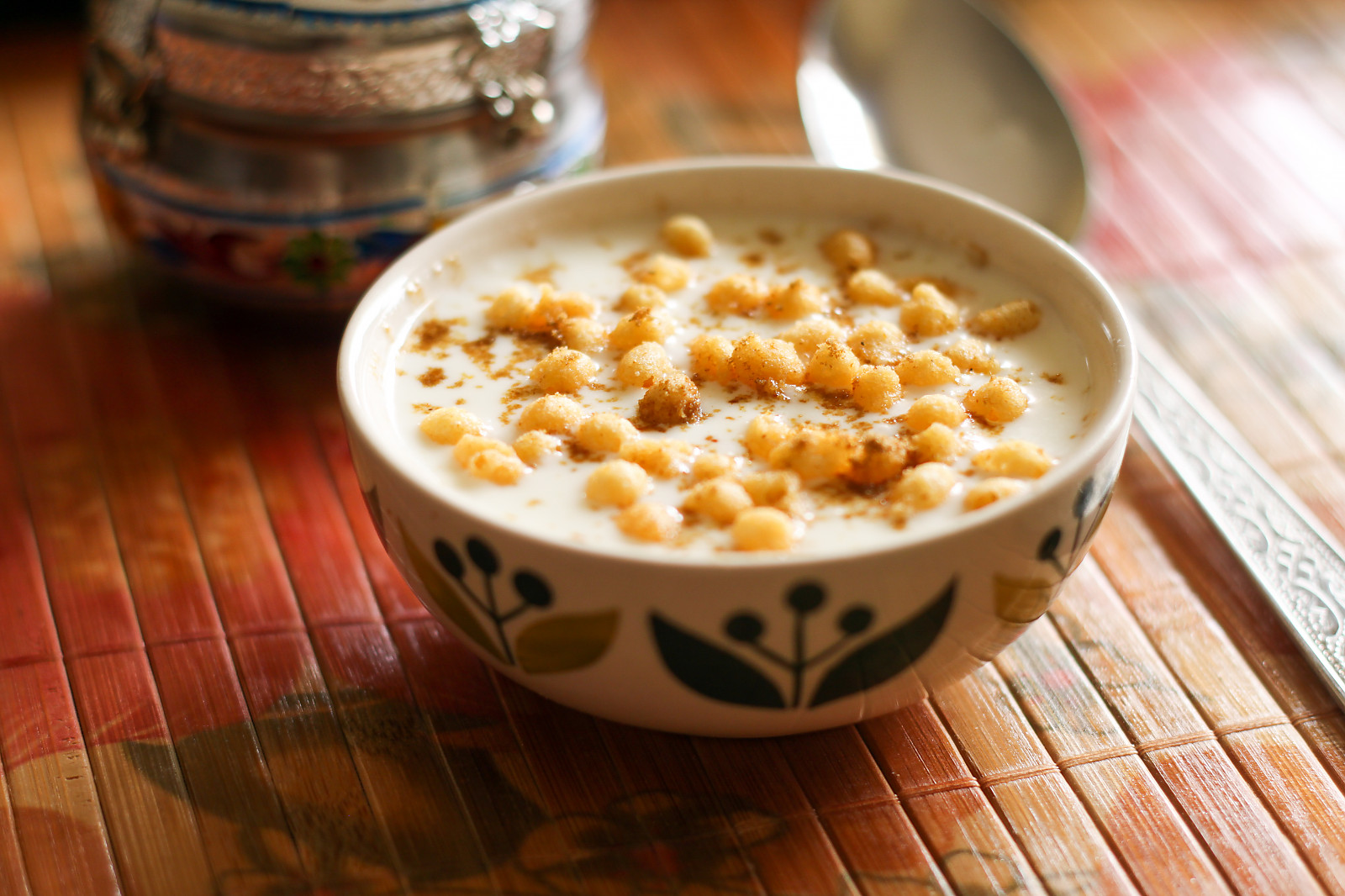 Sheer Khurma
Sheer Khurma Recipe is a delicious dessert dish traditionally made during the festival of Eid. Sheer means milk and Khurma means dates in Persian and that is essentially what the kheer is composed of. The addition of more dry fruits like pistachio and raisins makes the Sheer Khurma a rich and delicious dessert that can be served for the Eid party.
If you are looking to make more desserts for the Eid party you can try these classics.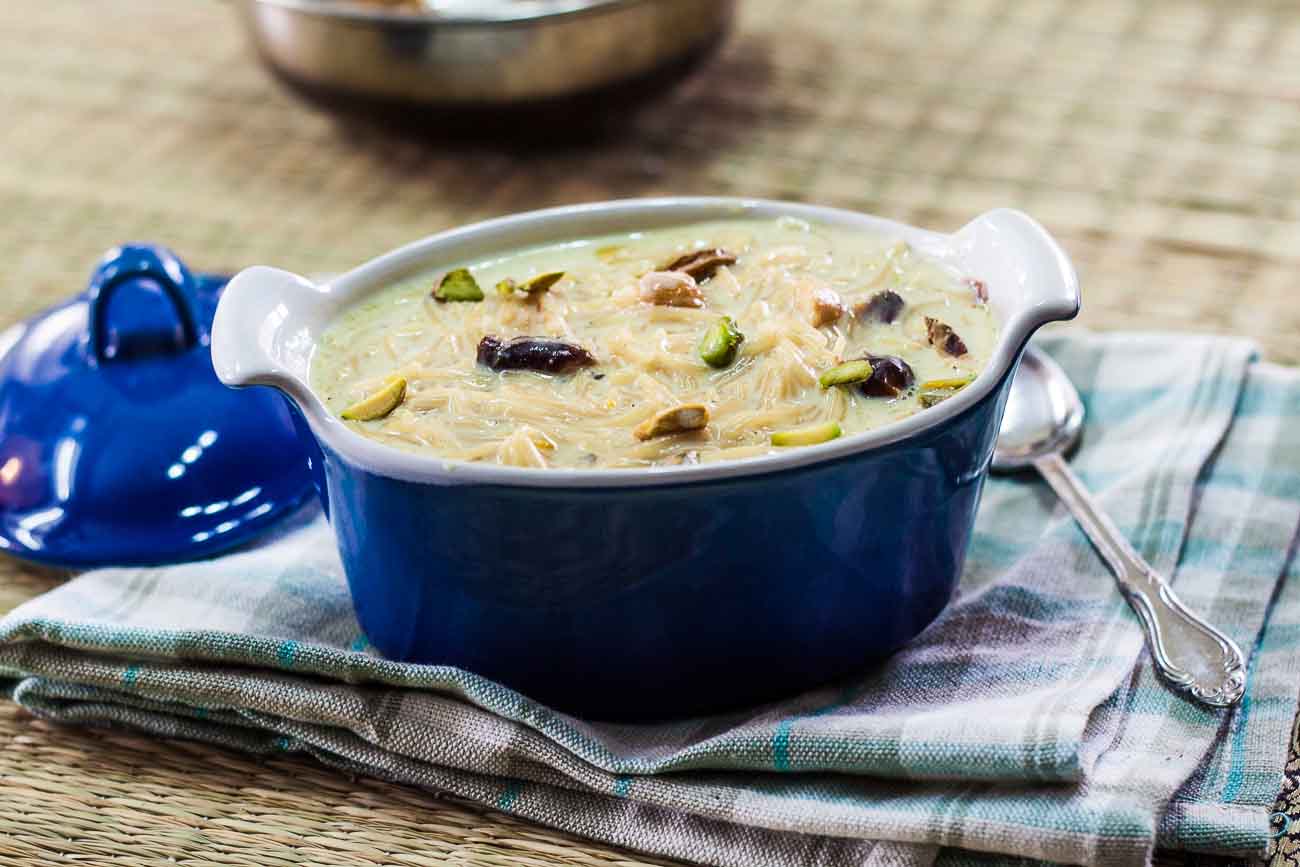 Click to know about Fortune Biryani Special Basmati Rice