Meal Plan & Lunch Box Ideas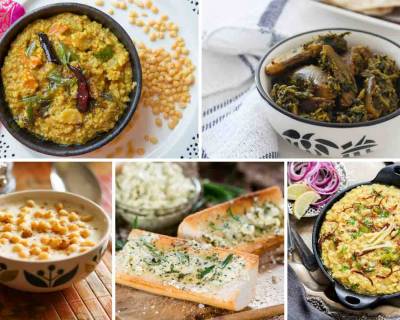 Weeknight Dinners : Make Your Weeknight Dinners with Rajasthani Gatte Ka Pulao, Sri Lankan Dal and Many More
Are you tired of making the same old Roti, Dal and Sabzi that you've been eating every night? Are you looking for Indian Dinner Recipes that is nutritious, wholesome and requires only a little bit of planning? You are at the right place! We at Archana's Kitchen want to make it easy for you and do all the thinking and planning - You only have to execute it, and have a wonderful South Indian or North Indian dinner on your dining table. The ingredients that are needed to prepare these Indian dinners can be found in all Indian Kitchens there by coming under budget and we have consciously paired these Dinner Recipes together so that the dinner that you serve yourself or your family members are wholesome and nutritious.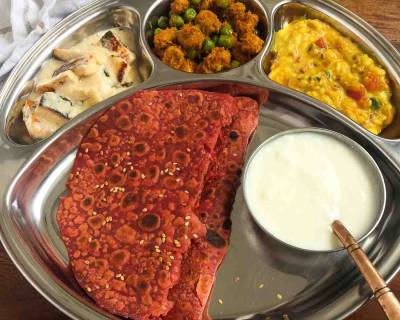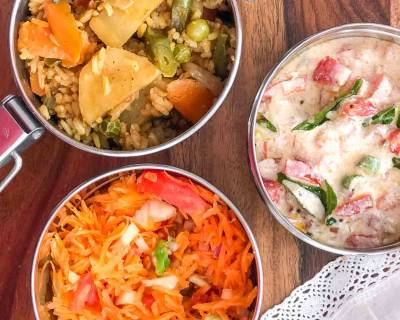 Lunch Box Ideas: Aloo Sabz Dum Biryani, Tomato Onion Tadka Raita And Salad
Everyday is a new beginning to a new meal. Do not worry of having the same old routine for the day as you can make it interesting by adding an extra bit of love and caring to the everyday meal that you pack for your office. You can make it healthy too as it is very important to check what goes into your everyday meals.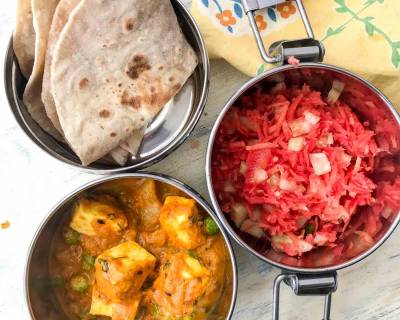 Lunch Box Ideas: Aloo Matar Paneer Curry, Phulka And Salad
Healthy eating begins at home and everyday is a new beginning for you to make that change. It is essential to be on a healthy diet and maintain portions of the food that you are eating. One can easily manage that when packing their Office or Kid's lunch boxes. Make sure to include variety of colours, raw foods such as salads and meals consisting of right balance of macronutrients like carbohydrates and proteins as well as micro nutrients like vitamins and minerals.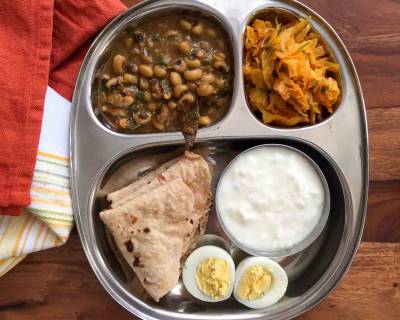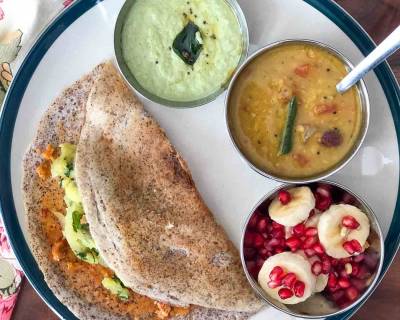 Breakfast Meal Plate : Mysore Masala Dosa, Coconut Chutney And Vengaya Sambar
In this edition of the Breakfast Meal Plate we bring you a South Indian style breakfast - Mysore Masala Dosa, Coconut Chutney and Vengaya Sambar. This makes for a perfect Sunday or any day you have a holiday, you can take an hour to prepare this delicacies and have a filling and scrumptious Breakfast or Brunch. The potato filling in the Masala dosa along with the spicy red chutney smeared inside will be a burst of flavour in your mouth if not more when scooped with a generous side of coconut chutney.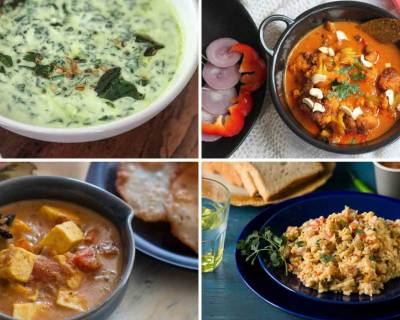 Weekly Meal Plan With Paneer Kurma, Palak Raita And More
The Weekly Meal Plan is back! We are sure you have a lot of recipes in mind about what to make for the coming week and also some of you have the ingredients but are confused what to cook. Therefore, we are here with a weekly meal plan which has some delicious recipes to make for your everyday meals which includes Breakfast, Lunch and Dinner. You can shop for the ingredients during the weekend, so that it becomes easy for you to cook during the week. Tasty and full of flavour, do try these recipes and let us know how you liked it?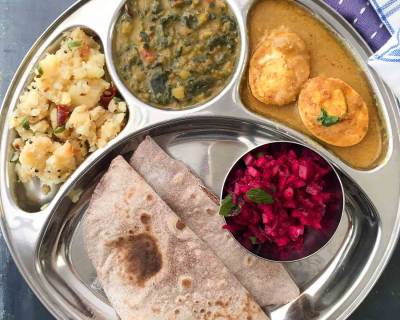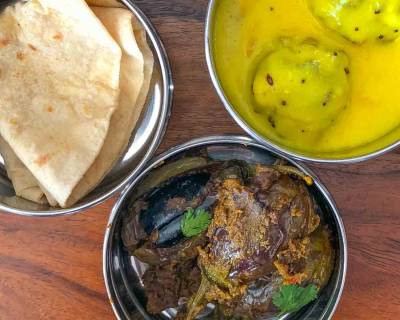 Lunch Box : Dum ke Baingan, Punjabi Kadhi Pakora, Phulka
Looking for something Healthy to pack for your kids school lunch box? Here we have a simple roasted baingan cooked with mughlai flavours which is served along with a comforting punjabi kadhi pakora & phulka by the side.The dishes that we have chosen are simple and quick to be made in the morning hustle.Packing a healthy Lunch box for your kid is always a difficult task for all mothers. To ease your everyday worries on packing hot food, Archana's Kitchen has come up with a Healthy Lunch Box Plan.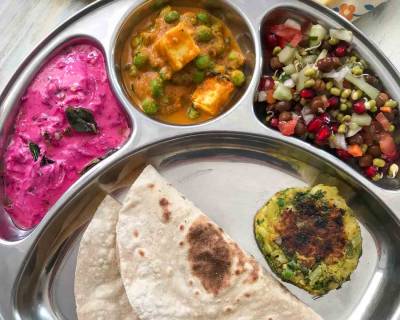 Portion Control Meal Plate : Aloo Matar Paneer Curry, Beetroot Raita, Sprouts Salad, Avarekalu Tikki & Phulka
Want to plan Wholesome Portion Control Meal Plate for your family this weekend? We have the perfect meal plate for you that is filled with Aloo Matar Paneer Curry, Beetroot Raita, Sprouts Salad, Avarekalu Tikki & Phulka
Plan this colourful and healthy meal plate for a family get together. The reds from the beetroot raita, the green from the Avarekalu tikki and the humble phulka will fill you stomach just right and keep you wanting more.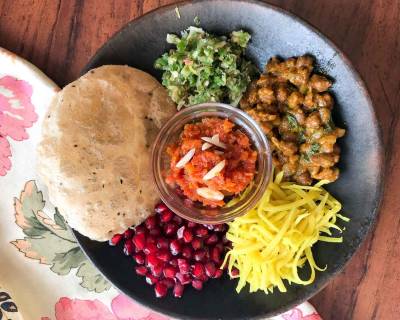 Breakfast Bowl : Ajwain Puri,Chole Pindi,Thecha,Raw Papitha No Sambharo & Halwa
Our Breakfast bowl is back again with an interesting option of puri, chole pindi, thecha, stir fried papaya, fruits and end it with a delicious gajar halwa. As we had mentioned earlier that we usually do breakfast meal plates but adding color and texture to the meal will also help you change your eating habits. So we thought we will do something different which looks interesting and appetising this time.