Meal Plan & Lunch Box Ideas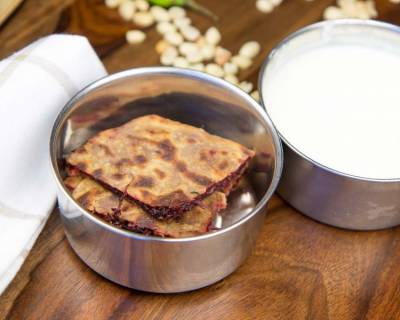 Beetroot Paratha Recipe (Kids Lunch Box Ideas)
School Lunch Box Recipes & Ideas: Beetroot Paratha Recipe is made from whole wheat flour dough stuffed with grated beets that is sauteed until tender. Making the Beetroot Paratha came out just like that like a spart to my mind to see other ways to consume beets and the parathas and the combination worked out great. This thought process is in my constant endeavour to make school lunch boxes fun and exciting for the kids.
LUNCH BOX PACKING TIP: I smear the parathas with sweet lime pickle and also pack some curd rice or plain yogurt in another box. The yogurt helps to satisfy the dryness from the parathas, as well as helps in digestion.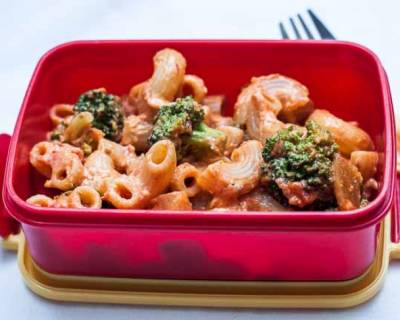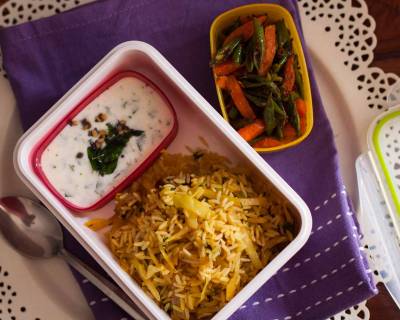 Kids Lunch Box Ideas:Cabbage Rice Recipe with Spiced Palak Raita Recipe
Kids School Lunchbox Ideas:Cabbage Rice recipe is like a vegetable fried rice that makes it perfect for travel and lunch boxes. The vegetables like cabbage when sauteed along with spices brings out the flavor and texture to the cooked rice. The cabbage rice also tastes good when it gets to a normal temperature. I typically pack the rice along with a bowl of yogurt and curd rice along with it. You can optionally pack the rice with some chips or papad to make it more exciting for the kids to eat their lunches.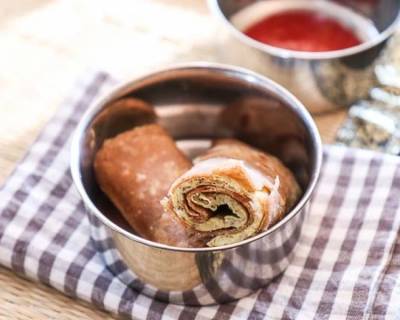 Egg Rolls & Curd Rice | Kids Lunch Box Recipes
School Lunch Box Recipes & Ideas: Egg Rolls are a perfect Lunch Box for the kids. With a little advance preparation, your mornings for packing lunches can become a breeze. I keep the sauces in a separate box and also avoid the chillies for their lunch. The kids dip the rolls in the sauce and love them for school. Its easy to hold on to, as well.
Tips for Packing: Allow the rolls to cool a bit before packing it. You could roll it in butter paper or pack it tight next to each other for the lunch box. You can again optionally pack it along with fruits and nuts or granola bars to add some excitement to the lunch box.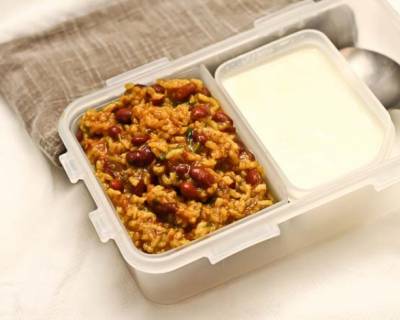 Kids Lunch Box - Punjabi Rajma Masala, Steamed Rice And Yogurt
Here, we are back with our new Kids Lunch Box that has some delicious recipes such as Punjabi Rajma Masala, Steamed Rice And Curd. Rajma Chawal is one great lunch box dish that stays and tastes well even when cold. I usually pack it along with yogurt or with steamed vegetables or sliced raw carrots and children simply love it. Due to its high protein and carb content, the Rajma Chawal keeps the children full and nourished with energy and nutrition throughout the day.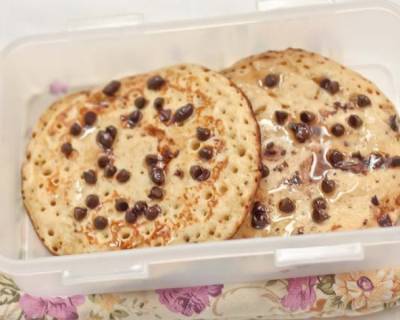 Whole Wheat Chocolate Chip Pancakes | Kids Lunch Box Recipes
School Lunch Box Ideas & Recipes: Whole Wheat Chocolate Chip pancakes with maple syrup or honey makes a delicious kids school snack box. The addition of whole wheat adds to the grain and the eggs or the yogurt adds to the protein. Drizzling the whole wheat chocolate chip pancakes with honey or maple syrup or even spreading nutella helps in provide the adequate energy from the sugars and carbohydrates.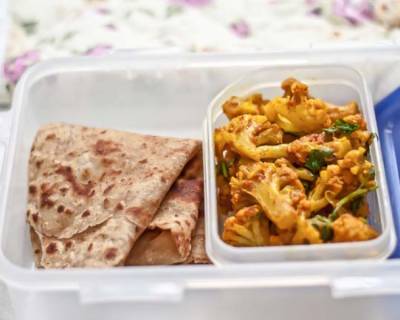 Cauliflower Sabzi & Tawa Paratha | Kids Lunch Box Recipes
School Lunch Box Recipes & Ideas: A quick cauliflower (Gobi) vegetable for a lunch box can be make as quickly as 15 minutes if you have all ingredients ready the previous day. It stays well through the day and children simply love this non-messy combination for their lunch boxes. Pack this lunch box with Tawa Paratha and a glass of buttermilk for lunch. You could also pack some fruits to make the meal refreshing.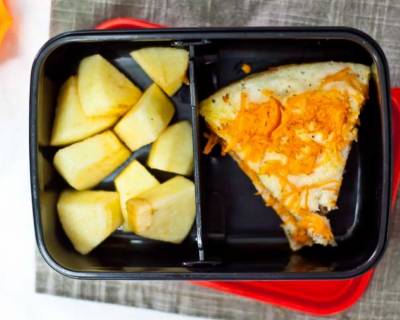 Carrot Uthappam with Apples | Kids Lunch Box Recipes
School Lunch Box Ideas and Recipes: Carrot Uthappam with Apples are nutritious and filling for the kids school snack box. The lunch box provides wholesome nutrients from the carrot used using regular Dosa Batter. The addition of fruits like an apple into the lunch box gives the required energy from the sugars making the kids feel alert during the day.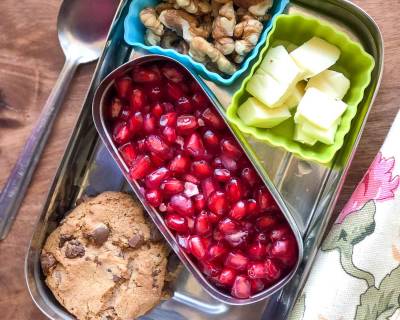 Kids Lunch Box Recipes: Walnuts, Cheese, Pomegranate & Cookies
School Lunchbox Ideas & Recipes: Walnuts or Almonds, Cheese Cubes, Chocolate Chip Cookies & a fruit like Pomegranate are a perfect friday snack box treat for the kids. Packed with healthy vitamins, minerals and calcium, the combination of this kids lunch box ensures that your child eats something healthy which is also delicious and filling.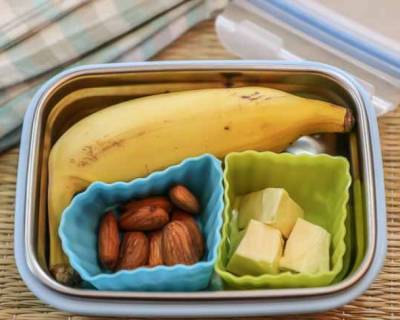 Bananas Almonds & Cheese | School Lunch Box Recipes
School Lunch Box Recipes & Ideas: Bananas are a great energy booster for a snack box. Based on the size of the banana available in your region you can pack them as a whole or by cutting it into half. When bananas are combined along with Almonds and Cheese, it adds a perfect balance to their nutrition, keeping them energized and alert.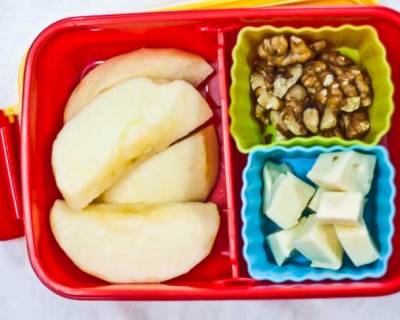 Apples Walnuts & Cheese | Kids Lunch Box Recipes
School Lunch Box Recipes & Ideas: Apples are a child's favorite all because they are juicy and crunchy too. Removing the skin of the apples and cutting them in wedges helps the child eat them with ease and yes faster, as kids are always in a hurry to finish their snacks to get some playtime with their friends.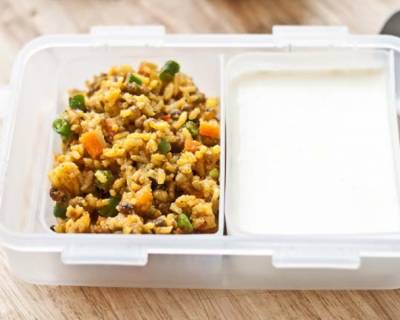 Green Moong Pulav With Vegetables | Kids Lunch Box Recipes
School Lunch Box Ideas & Recipes: Green Moong khichdi is something that all of us make at home, but all that I did to this recipe was to add some spices and made it a little like a pulav, along with vegetables. Pack the lunch box along with curd rice or with plain curd and papad and the kids will relish this Green Moong Pulav with their friends.