No Bake Peanut Butter Granola Bars Recipe
No Bake Peanut Butter Granola Bars is a healthy snack to carry or pack in kids snack boxes or can even be eaten as a mid morning snack. Give these to your kids during exam time to keep them full of energy, stay sharp and healthy.

Archana Doshi
On

Monday, 02 June 2014 16:22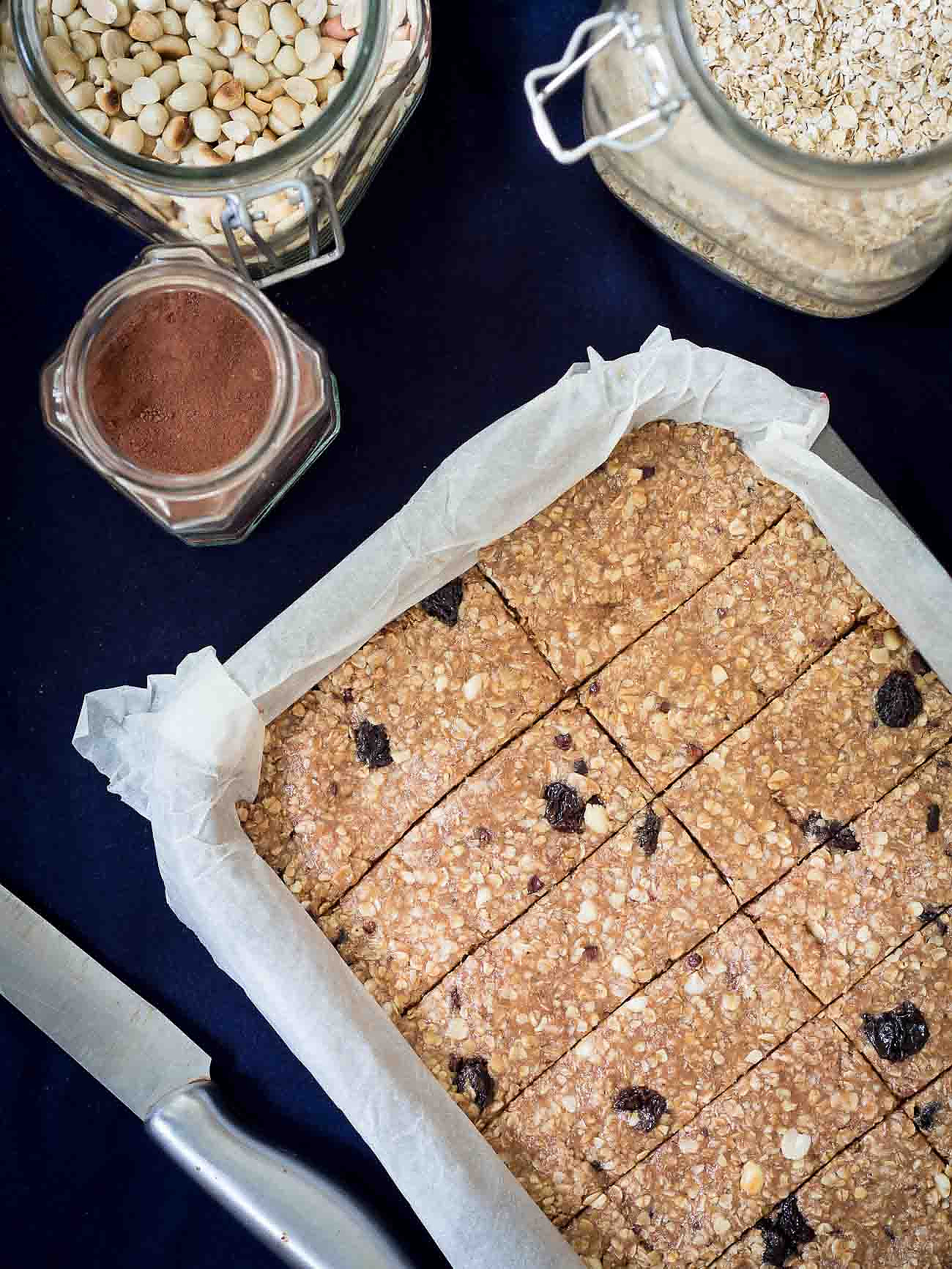 No Bake Peanut Butter Healthy Granola Bars is a dish came out of an experimentation I had with a friend who was planning to get into a business of making health food bars. I wanted the granola bars to be wholesome with the right amount of protein, carbs, micro nutrients and finding a balance with taste did take some time.
Serve No Bake Peanut Butter Granola Bars as a snack in between your meals or whenever you feel hungry.
If you like this recipe, you can also try other Energy Bars such as
Ingredients
1 cup

Instant Oats (Oatmeal)

2 cups

Dates

, pitted (about 30)
1 cup

Whole Almonds (Badam)

, coarsely powdered
1/2 cup

Walnuts

, coarsely powdered
1/2 cup

Peanut Butter

, or almond butter
1/4 cup

Flax seed powder (flax meal)

Optional Ingredients

Dry Fruits

, prunes, apricots, cranberries and other dry fruits 
1 teaspoon

Vanilla Extract

, or orange rind/zest
1/2 cup

Chocolate Bar

, finely chopped
How to make No Bake Peanut Butter Granola Bars Recipe
In a heavy bottomed pan, roast the instant oats on medium heat until you get a subtle crunch. Once toasted transfer into a bowl. Keep it aside to ccol down.

Prepare the almond powder, walnut powder and the flaxseed powder separately. If you like a crunch to your bar, then you can make the nut powders coarse.

In a Food Processor, blend the dates until it becomes almost smooth. Add the nuts, flaxseed powder, peanut butter and the toasted oats into the processor. Blend them together until it's all combined. The granola bar dough is now ready to be set.

Place the peanut butter granola bar contents it on a 8 x 8 square dish and press it down to spread it evenly. You can use a flat pastry knife to do the same as well. Refrigerate for a couple of hours so it gets set well to be cut.

Cut it into desired sizes and store in an airtight container in the refrigerator for about 3 weeks or outside in a cool dark place for about a week.

These No Bake Peanut Butter Granola Bars stay fresh even when not refrigerated for about a week.

Note: You can add more honey or peanut butter or dates if you find the Granola bars too dry.