Quesadillas are one of the favourites in Mexican themed restaurants. Quesadillas spelt as Quesadilla and pronounced as 'qesadiya' might seem a bit confusing for us Indians when you want to address these for a first couple of times and might even sound exotic. But what these bits of plain-looking corn tortillas hide, is a delicious and cheesy mouthful filling within.
The perfectly cooked creamy vegetarian, or non vegetarian filling is smothered in cheese that makes you drool over them after one single bite. The creaminess just settles all the wonderful flavours of Mexican spices that it encloses slyly within.
Quesadilla is a filling option when you are looking out for an exotic main course for your house parties or for a quiet meal with your own family. Not only that, these Quesadillas can be served as party appetizers in a fusion food themed parties as well. This exotic sounding, delicious tasting and easy to prepare bites of cheese filled goodness of corn tortillas can be served with salsa, sour cream, hung yogurt based dips. Here is a whole lot of 10 great tasting Quesadillas that you can try for yourself. You can try at home to know how easy they are to be made. For those who have already tried Quesadillas, here's a great variety you can bring in to them.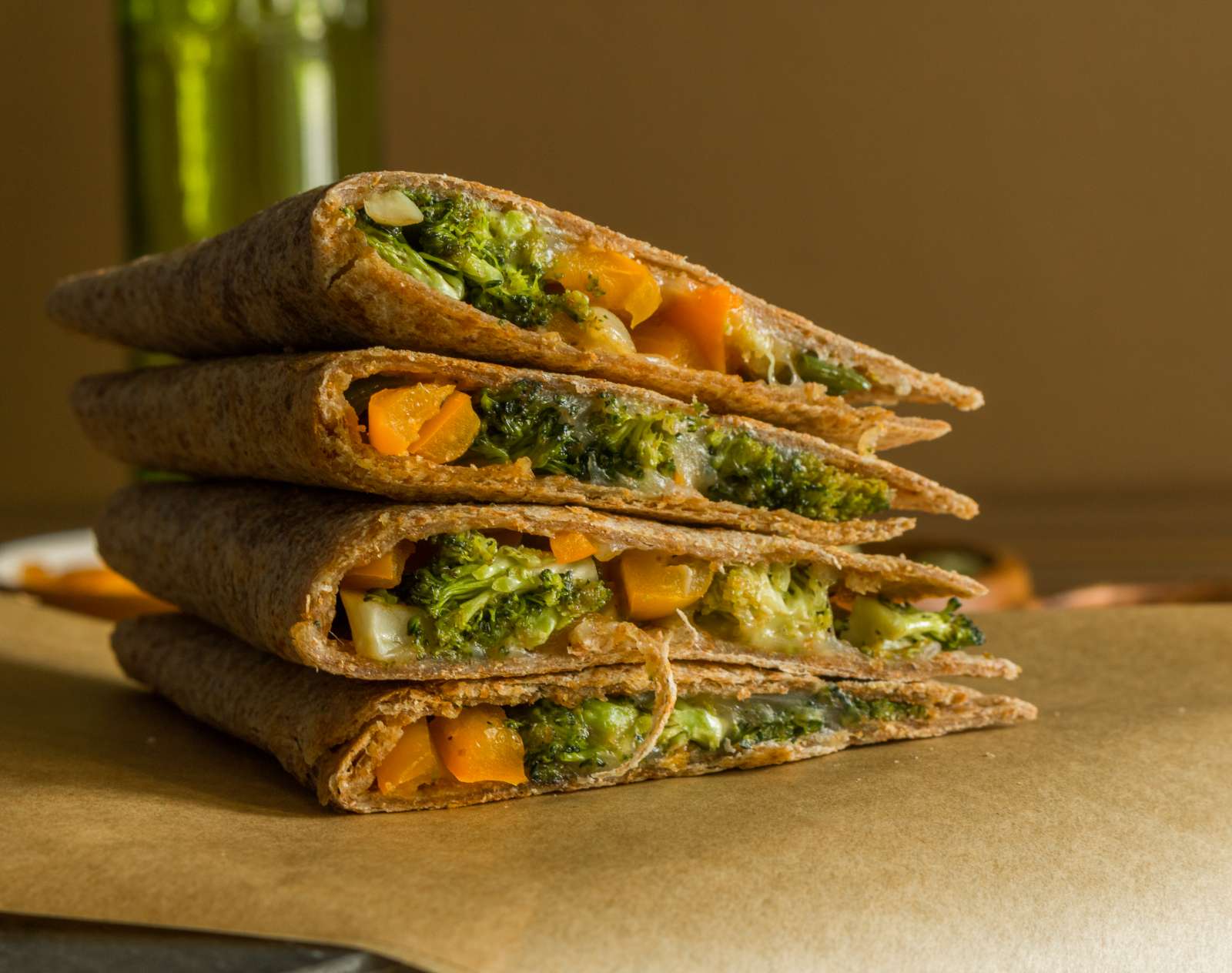 Broccoli Bell Pepper Cheese Quesadilla is a Quesadilla recipe which belongs to Mexican cuisine. Quesadilla is a tortilla (Corn Tortilla or Wheat Tortilla) which is filled with cheese and then grilled. Vegetables, chicken or meat are stirred in to provide a delicious blend. The mixture is stuffed between two tortillas along with cheese. Single quesadilla is prepared with one tortilla and folded like a half moon. Quesadilla is a kid's friendly recipe with loads of gooey cheese. The addition of broccoli in Broccoli Bell Pepper Cheese Quesadilla Recipe makes it more nutritious and peppers give a vibrancy to the dish with its color.
Serve Quesadilla with Homemade Guacamole Recipe on the sides or along with Spinach Enchilada Recipe (A Classic Mexican Dish) to enjoy your mexican starter for your sunday brunch.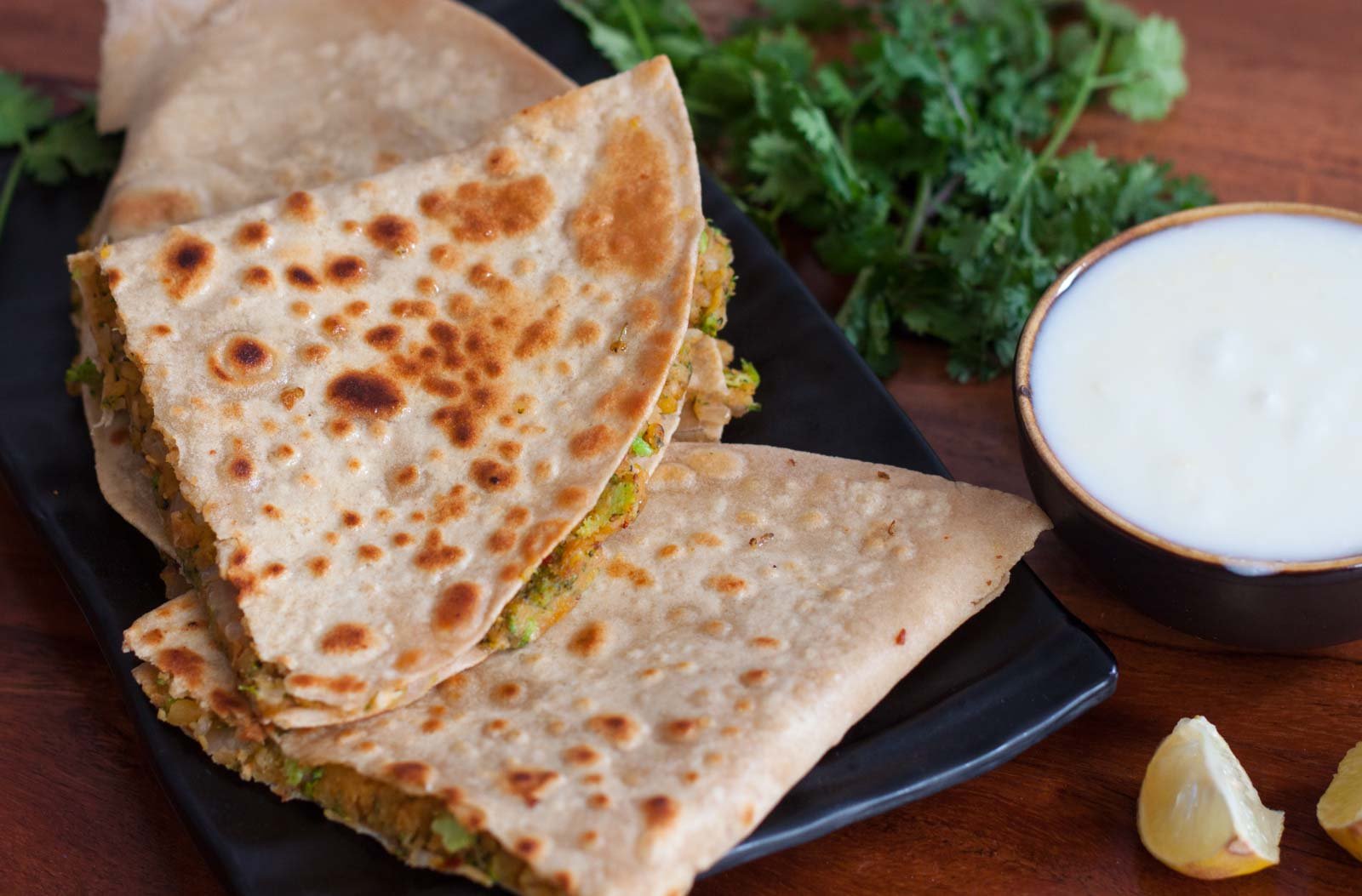 Chickpea and Broccoli Quesadilla Recipe is a healthy version to create a delicious meal for yourself. The chickpea are coarsely ground and sautéed with broccoli. The stuffing is then seasoned with dried thyme, oregano and cumin powders which are the basic spice mix used in Mexican cuisine.
Chickpea and Broccoli are a good source of protein to your body. A bowl of chickpea is rich in fiber and provides essential vitamins and minerals as well. Whereas Broccoli on the other hand are rich in Vitamin C and protect body from damaging free radicals.
Serve the Chickpea and Broccoli Quesadilla along with salsa and sour curd by the side with a bowl nachos as an accompaniment. It can also be had with a bowl of Couscous Salad with Raw Mangoes.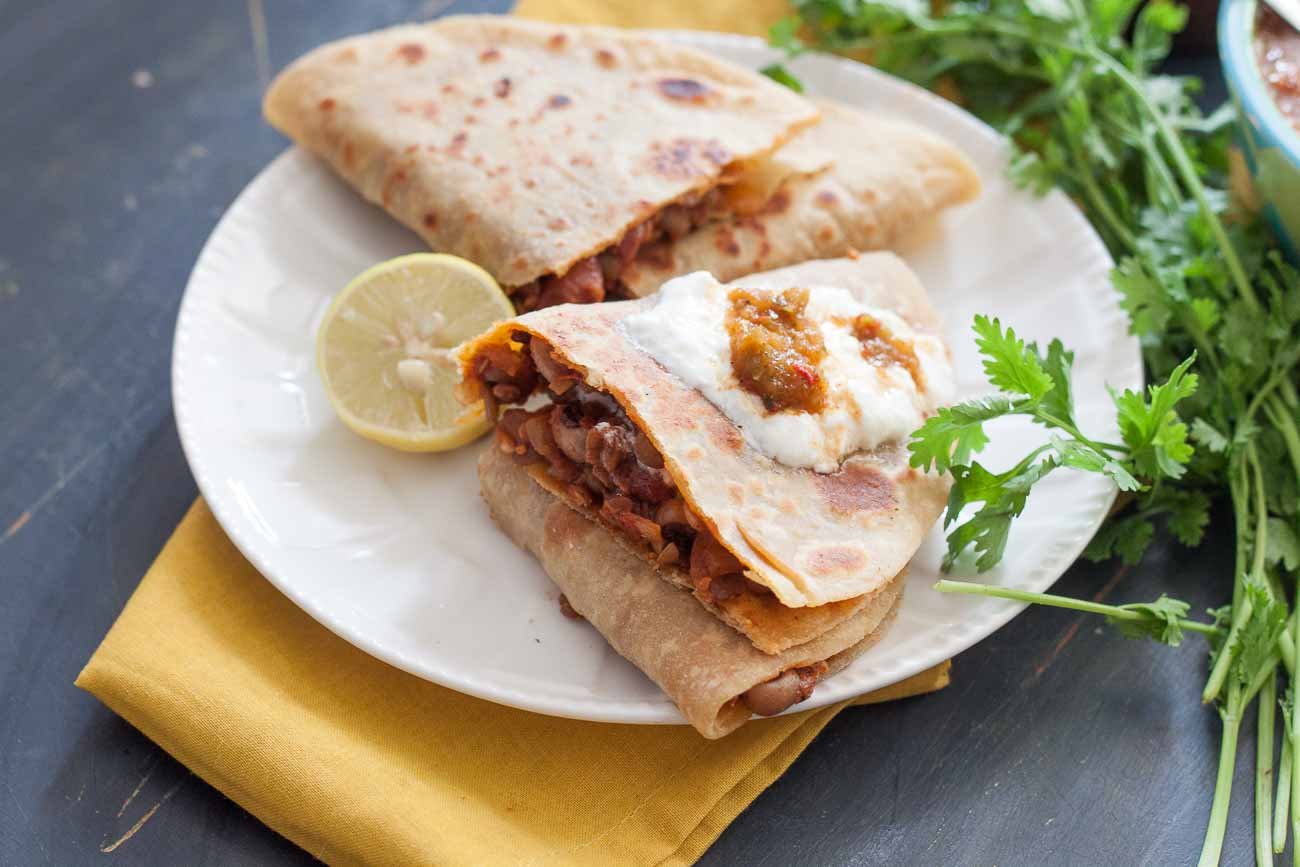 3 Beans Stuffed Quesadillas Recipe is a healthy twist to the normal quesadillas that are usually loaded with cheese. The most popular 3 beans used in our day to day cooking is used in this recipe which are rajma, black eyed peas, brown masoor. These three lentils are rich in proteins and are very essential for growing kids.
Serve the 3 Beans Stuffed Quesadillas along with tomato salsa, pineapple salsa and a bowl of sour curd to go along with your quesadillas.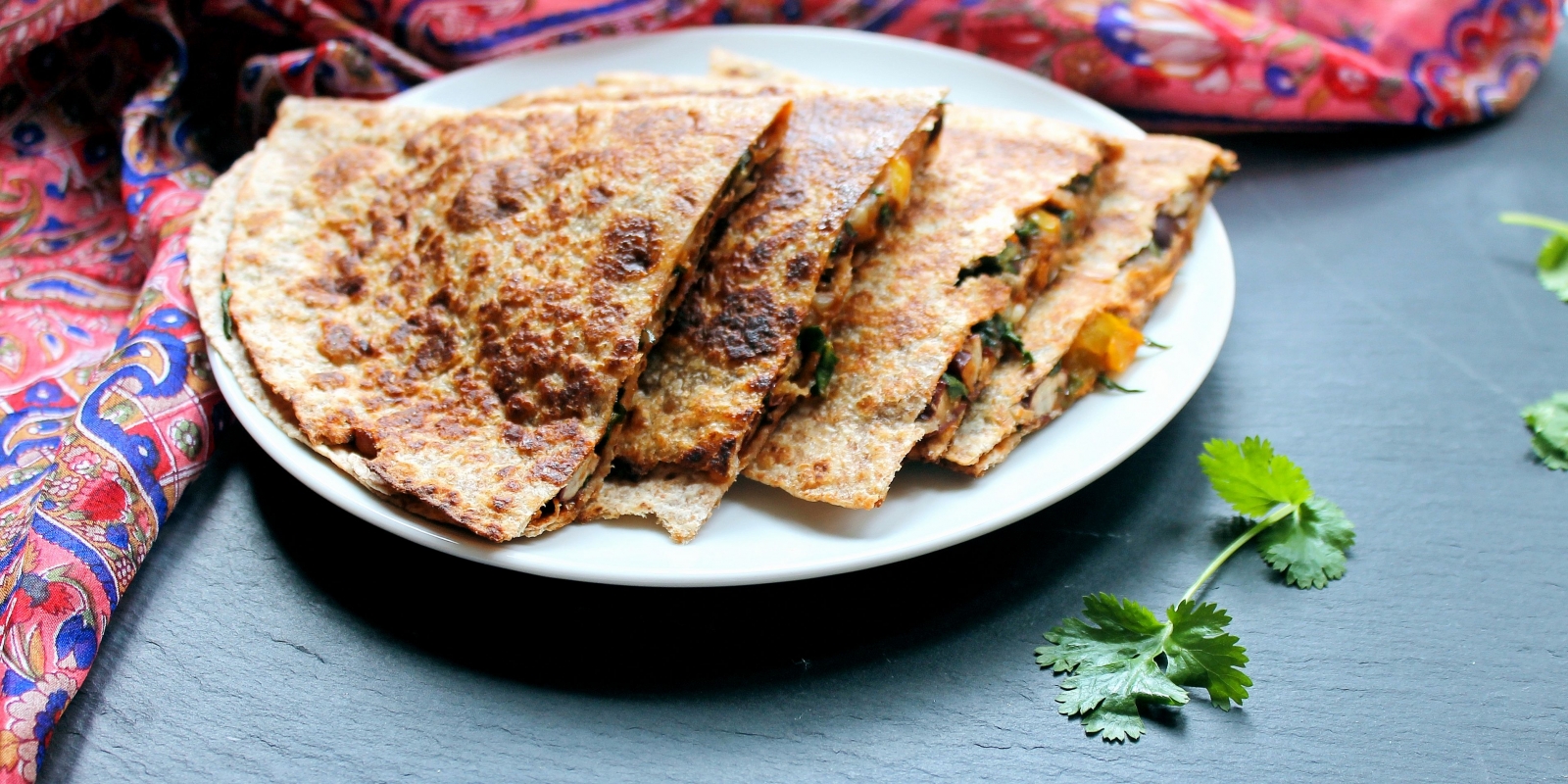 The Bean Spinach And Corn Quesadilla Recipe makes a quick satisfying, protein and fiber rich meal that you can get ready within 30 minutes. And that's Tex-Mex for you! Call in the beans, the tortillas and the rest. Make your meal planning simple. I had a can of red kidney beans in spicy sauce, ready to go or you can make your own refried beans and use it in this Quesadilla. Spinach and sweet corn being so quick to cook, the decision was made.
Serve the Bean Spinach And Corn Quesadilla along with Spicy Mexican Salsa, sour cream or just as is for a weeknight dinner, a lunch box or even for parties.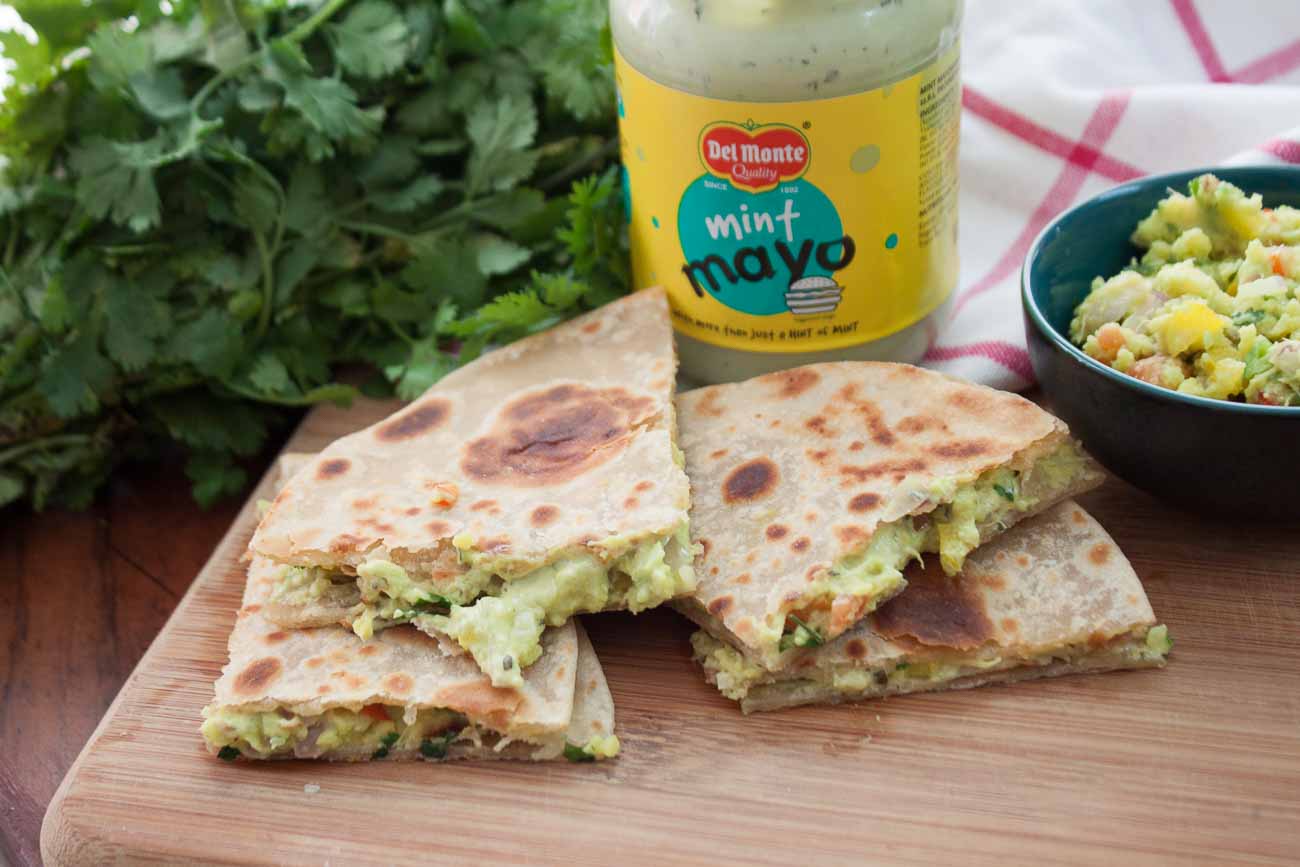 Guacamole Stuffed Quesadilla is a slight twist from the normal quesadilla made in colonial Mexico. The quesadilla is stuffed with creamy guacamole and flavored by mint mayo spread. Delmonte mint mayo spread is a quick way to use it in a dish to create the yummy and flavorful dish.
Quesadillas are usually made from corn tortilla but in this recipes, the tortilla is made from wheat flour giving a different texture to the whole dish. Quesadilla is sometimes eaten as an appetizer but it can also be relished as a light meal.
Serve your yummy filled Guacamole Stuffed Quesadilla as an appetizer or for an afternoon quick meal along with Corn Pineapple Salsa Salad.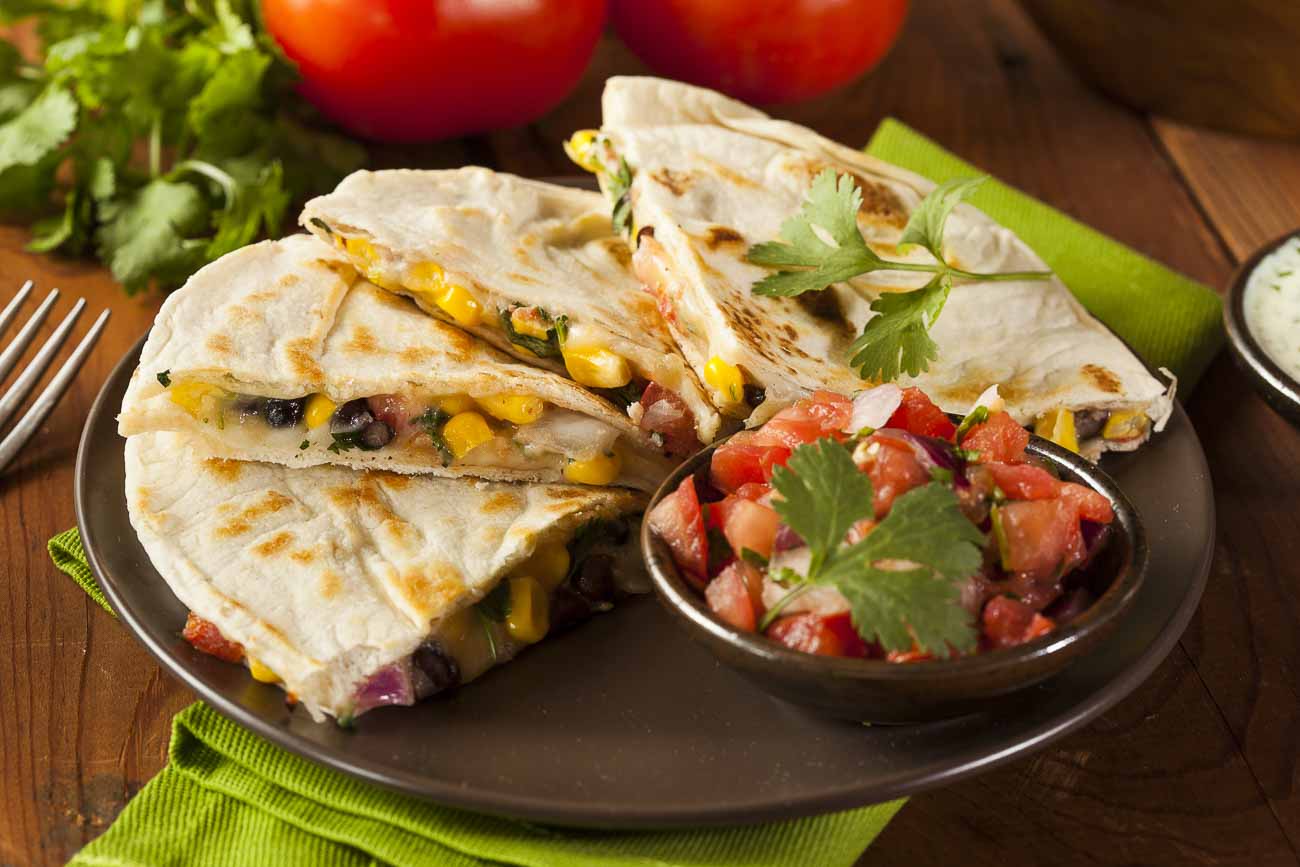 The Corn & Soy Quesadillas is a quick and easy dish that you can make at home, thats packed with protein from soy and fiber and nutrition from sweet corn.
Serve the Quesadillas along with sour cream and a Spicy Mexican Salsa for a special date with your Valentine or even a quick weeknight dinner.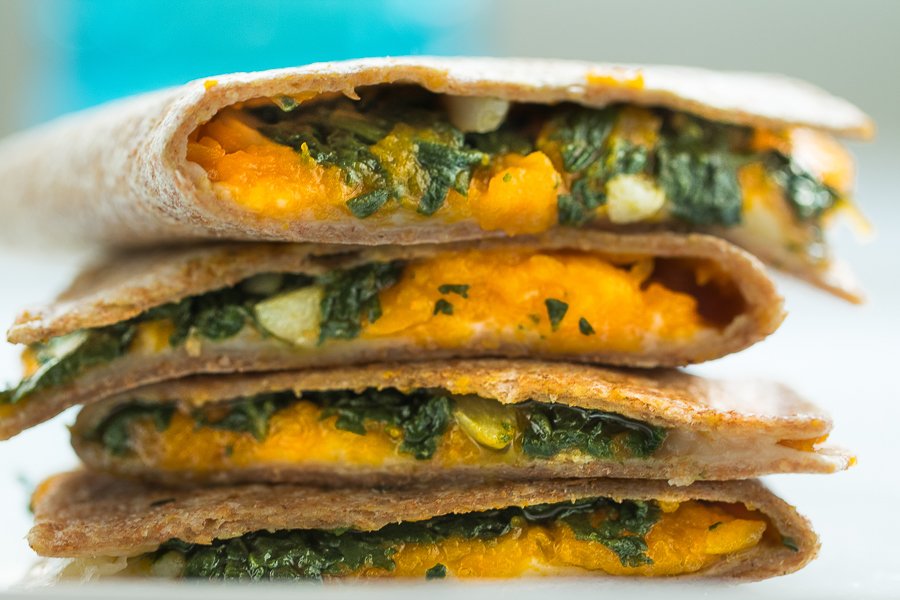 Pumpkin and Spinach Quesadillas is a healthy breakfast option with wheat tortillas, mashed pumpkin and spinach. The contrast colors of pumpkin and spinach add a vibrancy to the dish. Quesadillas are so versatile that you can stuff with any vegetables or even with meat according to your taste buds. The addition of healthy veggies with cheese makes it a wholesome inviting cheesy breakfast. The recipe can be prepared quickly, in the sense, it takes 10 – 12 minutes for the entire preparation.
Serve Pumpkin Spinach cheese quesadillas with Spicy Mexican Salsa Verde Recipe or Homemade Guacamole Recipe for breakfast or dinner.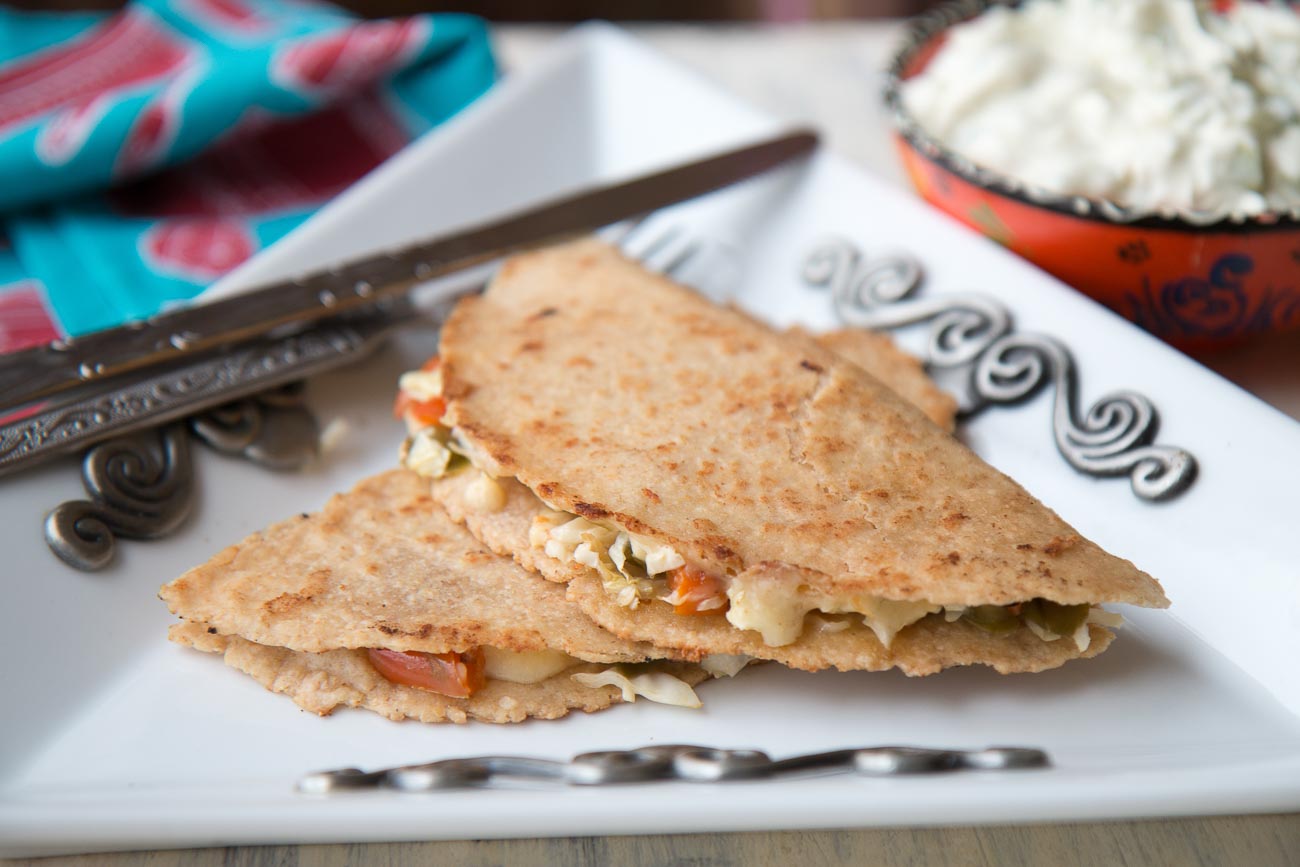 The Vegetarian Roasted Carrot Zucchini Quesadilla Recipe is a wholesome dish that is packed with nutrition and taste. It a great way to include vegetables into the kids diet and even protein like cheese, paneer or tofu. Simply stuff and pack into the Quesadillas and toast them on the pan like a paratha. The only difference being is that the Quesadillas are not spicy like the Indian parathas, and they get their fresh taste from the roasted vegetables and cheese.
Make the Vegetarian Roasted Carrot Zucchini Quesadilla and serve it along with Corn Pineapple Salsa Salad Recipe and sour cream for a quick weeknight dinner or as a snack for the kids.
Chipotle Roasted Mushroom Vegetarian Quesadilla Recipe is a delicious and exotic variety of the quesadillas made from mushrooms, a few salad ingredients and spiced up with Chipotle Sauce. The result is absolutely delicious and makes a perfect party snack. You can serve it along with various party dips.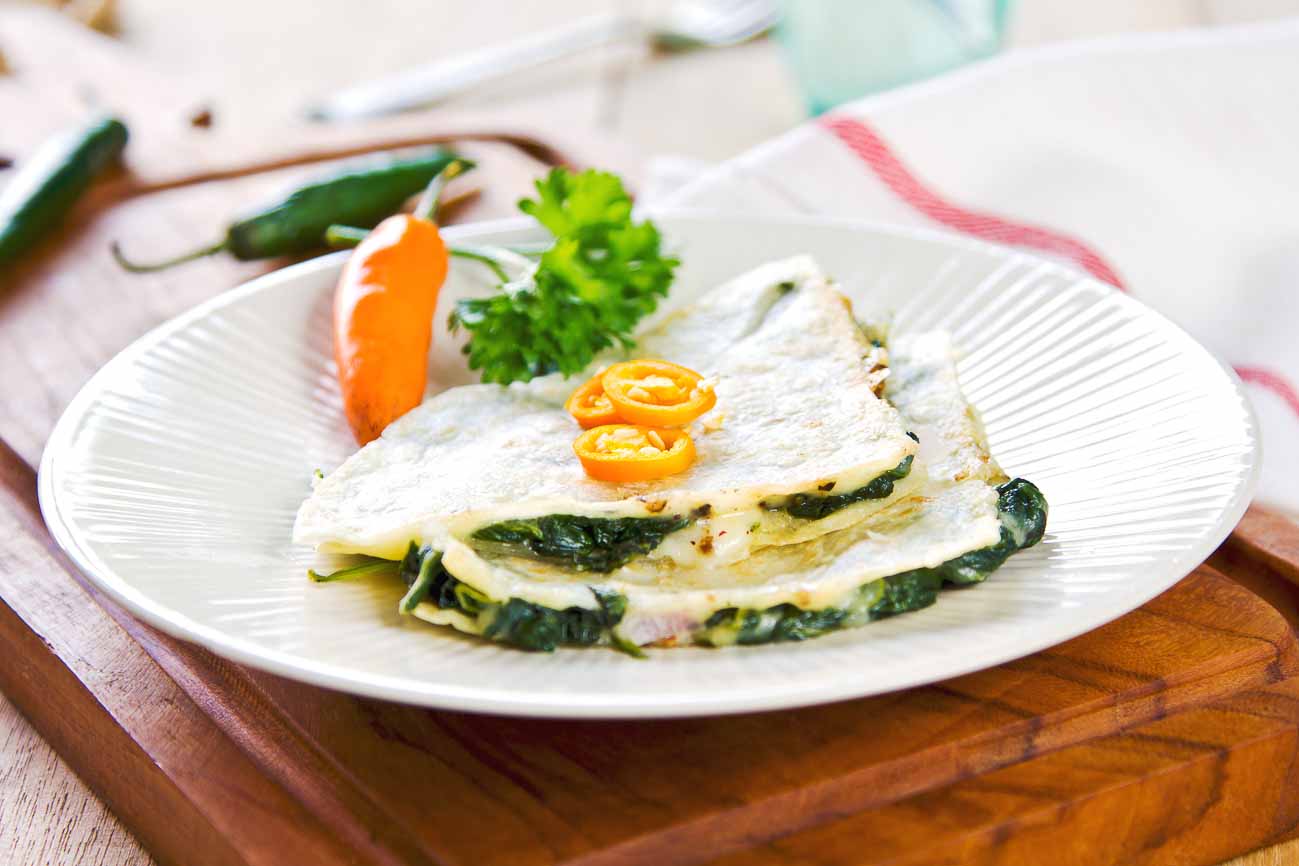 The Spinach and Corn Quesadillas recipe is a twist to the classic Mexican dish that are made from pan toasted tortillas filled with cheese, spinach and corn. I have shown you how to make the Homemade Whole Wheat Flour Tortilla Recipe, but you can buy them in the store or even use regular roti's to make these quesadillas and they will turn out just as nice.
Serve the Spinach Quesadillas with the lettuce, salsa, sour cream, and guacamole.