Eggless Rich Chocolate Banana Muffins Recipe-Vegan Options
A delicious combination of chocolate and banana that is baked to get a rich and scrumptious looking cupcakes. You can serve the these cupcakes as a delicious dessert for your parties or serve them as a yummy snack for your kids when they come back from school.

Archana Doshi
On

Friday, 14 September 2012 13:05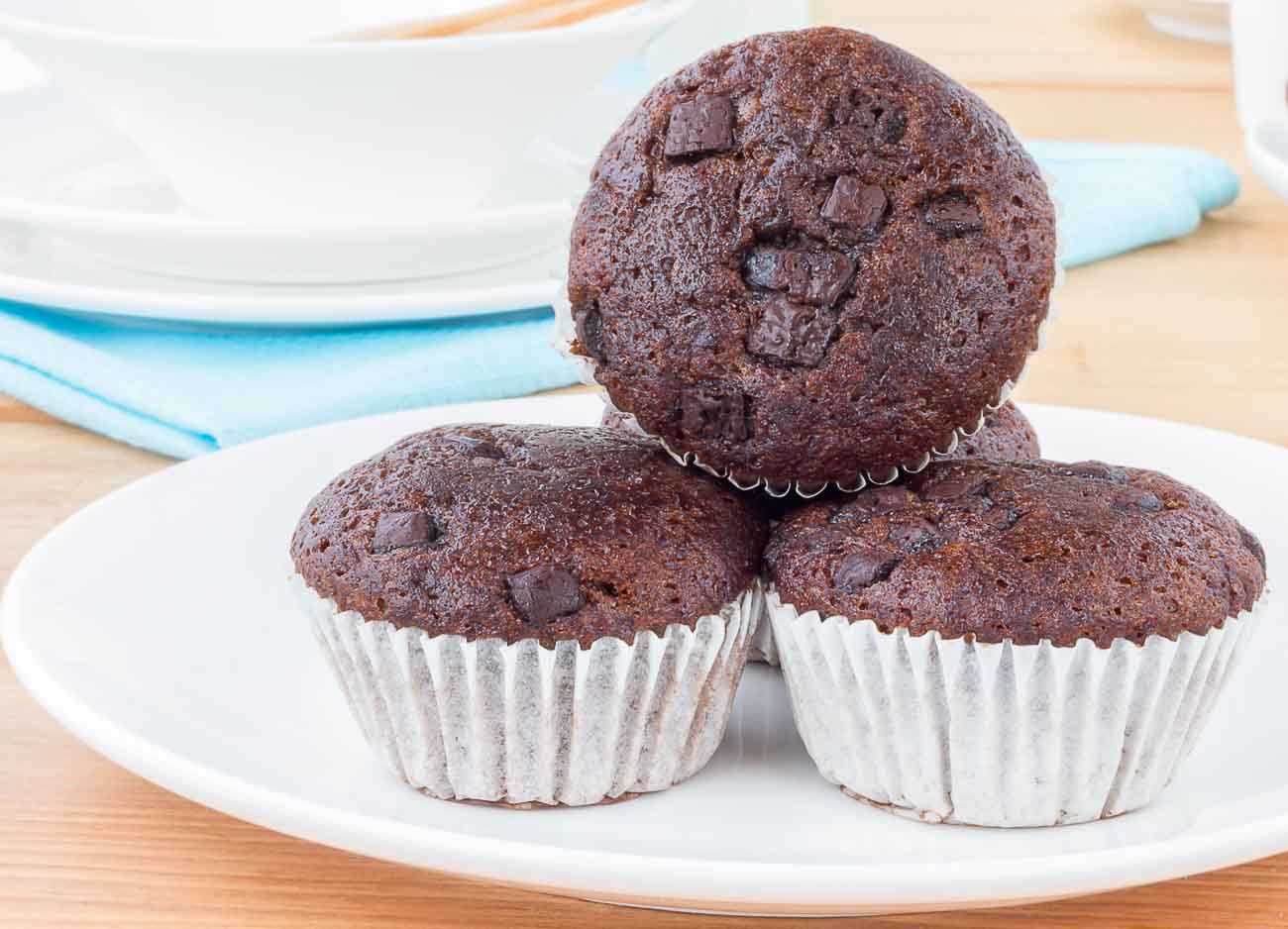 Rich Chocolate Banana Muffins Recipe is one delicious combination for a breakfast or a snack. Fruit cakes are my favorite type of cakes that I like to savor. And now that we get the cupcakes molds of all sizes, you just know the you can make cakes that are bite size for kids and as a bite size tea time snack for parties. The Rich Chocolate Banana Muffins Recipe have no nuts, but you can go ahead and add some nuts to add to the crunch and taste.
Serve the Rich Chocolate Banana Muffins Recipe as a delicious dessert along with Oreo Milkshake Recipe and a Lemon Cookie Recipe to create a delicious snack for your kids.
Here are more recipes to try
Ingredients
1-1/2 cups

All Purpose Flour (Maida)

, or whole wheat flour
1/2 cup

Oil

, or vegetable oil
3/4 cup

Brown Sugar (Demerara Sugar)

1/2 cup

Cocoa Powder

2 teaspoons

Baking powder

2 cups

Ripe Bananas

, mashed
2 teaspoons

Vanilla Extract

For Flax Meal Egg Replacer
2 tablespoons

Flax seed powder (flax meal)

6 tablespoons

Chilled water
How to make Eggless Rich Chocolate Banana Muffins Recipe-Vegan Options
To begin making the Rich Chocolate Banana Muffins Recipe, first get all the ingredients ready and keep them aside. Preheat oven to 180 C and place rack in the center of the oven.

Line your muffin tray with liners or grease and flour them.
To Make the Flax Meal Egg Replacer
If your recipe asks for 2 eggs, measure 2 tablespoons of flax meal along with 6 tablespoons of water. Stir well and let the mixture rest for about 15 minutes. This process of resting helps the flax meal mixture develop a gelatinous consistency similar to eggs.
To make the Batter
In a large bowl or the bowl of your stand mixer beat together the oil, flax meal egg replacer, salt, baking powder and sugar until fluffy.

Gradually add the cocoa powder, vanilla, mashed bananas and flour in that order and beat until well combined. Finally if you are adding nuts, fold it in at the last stage.

Spoon the batter into the muffin cavities and bake in the oven for 10-15 minutes until the tester comes when inserted into the center of the muffin comes out clean. Turn off the oven and cool the muffins.

Serve Rich Chocolate Banana Muffins along with a Strawberry compote or even a Chocolate Ganache when you are serving it for a party. Makes a great quick dessert.