Archana's Kitchen
On

Thursday, 01 September 2016 00:52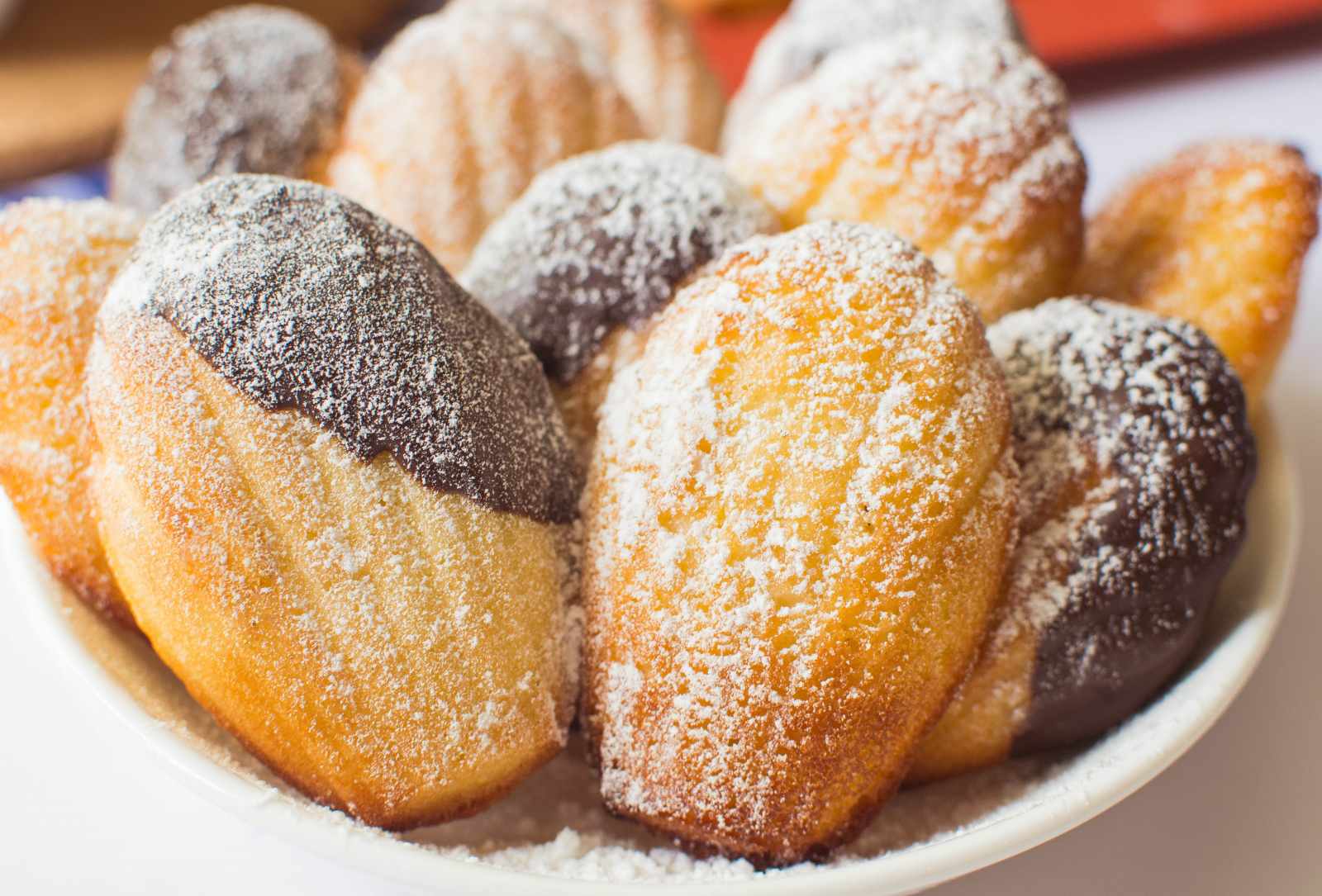 French Madeleine Recipe is made of sponge cake ingredients with a special procedure and added citrus zest. These are baked on Madeleine pan. Eggless madeleine did not turn out as good as the traditional ones. Just be gentle while folding in the batter so that all the air incorporated in the beaten eggs doesn't deflate. The dough texture is required to be airy.
Serve this French Madeleine recipe during tea time along with Coffee or Tea, dunked in Chocolate ganache.
If you like this recipe, explore more recipes of tea cakes
Ingredients
3

Whole Eggs

2/3 cup

Sugar

1 cup

All Purpose Flour (Maida)

1 teaspoon

Baking powder

1 tablespoon

Lemon zest

1 teaspoon

Vanilla Extract

6 tablespoon

Butter (Salted)

, melted

Icing Sugar

, (to sprinkle)
1/4 cup

Chocolate ganache

, Or melted chocolate
How to make French Madeleine Recipe
To prepare French Madeleine Recipe, get prep with all the ingredients first.

In a mixing bowl, beat eggs and sugar in a Hand mixer until it gets pale, thick and glossy. It will take around 5 minutes and will double up. (You might get worked up if you use hand whisk, since it takes time)

Add in the lemon/lime zest, vanilla extract (if using) and beat well till well mixed.

Heat butter in a pan until it just melts and switch off. Let it come to room temperature.

Now, sift in all-purpose flour and baking powder in the egg mixture.

Switch over to a spatula and using cut and fold technique mix well until you cannot see any more flour.

Add melted butter at room temperature and fold it well in the mixture without deflating much air.

Now comes the important step, cover the batter bowl with a cling film and refrigerate it for an hour. You can also make the batter one night ahead and refrigerate it overnight to save some time.

Preheat the Oven to 180 degree Celsius.

Meanwhile, grease a Madeleine pan with butter and using a mini ice-cream scoop, scoop in the batter into each madeleine cavity in the center. It will take shape as it bakes, you need not spread it fully.

Bake it around 8 to 10 minutes at 180 degree celsius until lightly browned on sides.

Cool French Madeleine on a wire rack.

Sprinkle icing sugar from top and dip it in melted chocolate/chocolate ganache, let it set. Or decorate the Fremch Madeleine recipe however you heart desires and enjoy during tea time.

Or store in an airtight container and keep refrigerated for a week.