Besan Oats Ladoo Recipe
Besan Oats Ladoo, a delicious and healthy ladoo recipe which is made of besan and oats. You can serve it during special occasions and festivals.

Lubna Karim
On

Saturday, 19 September 2015 00:47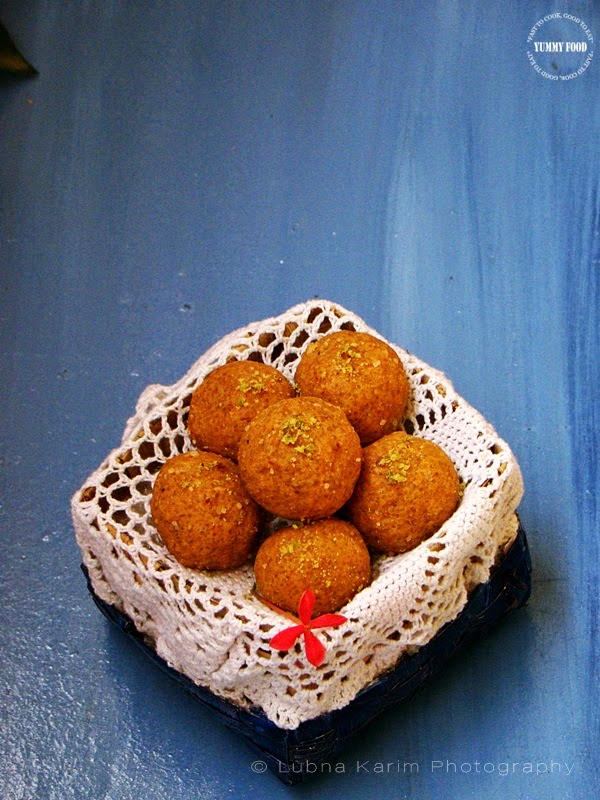 Besan Oats Ladoo Recipe is a healthy twist on the popular festival favourite - snack box too. They are easy to make, use regular everyday pantry ingredients and result in yummy ladoos minus all the extra calories.
Serve Besan Oats Ladoo as a dessert after your everyday meal of Palak Dal, Bharwa Baingan and Phulka.
If you like this recipe, you can also try other Ladoo Recipes such as
Note: Dry roasting the besan is a critical step in this recipe. Take care to do this on a medium-low flame and continuously toss the besan. Once it is roasted, the besan will begin to burn from the bottom, so be careful to watch for the toasted aroma and colour change, and take the besan off the heat as soon as it is roasted.
Ingredients
1 cup

Gram flour (besan)

1/2 cup

Instant Oats (Oatmeal)

3/4 cup

Sugar

, powdered
1/4 tablespoon

Cardamom Powder (Elaichi)

1/4 cup

Ghee

1-2 tablespoon

Pistachios

, coarsely powdered
How to make Besan Oats Ladoo Recipe
To begin making the Besan Oats Ladoo Recipe, first dry roast the oats in a kadai on a medium heat. This should take about 2-3 minutes, tossing the oats gently. Transfer the roasted oats into a plate and set aside to cool.

Once cool enough, put the oats in a grinder and make a fine powder.

In the same kadai, on a medium heat, dry roast the besan too. Take care to continuously stir the besan, to avoid burning it.

You will know when the besan is roasted fully when the raw smell goes away, and the besan begins to smell toasted. This usually takes about 10-12 minutes and the colour will change a little bit. Do make sure you roast the besan on low to medium heat to avoid it getting burnt.

Take the besan off the heat, add the roasted powdered oats, powdered sugar and cardamom to it and mix gently using a wooden spoon. Set this mixture aside.

Melt the ghee in a bowl. You can either do this in short bursts in the microwave, or over a medium heat in a small pan.

Add the melted ghee, one spoon at a time, into the mixture of roasted besan, roasted oats powder, powdered sugar and cardamom and fold till it comes together. The mixture will get clumpy and resemble wet sand.

By now the ladoo mixture would be cool enough to handle. Grease your palms with ghee and using your fingers bring the besan ladoo powder and ghee together. Gently shape the mixture into ladoos of the size you desire.

Sprinkle the Besan Oats Ladoo with coarsely powdered pistachio or any nut of your choice and arrange on a festive platter.

Serve The Besan Oats Ladoo on any of the upcoming festivals or store in an air-tight box for later use. They make excellent additions to your child's snack box too!

Serve Besan Oats Ladoo as a dessert after your everyday meal of Palak Dal, Bharwa Baingan and Phulka.