Homemade Ghee Recipe
Learn How to Make Homemade Ghee. Ghee also known as clarified butter is one of the most important ingredients in Indian Cooking.

Archana Doshi
On

Monday, 26 August 2013 17:47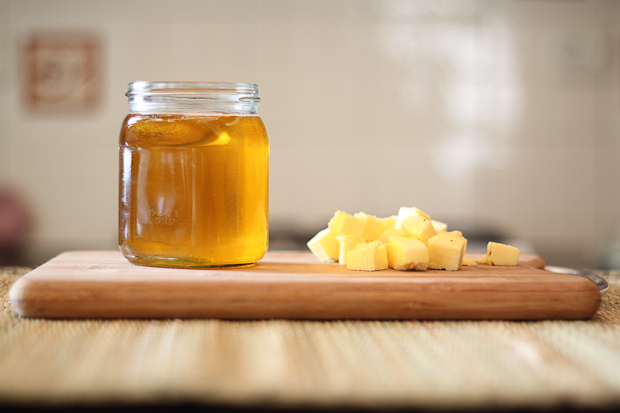 Ghee, also known as clarified butter, is one of the most important ingredients in Indian Cooking. It is usually made from freshly churned unsalted butter that is melted and simmered down to get a clear golden liquid. This video shows you how to make ghee using homemade unsalted butter or store bought salted butter.
Once you have homemade ghee at hand, you can use it in many ways - from using it to temper Dals, Vegetables, to making Parathas or even many Indian Halwa Recipes. Adding a dollop of homemade ghee to a serving of Steamed Rice or a Hot Phulka elevates even the simplest of homemade meals.
Makes:

500 grams Servings
Ingredients
500 grams

Butter (unsalted)
How to make Homemade Ghee Recipe
To begin making homemade ghee or clarified butter, first dice the butter into cubes so it melts faster when heated.

Place the chopped butter in a heavy bottomed saucepan, on a medium heat. Begin to melt the butter and keep stirring occasionally until the butter melts completely.

Once the butter has melted completely and has been simmered for about 5 minutes or more on medium heat you will notice that the melted butter starts to foam and boil. At this stage when you move the foam away, the liquid beneath is is still a solid yellow and not a clear liquid. This is an indication that the butter has to simmer for a longer time.

Turn the heat to low and continue to simmer the butter. After a few more minutes of simmering you will notice that the colour of the liquid below the foam will begin to turn clear. At this stage the butter will foam again, and this indicates that the ghee is beginning to get ready.

Turn off the heat and allow the foam to settle down. You will notice the clear golden brown liquid. You will also notice that the milk solids have separated and have settled in the bottom of the pan.

Allow the ghee to cool slightly and then strain the ghee into a clean, dry jar. The ghee can stored at room temperature for about 2 months.

Use the fresh homemade ghee to temper Dals, Vegetables, when making Parathas or even for Indian Halwa Recipe. You can also add a dollop of ghee to Steamed Rice or a Hot Phulka.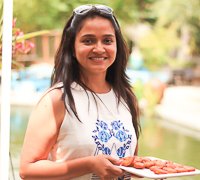 Archana Doshi is the founder of Archana's Kitchen. Archana launched Archana's Kitchen in 2007 as a way to keep track of her and family's recipes, and along the way grew it into one of the most popular cooking websites in the world. Archana is dedicated to helping home cooks be successful in the kitchen. Archana says "I hope you enjoy cooking recipes from my website where the sole effort is to make cooking simple for you. When you try out one of our recipes, we are longing to hear back from you. Do take your time to come back and share your comments, as your feedback means a lot to me"