Kaju Badam Ladoo Recipe
Kaju Badam Ladoo Recipe is a sweet cashew nut almond energy balls which you can make for your everyday meals. You can also serve it for special occasions and festivals.

Jyothi Rajesh
On

Saturday, 12 September 2015 00:14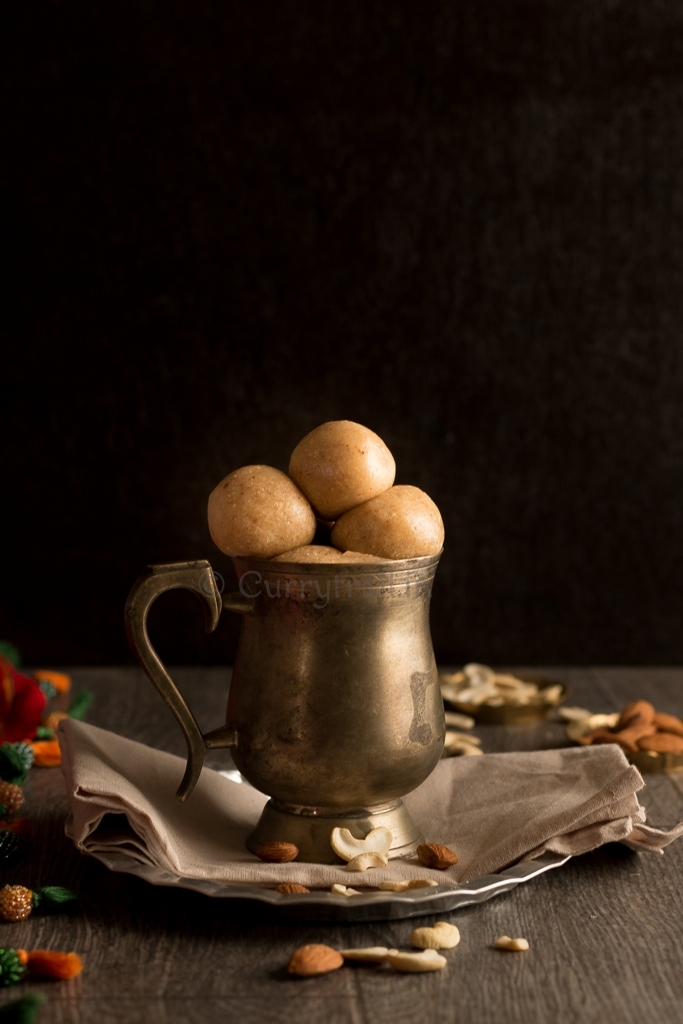 Kaju Badam Ladoo is a rich and indulgent preparation of sweet cashew nuts and almond balls perfect for the season of festivity coming up. Using a collection of nuts that are great brain food, they're also a high-energy snack. It can be made ahead for any Indian festival, and will make a perfect snack to serve to guests or to hand out when visiting relatives.
Serve Kaju Badam Ladoo after your everyday meal of Jodhpuri Aloo, Ajwain Puri and Boondi Raita.
Other recipes that you can try are:
Ingredients
1 cup

Cashew nuts

1 cup

Whole Almonds (Badam)

1 1//4 cups

Sugar

1/2 cup

Water

1 teaspoon

Cardamom Powder (Elaichi)

Ghee

, for greasing
How to make Kaju Badam Ladoo Recipe
To begin making the Kaju Badam Ladoo we will first soak the almonds in hot water for 15 minutes. Once soaked, peel the skin from the almonds and keep aside. Drain the water and wipe the almonds dry.

Soak cashews for 15 to 20 minutes as well. After soaking, drain and wipe dry.

Grind soaked almonds (badam) and cashews (kaju) together into smooth paste. Keep this kaju badam paste aside.

The next step is to make a sugar syrup for the ladoos. Bring sugar and water to boil and wait until the sugar syrup reaches 1 string consistency. It is very important to get the sugar syrup to 1 string consistency if you miss this step, the burfi/balls will be not set and harden.

Once you have a one string consistency of the sugar syrup, add the cashew almond paste and the cardamon powder. Mix the paste until well combined. Keep flame to medium low and keep stirring the kaju badam mixture continuously.

Big bubbles will begin to form and you need to keep mixing constantly, else they will start burning.

Keep stirring till the mixture becomes thick. It will take you approximately 30 to 40 minutes until the mixture has thickened and comes away from the sides of the pan and starts looking like a very soft dough.

To test, pinch a tiny piece of dough and roll into ball and place it on a plate, if the ball holds it's shape then it is cooked properly, the mixture is ready.

If you prefer to cut them into diamonds or square shapes, grease a pan with ghee all over and transfer the dough into the pan and level it even. Since I wanted to shape them into balls I waited until the dough cooled a bit and then while it was still warm I rolled them into bite size balls.

Kaju Badam Ladoo to cool completely and store them in airtight container for about 5 days or refrigerate it for longer storage.

Serve Kaju Badam Ladoo after your everyday meal of Jodhpuri Aloo, Ajwain Puri and Boondi Raita.