Broccoli Quiche Recipe (with Eggless option)
Creamy broccoli in filling quiche recipe with eggless option

Archana Doshi
On

Thursday, 28 January 2010 10:13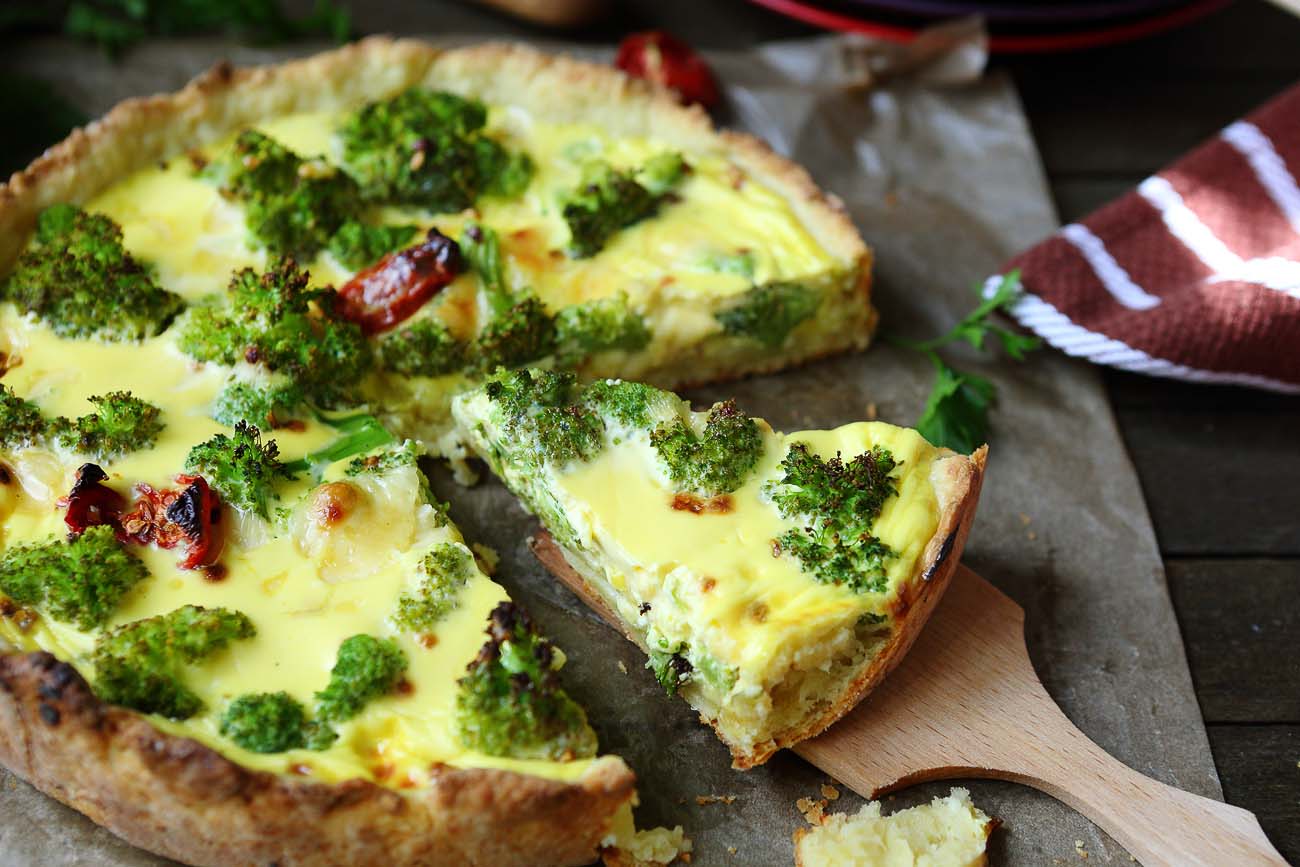 The Broccoli Quiche recipe is a nutritious and wholesome recipe that uses broccoli. This recipe has a perfect blend of the traditional French recipe is made without eggs (eggless). This recipe of the vegetarian quiche makes it perfect for the vegetarian and eggless food lovers. In French cuisine, a quiche is a baked dish that is based on a custard made from eggs and milk or cream in a pastry crust. Quiche can be eaten warm but is more commonly eaten cold, making it a suitable component of the food served in a typical summer picnic. Serve Broccoli Quiche Recipe along with a sandwich like Fruit Sandwich Recipe during tea time.
If you like this recipe, here are a few more similar recipes to try
Ingredients
1 cup

Bechamel Sauce

2 cloves

Garlic

, grated
500 grams

Broccoli

, cut to florets
1

Red Bell pepper (Capsicum)

, finely chopped
6

Sun Dried Tomatoes

, finely chopped
1/4 teaspoon

Nutmeg

, grated
1 teaspoon

Red Chilli flakes

1 cup

Cheddar cheese

1/4 cup

Parmigiano reggiano cheese

Extra Virgin Olive Oil

, for cooking
How to make Broccoli Quiche Recipe (with Eggless option)
To begin making the Broccoli Quiche recipe, you will first have to prepare the crust for the quiche. Use this recipe of all purpose pie crust dough to make the crust base. Prepare a 9-inch (2-inch-deep) round pie/tart pan with removable bottom.

Preheat the oven to 180 C.

Roll out pie dough on a lightly floured surface with a lightly floured rolling pin into a 13-inch round. Fit dough into pie plate, letting excess hang over edge. Fold overhang inward and press against side of pie plate to reinforce edge. Prick bottom all over with a fork. Chill until firm, about 30 minutes.

After 30 minutes of refrigeration, bake the pie dough in the preheated oven until pie is set and edge is pale golden in color - about 20 - 25 minutes.

While the pie crust is baking in the oven, we will make the broccoli filling.

Heat a tablespoon of olive oil in a wok; stir fry the red bell peppers and the garlic until the peppers are roasted and lightly soft. Next add in the half way while the peppers are roasting. Stir fry the broccoli until just about tender, but still firm.

Now we will make the white sauce for the quiche; whisk together bechamel sauce, sun dried tomatoes, nutmeg, red chilli flakes and salt in a large bowl until smooth.

Once the pie shell has been bakes until golden, remove from the oven and pour white sauce filling into the pre baked pie shell. Add in broccoli, then sprinkle with cheeses on the top.

Place the Broccoli Quiche back into the oven and bake until the quiche custard is ser and the cheese has a golden crust on the top. The centre will be shaky but it will continue to set as the quiche cools.

Once done, remove from the oven. Serve the Eggless Broccoli Quiche hot along with Tabasco sauce and a glass of wine along with a sandwich like Fruit Sandwich Recipe for snacks.