Cauliflower Tortilla Recipe
Cauliflower Tortilla Recipe is a healthy tortilla, where grated cauliflower is used to make it instead of flour or cornmeal. A super healthy substitute to enjoy your Mexican meals.

Jyothi Rajesh
On

Sunday, 15 November 2015 00:38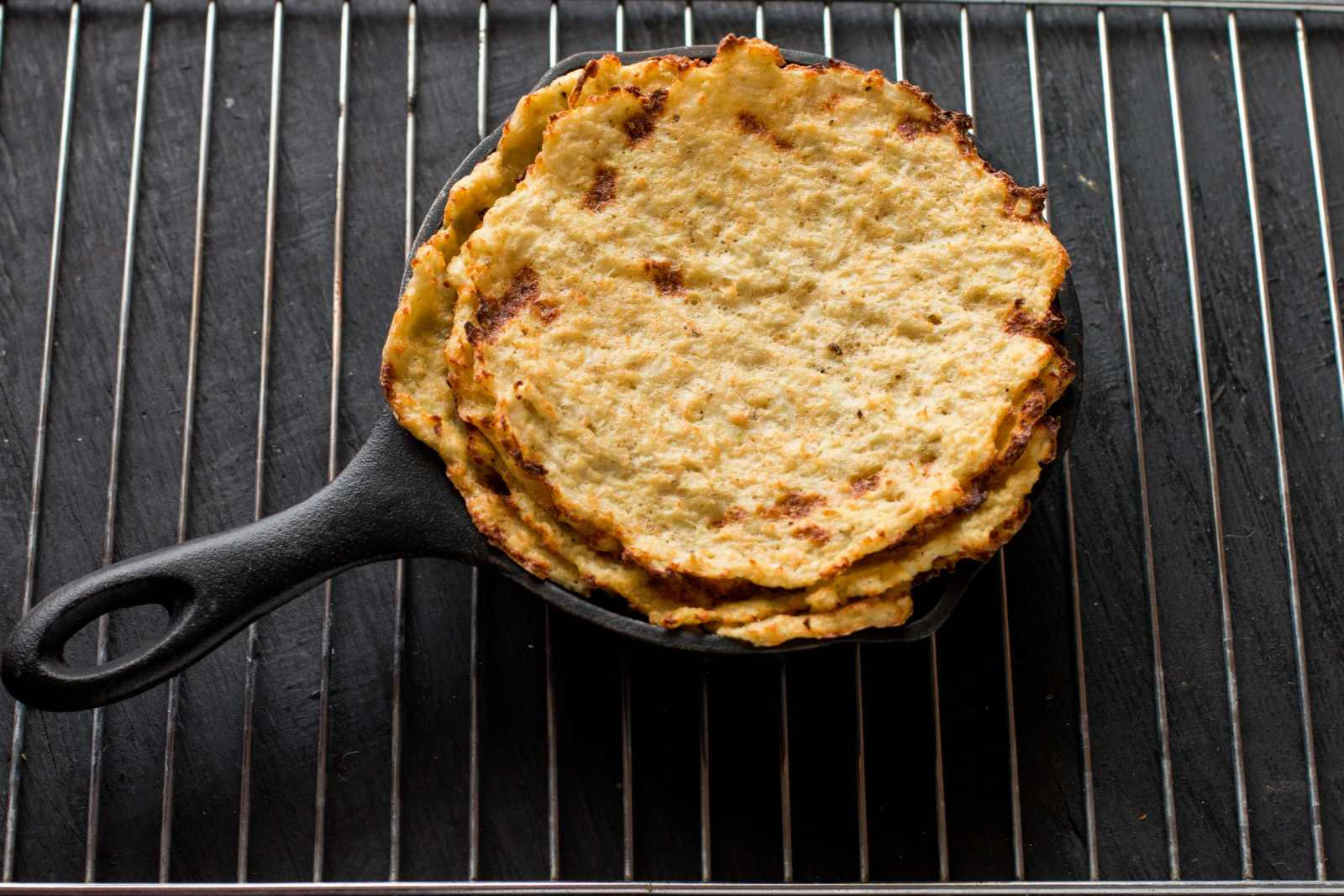 The Cauliflower tortillas, are soft, grain free and delicious! You can use them as a wrap, taco shell, and burrito. These nifty tortillas made out of cauliflower are great if you eat gluten-free. I turned this incredible cauliflower into soft thin tortillas. And then I used them as soft tacos shells. Loaded it with soya granule bhurji, this definitely was a filling dish. Go ahead and wrap up anything you prefer, you're getting a big dose of nutrition.
Cauliflower is an amazing vegetable. There are so many ways to use cauliflower. The only limit is your own mind. You can transform this normal vegetable into almost anything. Cauliflower rice, cauliflower bread sticks, cauliflower cheesy balls, cauliflower tortillas and even cauliflower lasagna strips.
These Cauliflower tortillas can be used to make Soft Taco With Mushroom and Roasted Bell pepper Sauce Recipe or Tacozza - Tacos with Refried Beans and Oregano
Here are more recipes made with cauliflower
Ingredients
1

Cauliflower (gobi)

1

Whole Egg

Salt

, to taste
1 teaspoon

Black pepper powder
How to make Cauliflower Tortilla Recipe
To begin making the Cauliflower Tortilla Recipe, wash the cauliflower head and cut them into large florets.

Grate the florets and place the grated cauliflower in perforated plate and steam in a steamer for about 15 minutes. Once the grated cauliflower florets are steamed, allow them to cool.

While it is cooking, preheat the oven to 180 degree centigrade.

Once cauliflower has cooled spoon the cooked cauliflower in center of a cloth and wring out the water. You need to remove as much moisture as possible from the cauliflower.

Transfer the dry cauliflower into a clean dry bowl. Add egg, salt and pepper powder, whisk well to combine.

Transfer one portion of the mixture, onto a baking sheet lined with parchment paper (a good quality one). Spread the mixture with your fingers into tortilla shape. You can make the cauliflower tortillas thick or thin as per your preference.

Bake the cauliflower tortillas in the preheated oven for about 10 minutes. Then flip the tortillas and continue to bake for another 7 to 8 minutes.

Once they're done place them on a wire rack to cool.

Serve the Cauliflower Tortillas topped with your favorite filling and serve immediately for a wholesome gluten free weeknight dinner.

Here is the recipe to make a Soy Bhurji Filling: To make soya bhurji filling, first heat oil in a pan, add onions and saute until they turn translucent. Next add ginger garlic paste and cook till the saw smell of the paste is gone.

Add green chilies and tomatoes and cook till tomatoes are soft.

Add red chili powder, coriander powder, turmeric powder, roasted cumin powder and salt mix well. Finally add soya granules (pre soaked in water). Cook for 5 minutes on low heat. That's it, Soy Bhurji is ready!

These Cauliflower tortillas can be used to make Soft Taco With Mushroom and Roasted Bell pepper Sauce Recipe or Tacozza - Tacos with Refried Beans and Oregano