Mushroom Quiche Recipe
A delicious mushroom based recipe perfect for lunch or a party appetizer

Divya Shivaraman
On

Wednesday, 09 December 2015 00:17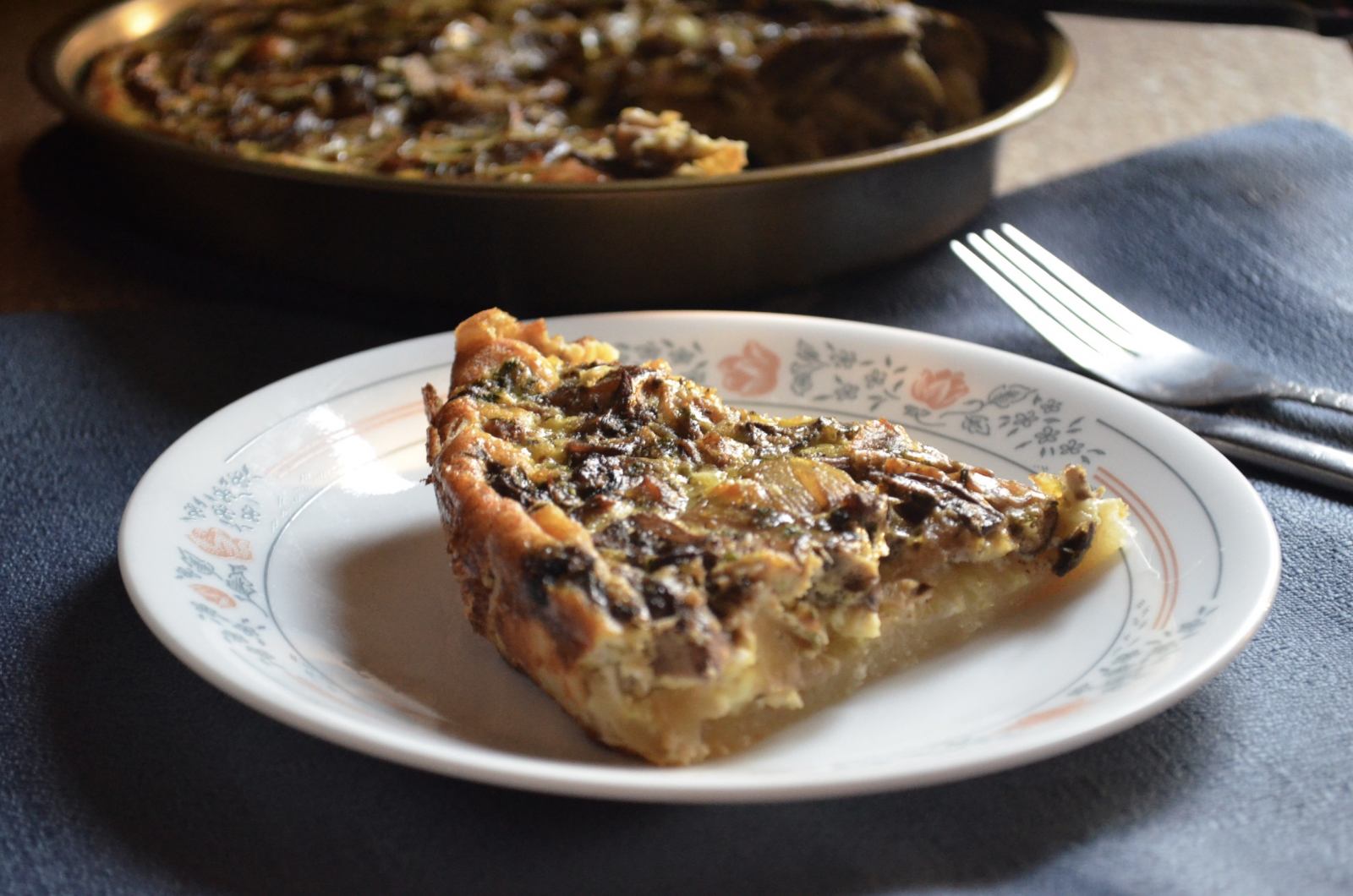 Mushroom Quiche Recipe is the idea savory, wholesome, protein rich and cheesy breakfast dishes for those who crave something comforting and indulgent for breakfast. Quiches are a french delicacy — a hard party shell filled with vegetables or meat, held together by beaten eggs, cream and cheese and baked to a golden crisp. This is a quiche prepared with shallots and mushrooms and some herbs to add flavor. The buttery crust that crisps up when baked makes this a popular favourite world food. It makes an equally great party appetizer, keeps well for a day picnic, or even for a kiddo snack box.
Serve the Mushroom Quiche with a summery Beetroot Salad with Mixed Greens & Feta Cheese for a light working lunch.
Other recipes that you can try are:
Ingredients
For the crust
1/2 cup

All Purpose Flour (Maida)

1 pinch

Salt

3 tablespoon

Butter (Unsalted)

, cold, cubed
1/3 cup

Parmesan cheese

, grated
2 tablespoon

Chilled water

For the filling
3

Whole Eggs

, beaten along with a tablespoon of milk
4

Shallots

, finely chopped
6

Portobello mushrooms

1 teaspoon

Parsley leaves

, dried
1/2 teaspoon

Garlic powder

1 clove

Garlic

, finely minced
2 tablespoon

Oil

Salt and Pepper

, as needed
How to make Mushroom Quiche Recipe
To begin making Mushroom Quiche, first prepare the crust. You can do this in a food processor or in a mixing bowl.

If you are using a food processor simply add flour, salt and butter into the food processor and pulse until the butter is coated on the flour and it resembles scraggly bread crumbs.

Next, add grated Parmesan cheese with 2 tablespoons of water and pulse again couple of times. This results into a crumbled dough. Empty the food processor onto a work surface and knead slightly until the crust comes together into a soft dough.

If you are using a mixing bowl add the flour, salt and butter into a mixing bowl. Using your fingers rub the butter into the flour till it breaks down and resembles bread crumbs. Then add the Parmesan cheese and cold water and bring it together by gently kneading it, till it forms a soft dough.

Wrap it in plastic wrap and refrigerate for 1/2 hour.

Meanwhile, proceed to make the filling. Set your oven to pre-heat at 200 degrees C.

Place a pan on the heat. Add to it, garlic, shallots and mushrooms. Sprinkle some salt and cook together until the mushroom is softened and it releases water.

Continue cooking until all the water evaporates from the pan. Switch off the heat at this stage, add pepper, parsley, garlic powder into the mushrooms and stir well. Set it aside.

Remove the prepared dough from refrigerator and roll it out on a lightly dusted surface, into a 1/4 inch thick disc.

Drape the disc over your pie pan, allowing the edges to overhang. Press it into the pie pan, so that the dough fits neatly.

Spread a layer of mozzarella cheese over the crust, then add a layer of cooked mushrooms. Pour the beaten eggs on the top. Sprinkle some cheese on top.

Place the prepared quiche in the oven and bake at 180-190 degrees C for 30 minutes or until the custard is set and cooked through.

When done, take it out of the oven.

Serve the Mushroom Quiche with a summery Beetroot Salad with Mixed Greens & Feta Cheese for a light working lunch.