Uttarakhand Style Black Gram Chainsoo Recipe
It is a traditional Garhwali recipe that you can serve for your main course.

RUBY PATHAK
On

Tuesday, 05 December 2017 10:00
A traditional Garhwali recipe to support the energy level of Uttaranchal locals that helps them to survive the extreme weather and boost energy. Easy recipe to follow and the additional change of cooking method will break the monotony of using Black Gram dal for daily cooking. A high protein dish so be cautious in consuming a bigger portion. Simply roasting and later grinding makes all the difference in aroma, but once you try to cook it you will come to know and will use with other ingredients to suit your taste palette like onion, tomatoes and garam masala powder.
Serve Uttarakhand Style Black Gram Chainsoo along with Steamed Rice and Spicy Baby Potatoes for your weekday lunch.
If you like this recipe, you can also try other Uttarakhand recipes such as
Diet:
High Protein Vegetarian
Ingredients
1/2 cup

Arhar dal (Split Toor Dal)

1/2 teaspoon

Coriander (Dhania) Powder

1/2 teaspoon

Cumin (Jeera) powder

1/2 teaspoon

Red chilli powder

1/4 teaspoon

Turmeric powder (Haldi)

1/4 teaspoon

Whole Black Peppercorns

2 teaspoon

Cooking oil

1-1/4 cup

Water

2

Dry red chilli

Salt

, to taste
How to make Uttarakhand Style Black Gram Chainsoo Recipe
To begin making Black Gram Chainsoo Recipe, first heat a Kadhai and dry roast the dal for few minutes until you can smell the aroma. Set aside.

Once it is cooled down, grind the dry mixture to a fine powder. Heat a heavy bottomed kadhai with oil, temper with red chilli and pepper corns.

Add all the masalas including coriander powder, cumin powder, red chilli powder, turmeric powder, salt with 2 tablespoons water and fry for a minute. Add the powdered dal, mix it up and then add water.

Cook on medium to low flame stirring occasionally until thickens for 20-30 minutes. Once it is done, switch off the gas and serve hot.

Serve Uttarakhand Style Black Gram Chainsoo along with Steamed Rice and Spicy Baby Potatoes for your weekday lunch.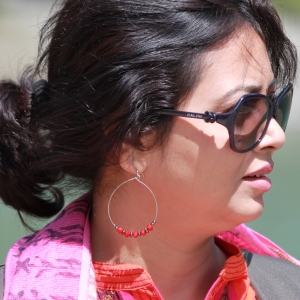 Apart from being a co-director for our online fashion brand I am one self taught and passionate recipe developer. My family and friends love my cooked recipes for the last 20 years both when I was staying abroad and also at present in my homeland. My mission is to make cooking fun and make it better, beautiful, simple, tasty, healthy using organic ingredients. Finally turn my hobby to a career for the rest of my life which at present is my dream food business, TASTY FUSION. I am really thankful to my parents and family for inspiring and supporting me. Grateful to food networks of USA,AUSTRALIA AND INDIA to feed my passion and bring it to life. Online Recipe Websites, recipe books, Magazines are fresh air that fuel my hobby and creativity. Love to innovate,experiment recipes from world cuisine. Yoga, Gym Workout, Travel, Home making, Music are few of my interests. I just love my Life. For collaboration and information,please contact me at: ruby_pathak@yahoo.com Appreciate your interest in my page.