6 Snack Recipes That You Can Make With Rajma
Rajma and Rice, is a usual comfort food amongst a lot of Indians and especially Punjabis. The soft and chewy texture of Rajma along with the tomato onion gravy flavoured with mild spices along with steamed rice keeps our tummies full and makes a wholesome meal any time of the day. But did you know that Rajma has its origins in South America and was imported by Indian traders from Peru a few hundred years ago and since then has been a favourite amongst Indians countrywide.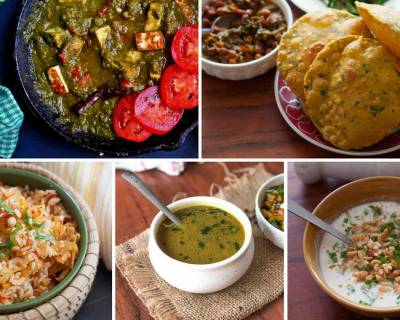 Archana's 10 Favourite Recipes From December
With the starting of 2018, we thought we will share Archana's favourite recipes from the month. Every month we recieve many mouth watering recipes and also some of the recipes that are prepared in our Kitchen Studio. Every month we try to bring some traditional recipes and experiment with some to bring you new recipes which you can try in your kitchen and include it in your everyday meal. We here at Archana's Kitchen mainly focus on recipes which are useful to our viewers and which they find easy to make and also contains a nutritional value.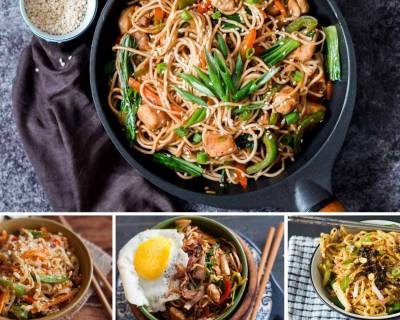 8 Inviting Asian Noodle Recipes For Your Weekend Brunch
Weekend Brunch is fun, when you invite your friends or family over a delicious meal. But the most difficult thing is deciding the menu, as we are always confused between different cuisines. From Indian, Italain to Asian we have alot of options to make from. So how about making an Asian menu this time? Dumplings, gravies, Noodles and rice, there are a lot of options which you can select for your brunch. But there is one dish from the Asian cuisine which is liked by everyone, from kids to adults. It is Noodles! Tossed with different types of Asian sauce and vegetables, these noodles are surely a winner at the table.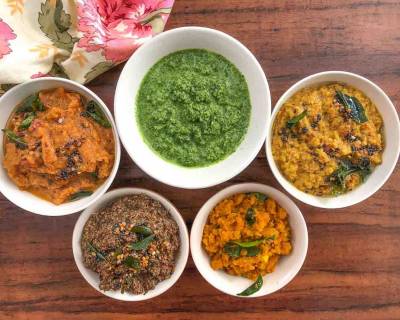 5 Delicious Chutneys That You Can Make With Turbo Chop
Chutneys are a perfect accompaniment to any breakfast dishes or appetisers in India and will be incomplete without a generous helping of it on the side. Chutneys can be prepared with any vegetable, dals, seeds or even fruits although fruit chutneys are popular mostly in the west. They are easy to prepare and can be stored in a fridge for up to 2 days, but fresh chutney always tastes better. If the main ingredient is a vegetable, it is cooked on a stovetop or pressure cooked, cooled and ground along with powders or whole spices, to add in that extra flavour and sometimes tempered with mustard seeds and urad dal. For a chutney made with greens, all ingredients are ground together without the need for it to be cooked. The name of a chutney goes by the main ingredient used in it.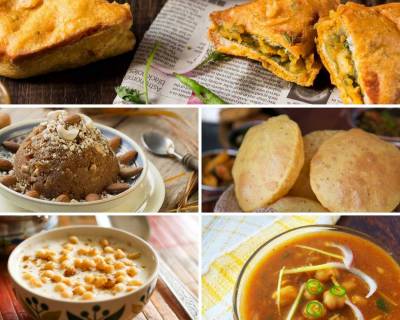 Have A Lavish North Indian Breakfast With These 7 Favorite Recipes
Breakfast being the most important meal of the day has to be special on a weekend, as on the weekday we don't get much time to prepare something which requires more time and effort. So as soon as our weekend starts, we plan something which is delicious and filling, so that we can go out and enjoy the remaining day without getting hungry. And when it comes to a North Indian breakfast, they make sure that it is super filling and every dish is just perfect. Well, who would want to miss such a mouth watering North Indian Breakfast?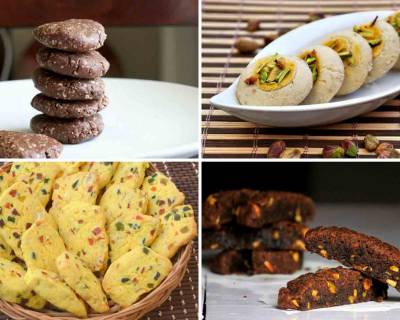 10 Eggless Cookie Recipes For Tea Time
Cookies or commonly known as biscuits in India, are baked goods that are usually eaten at tea time or as a snack. Cookies have been in existence since the time sugar was commonly available. Loved by one and all, the common ingredients in a Cookie are flour, sugar and some form of fat either oil or butter. Cookies can be crisp or chewy and they can be made in either texture by modifying the ingredients slightly. Cookies can be made crumbly or chewy or the perfect blend of both with the quantity of ingredients added. In this particular collections of cookies we are showcasing cookies that are baked without eggs. Addition of eggs to a cookie dough gives the cookie a density but the same density can be achieved without eggs as well.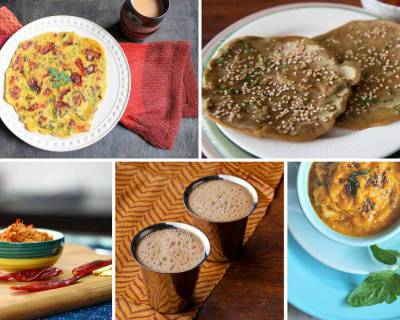 5 Tasty Cheela, Chutney & Chai Combinations For A Perfect Breakfast
With the everyday busy schedule, we tend to miss our breakfast sometimes because we have to complete household work before we leave for office. In this hurry, we tend to eat breakfast which is not filling and lacks in the required nutrition. What if we tell you we have an option for Breakfast which is very easy to make and gets ready in no time. Cheela, is one of those recipes which you can make for your busy weekday breakfast. It is a North Indian recipes which is made of gram flour(besan) and it is made excatly like a Dosa. You can flavour it with different vegetables and masalas according to your taste and preference. If you have to make it for your breakfast, you can also chop the vegetables a night before and keep it. So, in the morning you just have to mix few ingredients in a bowl, driizle some oil on a pan, add the batter to the pan to make cheela and cook it perfectly from both the sides.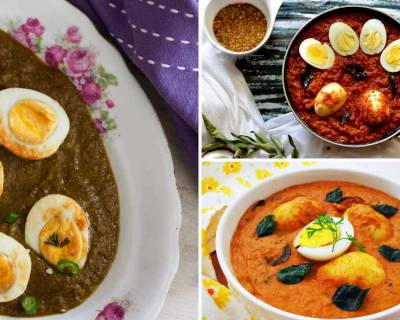 6 Egg Curry Recipes From India That Are Hard To Resist
India, a country where every celebration starts with food. Whether it's a big festival or a small occasion like a house party, food is the centre of attraction. With the passing year, we try to make something new so that our family gets to eat something which they have never tried.
We usually make food from the region where we belong to and when we make something which has a flavour and aroma of a different region, we usually find it interesting that we can make a particular recipe in different style too. So, this new year lets try and experiment our daily recipes and make something new in our kitchen from the day to day ingredients.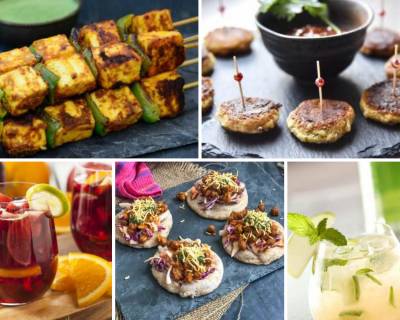 Make Your New Year's Party Delicious With These Appetizers And Mocktails
A new year should always start on a positive note and celebrations with our loved ones. While many of us go out to celebrate, most of us prefer house parties as we want to bid a goodbye to this year with our family and close friends. Interesting games, fun-filled company and mouth watering food, what else do we need for a perfect New Year celebration. While others things are important in a party, Food plays the most pivotal role. Celebrations means lip smacking food and if we are the host of the party we have to make sure that we make some delicious dishes which are liked by everyone.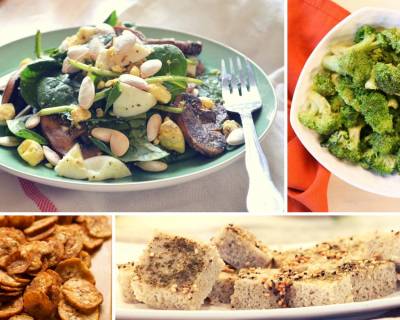 4 Tasty Diabetic Friendly Snacking Options Between The Meals
We keep looking out for options when it comes to specific diets like low cholesterol, diabetic friendly, low calorie, gluten free and other niche categories. When the people with real challenges are posed with a task of finding recipes that suit their palate along with their specific diet condition, recipes fall short of fulfilling their wish to eating right, healthy and the foods that belong to various cuisines and taste unique.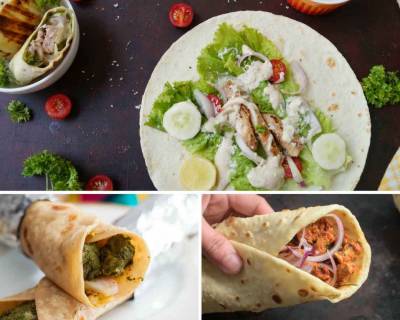 5 Delicious Non Veg Wraps You Should Try For Your Weekend Brunch
Are you confused about what to make for your brunch this coming weekend? Something which is easy to make and is different from our regular food. Well, your query is answered. You can make this delicious Non veg wraps which is filled with the scrumptious chicken or fish and is flavoured with different sauces and spices. You can also make these delicious and mouth watering wraps for your lunch and pack it in your and your kid's lunch box. These are also good to make for birthday or pot luck parties.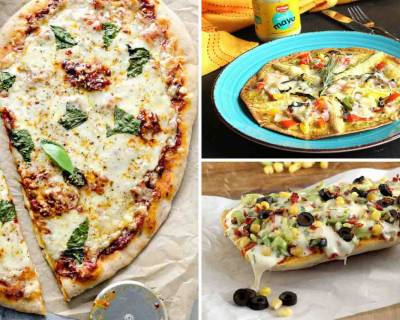 3 Base Ideas To Make Lip Smacking Pizzas
Our day brightens up when we hear the word 'pizza'. Well, we all know what pizza is, as it is one of those Italian dishes which is loved by everyone. Different types of delicious toppings on a bed of bread with cheese on top. Sounds delicious right? We usually enjoy these pizzas in restaurants but we can make them at home also as they are very easy to make and tastes equally delicious. We can buy the pizza bread from the market or for a healthier option we can always make it at home from scratch.