Everyday Breakfast, Lunch & Dinner Recipe Ideas
Putting together a delicious breakfast, lunch or dinner is a challenge many of us face at home. With seasonal ingredients and our growing palates across regional Indian cuisines and international cuisines, Archana's Kitchen is constantly working on creating meal plate ideas where we combine various regional cuisines to make fun and delicious meal plates. These meal ideas can be for a fusion between regional cuisine in india an the breakfast again will be a fusion between indian and continental cuisines.
You will find South Indian Recipes, North Indian Recipes, Continental Breakfast Recipes, Continental Main Course Recipes, South indian Breakfast Recipes, North Indian Breakfast Recipes and a whole lot more. Go ahead and use these meal plate ideas and cook wonderful dishes for your family.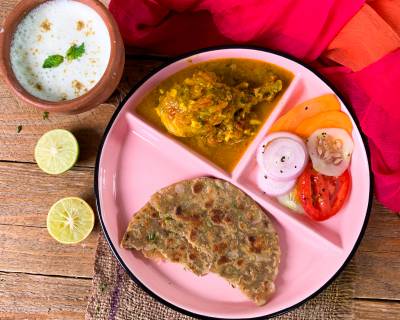 Enjoy Your Weekend Lunch With This Sindhi Meal Of Chicken Curry, Koki And Afghani Dough
Are you in dilemma about what to make during your Weekday Lunch that is delicious and easy at the same time, then we have the perfect meal for you which has delicious Sindhi Style Chicken Curry which is served along with Sindhi Koki, Afghani Dough and Salad. Try this meal and we assure you that everyone in your family will love this simple and delicious Sindhi meal.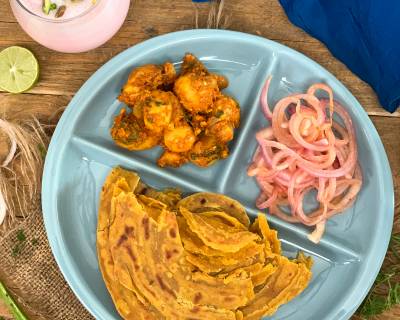 Special Sunday Lunch -Jaipuri Aloo Pyaaz Ki Sabzi, Lachha Paratha And Rose Lassi
Weekend calls for a special Lunch! We think to make something that is delicious and easy, so that we can enjoy our day with mouth watering food. Therefore, here we have made a inviting meal plate which has recipes such as Jaipuri Aloo Pyaaz Ki Sabzi, Masala Laccha Paratha along with Masala Laccha Pyaaz and Rose Lassi. This is a delicious meal that will surely satisfy your taste buds on a lazy day.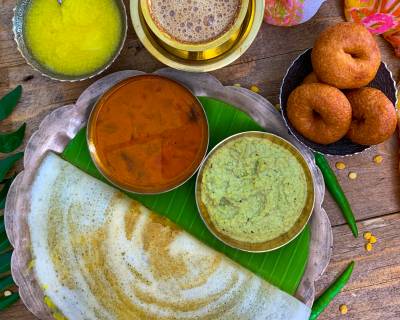 Enjoy A Lip Smacking South Indian Breakfast Of Ghee Masala Dosa, Sambar and Chutney
DOSA, which is also called as Dose a very popular South Indian breakfast that is served for Breakfast. Dosa, is a crispy thin Indian crepe that is made from Rice and Dal batter which is fermented overnight. In India, you will find Dosa in almost every restaurant, whether its a South Indian restaurant or a North Indian restaurant. Dosa is popularly eaten for Breakfast along with Sambar and Chutney, but you can also serve it along your South Indian Curries. Dosas are a very important part of the South Indian and Sri Lankan diets, but slowly it has become popular in every part of India.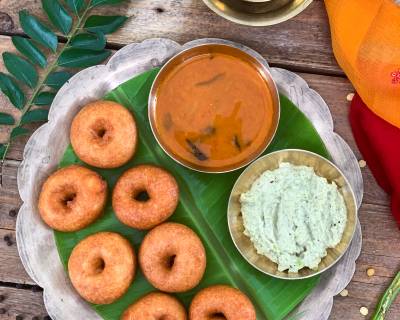 Make Delicious, Fresh And Crispy Vadas Using iD Fresh Vada Batter
When it comes to Breakfast, South Indian food is our absolute favourite! Soft spongy Idlis and crispy Vadas dipped into piping hot Sambar with some side of delicious Coconut chutney makes you hungry as soon as you hear the name. Other South Indian breakfast that makes us hungry is crispy Ghee Dosas which you can eat along with Sambar and Chutney of your choice. Filter Coffee, which is very popular in South India served on the side makes this breakfast even better.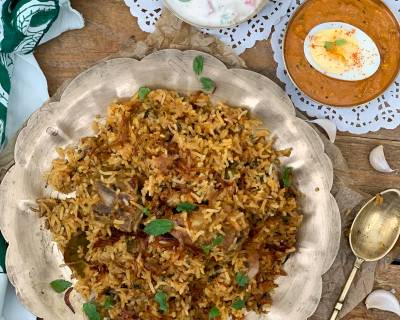 You Can't Miss This Mouthwatering Meal Of Mutton Biryani, Salan And Raita This Ramadan
Biryani, the name of this dish itself makes you hungry! Right? From Lucknow to Rajasthan to Andhra Pradesh, there are different types of lip smacking Biryanis, that differs in taste and flavour due to the use of local spices and different styles of cooking. For instance, Rajasthani Biryani is high on dry spices whereas Kolkata Biryani has potato in it. From North Indian Dum Biryani and South Indian Donne Biryani, each and every Biryani is absolutely delicious.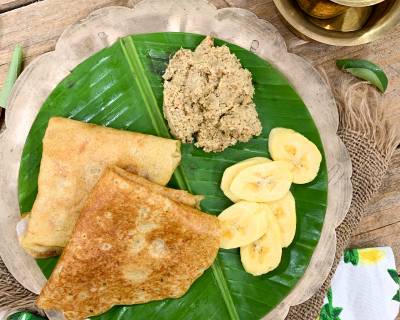 Enjoy A Simple South Indian Breakfast Meal With Adai, Chammanthi Chutney And Filter Coffee
Breakfast being the most important meal of the day, should be healthy and full of nutrients. Breakfast means 'breaking the fast' and we should keep in mind that we eat something that is full of nutrition and is also tasty. Here, we have an easy to make, high protein and delicious South Indian Breakfast Meal Plate which has recipes such as Adai, Kerala Thenga Chammanthi and Filter Coffee. We have also served Nendran Banana along with this meal.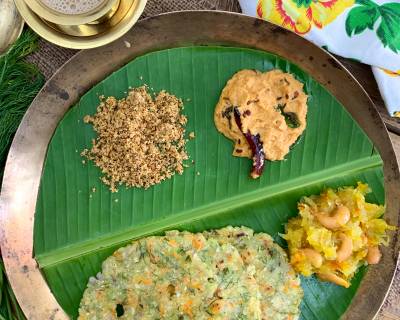 Karnataka Style Breakfast Of Akki Roti, Chutney, Podi And Kashi Halwa For Your Weekday
Weekend Breakfast are always nice and fancy, but we tend to make something instant during weekdays that might lack nutrition and makes us hungry again in very less time, which leads us to eat junk in between our meals. Therefore, we get you these delicious ideas of Breakfast Meal Plates which are easy to make and is filled with the necessary nutrients required for the day. Today, we have a Karnataka Style Breakfast Meal Plate, which has Masala Akki Roti, Red Chilli Coconut Chutney, Peanut Chutney Podi, Kashi Halwa and Filter Coffee.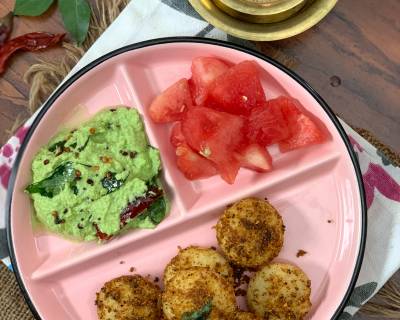 Enjoy A Simple Yet Delicious Breakfast of Idli With Thengai Milagai Podi And Chutney
It is said that, "Breakfast is the most important meal of the day", therefore it is important to eat something in the morning to kick start your day. We should keep in mind that the Breakfast should be healthy and nutritious, so that it fuels our body till our next meal providing it enough nutrition. But we always tend to skip it during busy schedules or eat something which is instant and lacks the nutrition.
Therefore, we bring you a delicious Breakfast Meal Plate that you can make during your weekday, it has Moong Dal Idli With Thengai Milagai Podi along with Green Coriander Coconut Chutney, Filter Coffee and Fruits.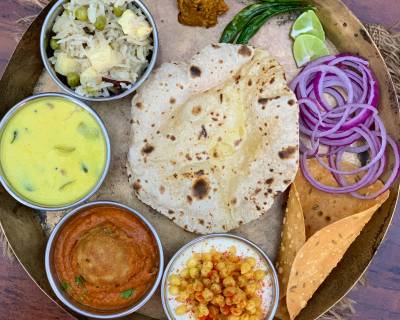 Indulge In A North Indian Meal - Nawabi Kofta | Rajasthani Kadhi | Paneer Pulao
A rich and delectable North Indian meal is something, everyone craves for! During weekdays, we don't get time to make a big meal, as we are always in the hurry to reach office on time, finish our morning errands or get busy with something or other. Therefore, weekend is a great time to make this Meal Plate when you can also invite your friends and family for this scrumptious North Indian meal.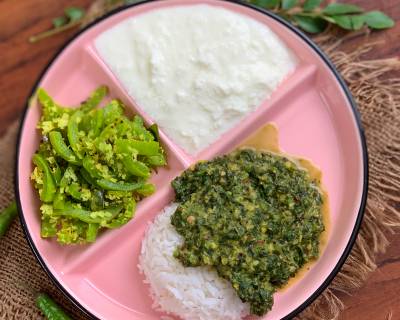 Make This Ayurvedic Meal Of Milagu Keerai Poricha Kootu, Pudalangai Poriyal, Rice And Curd
Ayurvedic Meals, are those meals which are fresh and has a medicinal importance to them. In this meal, each and every ingredient used has some healing properties which is considered good for your health and helps you in long run. Therefore, we have created a simple and tasty South Indian Ayurvedic Meal which has recipes likeMilagu Keerai Poricha Kootu, Pudalangai Poriyal, Steamed Rice And Curd.