Meal Plan & Lunch Box Ideas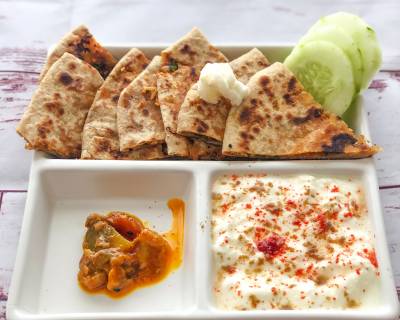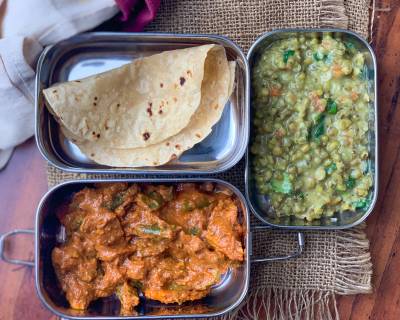 Office Lunch Box: Dhaba Style Green Moong Dal, Veg Makhanwala & Phulka
Here is a delicious and healthy Lunch box idea that you can pack for your kids or for your office lunch box ,made up of Dhaba Style Green Moong Dal Tadka, Veg Makhanwala & Phulka. These are easy recipes with prep tips given to help you have a smoother time on a rushed mornings without compromising on taste and nutrition.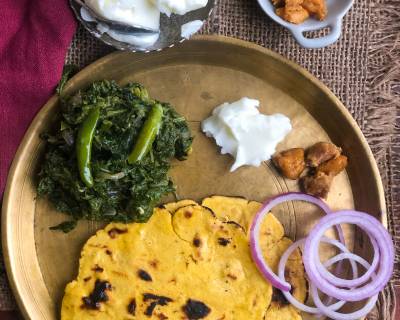 Enjoy The Taste Of Punjab With Sarson Ka Saag Aur Makki Ki Roti
The Ultimate Punjabi Comfort food during winters has to be Sarson Ka Saag and Makki Ki Roti. Add a dollop of hot Ghee and some Jaggery on the Makki Ki Roti to complete this Punjabi meal. This meal is widely made in almost all the North Indian Households, especially Punjabi during winters. You can even enjoy the taste of this delicious meal at the road side dhabas in Punjab, which is cooked in pure Ghee.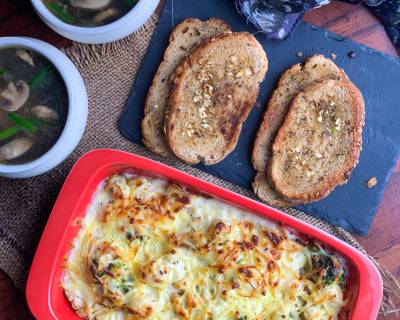 Comforting Cheesy Meal Of Creamy Au Gratin With Soup And Bread For Dinner
A comforting meal, piping hot, served straight out of the kitchen on your table on a winter evening, is this lip smacking meal of Garlic Bread served with Clear Vegetable Soup and a main course of Cauliflower & Broccoli Au Gratin. Sounds interesting, right? Then why to wait, do give this meal a try for your weekend dinner.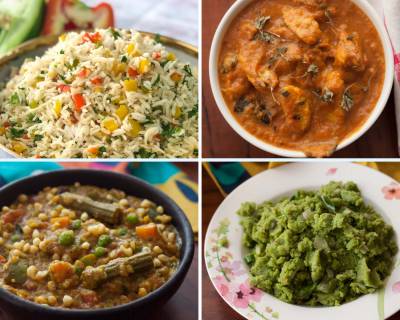 Weekly Meal Plan - Bisi Bele Bath, Baby Corn Butter Masala And Much More
Here is our new Weekly Meal Plan which includes some delicious and inviting recipes such as Bisi Bele Bath, Baby Corn Butter Masala, Vegetable Oatmeal Poha, Spinach Omelette, Smoked Dhaba Dal, Tofu Methi Paratha, Aam Ka Achaar, Grilled Rajma Corn Sandwich, Karela Aur Baingan Ki Sabzi, Adraki Rajma Masala, Jeera Rice, Sindhi Dal Pakwan, Pav Bhaji Flavoured Fusion Pasta and much more.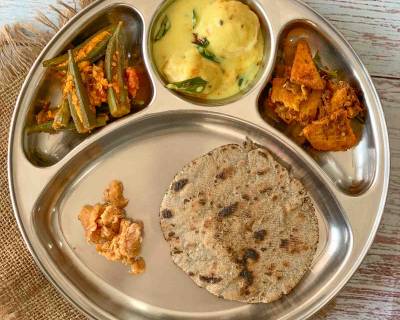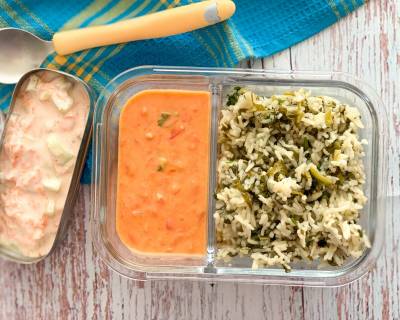 Kids Lunch Box: Sarson Saag Pulao, Tomato Sheer And Carrot Peanut Raita
Here we are back again with our new and delicious Kids Lunch Box which has some delectable recipes which are easy to make and your kids will love it. The most important thing we keep in mind is that the Lunch Box should be healthy and nutritious and the recipes are made accordingly. In this Lunch Box, we have a Sarson Ka Saag Pulao along with Tomato Sheer and Crunchy Carrot Peanut Raita.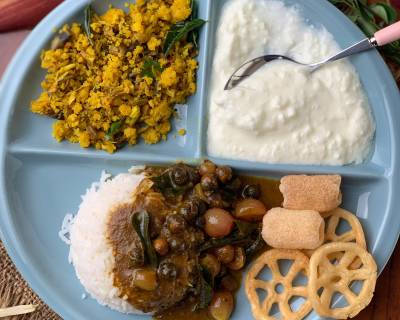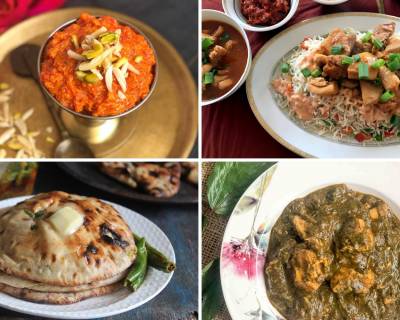 Weekly Meal Plan - Gajar Halwa, Onion Kulcha, Jodhpuri Aloo And Much More
We are back with our new Weekly Meal Plan which includes some mouthwatering recipes such as Jodhpuri Aloo, Gajar Ka Halwa, Maharashtrian Kanda Poha, Onion Stuffed Kulcha, Boondi Raita, Beetroot Sambar, Corn And Peas Curry, Horse Gram Idli, Corn And Peas Curry, Suran Ja Tuk, Onion Rava Dosa, Whole Wheat Vegetable Chilla, Matar Mushroom Curry, Cold Coffee, Amritsari Chole, Chana Pulao, Bihari Style Kadhi Bari, Spicy And Tangy Bread Upma, Matar Ajwain Ki Puri and much more.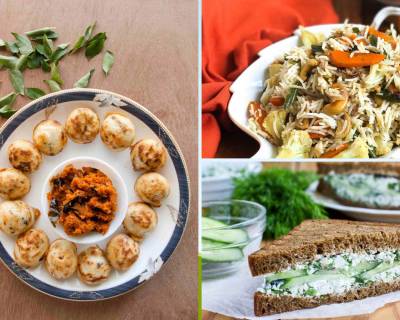 Kids Lunch Box Menu Plan-Masala Paniyaram, Masale Baath, Grilled Spinach Sandwich & More
Here are some innovative and healthy Kids Lunch Box ideas which will help you plan your week better and give your kid the required nutrition. This weeks lunch box meal plan includes Masala Paniyaram With Leftover Idli/Dosa Batter with coconut chutney, Maharashtrian Masale Baath with Mint And Pomegranate Raita, Grilled Spinach And Cottage Cheese Sandwich with Fresh fruit bowl, Mixed Vegetable Kurma with Mangalorean Neer Dosa and Khatte Chole with Dahi Methi Puri.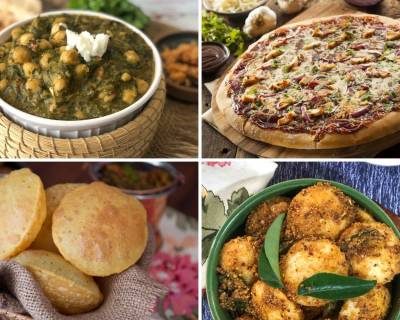 Weekly Meal Plan - Moong Dal Idli, Sarson Chole Saag And Much More
We are back with our new Weekly Meal Plan includes some delicious and easy to make recipes such as Sarson Chole Saag, Ajwain Puri, Spicy and Tangy Mixed Vegetable Poha, Palak Chana Dal, Dhaba Style Paneer Butter Masala, Grilled Tomato and Cheese Sandwich, Rajasthani Gatte Ka Pulao, Rajasthani Hari Mirch Ka Maas, Jeera Rice, Kachumber Salad, Gujarati Kadhi, Pav Bhaji, Soya Keema Matar Masala, Dhaniya and Pudina Raita, Mysore Masala Dosa, Sukhi Suran Masala and much more.