Keep your meals simple and delicious with a variation to your normal stuffed paratha. Planning a dinner meal everyday is a hard task for people who go to work everyday. As well as for the homemakers who run out of ideas on what to cook healthy and a delicious as well. At Archana's Kitchen we have come up with an interesting combination to stuff it inside your paratha. This can be made quickly and relished with a simple refreshing raita and salad by the side.
What it has :
Raw papaya are rich in Vitamins and Enzymes and it is really good for Skin and Stomach.
Red bell peppers have the highest amount of Vitamin C and also rich in antioxidants.
Freshly chopped vegetables that are used in the salad can also give you the nutrients directly as it not processed much.
Adding yogurt into your everyday diet is necessary to increase the probiotics into our body.
1. Raw Papaya and Red Bell Peppers Stuffed Paratha
Raw Papaya and Red Bell Peppers Stuffed Paratha is a nice way to add in raw papaya to your meal. Raw papaya are rich in nutrients and minerals like potassium, magnesium and vitamins like A, B, C and E. So it helps in boosting the immune system and helps in treating constipation problems.
If you are looking for more paratha recipes here are some :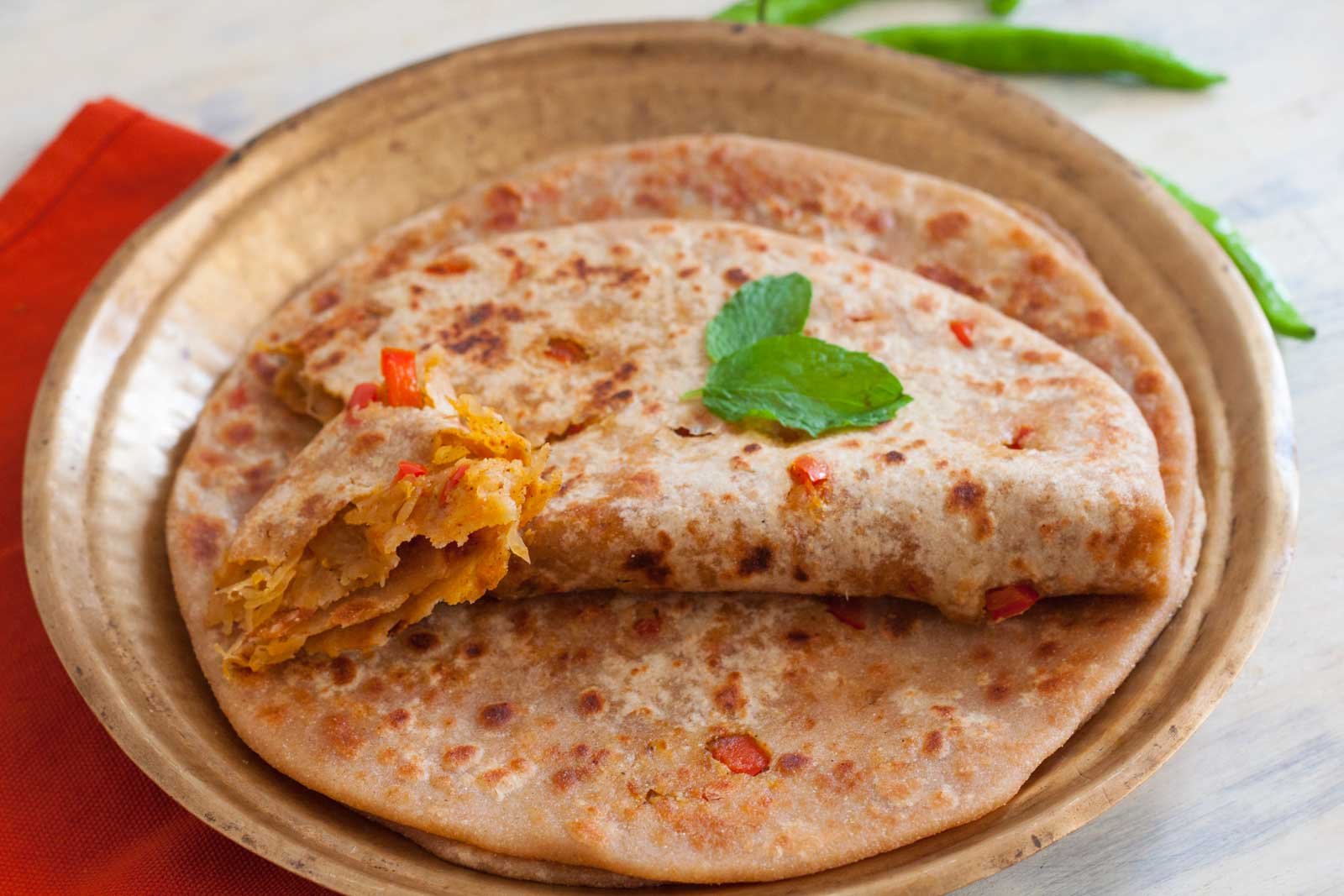 A simple Indian relish made from yogurt (curd) which is mixed with toasted makhana (puffed Lotus seeds) and Indian spice powders. This is very easy to make and is a variation to the normal raita made from vegetables. Makhana or Lotus seeds or fox nut is an interesting ingredient which is rich in Key minerals making it very healthy when added to our dish.
3. Carrot Cucumber Tomato Salad with Lemon and Coriander Recipe
Carrot Tomato Salad is delicious and simple salad made with grated carrots and a lemon coriander dressing. A great starter salad to introduce to children. You can make many variations to this recipe, by adding finely chopped cucumber, pomegranates, chopped apples, green chillies or event steamed lentils.
If you are looking for more Indian Salad recipes here are some :
Carrot Cucumber Tomato Salad with Lemon and Coriander Recipe