One of the popular choices of breakfast in West is a bread toast. It is also common to have it along with poached or scrambled eggs. Unique recipe and cooking method deployed in France gave French toast, its name. Bread is dunked in milk and then in beaten eggs and then the slices are toasted to make French toast. This is then topped with fruits or syrups or plain honey.
There also are a lot of variations that exist and can be innovated. Right from the toppings to the juices that the bread can be dunked in (instead of milk), to the various breads that can be used to make the toast. French toast can also be made savoury by adding spices and finely chopped veggies or bacon strips. Try and make it a complete meal in itself by serving French toast with coffee, cappuccino, plain and fresh orange juice or any beverage of your choice and scrambled eggs. Go ahead and make this breakfast as your weekend signature breakfast when you have had a friend staying in your place for a movie or for your whole family.
Coconut French Toast with Chocolate Chips Recipe is a new twist to the usual french toast. If you love coconut and French toast then you will love this French toast! And adding choco chips is a treat! After all, we want to start our morning with a treat, don't we? A simple custard mix with eggs, milk, cream and sugar, beaten well and spiced with nutmeg powder is a basic French toast dipping mix. Then coating with some toasted coconut and cooking with butter until browned, and thrown in some choco chips and if you feel like indulging add chocolate syrup.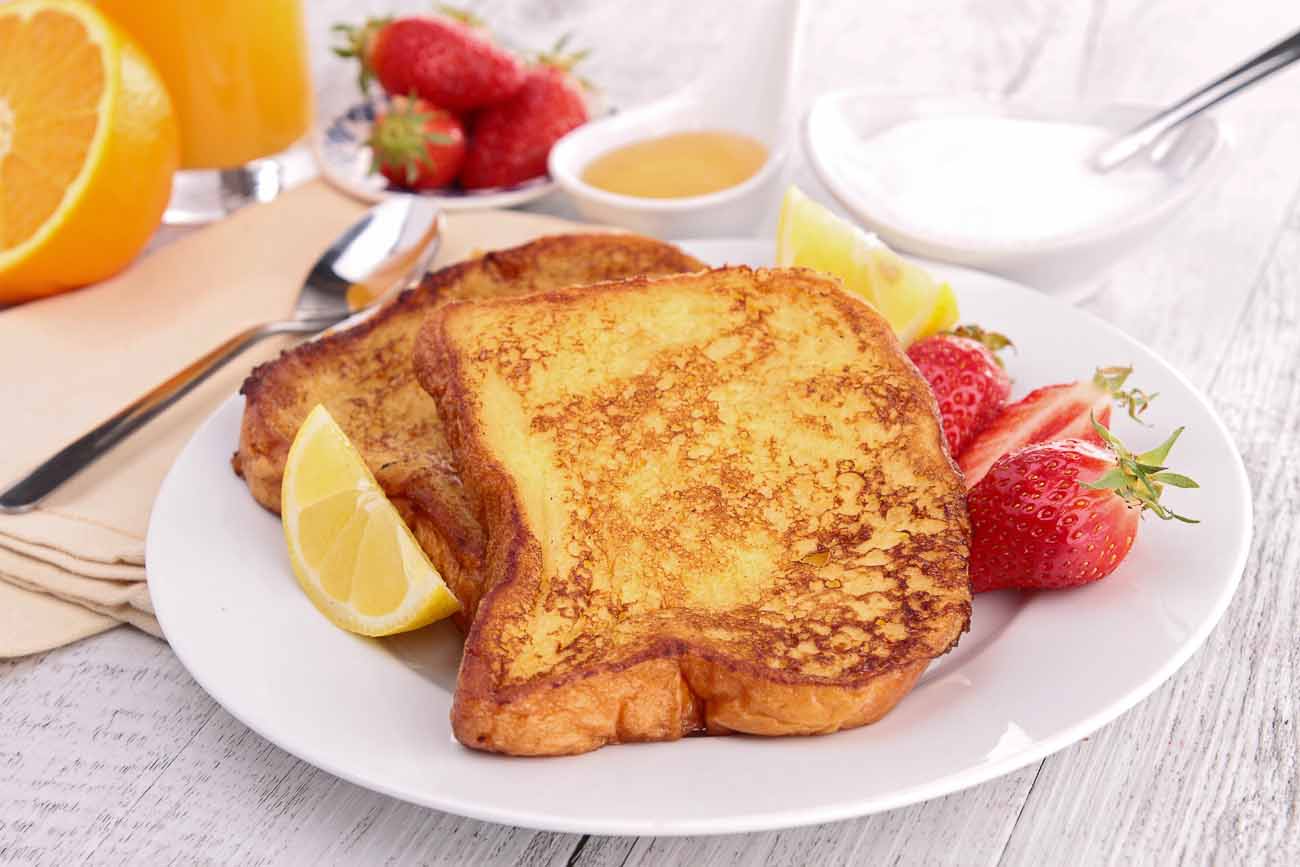 French Toast With An Orange Twist Recipe made from zesty hung yogurt and orange segments as filling in the humble French toast makes your breakfast special. A low fat dessert masquerading as perfect delicious breakfast! Serve French Toast Recipe Flavored with Orange with coffee or mulled apple juice.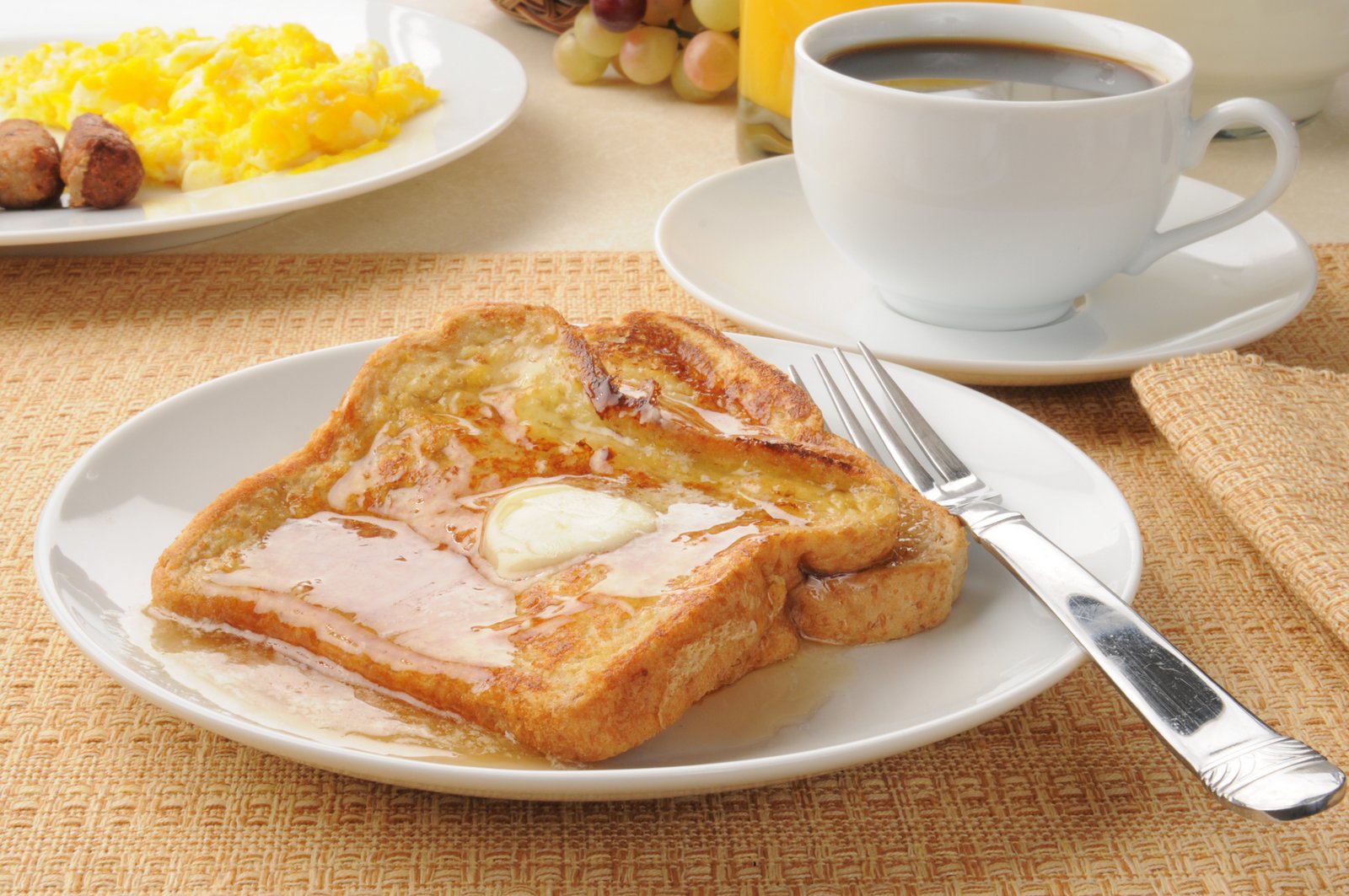 French Toast with Honey Spread and Scrambled Eggs is a breakfast breakfast recipe of French origin and is a highly nutritious one. To add a variant to it, I added scrambled eggs to it. It is a favorite breakfast recipe among kids, and the adults alike. I also added cut apple pieces to it make it more nutritious.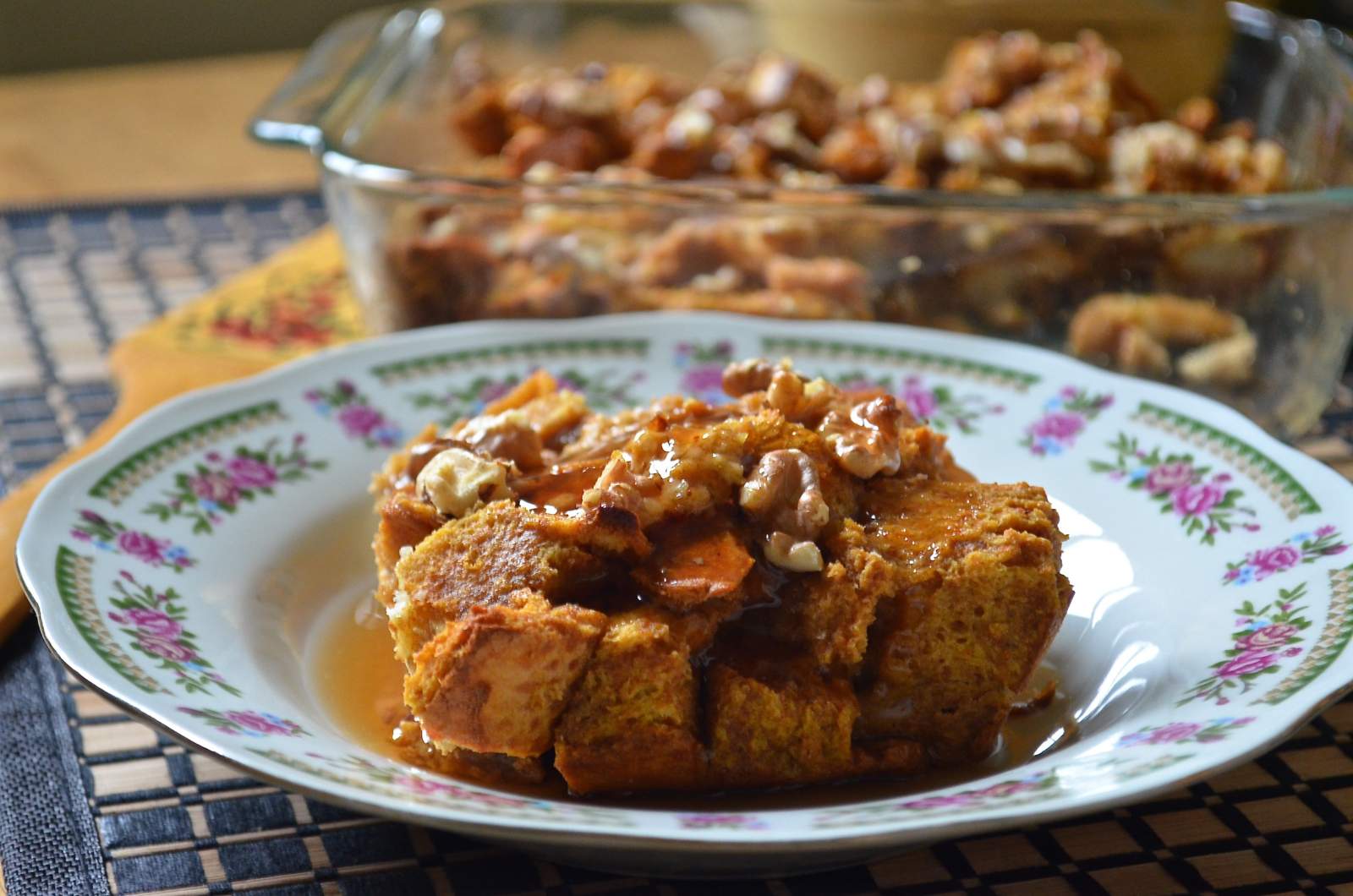 Overnight Pumpkin French Toast Baked Casserole is an excellent weekend breakfast/brunch recipe. All the prep work can be done the night before, let it sit in the refrigerator and soak well. Next day all we need to do is heat up the oven and bake.
The Pumpkin French Toast batter consists of eggs and different flavors of spices like cinnamon and nutmeg. Choose your favorite bread that is dense in nature from regular loaf to raisin thick swirl bread. With the goodness of pumpkin this is a french toast that would melt inside your mouth for every bite you take.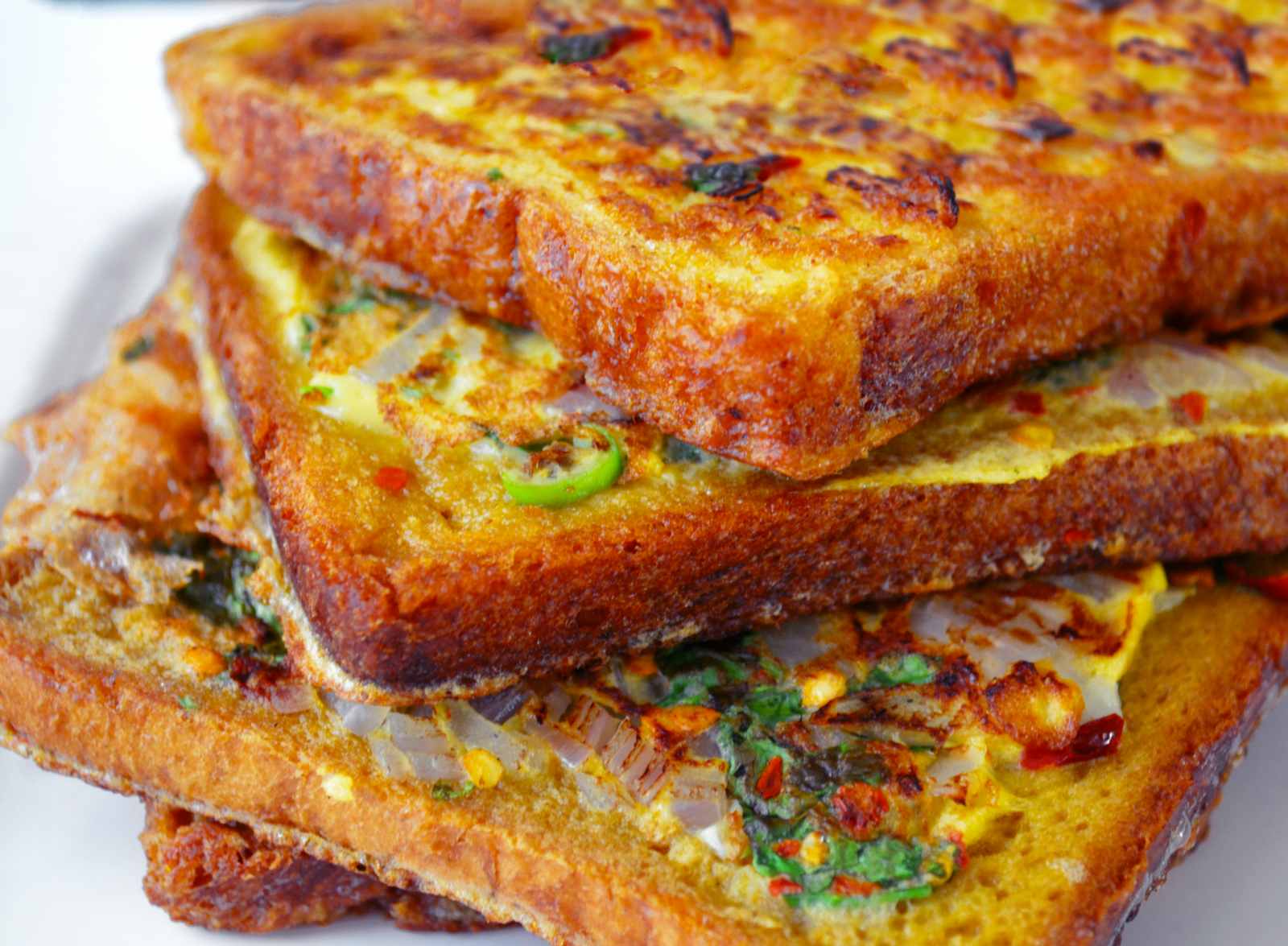 Quick Masala French Toast is a perfect fusion recipe which you can make for your breakfast with no time. It is a perfect combination of toast, eggs and vegetables, which is not only healthy but also very delicious to eat.
Serve Quick Masala French Toast on its own with a cup of hot Espresso Coffee or Masala Tea for a filling breakfast.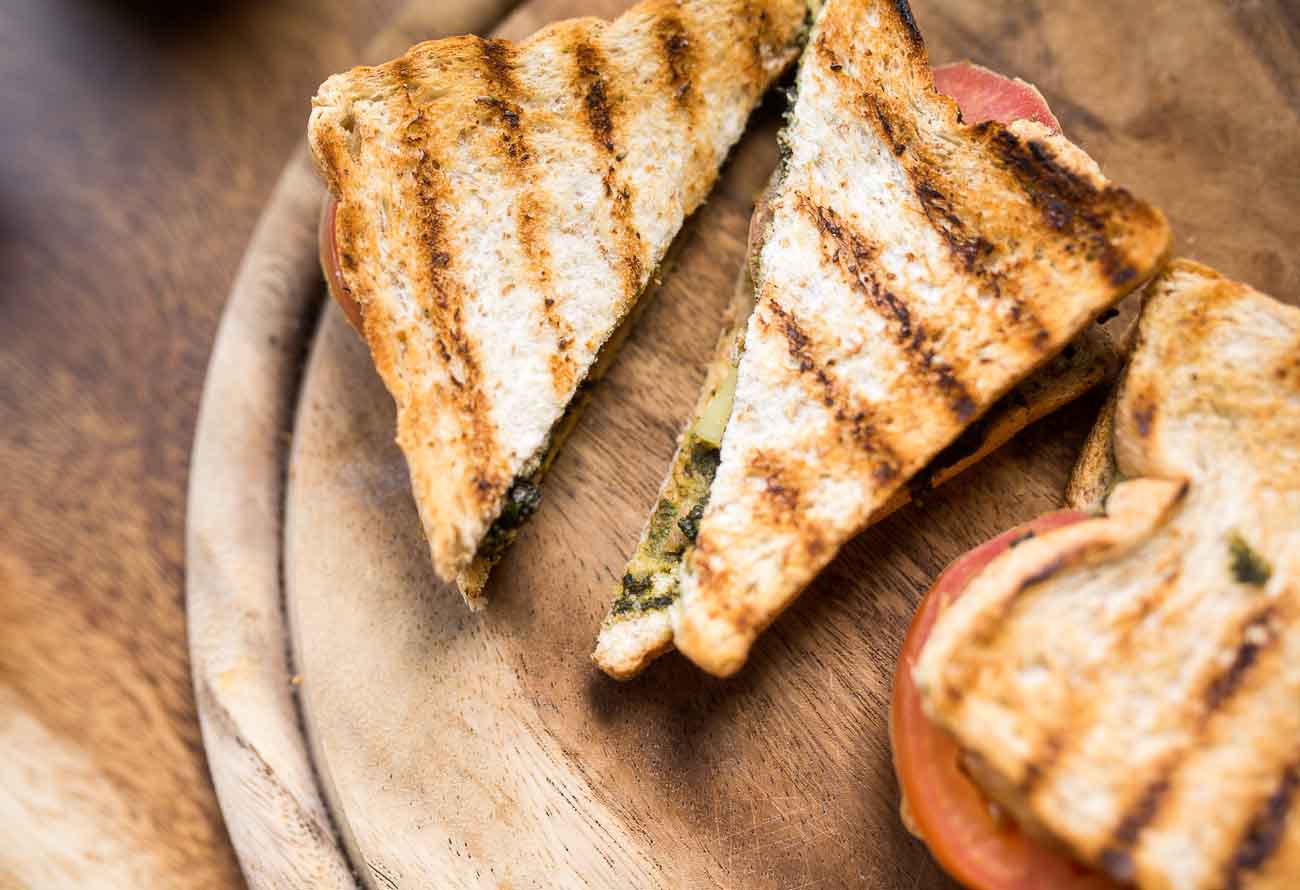 The Pesto & Paneer Stuffed French Toast Recipe is wholesome sandwich that makes a great weekend breakfast. The protein from eggs and paneer, vitamins and essential fats from nuts and basil and carbs from whole wheat bread makes this sandwich a your perfect start for the weekday. Serve the Pesto & Paneer Stuffed French Toast for a great weekend breakfast along with Carrot Pineapple Orange Juice and Breakfast Oatmeal Raisin Muffin, or a quick weeknight dinner or even pack it into the kids lunch boxes.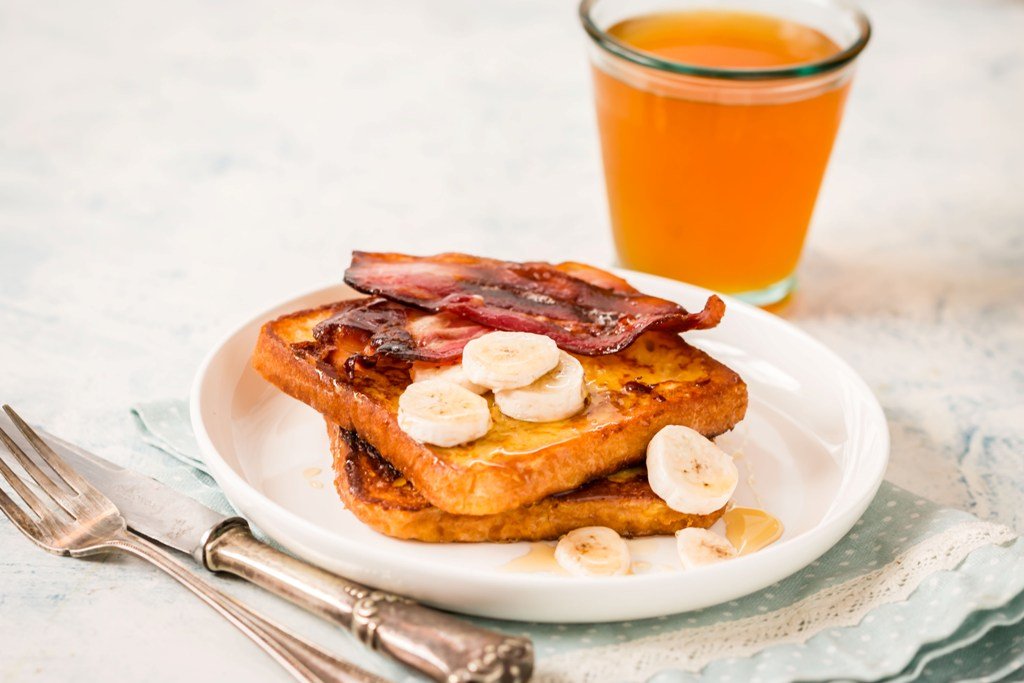 French toast is the most loved toast by kids and adults. Top it with your favorites like roasted streaky bacon and you have the most amazing breakfast dish ready. One the most popular topping on French toast is bacon, here we are doing oven roasted streaky bacon over the French toast along with fresh cut fruits to make French Toast Recipe With Oven Roasted Streaky Bacon. Do not forget to drizzle maple syrup over the top, or honey could work too. Saltiness from bacon, sweetness from honey it's a perfect combo for a breakfast with French Toast Recipe With Oven Roasted Streaky Bacon served with a tall glass of fresh orange juice.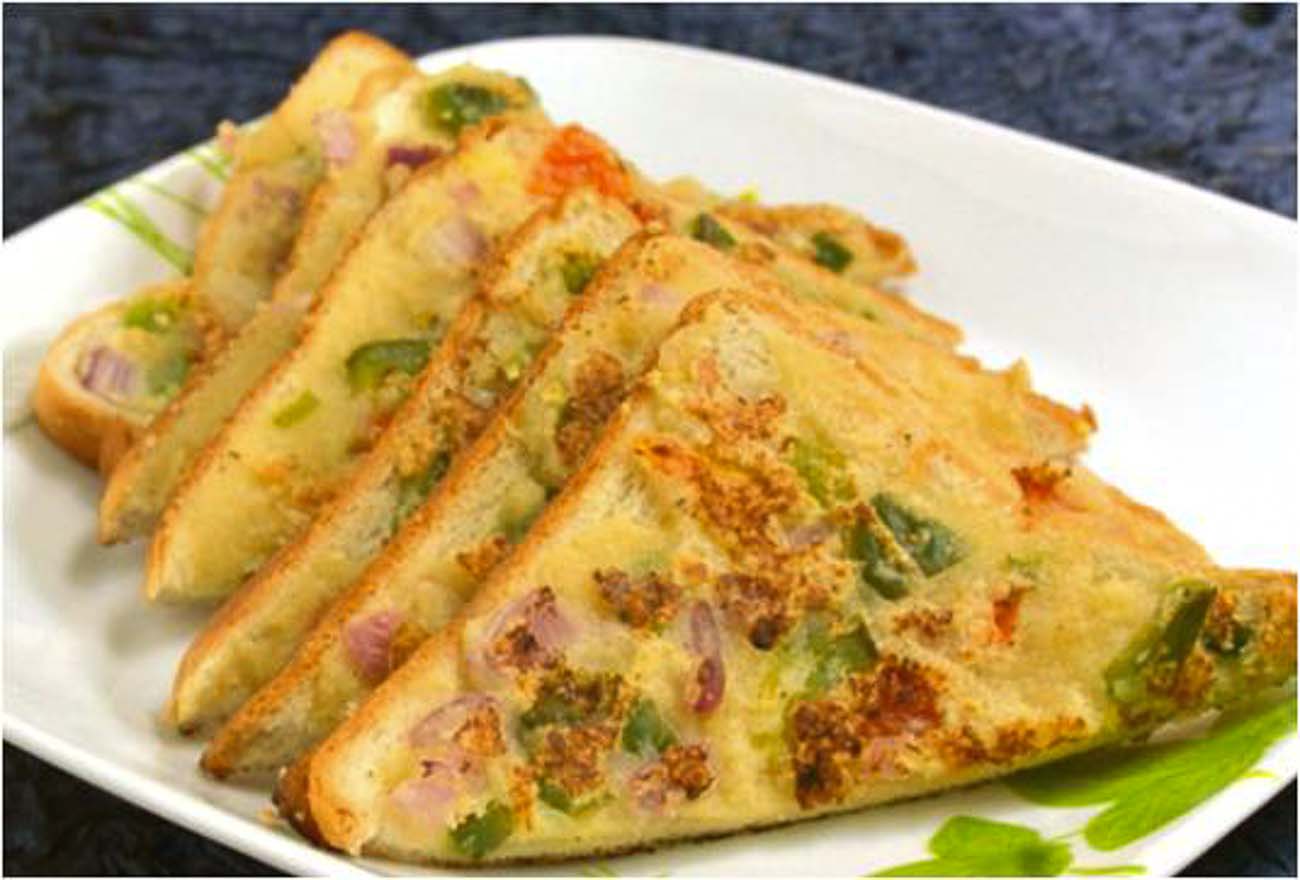 The Semolina French Toast is an eggless version of the traditional french toast recipe. The sliced of bread are dipped in a spicy yogurt semolina batter and pan fried, that are spiced with green chillies, bell peppers and coriander. Semolina French Toast dish is a favorite breakfast at home and it is quick to make and finger licking delicious. Serve Semolina French Toast Recipe with Coffee or Papaya Banana Smoothie Recipe for tea time or breakfast.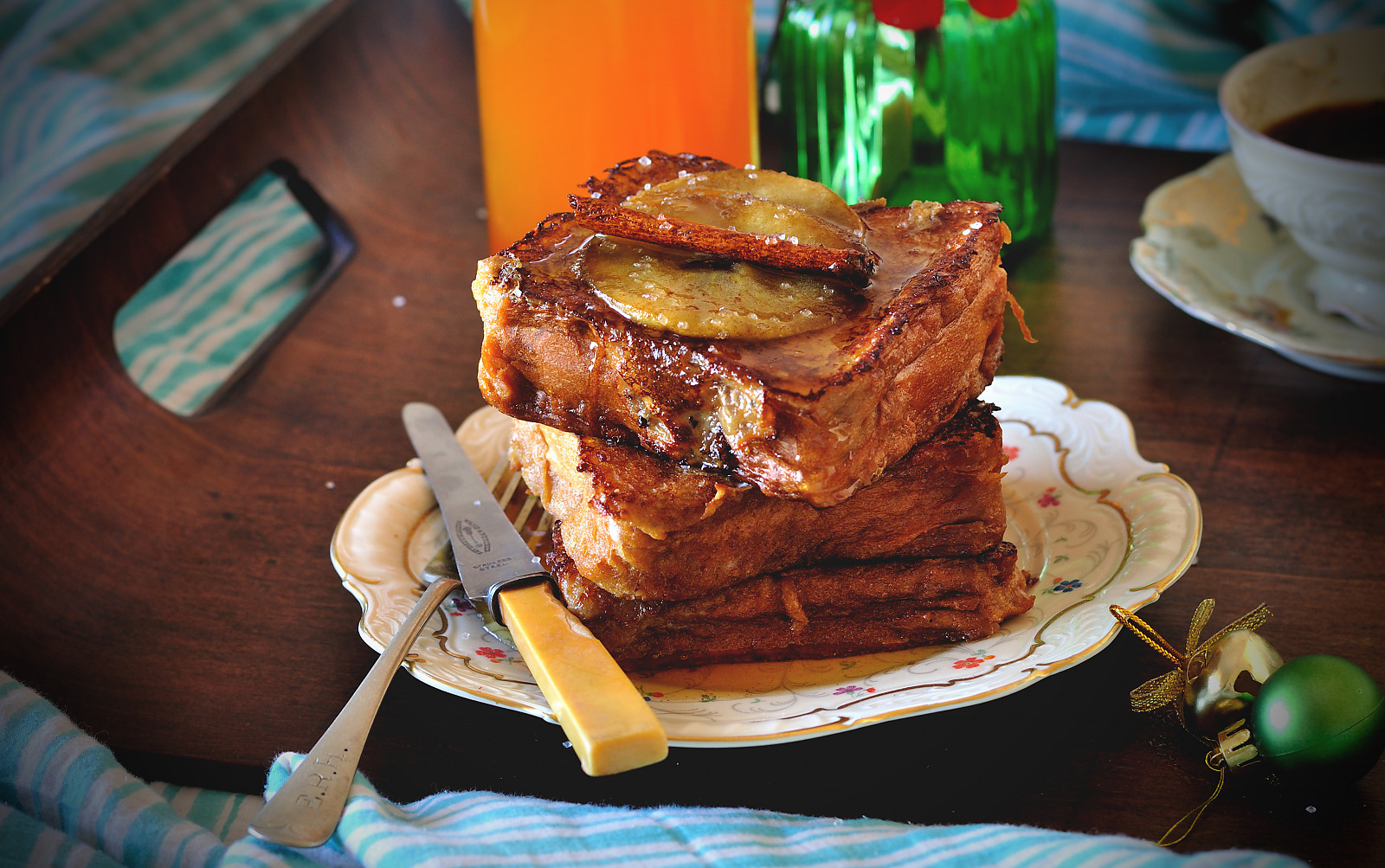 Ever had flavors of an apple pie in a french toast done in a jiffy? Apple Cinnamon french toast is the answer. This delectable recipe has cinnamon flavoured sweet and savoury softened chunks of apple served as a topping on the golden crunchy french toast. Bread, egg, milk and fruit, these ingredients are synonymous to an essential healthy breakfast and here is a recipe packed with the goodness of all of these. The Apple Cinnamon French Toast is an easy to make recipe from the basic pantry ingredients is an instant hit among kids too.
Serve the Apple Cinnamon French toast with a variety of toppings like honey, fresh cream, nuts and chopped strawberries for breakfast along with Cold Coffee Smoothie.