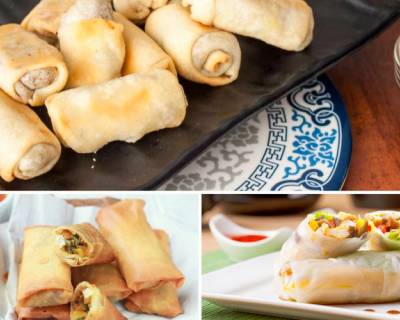 7 Spring Roll Recipes To Serve As An Appetiser During Your House Parties
After the usual weekday food, we crave for something delicious during the weekends. While some of us prefer going out and dining during the end of the week, some of us prefer house parties with our friends and family. When it comes to house parties, the focus goes on the food. As our friends visit and family gather, we always want to chit chat a little bit over drinks and appetisers before moving on to the main course.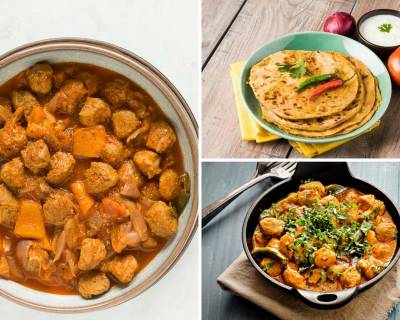 10 Recipes You Can Make From Soy Chunks For Your Everyday Meal
Soya Chunks, as we all know is very rich in proteins and is always compared to meat in terms of its nutritional content. One more reason to choose Soy Chunks is that it is even low in fat. Research says 1 cup of Soy Chunks contain 54.2 grams of protein, which exceeds the amount of protein found in meats, eggs, milk and wheat.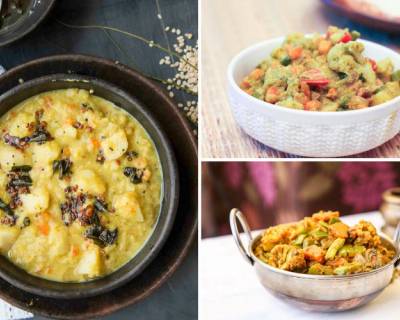 11 Mixed Vegetable Recipes You Can Make To Use Leftover Vegetables In Your Fridge
Every day cooking at home makes us buy a lot of vegetables together, to make our lives easier. Especially for the people who have busy schedules during the weekdays, finds it easy to shop for the vegetables at one go during the weekends and store them in the fridge. Usually, we don't plan our daily menu and cook according to what is available in the fridge. Sometimes we make a side dish out of it or sometimes a main course dish.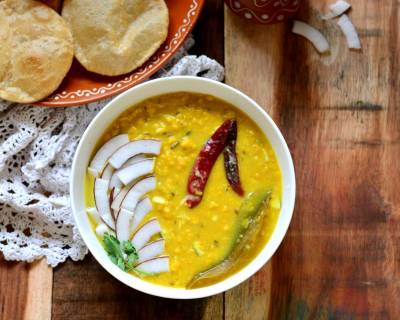 Awe-Inspiring Meal Of 10 Apt Combos With Bengali Vegetarian Meal Menu
Bengali cuisine is known for its non-vegetarian dishes. But what we also should know, is its versatility when it comes to vegetarian recipes as well. Characterised by regional masalas like panch phoron, ingredients like coconut and poppy seeds, steaming and slow cooking methods – Bengali recipes are a notch higher like the politely spoken Bengali language itself.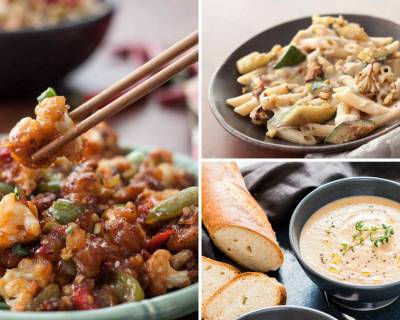 15 Delicious Recipes To Include Cauliflower In Your Diet
Cauliflower is a member of the cruciferous family along with vegetables like broccoli, kale, cabbage, brussel sprouts, et al, and is considered one of the healthiest vegetables and with good reason so. It provides a rich supply of health boosting phytochemicals and anti inflammatory composites. This is one vegetable that deserves to be added in your diet on a regular basis as it is packed with an array of nutrients like vitamins, minerals et al.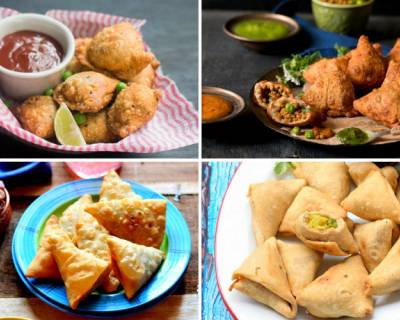 12 Samosa Recipes To Enjoy During Monsoon With Your Hot Cup Of Tea
A cup of hot masala chai and some samosas are enough to enjoy a rainy day. With monsoons just around the corner, we all think of some recipes which we can make to enjoy the weather. We all have that memory of childhood, when our mothers used to make hot snacks or our father used to get piping hot samosas from market. Well, you can always revive the old memories by making different types of Samosas at home.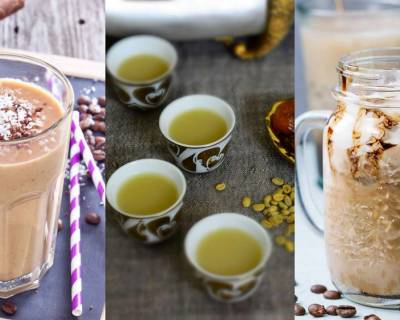 5 Coffee Based Drinks You Cannot Miss Out On
If you are anything like us, getting your sluggish self to go on with your daily activities without the boost of coffee might be an absolute task. Coffee is literally the foundation of our food pyramid and we gawk in awe at those who can function without it. We have an OCD (PS. obsessive coffee disorder) when it comes to this bitter sweet beverage.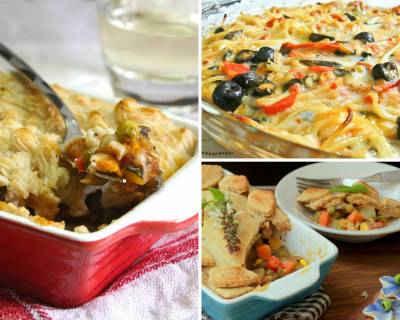 6 Delightful Savoury Pie Recipes For Your Weekend Dinner
When you think of pies, all you can think of is sweet dessert pies, but here we have some delicious and delightful savoury pies just for you. Savoury pies are a satisfyingly filling food perfect for days when the temperatures are lower than usual. Their delicious aroma is sure to warm you up in heavenly ways.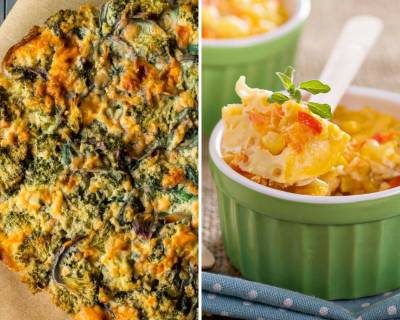 8 Frittata Recipes Egg Lovers Must Try
Italian cuisine is one of the all-time favourite cuisines among food lovers. Pasta, pizza, wine and cheese are a lot popular in Italy and so is Frittata. Eggs are the main ingredient in frittata but they differ from omelettes since cheese and veggies are added along and cooked on one side, either by pan frying or baking. Pasta and meat are also added to make variants of frittata. These are either mixed with spiced eggs or plain egg whites or artistically layered one after the other, making it a complete treat to the taste buds.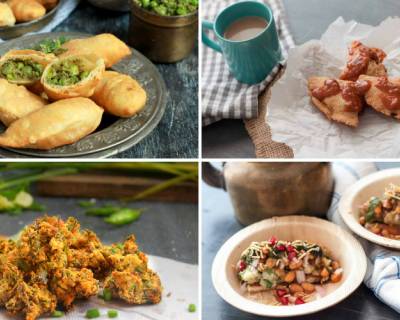 10 Snacks To Serve In Rains With Your Hot Cup Of Tea
Monsoon is just around the corner! The smell of wet mud, the cool breeze, the pleasant weather and of course the rain, brings a wide smile on our face. As the weather becomes nice and pleasant, we get some relief from the scorching heat and on the other hand we get to eat some delicious snacks too. As soon as it rains, one thing that comes to our mind is 'Chai and Pakoda'! Well, everyone craves for some mouth watering and piping hot snacks which goes well along with their evening cup of tea or coffee during rains.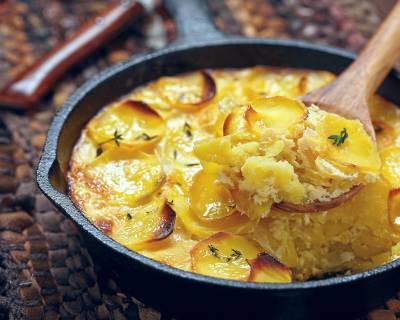 9 Best Gratin Recipes To Make A Hearty Weekend Meal
European cuisine is a groundbreaker of many recipes and a variety of baked casseroles is one of them. Baked casseroles usually aim at main course food which is also a one pot recipe for a meal. Among such one pot recipes from cuisines around the world, Gratins are the popular food that originate in France and is made in an oven proof dish.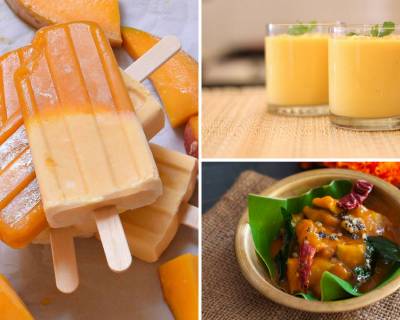 24 Delicious Ways To Add Mango In Your Diet
Mango is known as the king of fruits and rightly so. Ripe mangoes have a rosy skin covering the golden flesh which is juicy, sweet and tastes absolutely divine. Mangoes are ingested all around the world in different dishes, ranging from desserts, savoury, curry, smoothies et al. The delicious taste of mangoes overpowers its health benefits. People often forget that not only are these super tasty, but have some amazing nutritional benefits too.