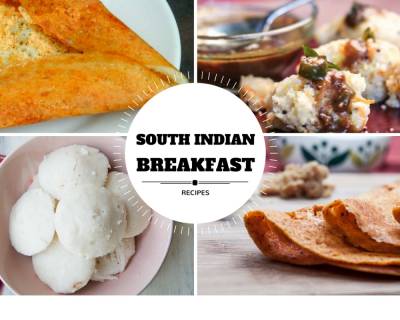 21 Lip-Smacking South Indian Breakfast Recipes
Breakfast is considered as the most important meal of the day, as it affects how we perform physically and mentally the entire day. We often skips our breakfast due to hurry, hectic work schedule and many such reasons. But taking just a few minutes to eat your breakfast like a king, can really make a difference to your day. Eating breakfast on time provides you energy, enhances your concentration and helps to maintain your body weight.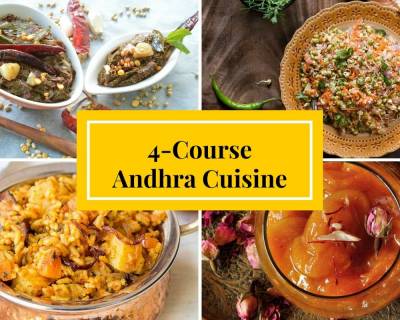 Spice up your Weekend with 4-Course Andhra Cuisine
Andhra cuisine is popular for its searing spicy food recipes. Since Andhra and now Telangana together are leading producers of red chilli, the cuisine seems inclined towards spiciness. The authentic Andhra cuisine also seeps into Karnataka and Tamil Nadu cuisines as well, with mild region-influenced changes in preparation and names. Ragi millet is popular in Andhra-Rayalaseema region, where Telangana region runs on millet based roti as a staple food, and rice is naturally the staple food of irrigated regions of Andhra and Telangana. The main course recipes usually contain tamarind, dal and tomatoes as essential ingredients. Spicy varieties of pickles, chutneys and fritters are also an integral part of Andhra cuisine. This cuisine is also known for its non-vegetarian dishes like marag, biryanis and kebabs. In fact, biryanis are cooked in more than 40 variations of vegetarian and non-vegetarian elements.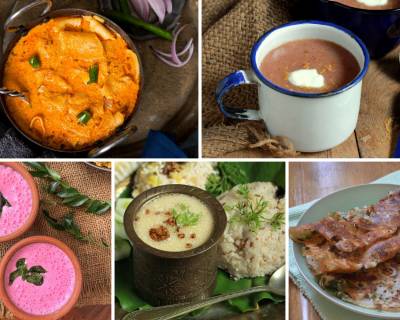 Benefits Of Buttermilk In Summer And Its Recipes
Summer is here and we are always looking for something that is healthy, refreshing and tasty to quench our thirst. There are many summer fruits that can be used to make fresh juices and smoothies, but there is nothing like a glass of chilled Buttermilk when the temperature is rising outside.
It is a traditional Indian summer drink that is usually served along with the everyday meals or can be had as a snack in between the meals. It is good for hydration and also protects us from the harmful sun rays. Its tasty and healthy, so there is always a win win situation and kids love it too.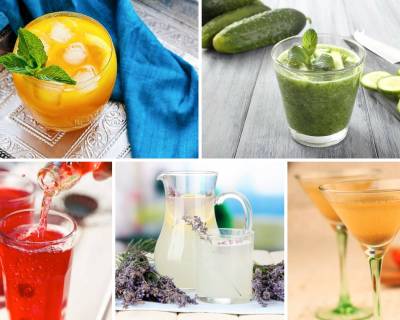 8 Refreshing Lemonade Recipes That Will Keep You Cool This Summer
When the hot summer days roll around, it is very important to hydrate our body. Dehydration can lead to many health problems such as diarrhoea, vomiting, headache, lack of urination, dizziness and many more. Drinking enough water is the best way to hydrate your body, but sometimes we need something which is more refreshing and filled with flavours. And this is when the tasty and re-energising lemonades comes into the limelight.
134 Healthy Oat Recipes For Breakfast, Snack & Meal Times | Oatmeal Recipes
A lot of us especially kids prefer sugary cereals over healthy oats for breakfast. For many nothing can be great as a warm cup of oats for your breakfast. You can cook them however you want, with some milk and make it as a porridge or make an idli out of oats. It is the one of the healthiest food that can keep the energy up and help you to carry your day with energy.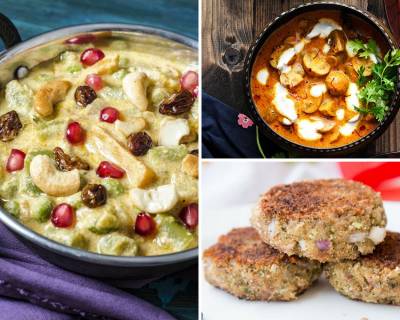 Make a Sumptuous Sunday lunch with 3-Course Mughlai Menu
Mughlai cuisine dates back to medieval India. The Mughal dynasty that ruled the country during medieval period brought their Central Asian cuisine along. Till today, the Mughlai cuisine is adopted and popular in Northern part of India including Uttar Pradesh and Delhi, Pakistan and Bangladesh. Cuisine of Avadhi/Lucknow is also influenced from Mughal rasoi. The welcome aroma of whole roast and ground spices is infused into the Mughlai cuisine recipes to make a variety of dishes that differ with spice levels. Dishes from this cuisine include Kebabs, kofta, pulaos and Biryanis.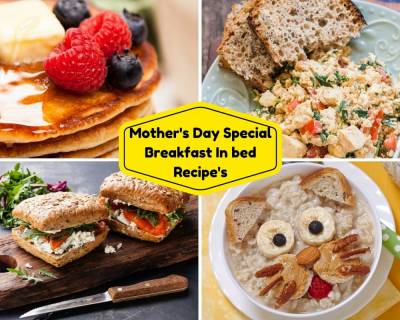 Mother's Day Special Breakfast In Bed Recipe's
Mother's day is fast approaching, and many of us would be thinking what special can we cook for her. Wouldn't it be great if we can cook something special for her this day. Give her a break from the kitchen and home and take care of the A to Z activities that she does for us every single day without a clinch.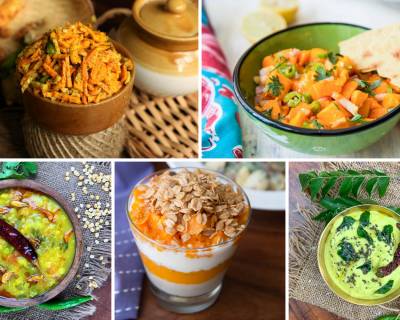 153 Delicious And Appetising Mango Recipes To Beat The Scorching Heat
Summers are here and we are already annoyed of the scorching heat which is increasing with the passing day. But there are a few things we love about this season and one of them is Mangoes. Yes, Mango is one of those fruits which is loved by everyone, be it an adult or a kid and it helps to keep you cool during this season. This juicy, sweet and absolutely divine fruit comes in different varieties like Alphonso, Chaunsa, Dashehari, Totapuri, Langar, Kesar and many others.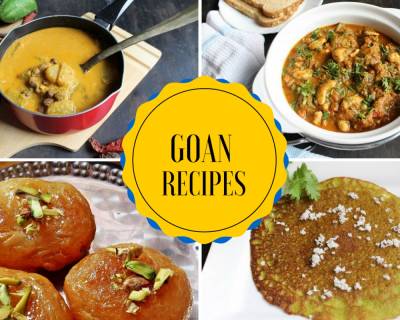 21 Delciious & Traditional Goan Recipes
Sun, Sand & Beach, this is how we define Goa! It is one of the smallest states in India, but is very popular nationally and internationally for its beaches, parties and historic sites. But Goa is much more than this, when it comes to its food and culture. Goan food is one of the reasons tourists gets attracted to this place because it is different, delicious, seriously addictive and as exotic as Goa. A trip to Goa can relax your mind and body and so can the Goan food.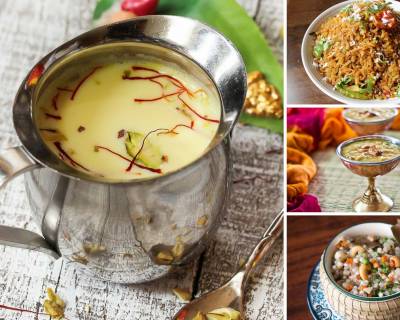 12 Fasting Recipes You Can Make On Maha Shivratri
Mahashivratri, a festival where Lord Shiva is worshipped all over the India. The festival begins on the morning of Shivaratri day and ends only on the next day morning. In the morning, devotees perform Abhishek with milk and water and offer different items including Bilva leaves, Bilva fruit and Dhatura. To show their faith toward Lord shiva, the devotees does fasting the entire day which will in return give them the blessings of Shiva.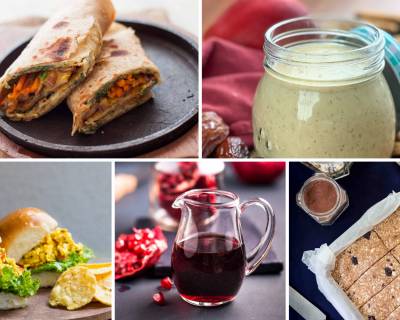 24 Nourishing Snacks For Kids Exam Days
March has begun and all the kids are super busy in preparing for their final examinations. Due to exams one after another, kids have to study all day while sitting at one place. The entire day they just get to play with history, science and numbers, which surely requires a good concentration power. It is important at this time, we eat healthy and at frequent intervals to keep fit and relaxed with the pressure of exams. Concentration also comes with a full stomach. And by a full stomach, we mean eating healthy.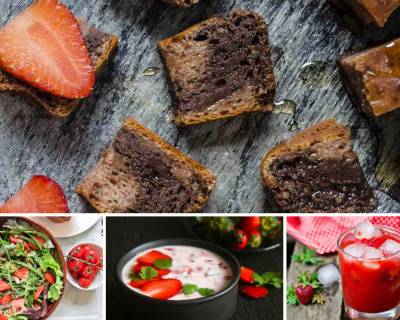 9 Best Strawberry Recipes You Can Make In Your Kitchen
Strawberry is one of those fruits which is enjoyed by each and everyone in the family. Sweet, succulent and plump, not only they are delicious but they are also an excellent source of Vitamin C. These red beauties are versatile and can be used in both sweet and savory dishes. One can have it as a raw fruit or it can be used in making dishes like salsa, chutney, muffins, raita, cake and many such recipes. They taste amazing and is perfect to eat in breakfast or as a dessert.