Meal Plan & Lunch Box Ideas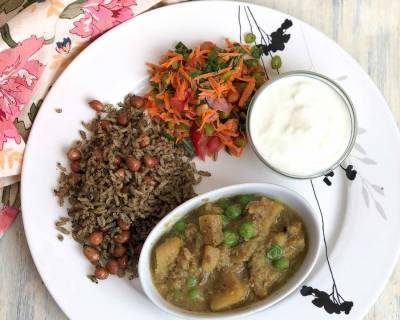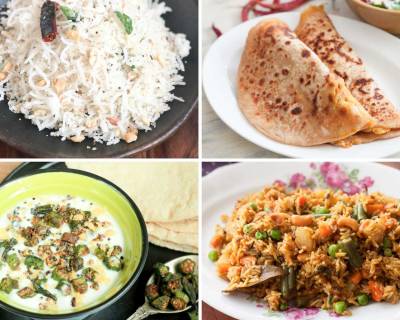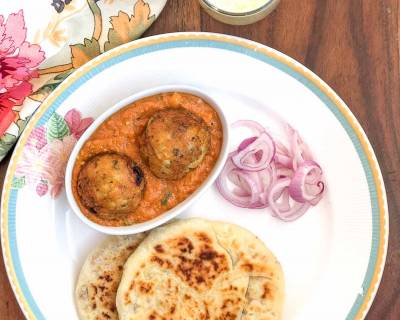 Here's A Royal Saturday Dinner - Malai Kofta, Peshwari Naan & Kesar Pista Lassi
Here's a satisfying and wholesome meal plate idea that you can eat for your Lunch or Dinner. It consists of Malai Kofta, Peshawari Naan with a glass of delicious Kesar Pista Lassi. This North Indian meal is easy to make and is perfect when you have guests coming in for lunch or dinner.
Malai Kofta is a wholesome and rick curry in which Koftas are made of Paneer and Potato. These Koftas are then added to the rich tomato gravy. The best thing about this Kofta curry is that the Kofta are not fried. These koftas are made in paniyaram pan which makes this dish healthy. Along with this, we have served Peshawari Naan, Pickled Onions and Kesar Pista Lassi which makes this a royal meal, perfect for your weekend meals.
So if you have guests coming over this weekend, do try this mouthwatering vegetarian meal and let us know how you liked it?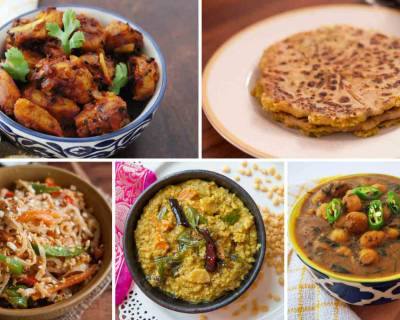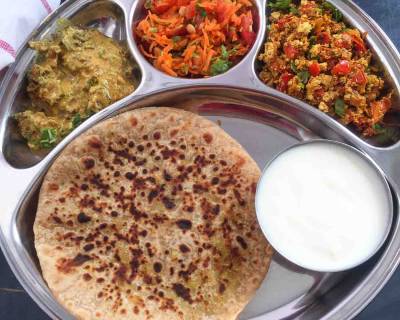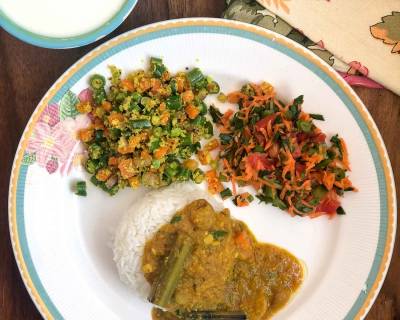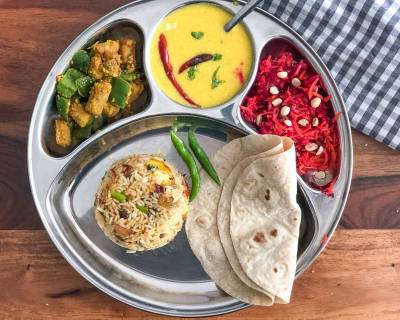 Portion Control Meal Plate: Veg Pulao, Beet Salad, Kadhi, Gatte Sabzi
Here is a wholesome Portion control plate that is packed with nutrition and taste with a colorful combination of vegetables and protein. In this plate you will find a Spicy Mixed Vegetable Pulao along with fresh Indian Salad Recipe made with a combination of Beetroot, Carrot & Cucumber Salad and a smooth Rajasthani Kadhi with a side of Sukhe Gatte Capsicum Ki Sabzi and ghee smeared Phulkas.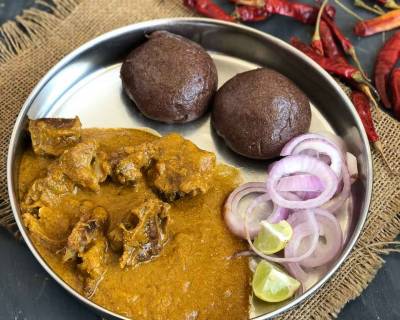 Dinner Anyone? How About A Delicious Ragi Mudde & Mutton Saaru
A simple and rustic Indian dinner meal idea, made South Indian style, this meal plate consists of Mutton Saaru with healthy Ragi Mudde & Pickled Onions. This Indian dinner recipe combination is usually served on a sunday afternoon in most Gowda community households.
Ragi Mudde is a staple complex carbohydrate that remains constant in south indian meals. Ragi takes longer to digest, hence keeping them satiated for a longer period of time. The saaru changes everyday, making sure they make it a healthy meal with the addition of some vegetables and green leafy vegetables in the curry it is served with.
For the vegetarians out there we can also serve this meal with your choice of South Indian Vegetarian Curries.
So go ahead and put this meal together for your family.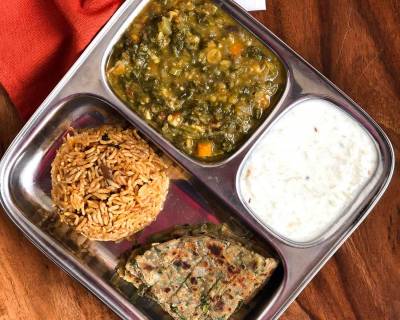 Lunch Box Ideas: Amritsari Chole, Muttaikose Poriyal And Phulka
Simple and Tasty, this two things plays an important role when we pack our Lunch Box on weekdays. Simple because it should take less time to prepare and tasty because eating regular food becomes boring sometimes. So we try and create Lunch Boxes for you which has everyday recipes and requires daily ingredients in order to make them. We add recipes from different regions of India, so that you get a different taste everytime you eat your Lunch Box.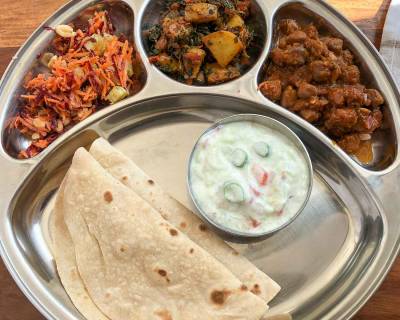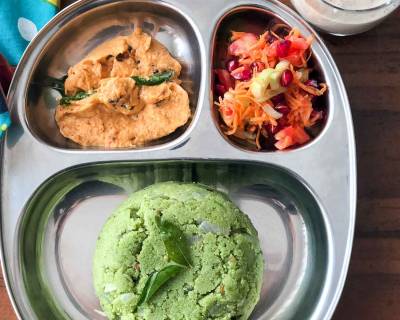 Breakfast Meal Plate: Kothamalli Upma, Peanut & Tomato Chutney & Salad
Upma is an all time favourite of the South Indians. Here we have created a special upma that is made with ground coriander leaves to give it a bright color to the dish. South Indian Breakfast are most favourite among the Indians and there are variety of dishes to offer. At Archana's kitchen we constantly try to provide a healthy element in your everyday cooking, since breakfast is the most important meal of the day we have tried to incorporate ingredients that are healthy and wholesome.