Meal Plan & Lunch Box Ideas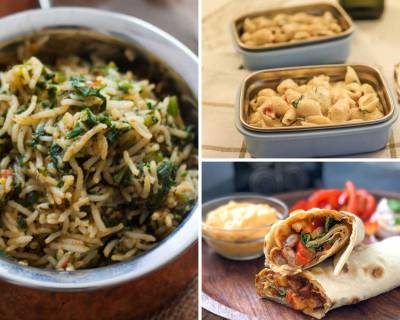 Kids Lunch Box Menu Plan-Palak Pulao,Grilled Tomato Cheese Sandwich, Rajma Wrap & More
Here is a new Kids Lunch Box Menu Plan to help you pack healthy, nutritious and tasty Lunch boxes for your kids. We have Palak Pulao with boondi raita, Grilled Tomato Cheese Sandwich with Energy bar, Rajma Wrap Recipe With Carrot Cucumber Sandwich Spread with Fruit Bowl, Pasta with Carrots and Basil & Fruit Bowl, Aloo Beans Sabzi, Phulkas with Dhaba Style Green Moong Dal Tadka.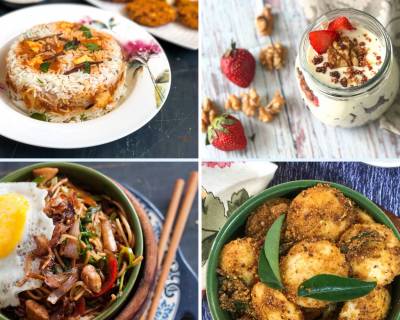 Weekly Meal Plan - Chicken Mei Goreng, Podi Idli And Much More
Here is our new Weekly Meal Plan which includes some delicious and inviting recipes such as Chicken Mei Goreng, Ratalu Ki Chutney, Patta Gobhi Aur Kele Kofta Curry, Cold Coffee Smoothie, Coriander Semiya, Masoor Dal Aur Rajma Masala, Kaya Tholi Thoran, Layered Paneer Butter Masala Biryani, Cheese Masala Omelette, Lahsuni Palak Dal, Dhaba Style Paneer Butter Masala, Masala Jowar Bhakri, Onion Raita, Kadai Chole, Tawa Amritsari Kulcha, Uggani, Maharashtrian Kadhi and much more.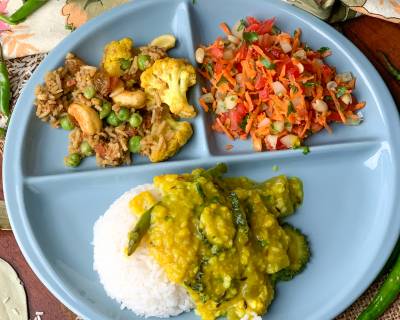 Ayurvedic Meal Of Chal Kopi, Lau Die Tetor Dal And Rice Is Perfect For Your Weekday Meal
AYURVEDA is considered the oldest science that focuses on general wellness of an individual. Eating the right kind of food is the key to your overall well being and so here we have a delicious, healthy, ayurvedic meal plate of Chal Kopi, Lau Die Tetor Dal, Rice & Salad. These dishes are Bengali and are cooked in an ayurvedic way to provide maximum nutrition and benefits to you.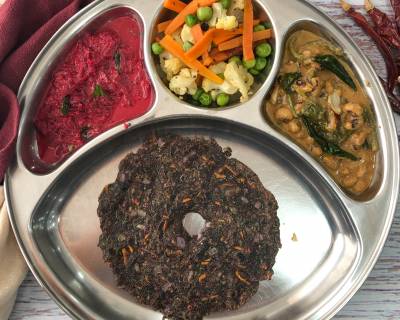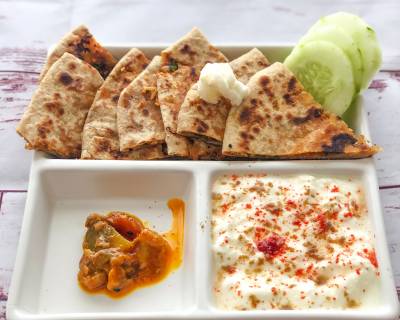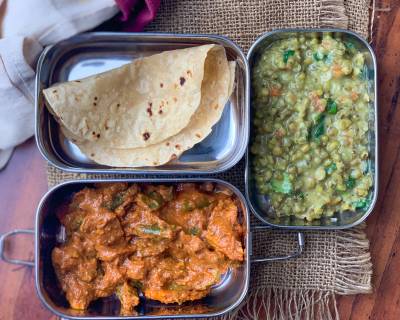 Office Lunch Box: Dhaba Style Green Moong Dal, Veg Makhanwala & Phulka
Here is a delicious and healthy Lunch box idea that you can pack for your kids or for your office lunch box ,made up of Dhaba Style Green Moong Dal Tadka, Veg Makhanwala & Phulka. These are easy recipes with prep tips given to help you have a smoother time on a rushed mornings without compromising on taste and nutrition.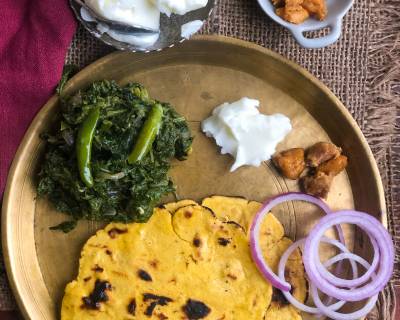 Enjoy The Taste Of Punjab With Sarson Ka Saag Aur Makki Ki Roti
The Ultimate Punjabi Comfort food during winters has to be Sarson Ka Saag and Makki Ki Roti. Add a dollop of hot Ghee and some Jaggery on the Makki Ki Roti to complete this Punjabi meal. This meal is widely made in almost all the North Indian Households, especially Punjabi during winters. You can even enjoy the taste of this delicious meal at the road side dhabas in Punjab, which is cooked in pure Ghee.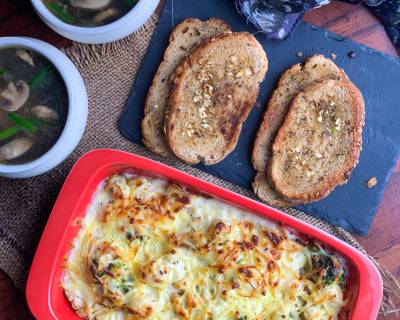 Comforting Cheesy Meal Of Creamy Au Gratin With Soup And Bread For Dinner
A comforting meal, piping hot, served straight out of the kitchen on your table on a winter evening, is this lip smacking meal of Garlic Bread served with Clear Vegetable Soup and a main course of Cauliflower & Broccoli Au Gratin. Sounds interesting, right? Then why to wait, do give this meal a try for your weekend dinner.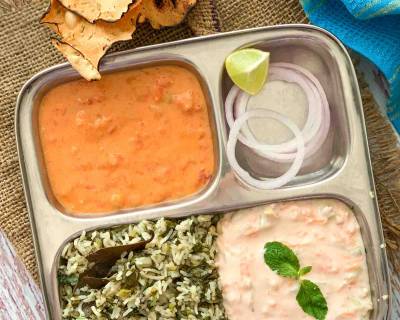 Try This Winter Dinner - Sarson Saag Pulao, Tomato Sheer With Raita & Pyaz
As winters approach, all of us love to bring out our best winter wear and indulge in all the seasonal and rich foods of the season. One such meal is this sarson saag pulao served alongside some tomato sheer and raita. Dont miss our lovely condiments of pickled onions and papad that complete the meal.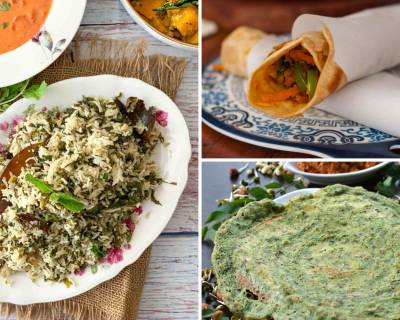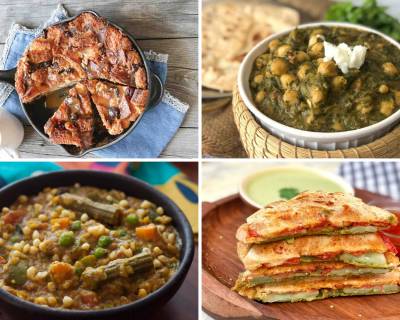 Weekly Meal Plan - Sarson Chole Ka Saag, Bisi Bele Bath And Much More
We are back with our new Weekly Meal Plan which includes some mouthwatering recipes such as Sarson Chole Ka Saag, Ajwain Puri, Bisi Bele Bath, Puffed Rice Upma, Sindhi Tidali Dal, Palak Dhania Ka Dosa, Mushroom Curry, One Pot Tomato Rice, Methi Moong Dal Palak, Broccoli Malai Kofta, Onion Raita, Khamang Kakdi, Coconut Chutney, Sprouted Kollu Sambar, Chow Chow Thoran, Jeera Aloo Sabzi, Cheese Masala Omelette, Hariyali Pav Bhaji and much more.