No Indian kitchen is complete without this one essential that make or break our ''Rasoi'.Our Indian Food is packed with flavours not just with simple onion-tomato base but with our masalas that add punch to the dishes.This quintessential dabba is our go to when putting together each meal - it has an array of spices both whole spices and powdered spices, all arranged in one single dabba, making it easier to reach out to the spices every time we cook.
We are talking about the heart of our Indian kitchen:Our Masala Dabba.
Usually the Masala Dabba is a circular steel dabba, which has about seven katori like inserts to hold the dry spice powders. However to make it a lot more convenient, a lot of us have two dabbas, the second one often holds the whole spices as well.
The masala dabba makes it a lot easier as you can pick and choose your masalas from this dabba instead of opening each and every spice container while your kadai is on the flame. So we have collated the list of must have spices and condiments in every indian kitchen, so if you are setting up a new home, then this Masala dabba will be your go to hand dabba when you are cooking.
Basic Powders
---
1.Salt/ Namak/ Uppu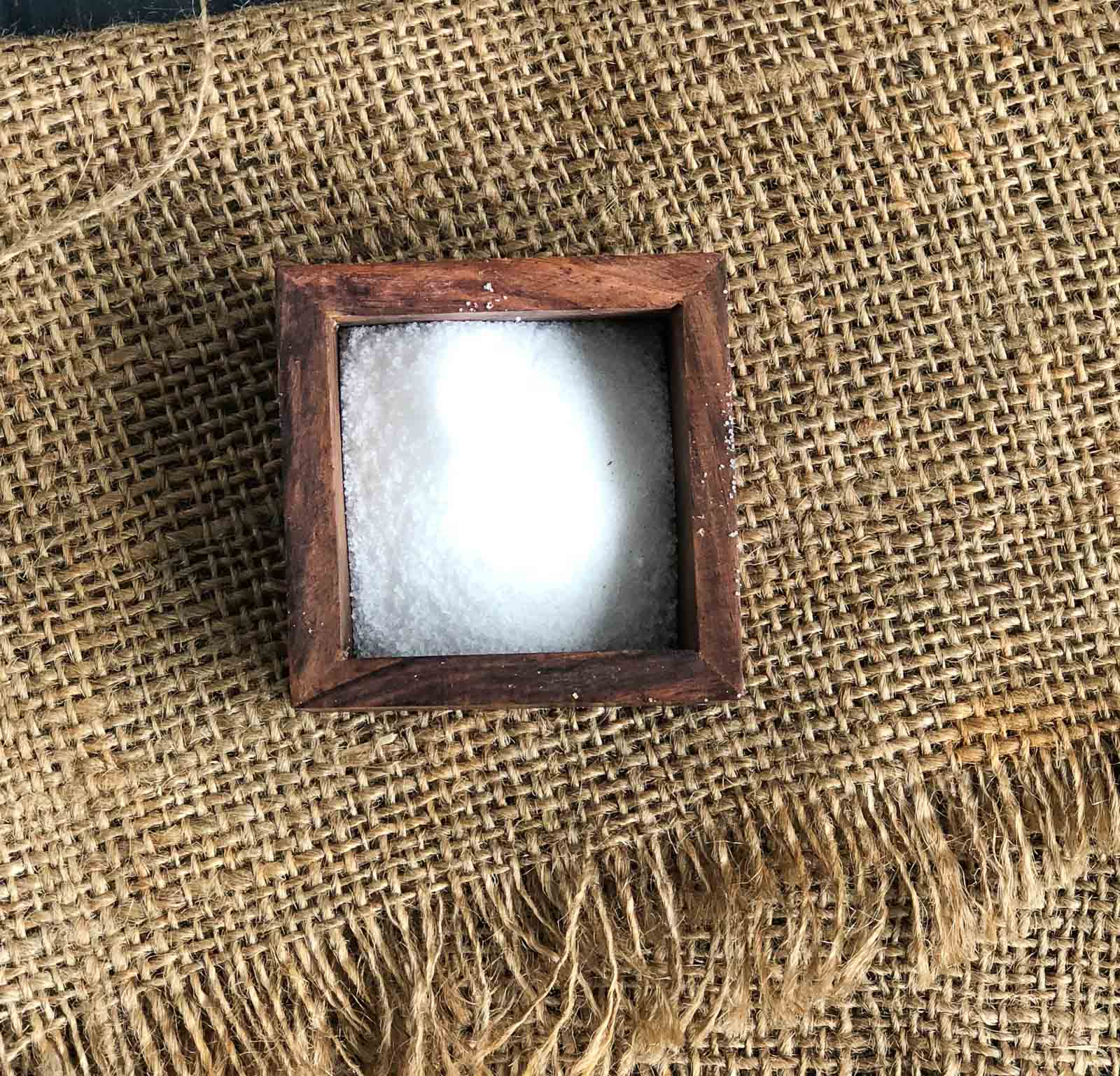 Namak - swaad anusaar or salt according to your taste, the sole ingredients that brings out the flavours of all the other spices you put in any dish.
2. Turmeric Powder/ Haldi / Manjal Podi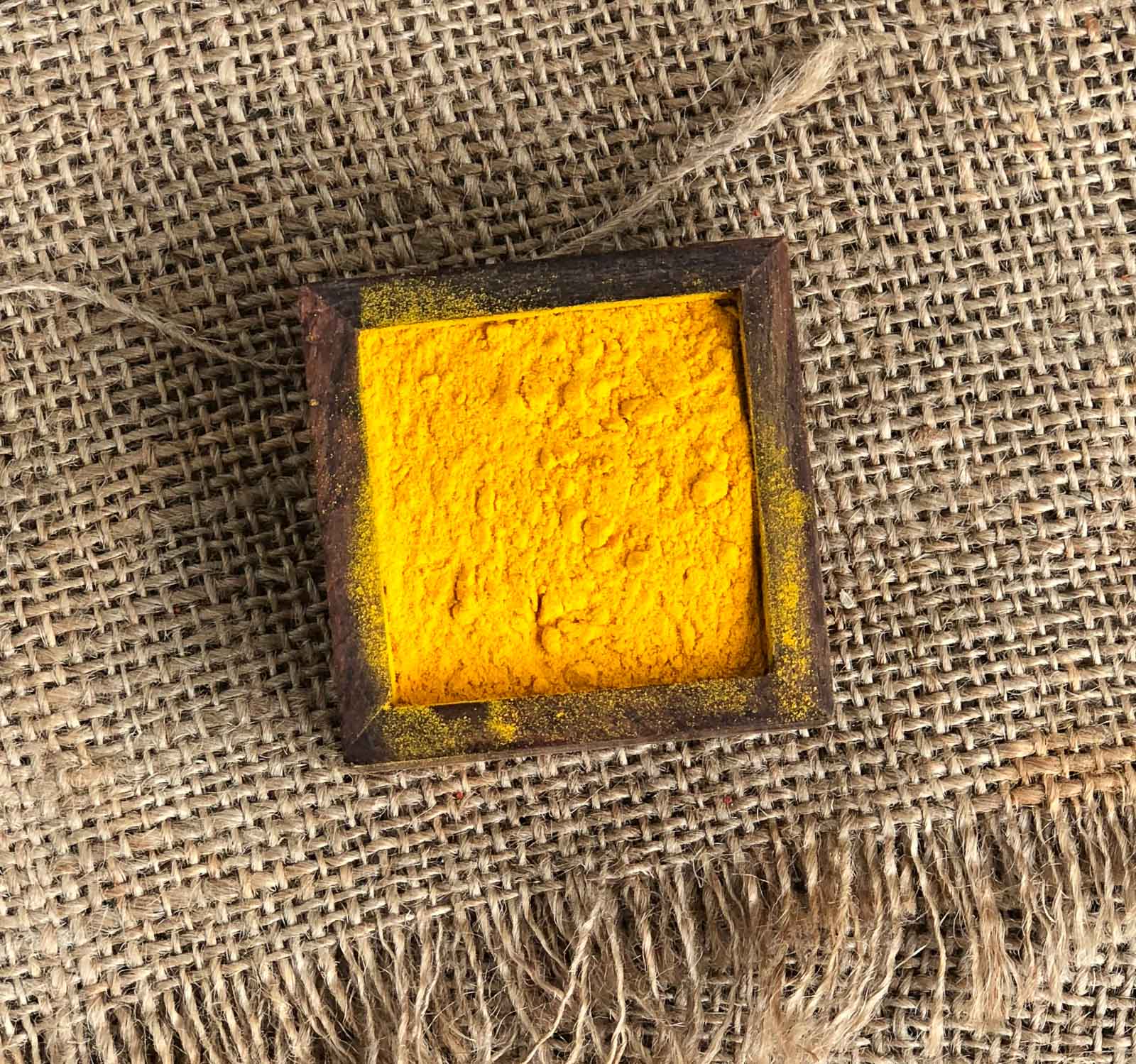 Turmeric is from the ginger family - the spice is known for its anti-inflammatory properties, and is responsible for the earthy flavor and will add a bright yellow color to any dish. Turmeric, one of the most popular Indian spices, has a long history of medicinal use dating back thousands of years. It has has a warm, peppery, bitter flavor. The flavor of fresh turmeric is slightly stronger than dried, and it stains very easily, so make sure you are careful with your clothes and utensils while using it.
3. Coriander Powder / Dhania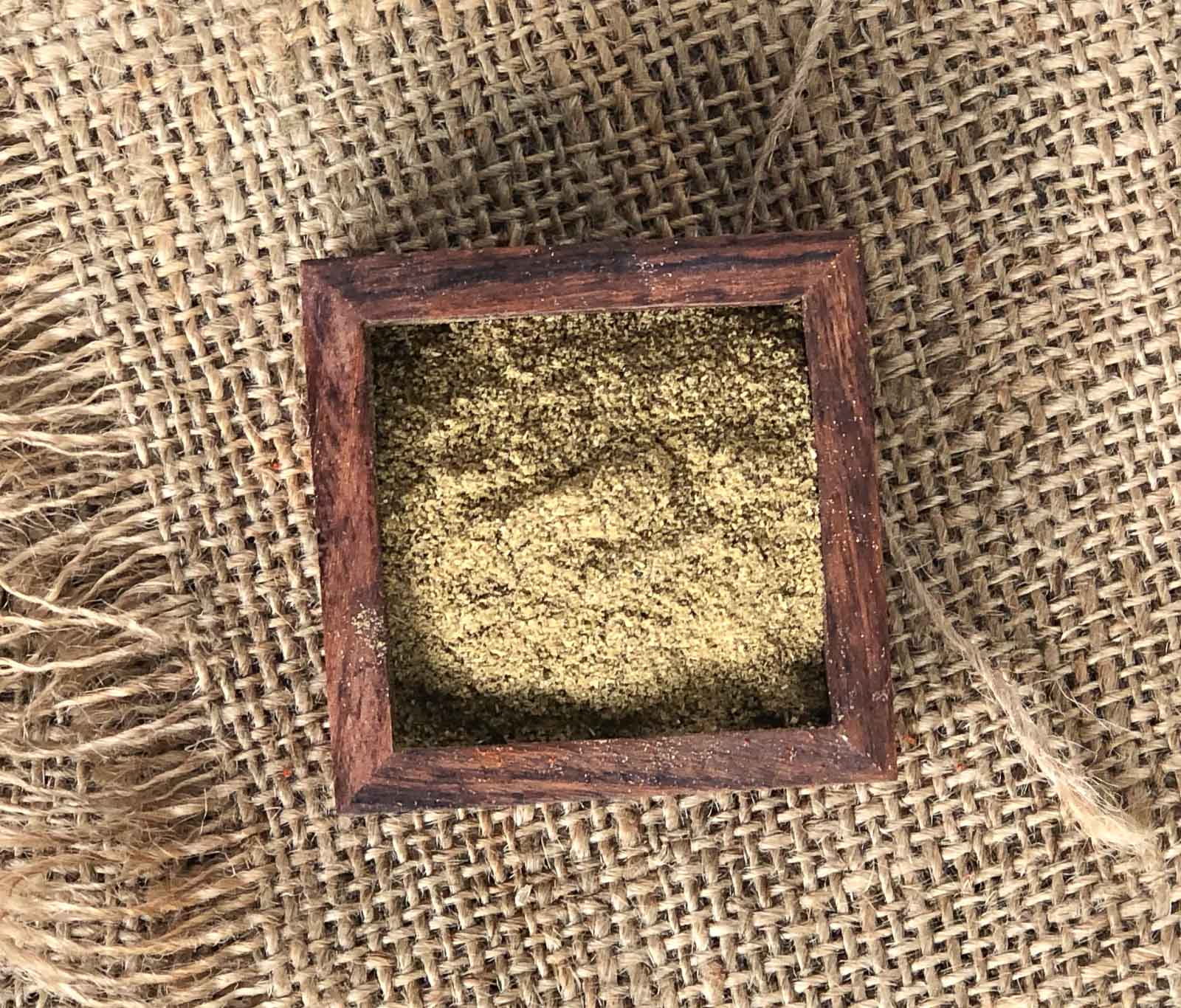 Very few dishes can be made without the touch of coriander powder. It has a pleasing aroma and lovely savour. It adds a tart and fruity flavor to recipes. Coriander powder has great health benefits, where it is usually consumed with water as it alleviates gas and aids digestion.
4. Cumin Powder/ Jeera Powder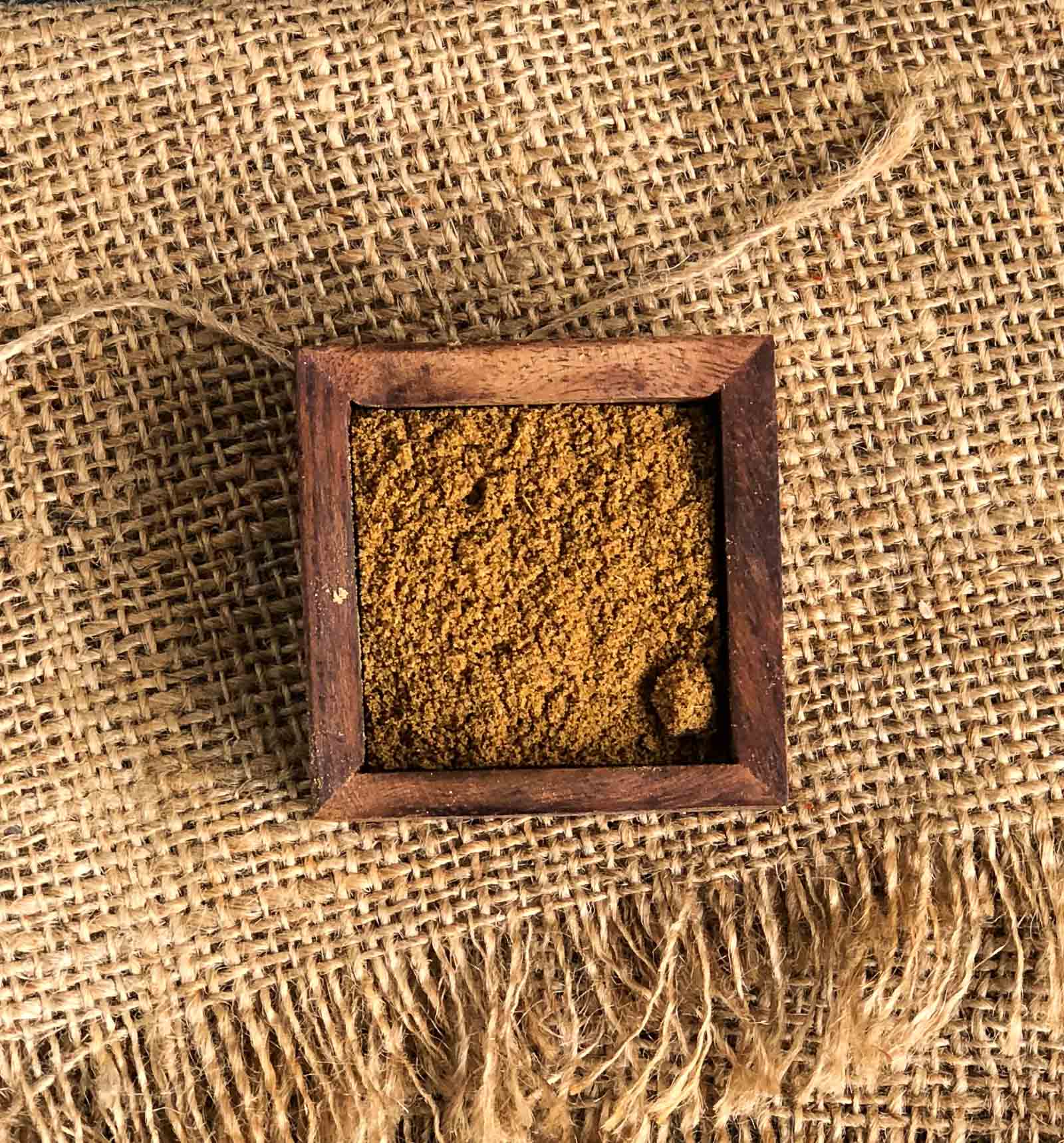 The cumin seeds are dry roasted and pounded to a fine powder. The process of roasting the cumin seeds give out a lovely aroma, when the jeera powder is added to the dish it adds great flavour and aroma to the dish.
5. Amchur/ Dry Mango Powder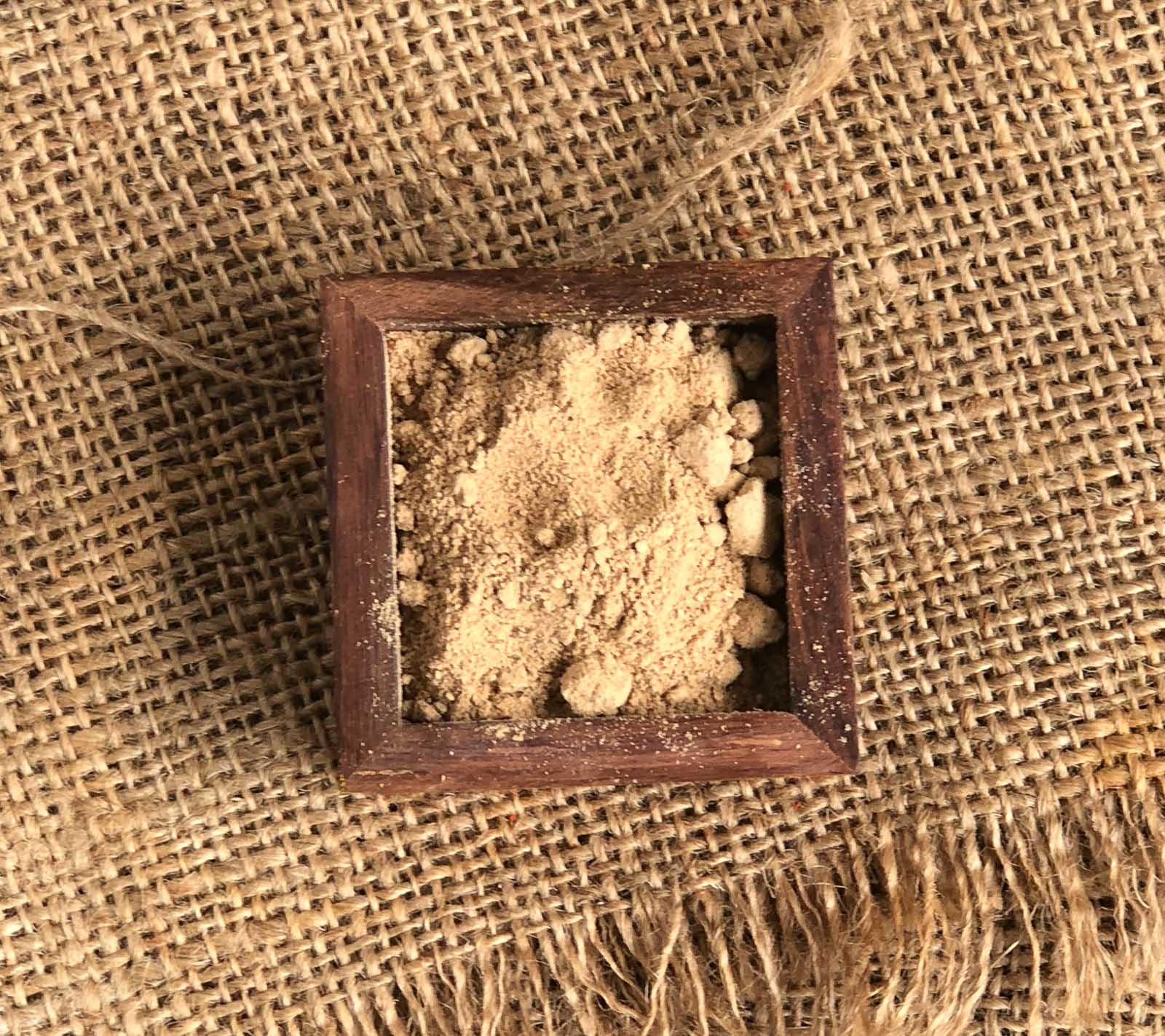 Raw mangoes are sun dried during the summer season, and is most commonly used in making chutneys, pickle and added to Indian stir fries like tawa vegetables or any dish with uses no tart ingredients like tomatoes or lemon.
6. Lal Mirch/ Red Chilli Powder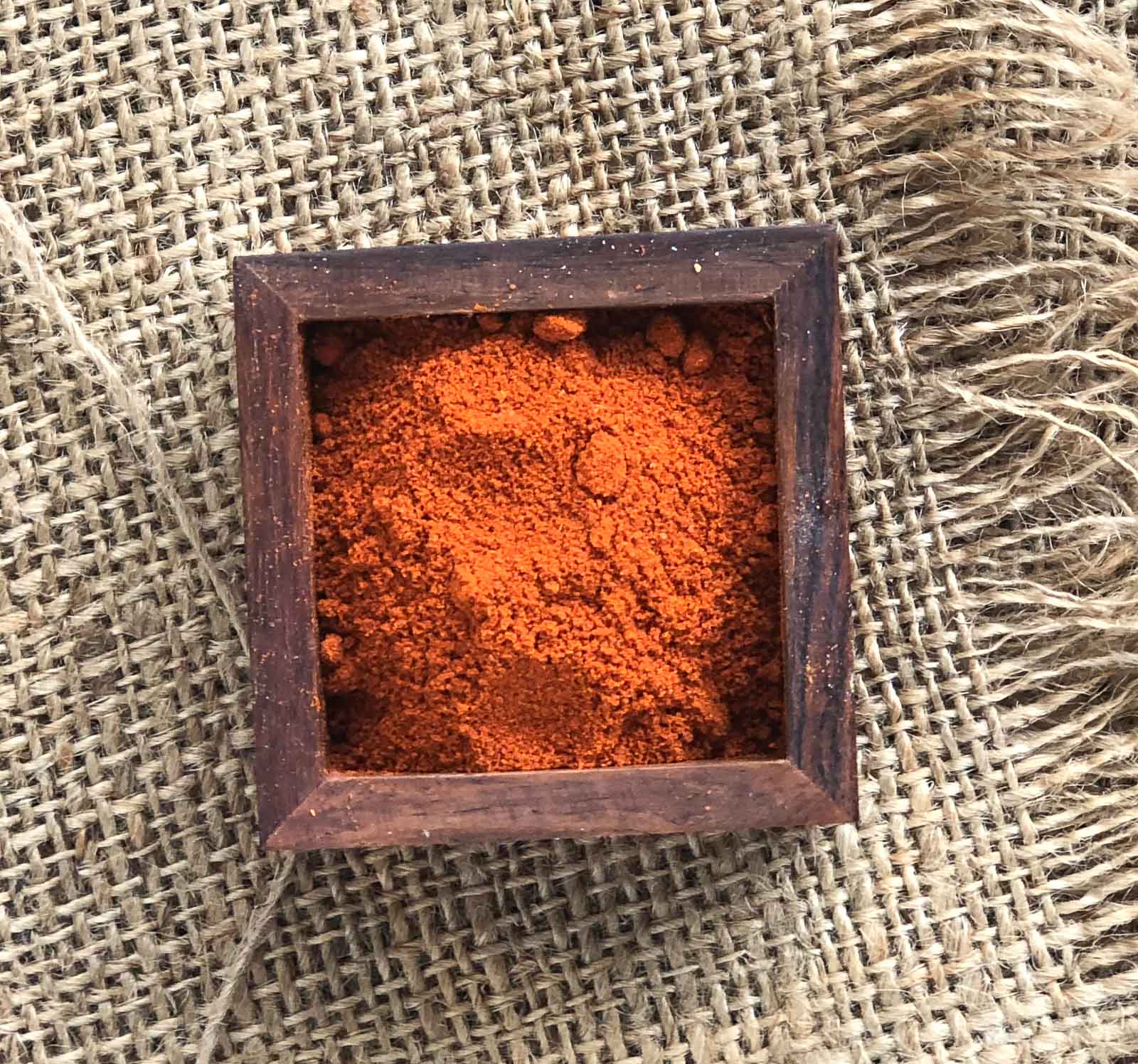 Dry red chillies are sun dried and powdered, varying from a choice of extremely spicy and low colour, to medium spicy & decent colour and to a rich red colour. Added to the dish depending on the level of heat preferred by the family.
7. Asafotida/ Hing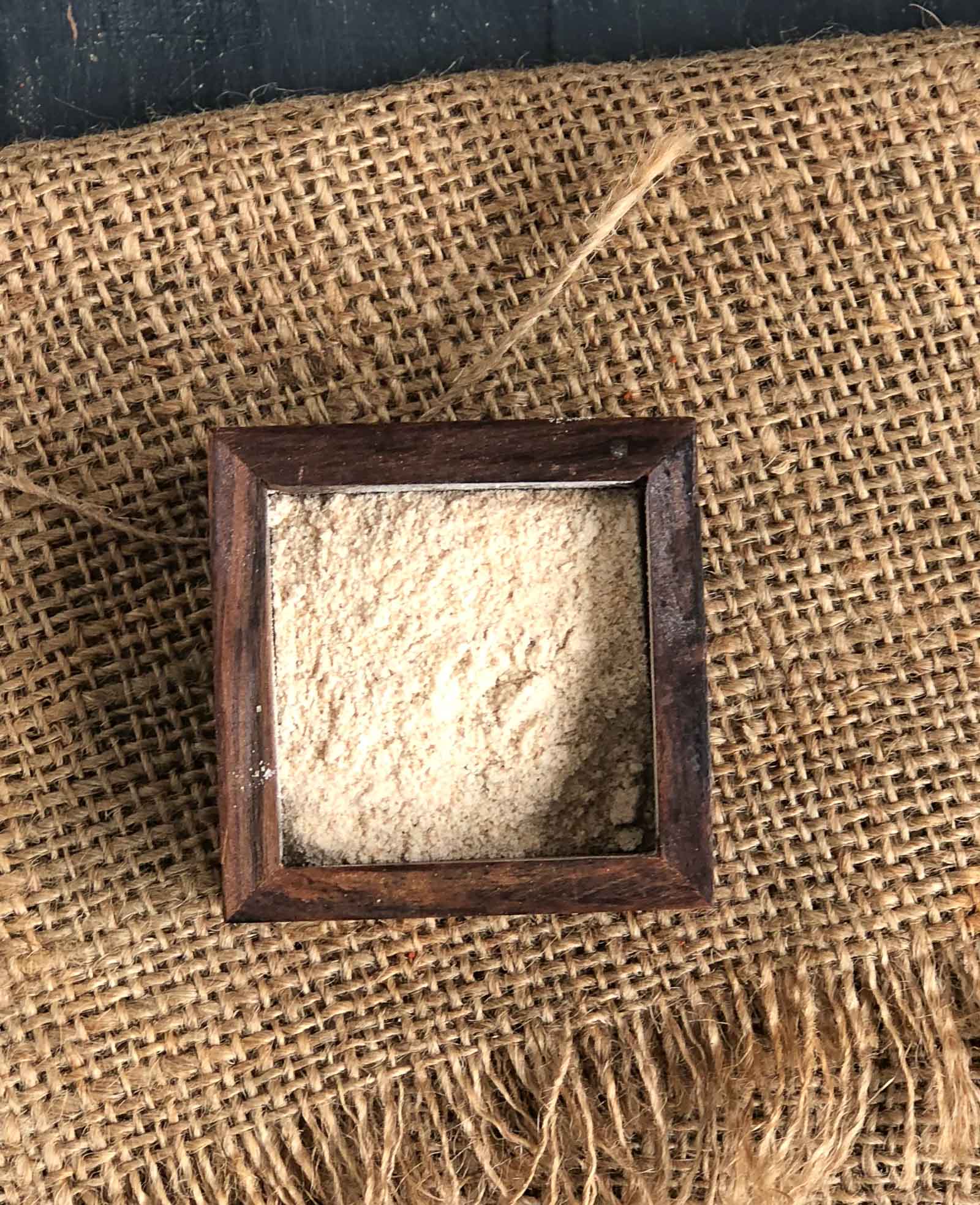 Asafoetida or hing has a unique and distinct flavour that is unusually strong. Used in South Indian cuisine, Maharashtrian and Gujarati cuisine. Hing is not often used in tadkas. It has great medicinal benefits like that of improving digestion, relieves bloating and acidity. Available in powder form and even in clusters, hing is a natural extract from a herb called Ferula.
Speciality Powders
---
How garam masala is a basic spice mix to all the north Indian households, Sambar powder is to the South. Sambar is widely prepared in the south and what lifts up the flavour of the curry is the freshly ground Sambar mix. It is a good combination of roasted dals and blended well with coriander seeds, fenugreek and dry red chillies. This powders can be used in various dishes like curries, sadam and palya.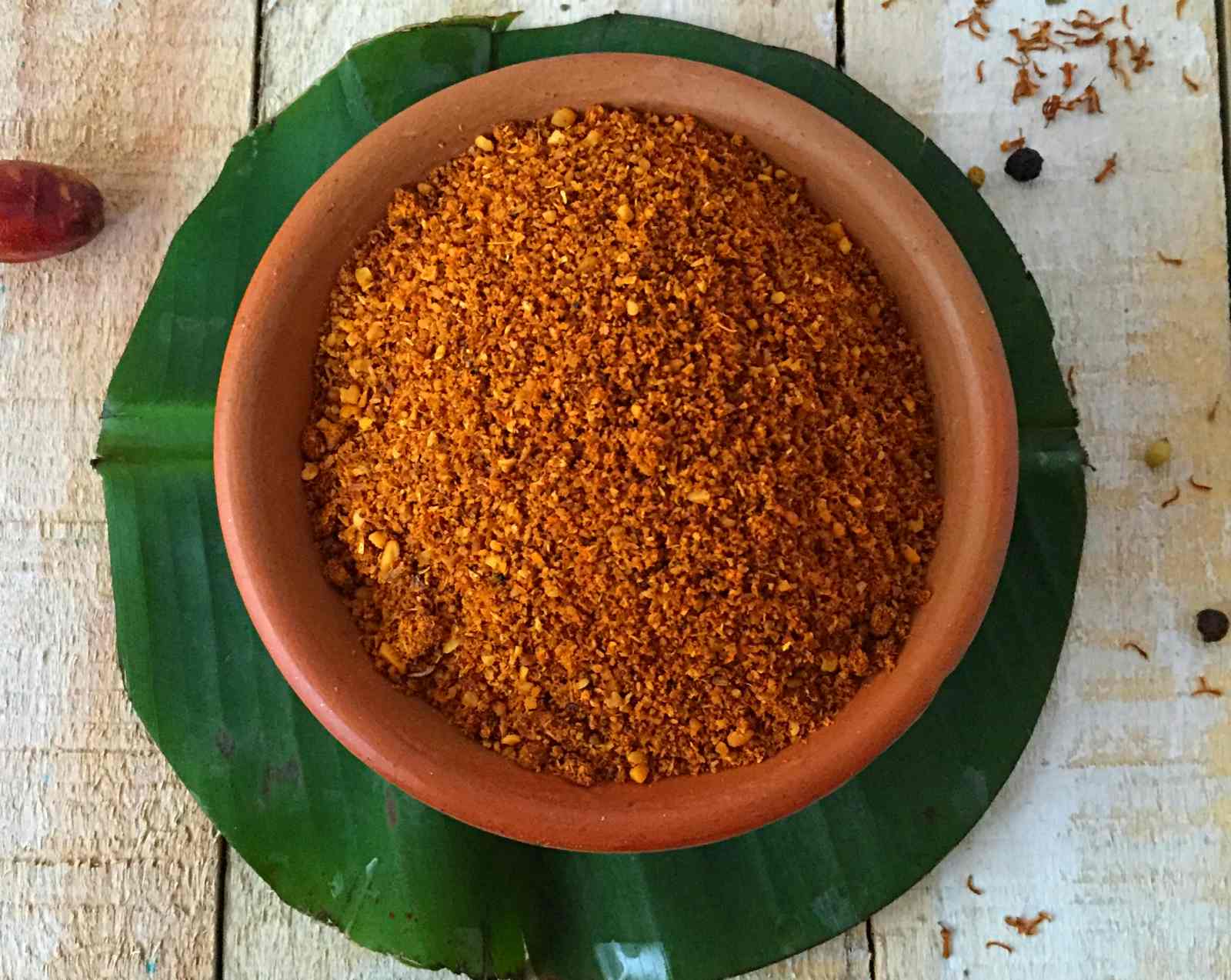 The Rasam Powder is a classic and traditional recipe of the powder that is used in south indian homes. 'Rasam' or Charu/ Saaru is a flavourful South Indian Soup made from the juice of tamarind, tomatoes along with or without the Lentil broth. It can be sipped and enjoyed like a soup or mixed with rice. It is a great appetiser and has medicinal properties too.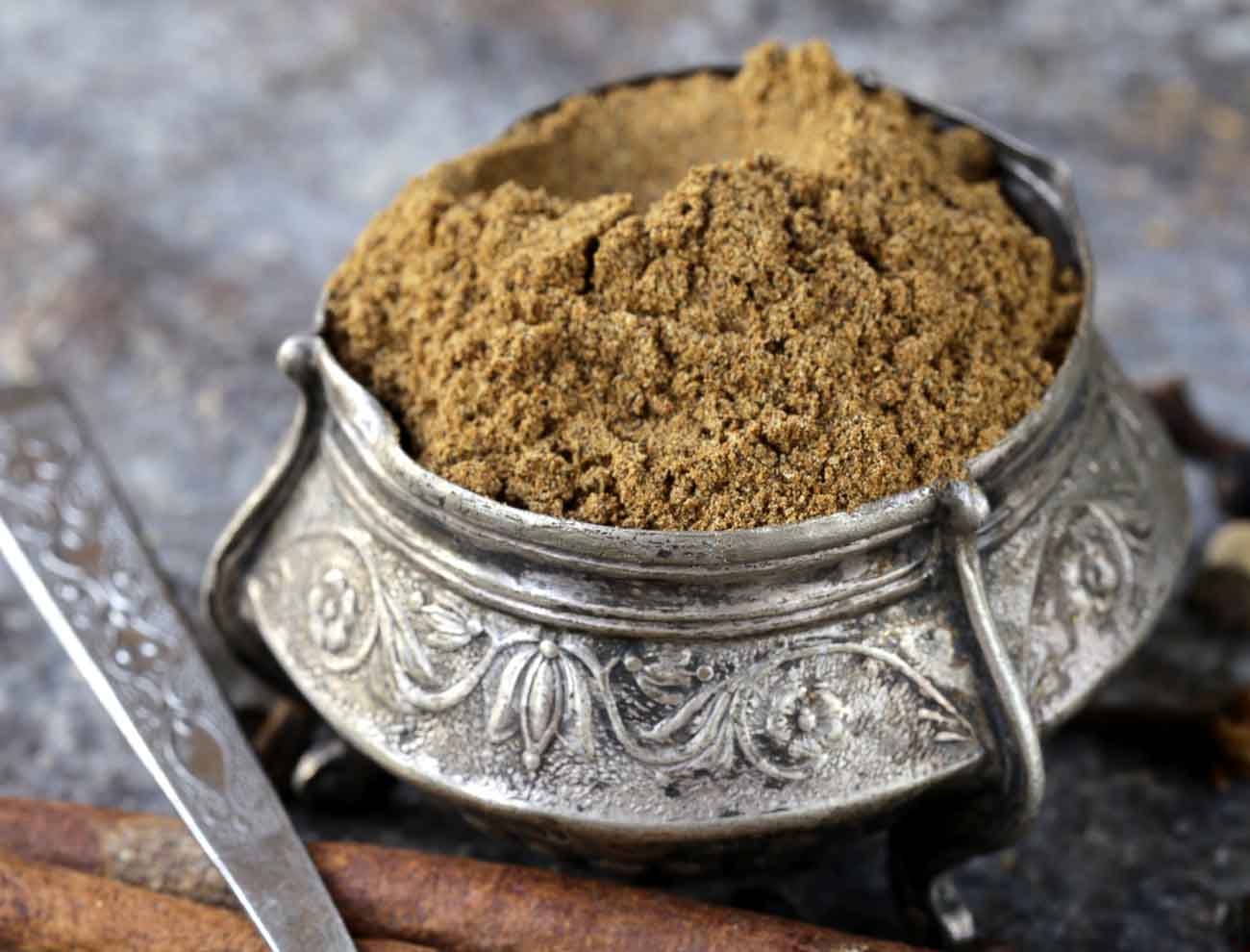 This powder is a blend of all the whole masalas, which is a large assortment of spices and seeds- bay leaves, cumin seeds, cardamom, cinnamon, cloves to name a few. So robust and versatile this garam masala powder, , that it can be used to flavour anything, rice preparations to gravies and some snacks too.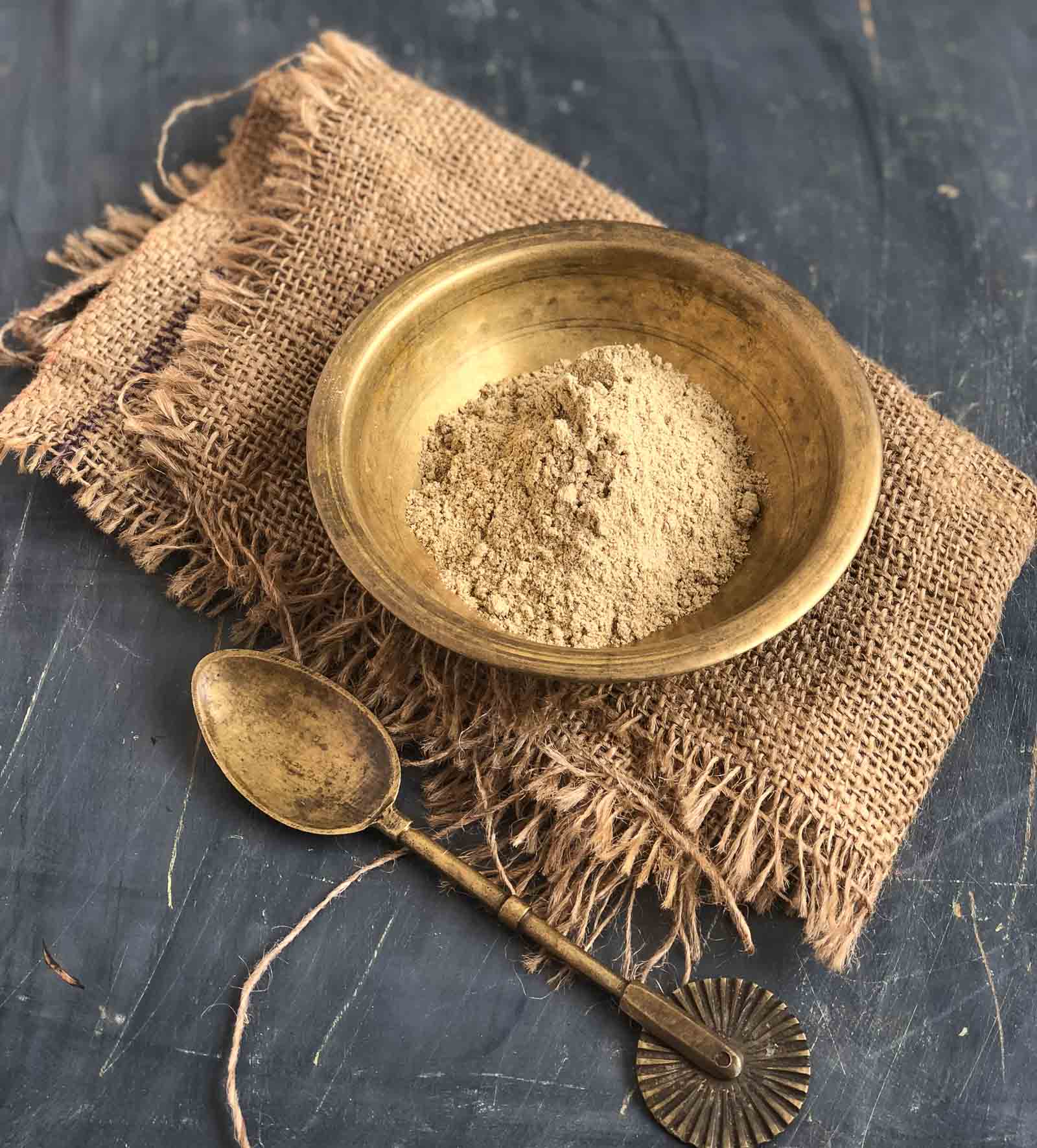 Chaat masala as the name suggests, is not only used used in chaat recipes, but also in other recipes like that of raitas and some appetizers as well. This chatpata, namkeen masala when used in any dish enhances the flavour. It can also be used as a sprinkle on salads and in Indian drinks like Shikanji.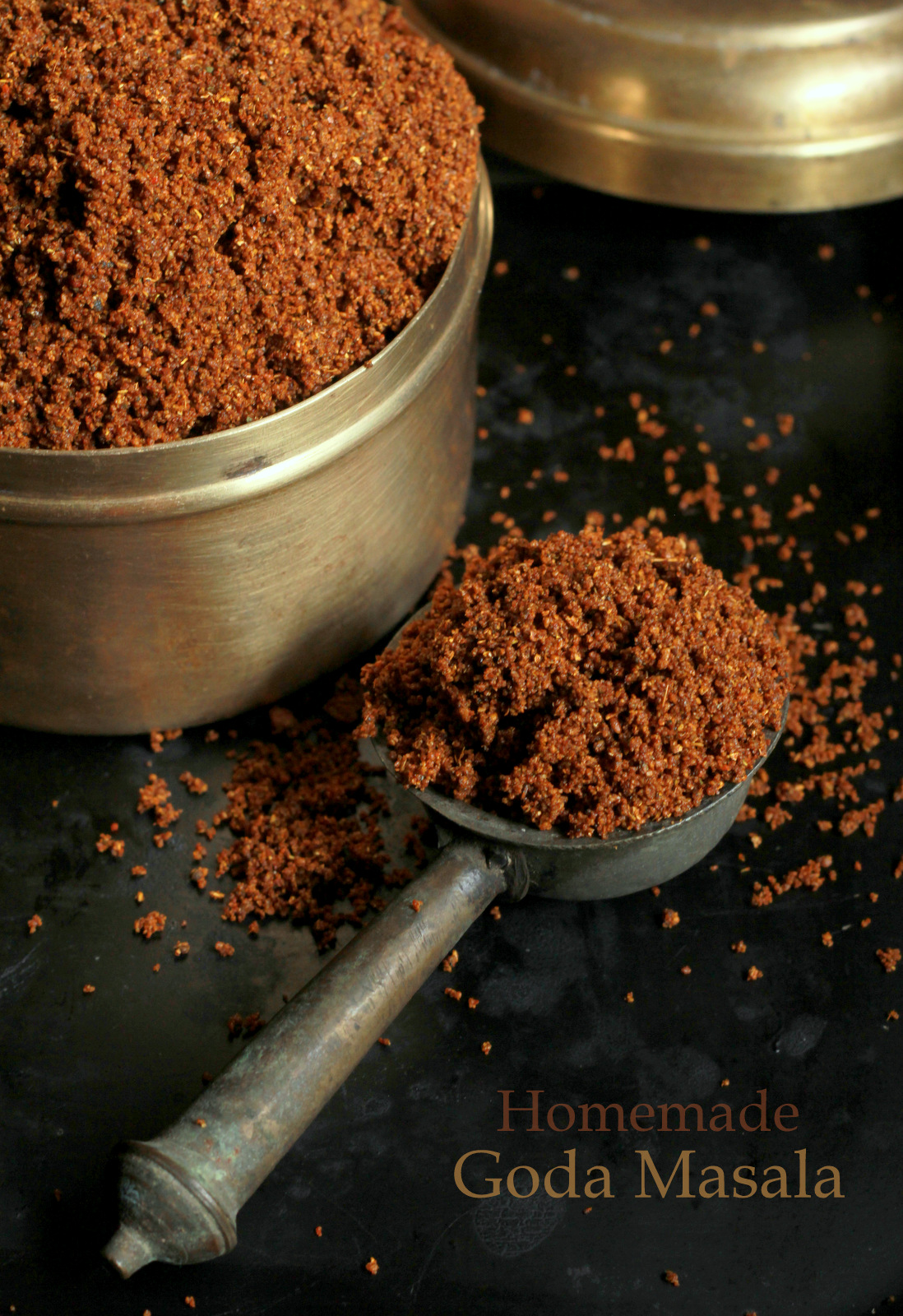 The taste of the masala is quite sweet and subtle thus the name "Goda" which refers to "Goad" meaning sweet in Marathi. The masala can be used in various curries, dry sabzi, dals etc. One of the main ingredients that stands out in flavour from others is the stone flower or in other words called as "Dagat fool" is very important as it creates distinct flavour.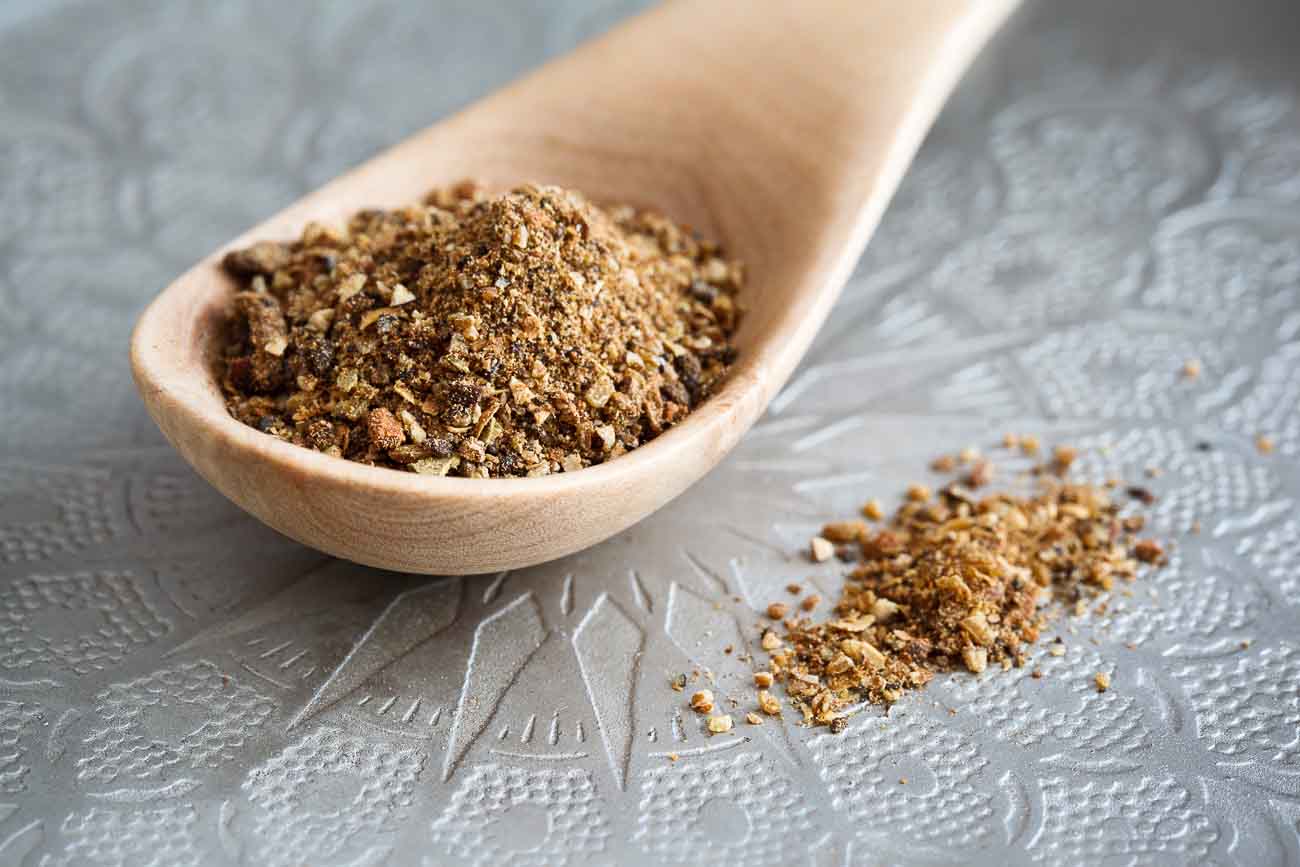 A special spice mix from the Bengali cuisine that uses 5 distinctively used whole spice in India. Such as cumin seeds, mustard seeds, fennel seeds, nigella seeds and fenugreek seeds all blended together. The can be simply tossed with vegetables to create a dry sabzi or used in curries to create a nice flavour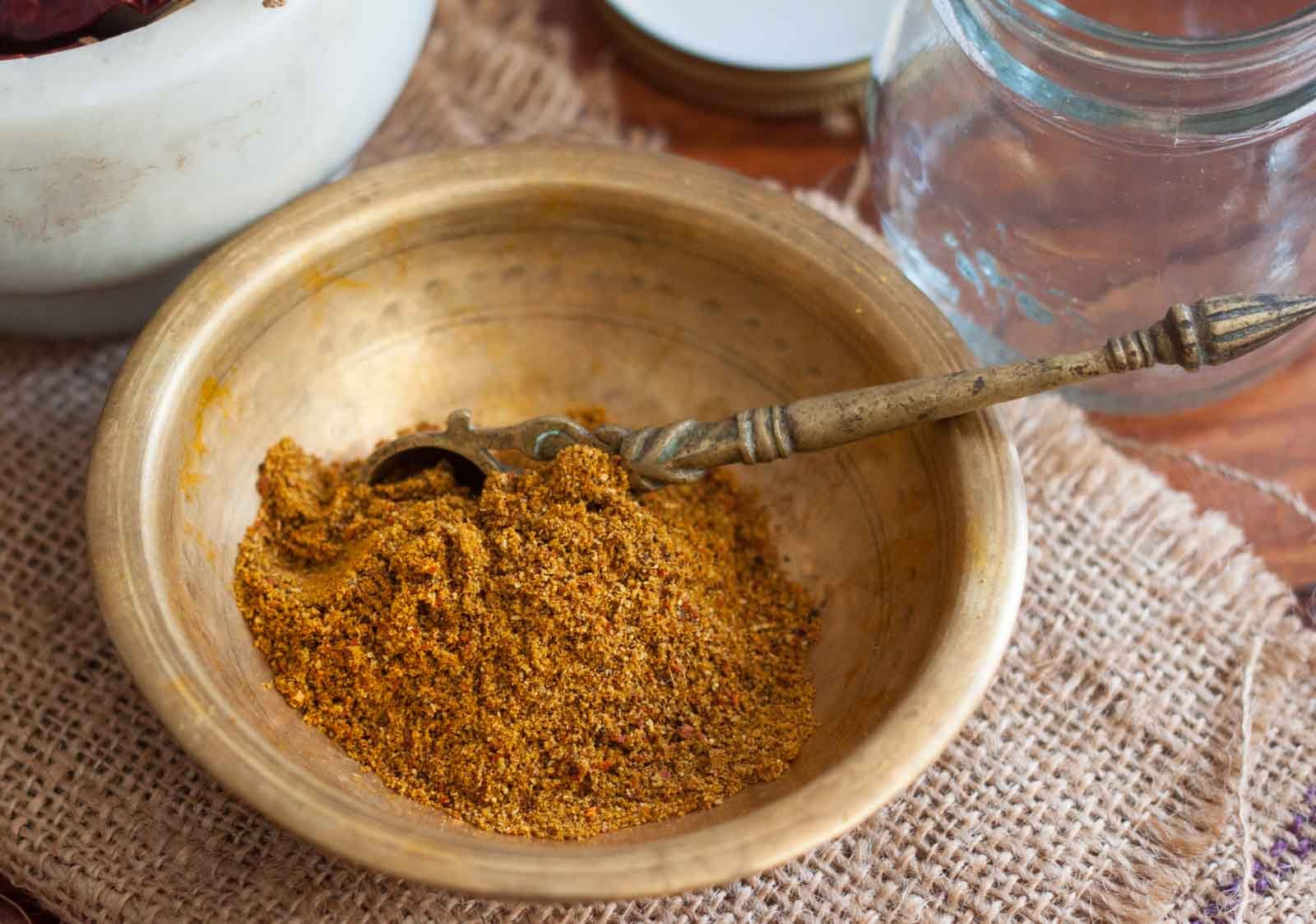 Most popular spice powder used mainly from the Malvan region of Maharashtra which falls on the west coast. Being situated on the coastal borders the malvani cuisine is influenced by two more other cuisine such as the Konkan and Goan. This spice mix is used just like the Garam masala spice powder just few addition of spice like star anise, stone flower and poppy seeds.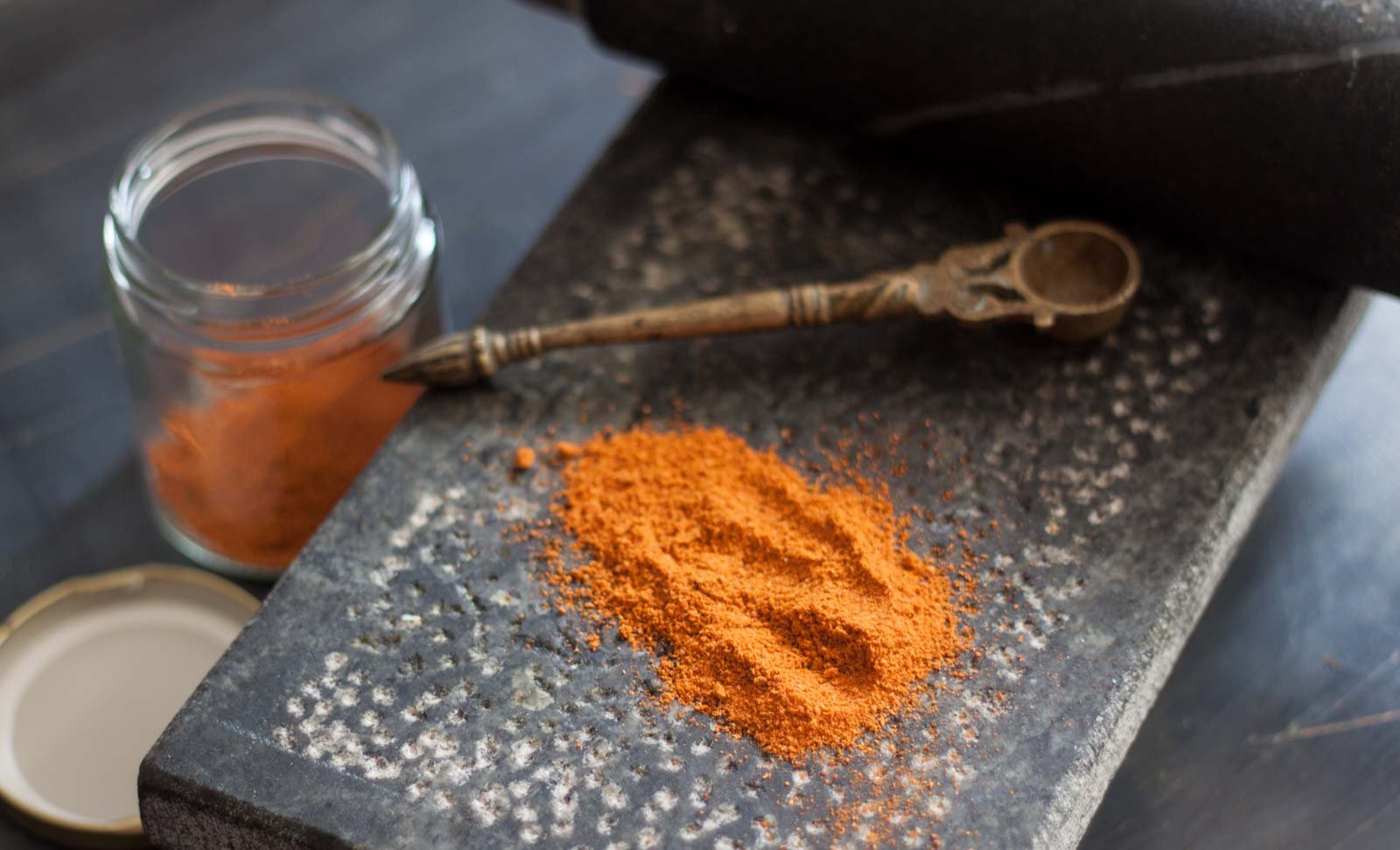 One of the spice mix which has 18 odd spice that are roasted and blend to form a spice mix which has a strong and sharp flavor. Koli's are basically the community of fishermen folks who live in the western coast region of India. This spice mix is made in order to add some flavour and body to their sparse fish that they eat every day or even into their vegetable curries.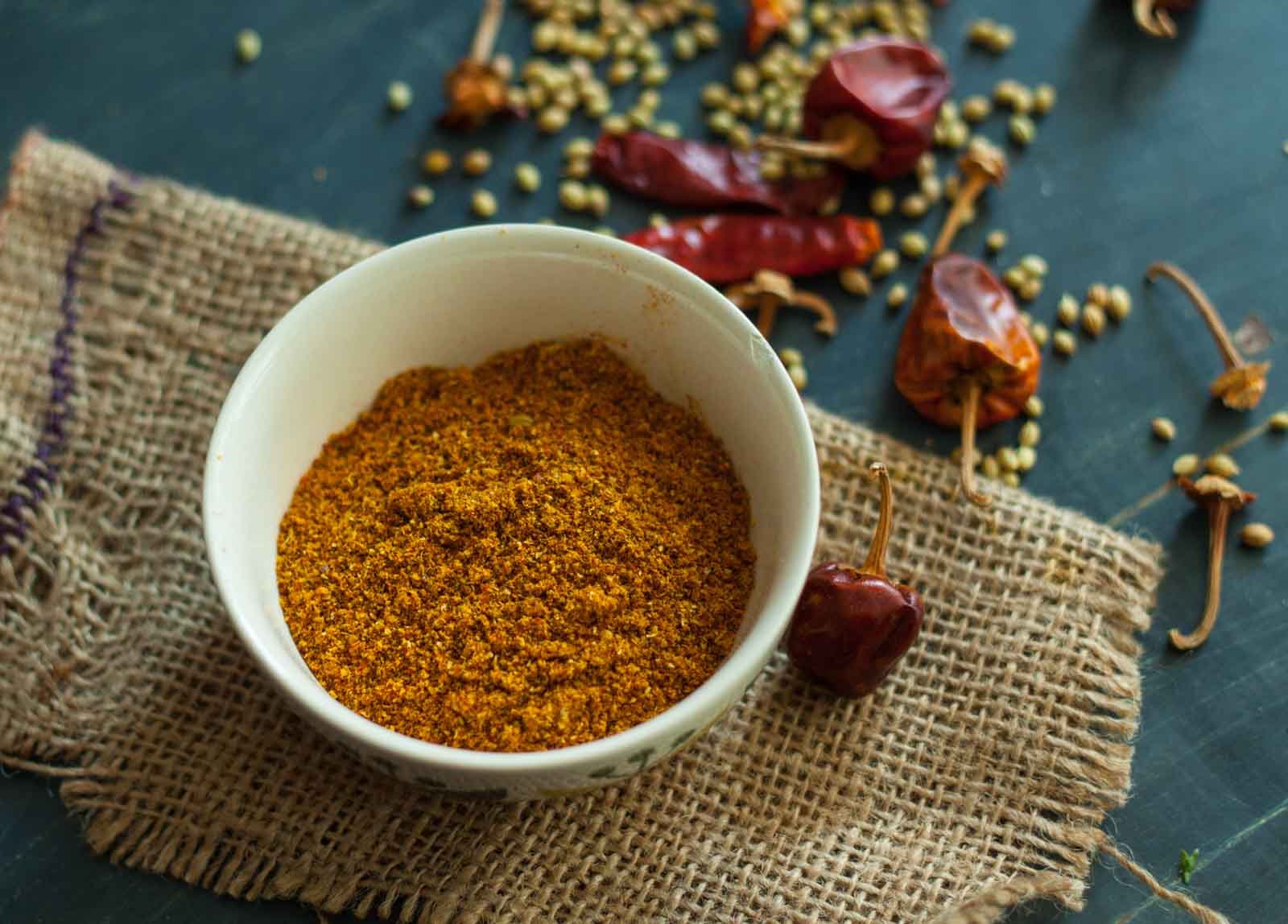 A very famous among the catholic community in the Mangalorean cuisine. It is a blend of 6 spice mix to create an authentic spice mix powder that is used generously by the Catholics to prepare the most famous dish called the "Dukramas" which is a Pork dish.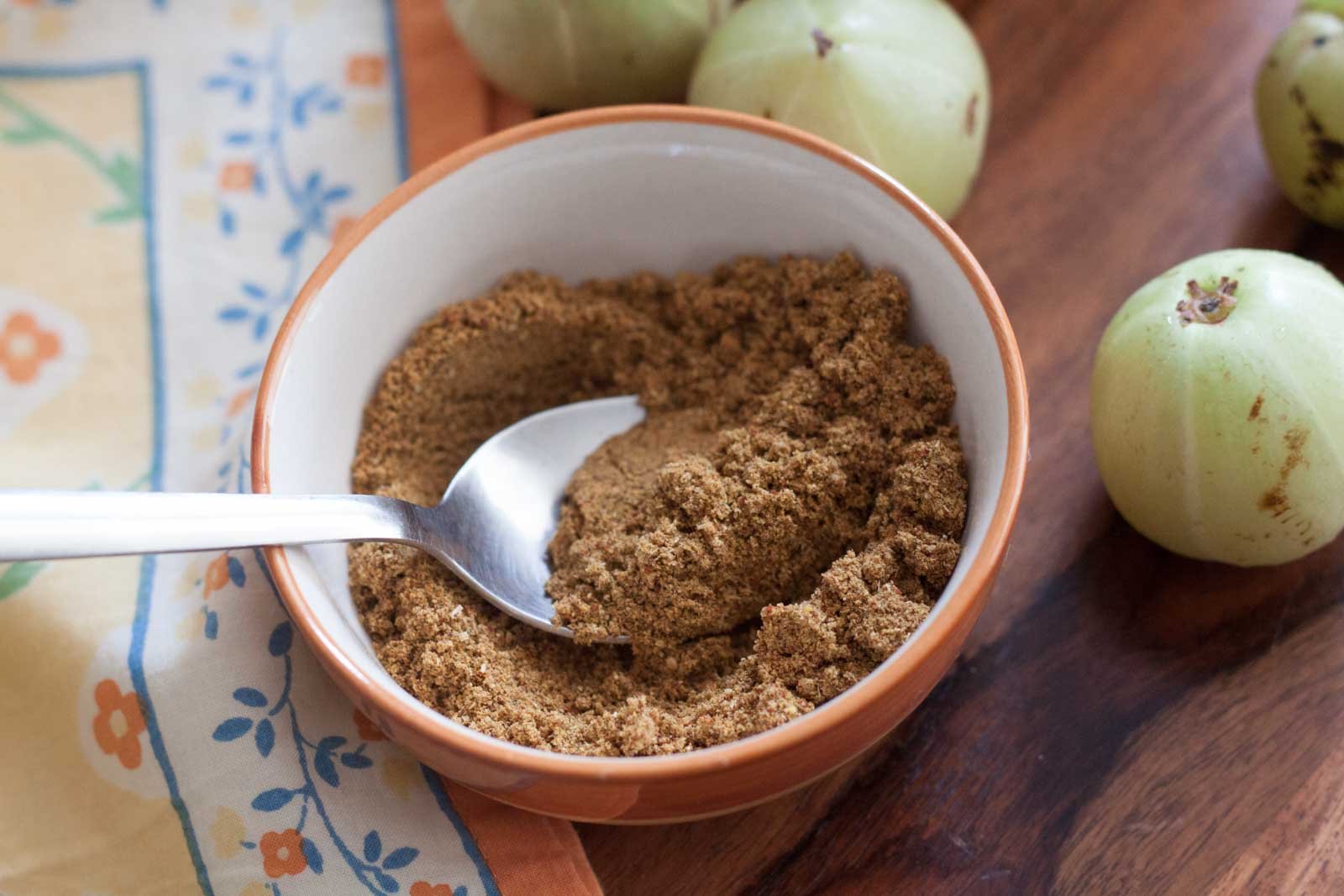 Pickling is one of the oldest method that is being followed in India, the flavours used for pickling are quite strong and pungent. Achari Masala powder has a perfect blend of spices like fenugreek seeds, fennel seeds, cumin seeds, mustard seeds, coriander seeds, onion seeds and dry red chilli.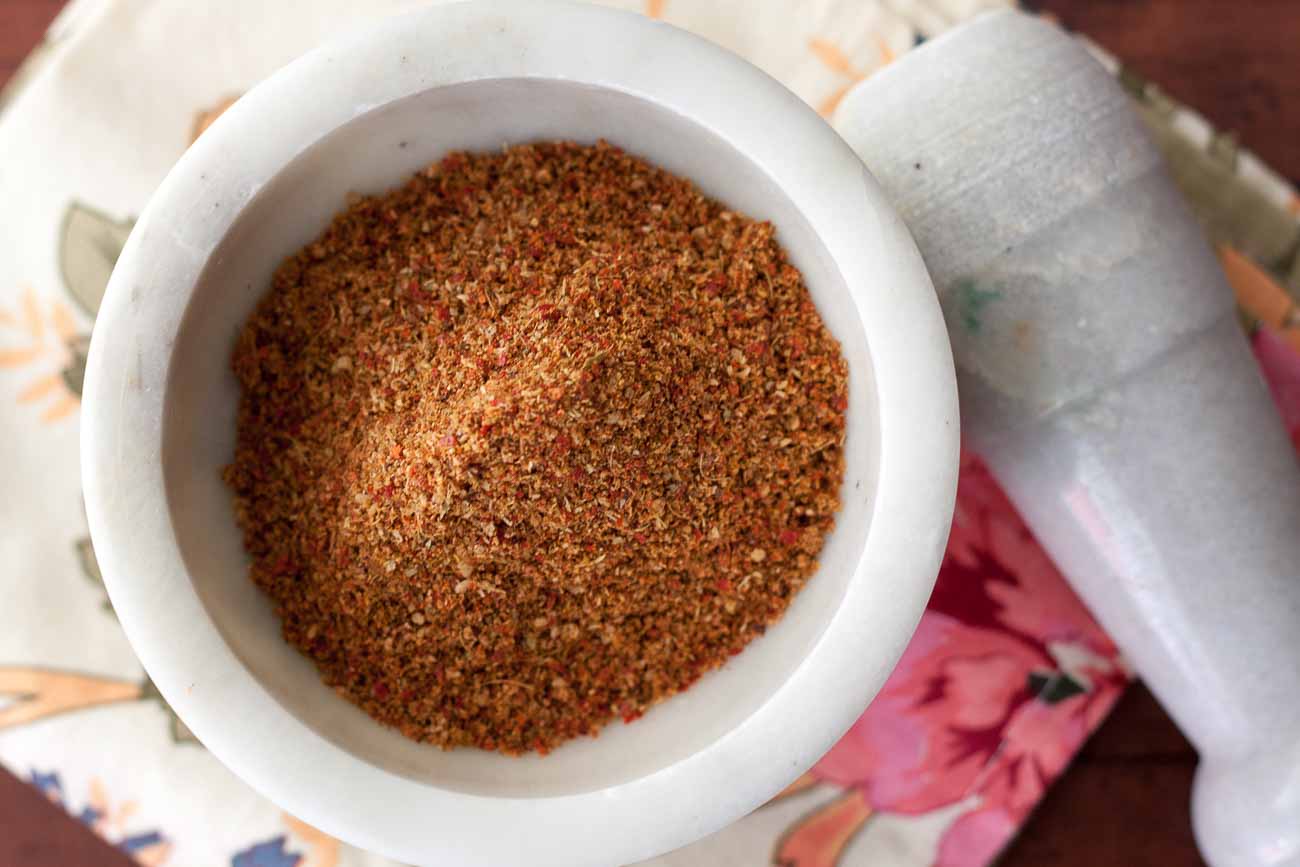 A special spice powder mix famous among the Parsi Cuisine. It is a blend of naturally grown spices that are available in India. The aromatic Indian spices are ground directly in a blender in order to keep the fresh smell intact and the ground spice can be used for various authentic dishes made in Parsi cuisine.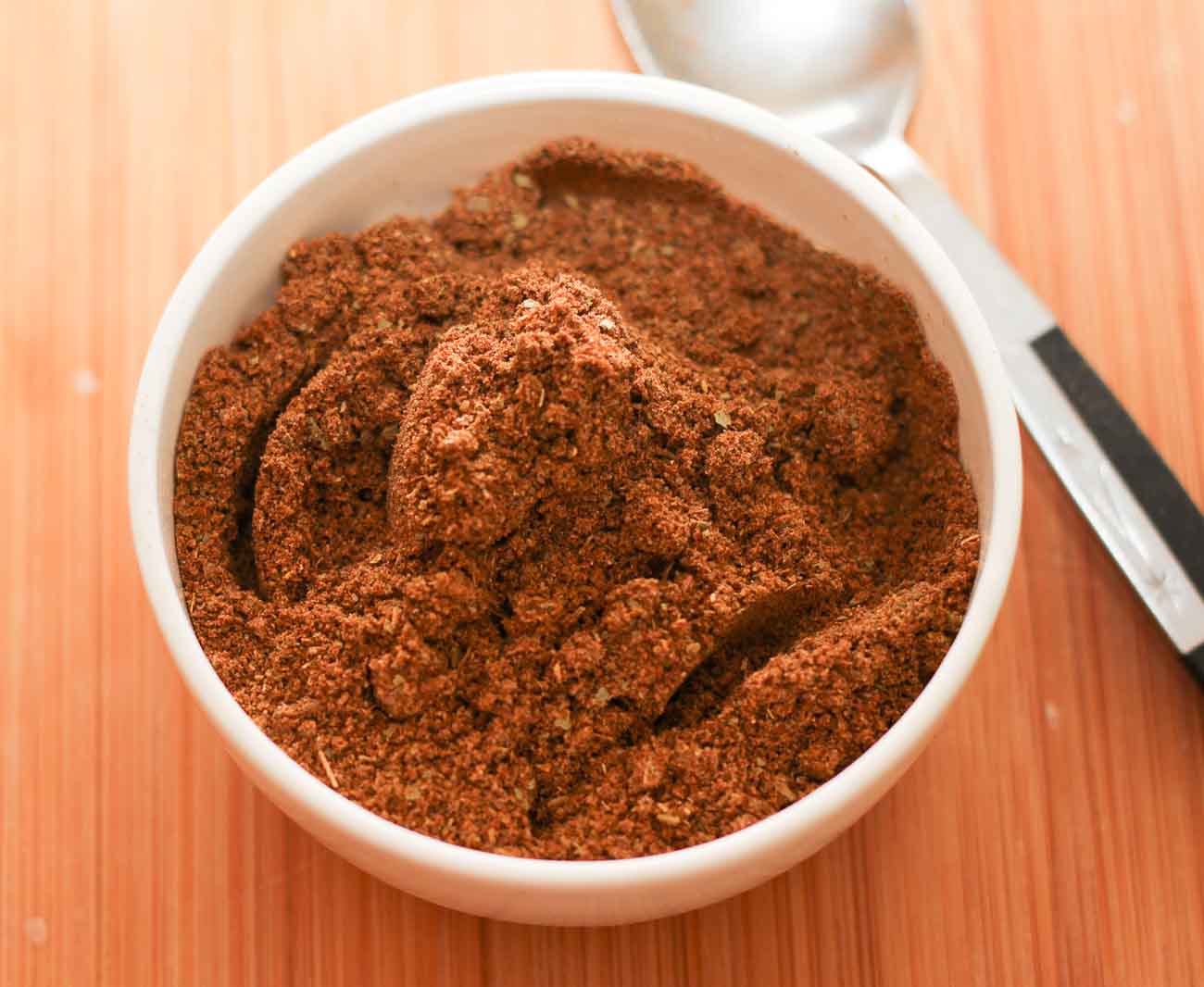 Muri masala is traditionally used in Jhaal muri which is famous street food using some puffed rice. It has rock salt, dry mango powder white pepper and red chili powder which makes it hot and sour. It is similar to a Chat Masala but is much spicier. Sprinkle some and give a different taste to the regular bhel, pakoras, papads or try other varieties like Bengali aloo kachori using this.
Whole Spices
---
20. Green Cardamom/ Choti Elaichi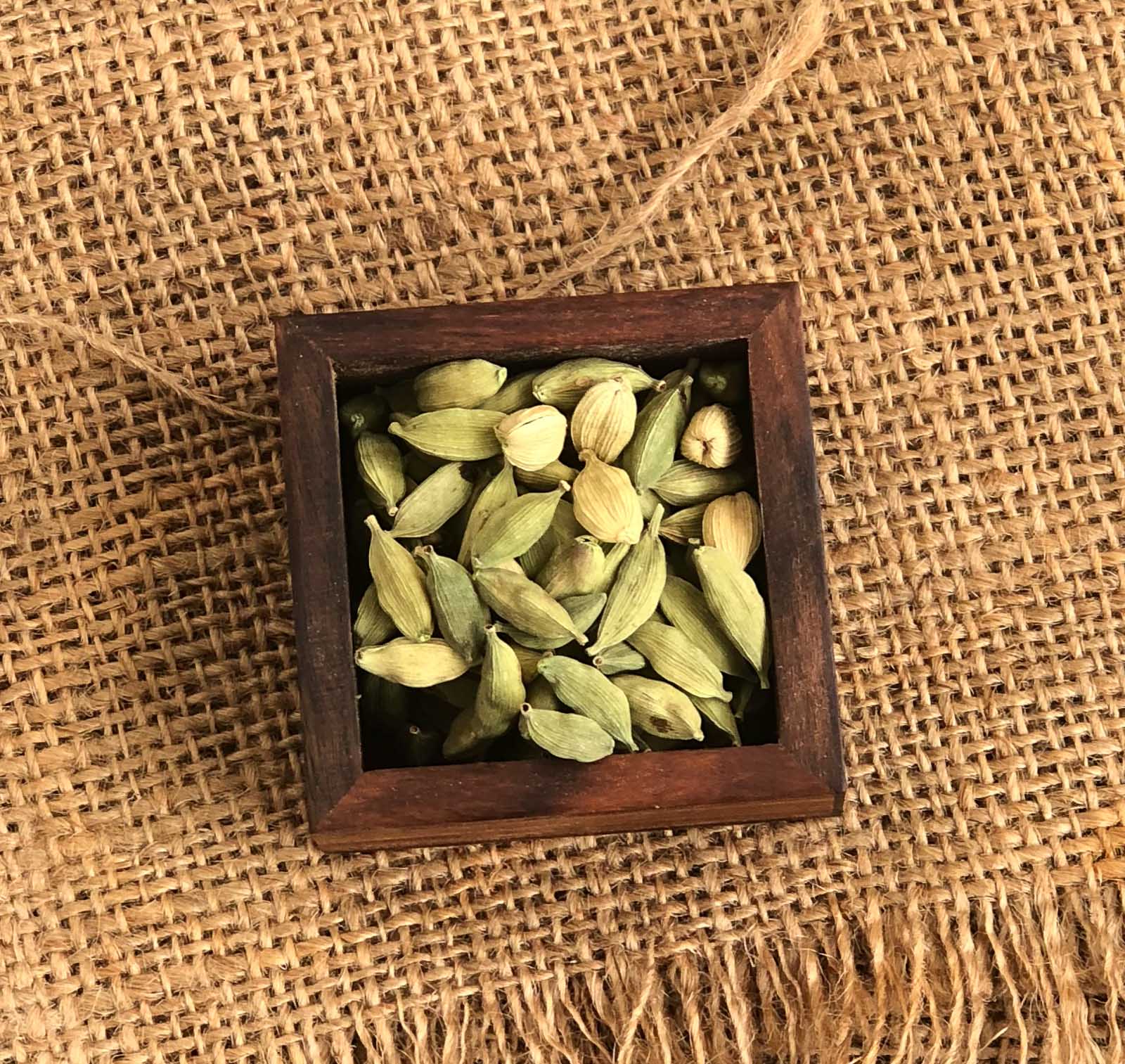 A versatile ingredient, it has a green outer covering and when the you open the pod, you will find black seeds, that give out it's main flavour. It can be used whole or the pod can be opened out the out cover of the pod can be discarded and the seeds alone can be used.
It is used both in sweet and savoury cooking, from rich North Indian gravies to mithais and kheers. It is an essential ingredient in Awadhi and Lucknowi cuisine and not to forget an integral part of the Kashmiri Cuisine as well.
Up North of India you will find people using this spice while making teas to make an Elaichi wali chai and it is also used in chai masala.
21. Black Cardamom/ Badi Elaichi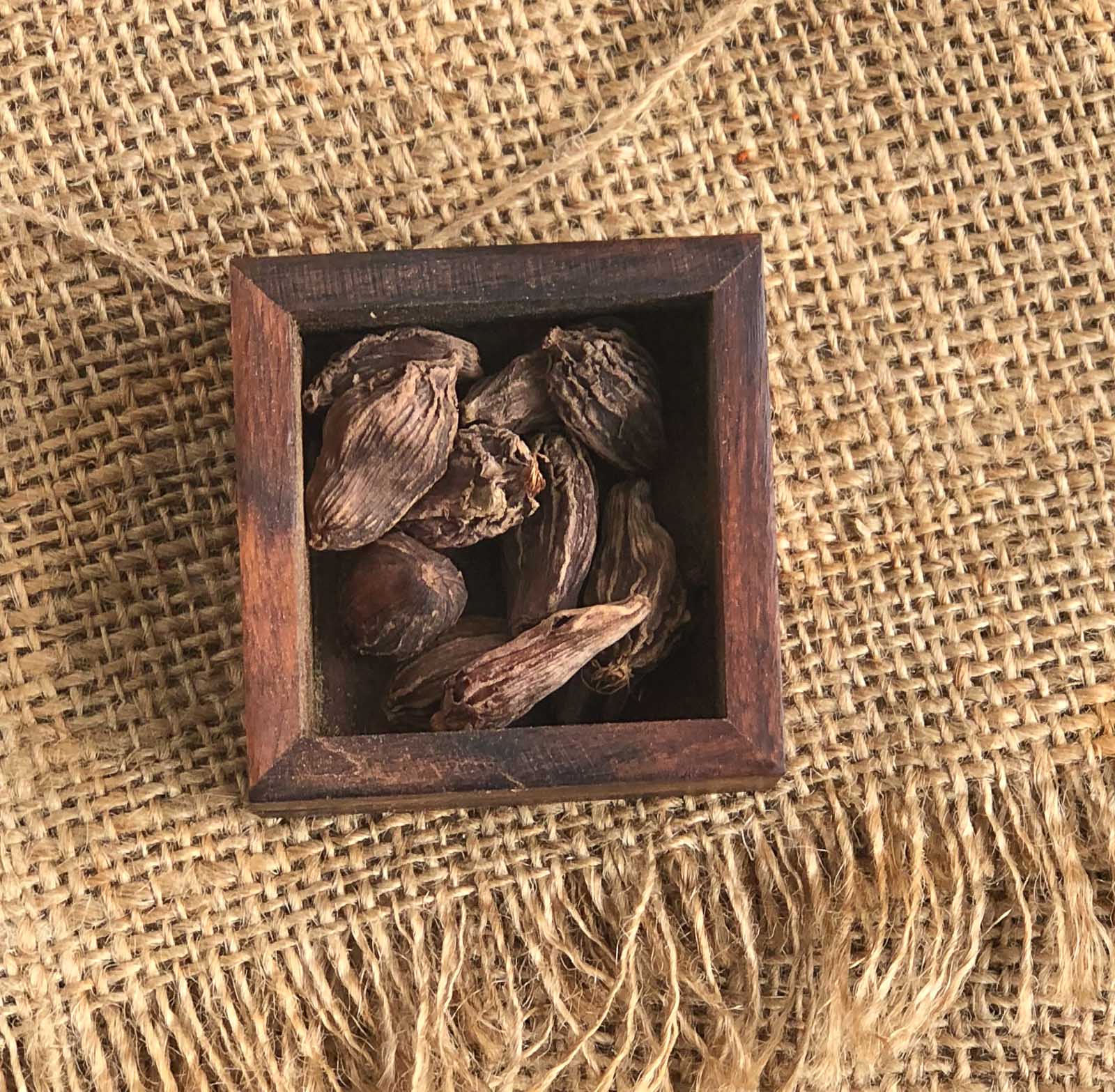 A warm woody aromatic, compared to the green cardamom this is double its size and a dark brown almost black in color. It lends a smoky flavour to the dish, that is used in the authentic Maa ki dal which is commonly known as Dal Makhani or Black dal.
It is used across the continent in recipes like dum biryanis and awadhi dishes. It forms an integral part of spices mixes like the konkani koli masala and the parsi dhansak masala.

This Black Cardamom is a great digestive and helps with respiratory problems. Black cardamom has very good anti-inflammatory properties.
22. Phool Chakri/ Star Anise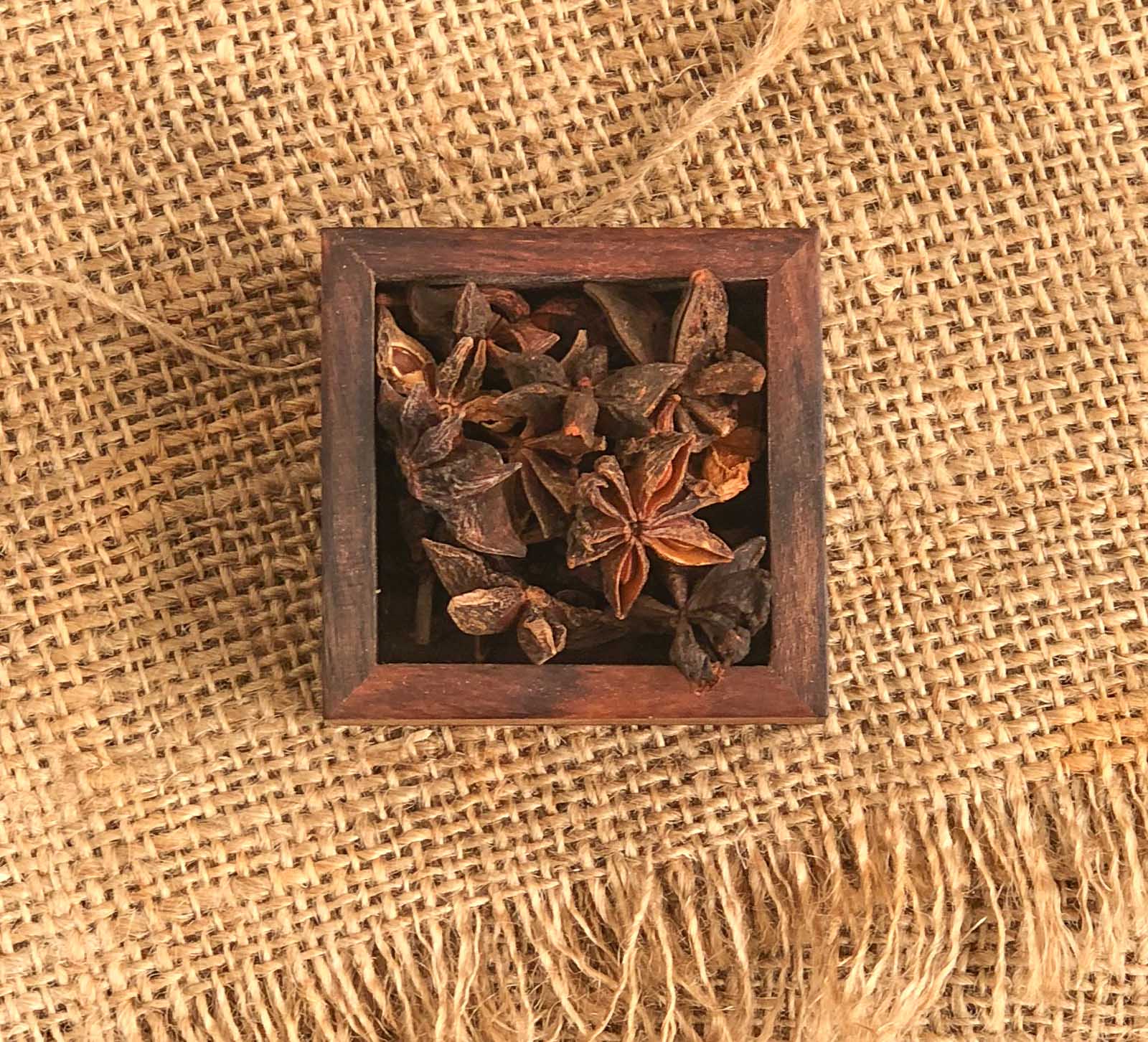 By far the most aromatic spice that is used in Indian cooking, a star shaped beautiful looking spice used in recipes like biryanis and pulaos. The spice has sweet and woofy notes lending a flavour to that of fennel.
An important ingredient in the malvani masala, it not only lends flavour and texture but also great aroma.Most often, yet not popularly known is that it is used in the authentic chai masala.
The medicinal benefits include helping fight rheumatism and back pains. It is also helpful in warding off the flu and coughs and has anti-bacterial, anti-fungal properties as well.
23. Dalchini/ Cinnamon Stick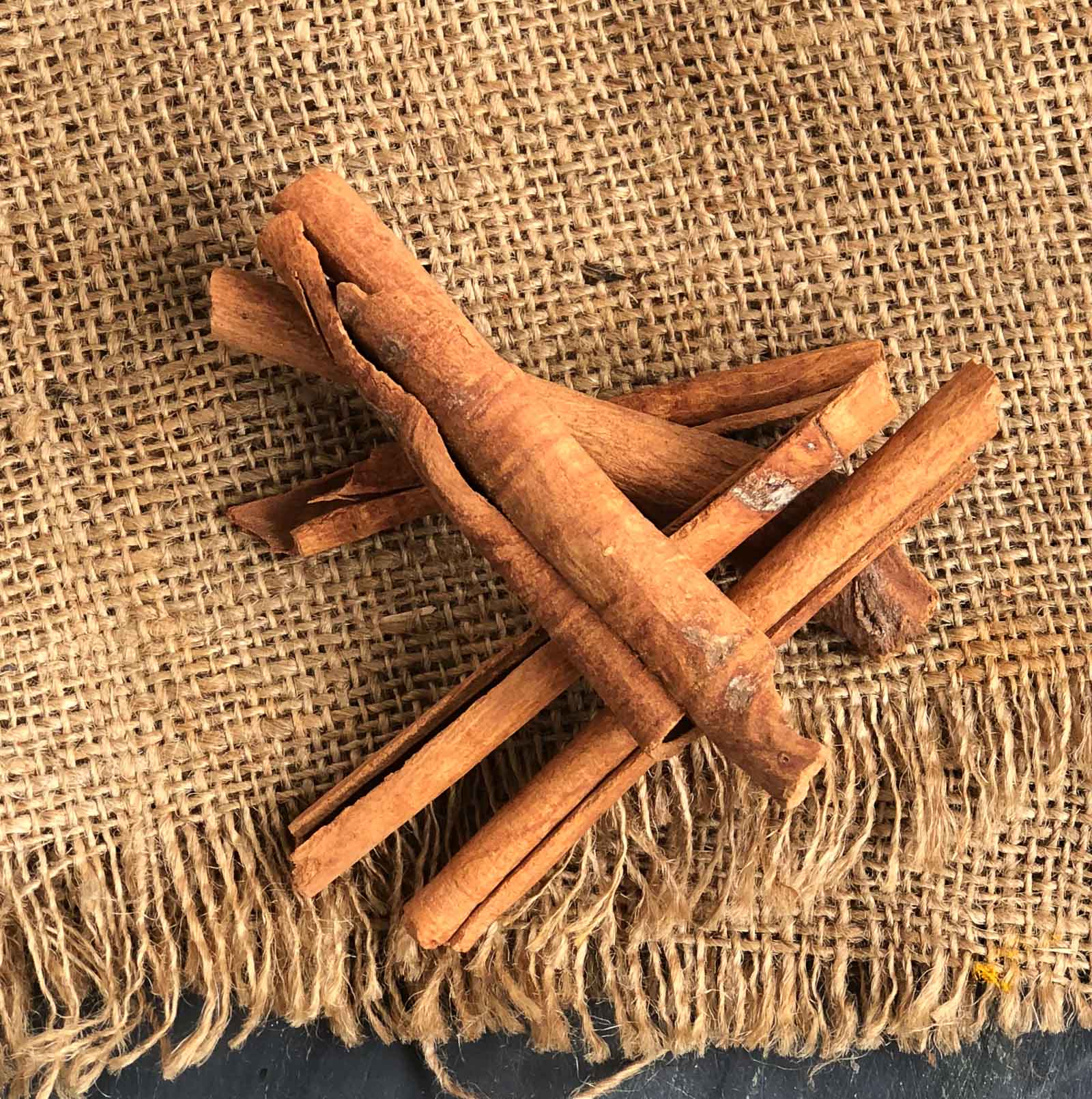 A woody yet sweet flavoured spice, cinnamon is the bark of a tree, that is harvested and sold in the form of sticks.
This spice is used both as whole and powdered.Used in spices mixes and biryanis and pulaos, it is said the most popular ones of great quality is from the Ceylon region of Sri Lanka.
This Ceylon cinnamon is said to be rich in antioxidants and very good for reducing cholesterol and stabilizing blood-sugar level, making it great for diabetics.
24. Laung/ Cloves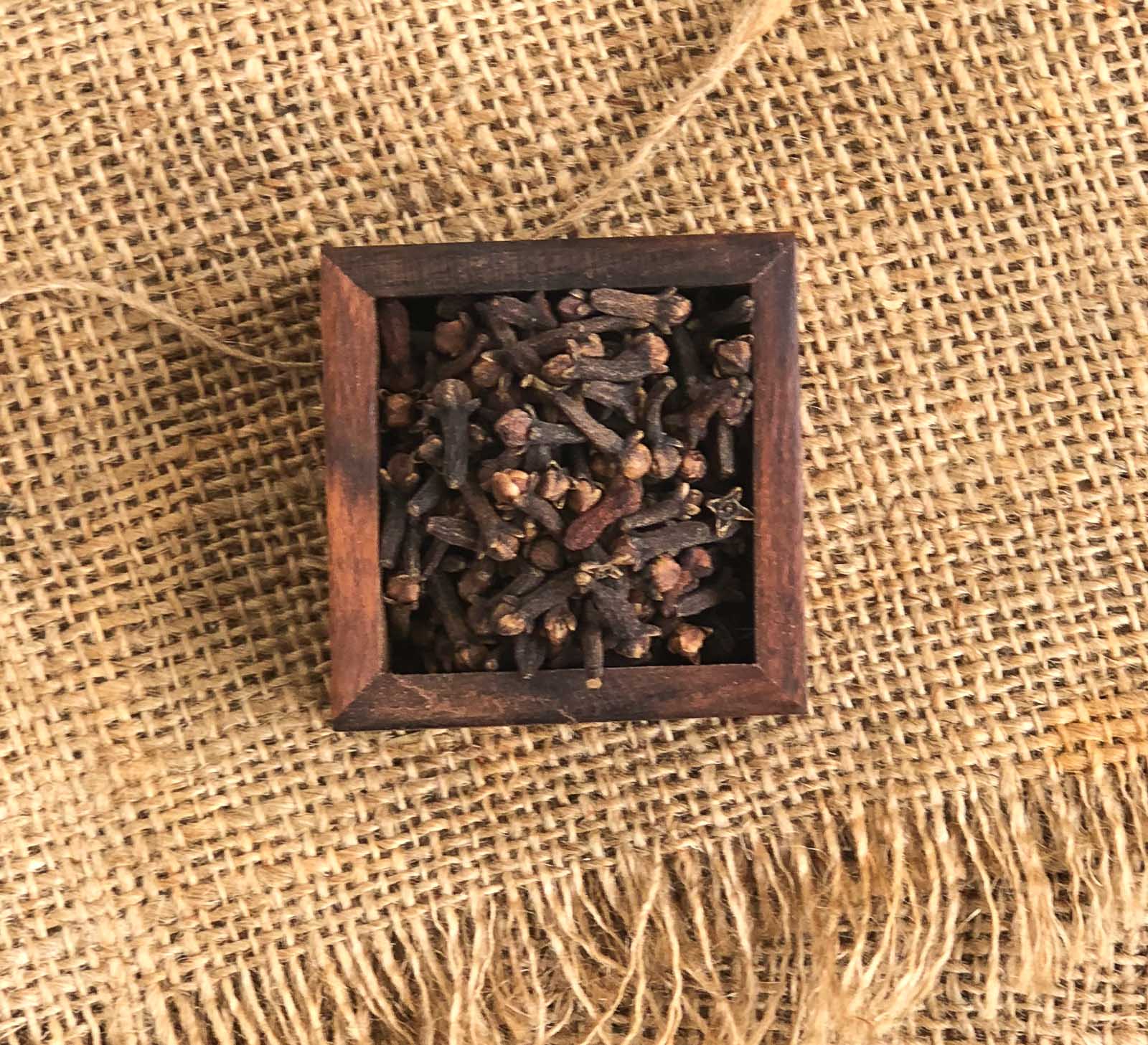 Small, dark, tiny flower like, the cloves are highly strong and pungent. It releases its flavours in the oils and advisable to remove them before serving the dish in which it is present, as its bite is absolutely displeasing.
Woody and warm, it finds its pace in the South Indian Kesari bath, pongals, khichdis and needless to say that they are part of most Indian spice mixes.
25. Sukhi Lal Mirch/ Dry Red Chillies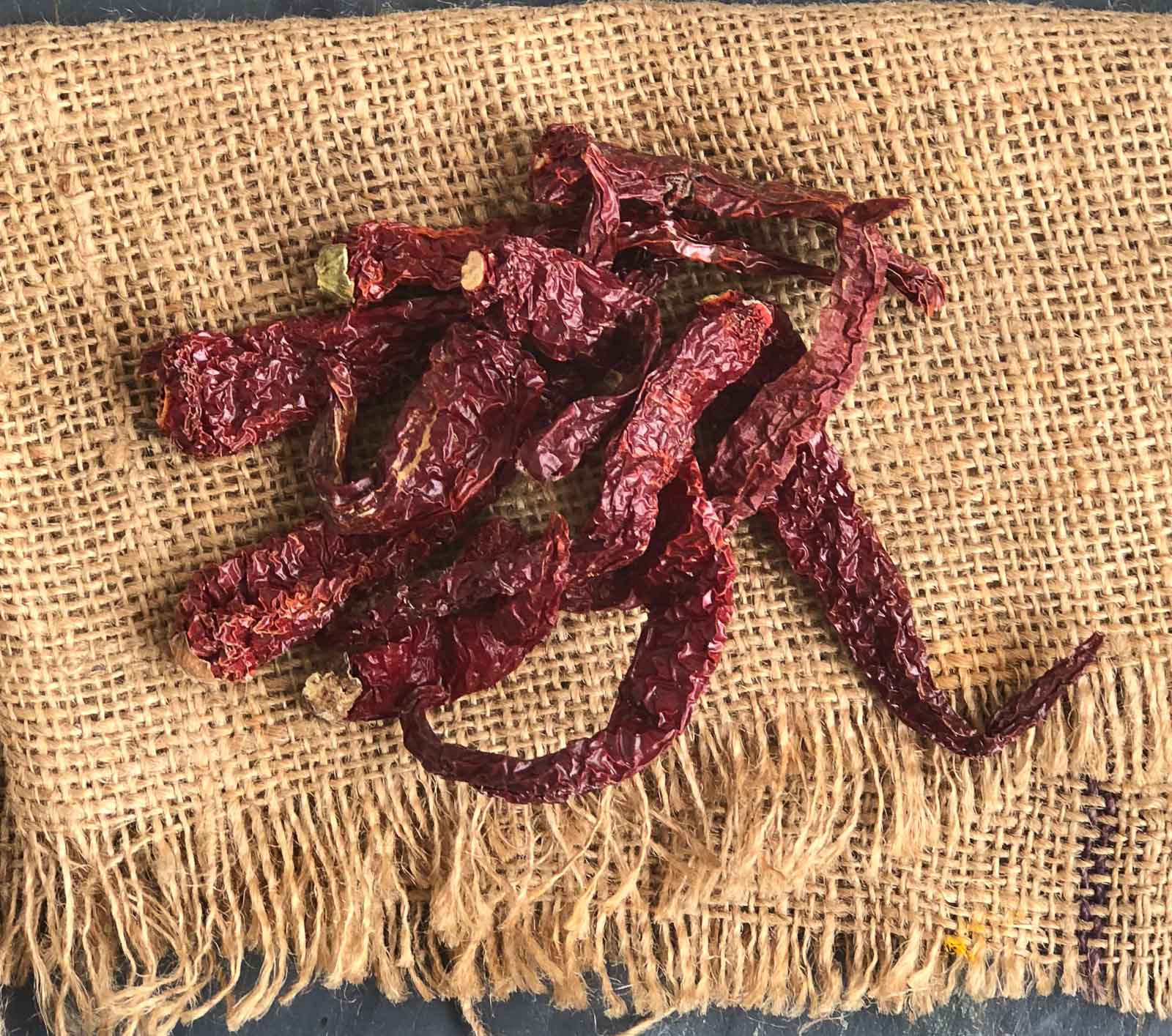 The most widely used spice irrespective of cuisine, red chillies come in varieties of not just shapes but also colour and pungency. The wrinkles dry red chillies are high on colour and medium spic. Locally known as Byadgi in the South.
Then come the Kashmiri red chillies which are essentially just high in colour. Yet another popular one from Gujarat is Reshampatti that has an a deep maroon colour and is medium spicy.
Used not only in Indian everyday cooking, but also in chutneys, chutney podis, pickles and Indian spice mixes like garam masala and sambar powder.
26. Rai/ Mustard Seeds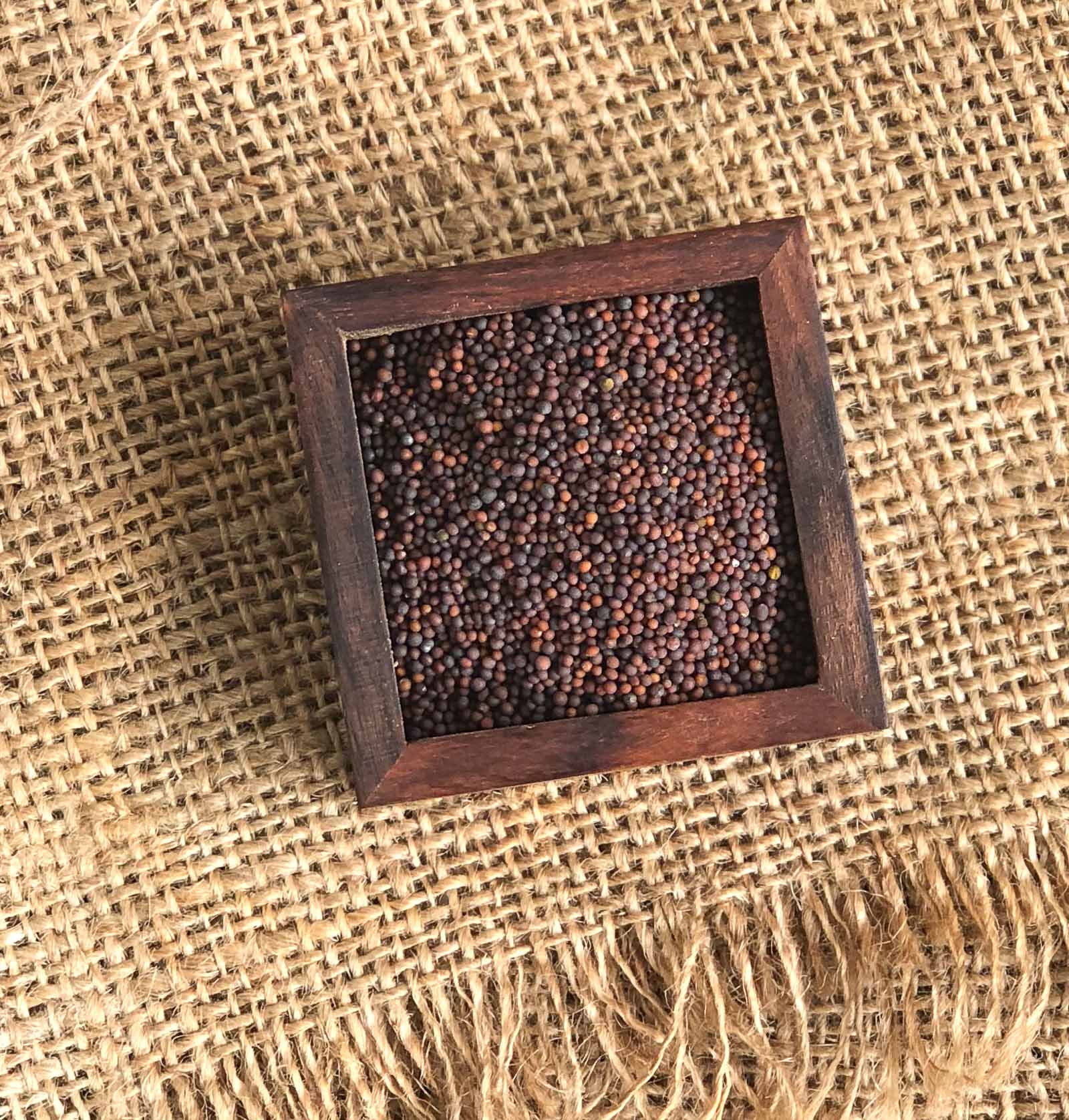 Dark brownish black, tiny ball like seeds, are these mustard seed that are mostly used in South Indian cooking, and the yellow variety is used in the West Bengal area in the Bengali cuisine.
However mustard seeds can be yellow, black, or brown and are used interchangeably in the Indian cuisine. The flavor of mustard seeds is released when they are crushed or cooked in oil. Their smoky, nutty flavor adds to the taste and bite to the dish, and mustard oil is commonly used in the North of India.
While the black mustard seeds are used in tadkas or rasam, sambar or any South Indian Dishes, the yellow mustard finds its place in achaars and pickles and freshly ground masalas in Bengali food.
27. Jeera / Cumin Seeds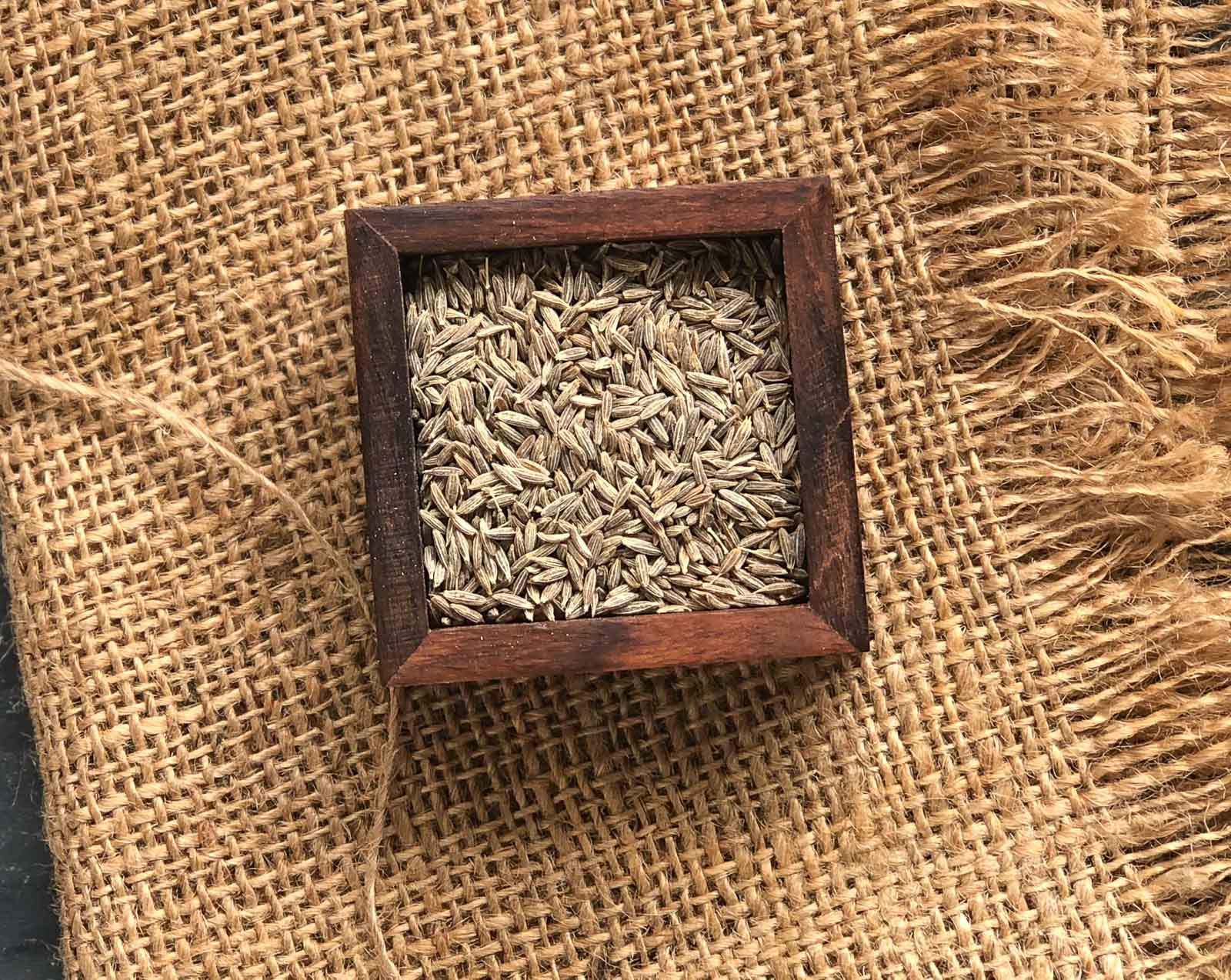 Warm and earthy, slightly sweet and slightly bitter, these tiny elongated, ridges, greenish brown seeds, are high in flavour and release their aroma when put in hot oil. Various dals and khadis, add the jeera tadka as the final step, to keep its flavours intact.
Used in various gravy, dal, and rice recipes, often jeera is dry roasted on low flame and powdered, to be used in many recipes.
It helps in digestion and is advisable for pregnant women to treat nausea and increase lactation. It also increases metabolism.
28. Methi Dana/ Fenugreek Seeds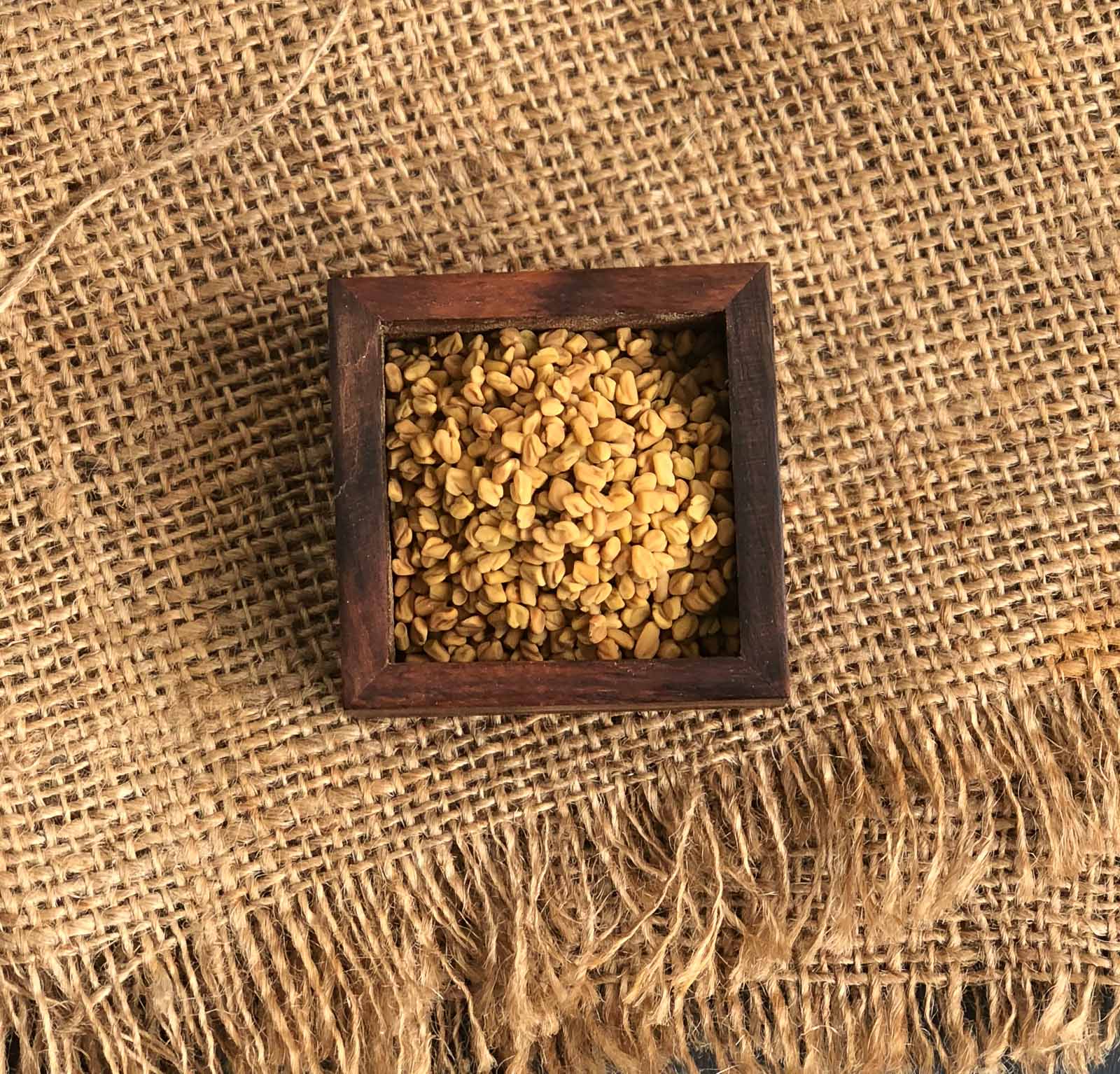 Brown small flat seeds, that are highly pungent are used in tempering most of the time as these seeds are bitter. In the state of Rajasthan methi seeds is used as the core ingredient where methi seeds are dunked in a rich flavourful gravy.
Methi Dana is also one of the main five ingredients of the panch phoran masala.
Fenugreek too offers great digestive properties, is used to treat diabetes, reduces blood pressure, and congestion
29. Kalonji/ Onion/Nigella Seeds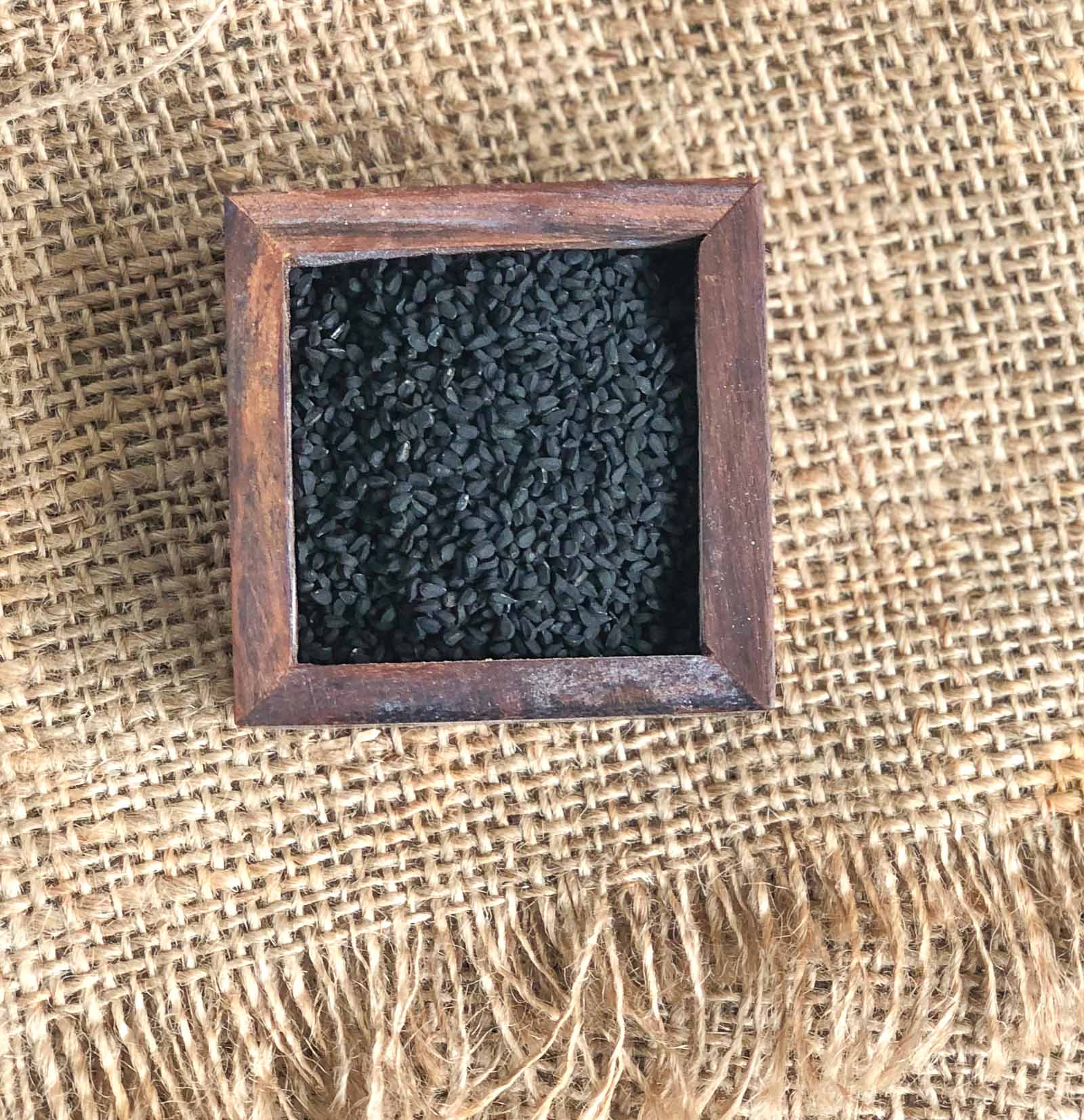 Tiny black teardrop shaped seeds, Kalonji is quite pungent.It is used on naans and kulchas in the Indian cuisine and not to forget the lovely aroma and flavour they release when added to pickles.
Kalonji as well is one of the five main ingredients of the panch phoran masala.They're nutty, peppery and pungent.
30. Saunf / Fennel Seeds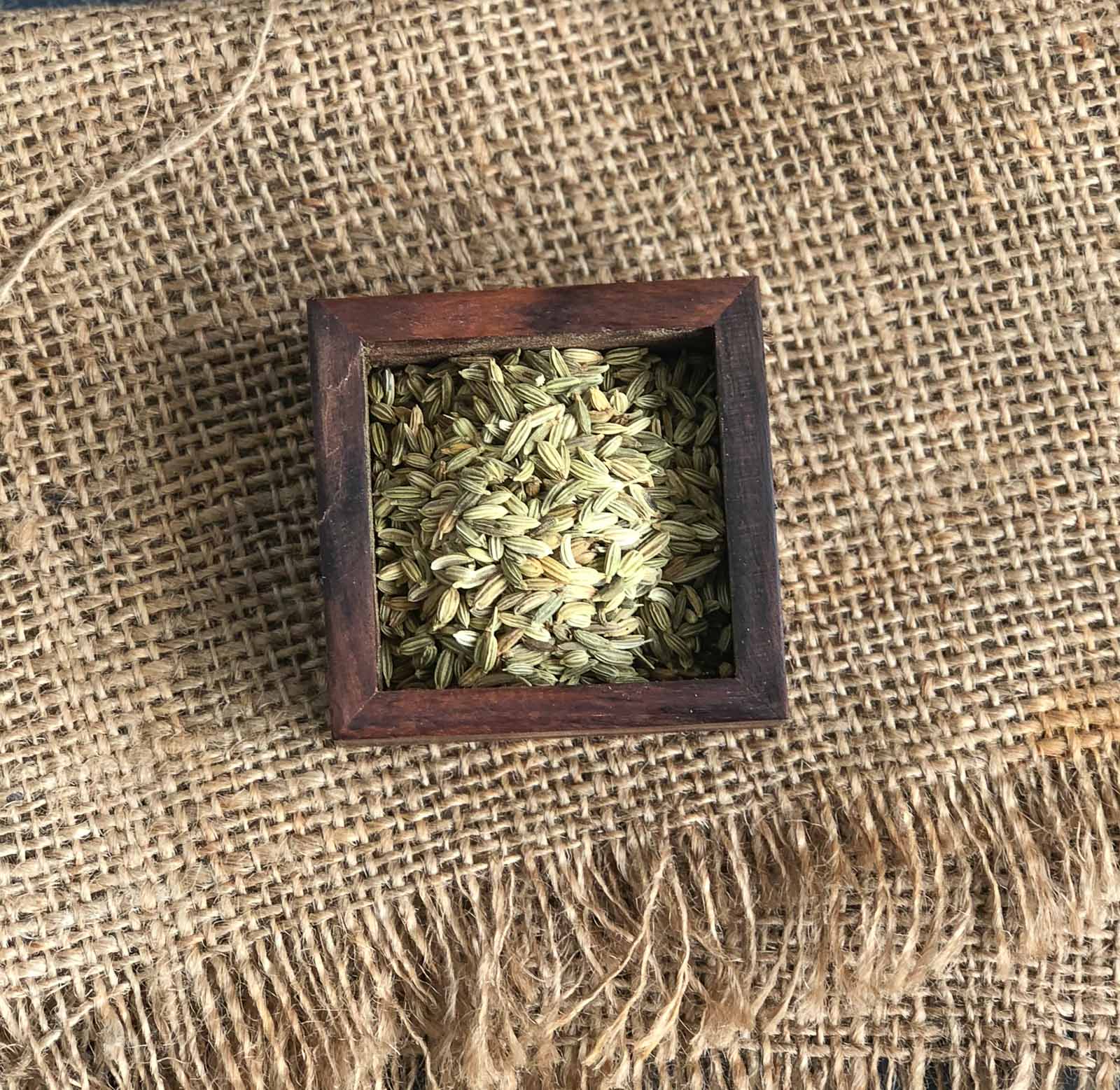 Green, cumin like long seeds, fennel seeds have a nice earthyflavour. When dropped in hot oil, they give out great flavour. They are sweet in taste and have a liquorice flavor.
It is commonly used as a mouth freshener after meals. It is also a good remedy for stomach problems. It is known for its cooling and digestive properties.Fennel as well is one of the five main ingredients of the panch phoran masala.
It is often roasted along with some salt, turmeric powder and lemon juice to add add flavour to it and this flavoured saunf is eaten after meals that will help digestion and act as a mouth freshener.
31. Jaiphal/ Nutmeg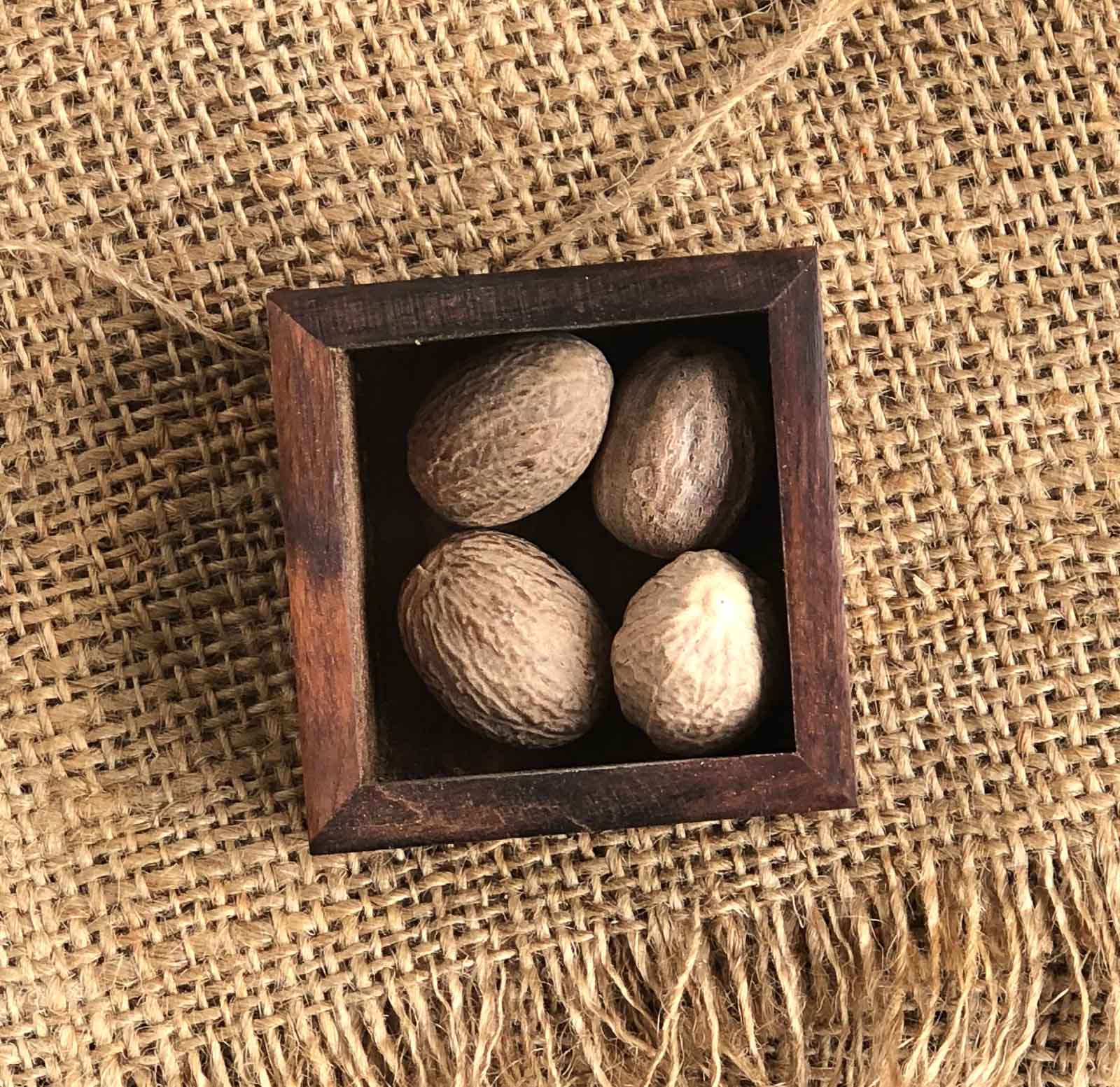 A rustic ingredient, this aromatic has earthy notes, that is essential mainly in Kashmiri cuisines, mostly in mutton recipes.
Nutmeg is used by freshly grating it to avail its maximum flavour.
Warm and sweet in flavour this aromaticaids in sleep as often parents add a pinch of powder in the milk to put children to a sound sleep.
32. Javitri/ Mace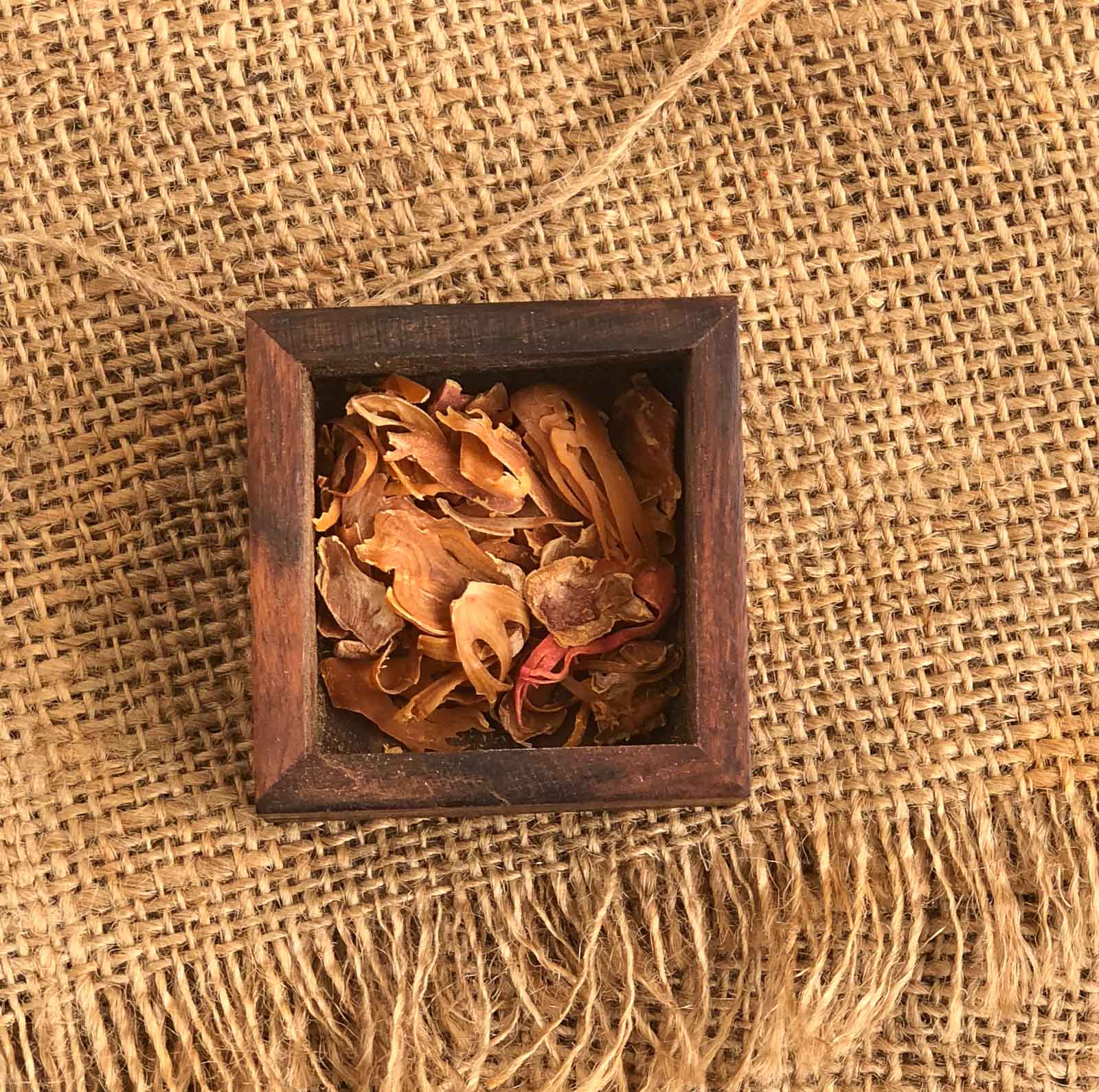 Derived from nutmeg, Mace basically is the dried outer covering of the seed. It has a vibrant yellowish-red tinge and is very aromatic.
The flavor is similar to that of nutmeg but more peppery and strong.
This spice is used in treating digestive issues like diarrhoea, nausea, stomach pain and intestinal gas. It is also used in treating insomnia.
33. Tej Patta/ Bay Leaf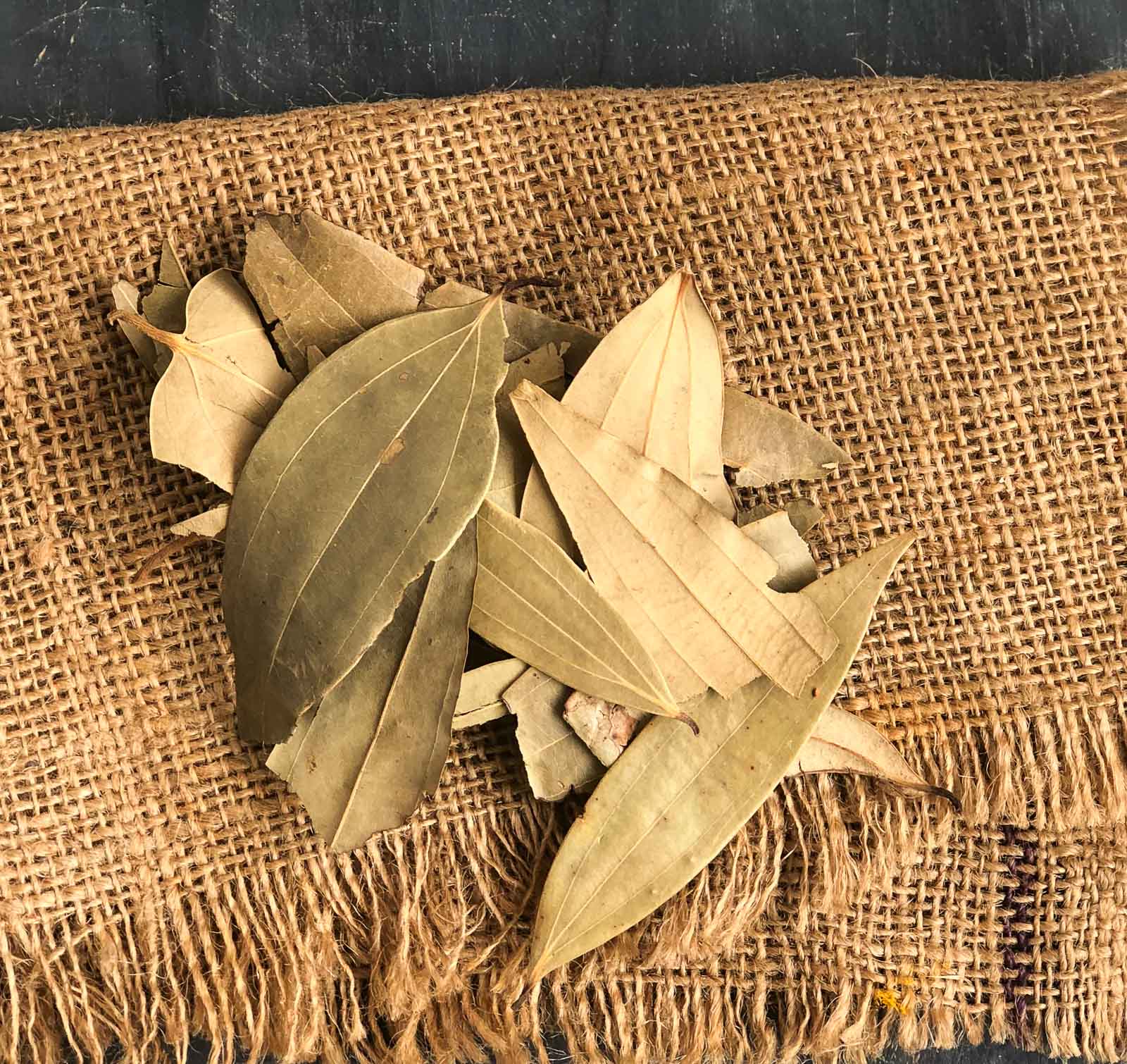 A fragrant leaf, that is dried and used in non vegetarian gravies and biryanis and pulao, bay leaves has a mildly bitter taste and it gives out a lovely aroma in the dish.
Bay leaf can treat high blood sugar, gastric ulcers, fungal infections and migraine.
34. Dhaniya/ Coriander Seeds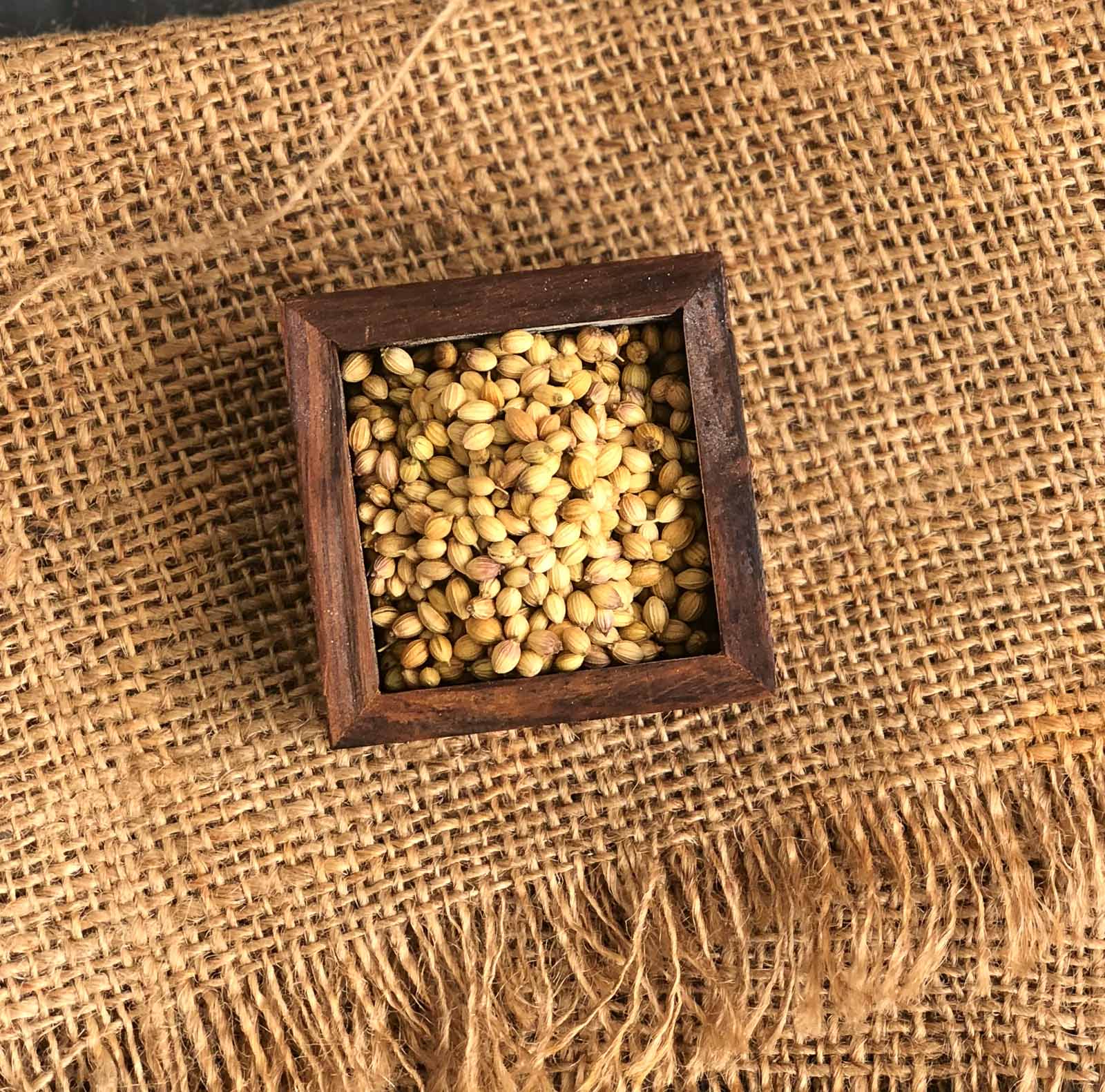 Brownish small dry balls, that are packed with flavour, dhaniya seeds is an integral part of the authentic garam masala.
These seeds are used in curry powder, curries, pickles, sambar and rasam - famous South-Indian dishes are incomplete without their main ingredient, coriander seeds.
It's believed to settle an upset stomach and be good for digestion as well.
35. Ajwain/ Carom Seeds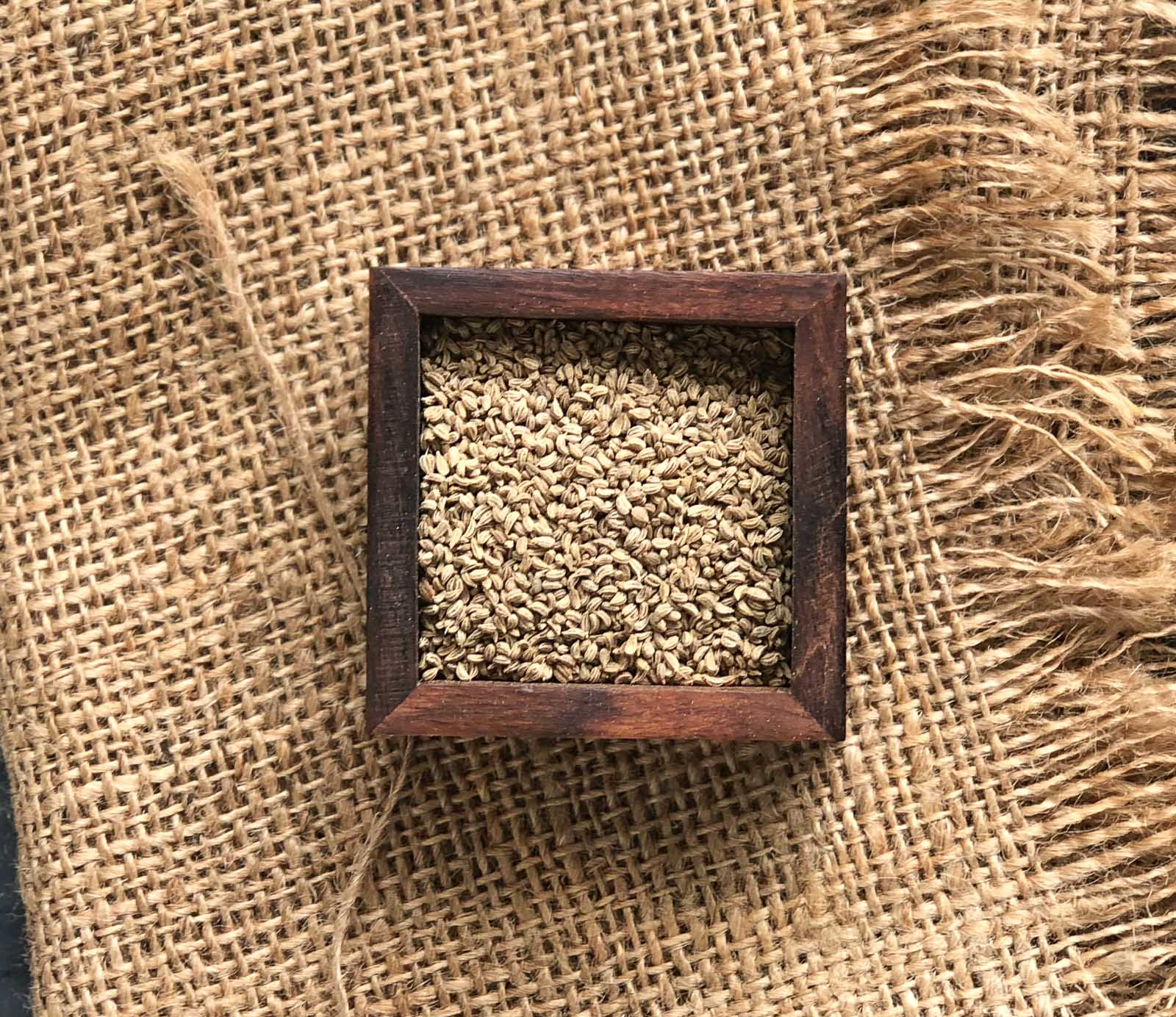 Carom Seeds are nutty and have an aroma quite different, refreshing in a way. They are highly aromatic, bitter and pungent. Used in Parathas like aloo and mooli paratha and the classic plain ajwain paratha.
Carom seeds have huge digestive properties too.
36. Kali Mirch/ Black Peppercorns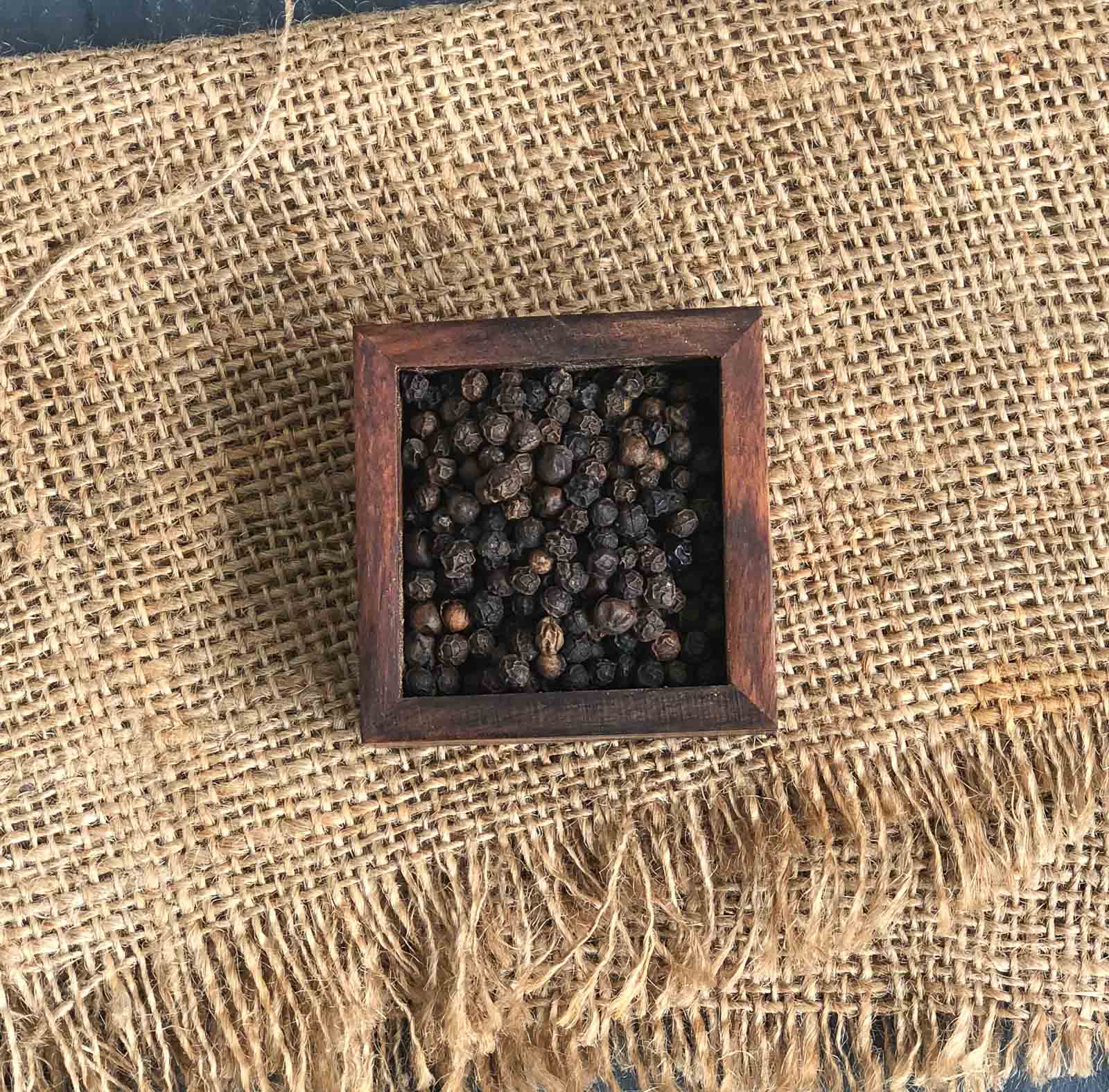 Originally Black pepper is native to India, primarily from the Western Ghats and Malabar region. It grows in damp, mushy areas, and does not require sunlight. It highly depends on many natural cycles, like rainfall, which is why the prices for fresh pepper vary a lot.
For the best flavor, however, fresh black pepper can also be ground directly into dishes that makes the dish taste great.
37. Pathar Ka Phool/ Black Stone Flower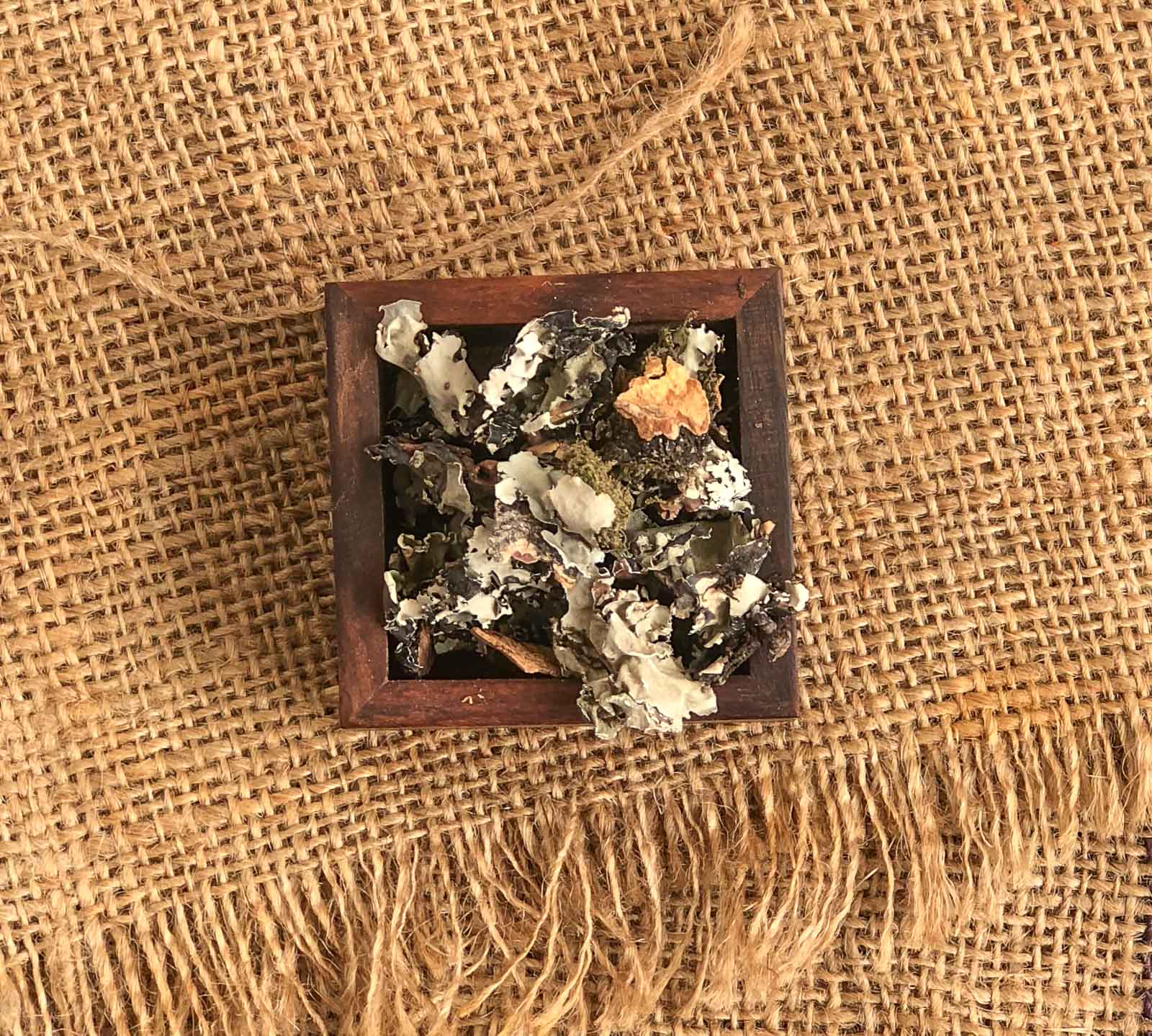 Pathar Ka Phool is a species of lichen. Woody and musky in flavour, this spice is paper like. Goes well in biryanis and chicken-mutton gravy dishes.
It is used extensively in Chettinad cooking, especially non vegetarian dishes, and in the Maharashtrian Goda masala.
38. Poppy Seeds/ Khus Khus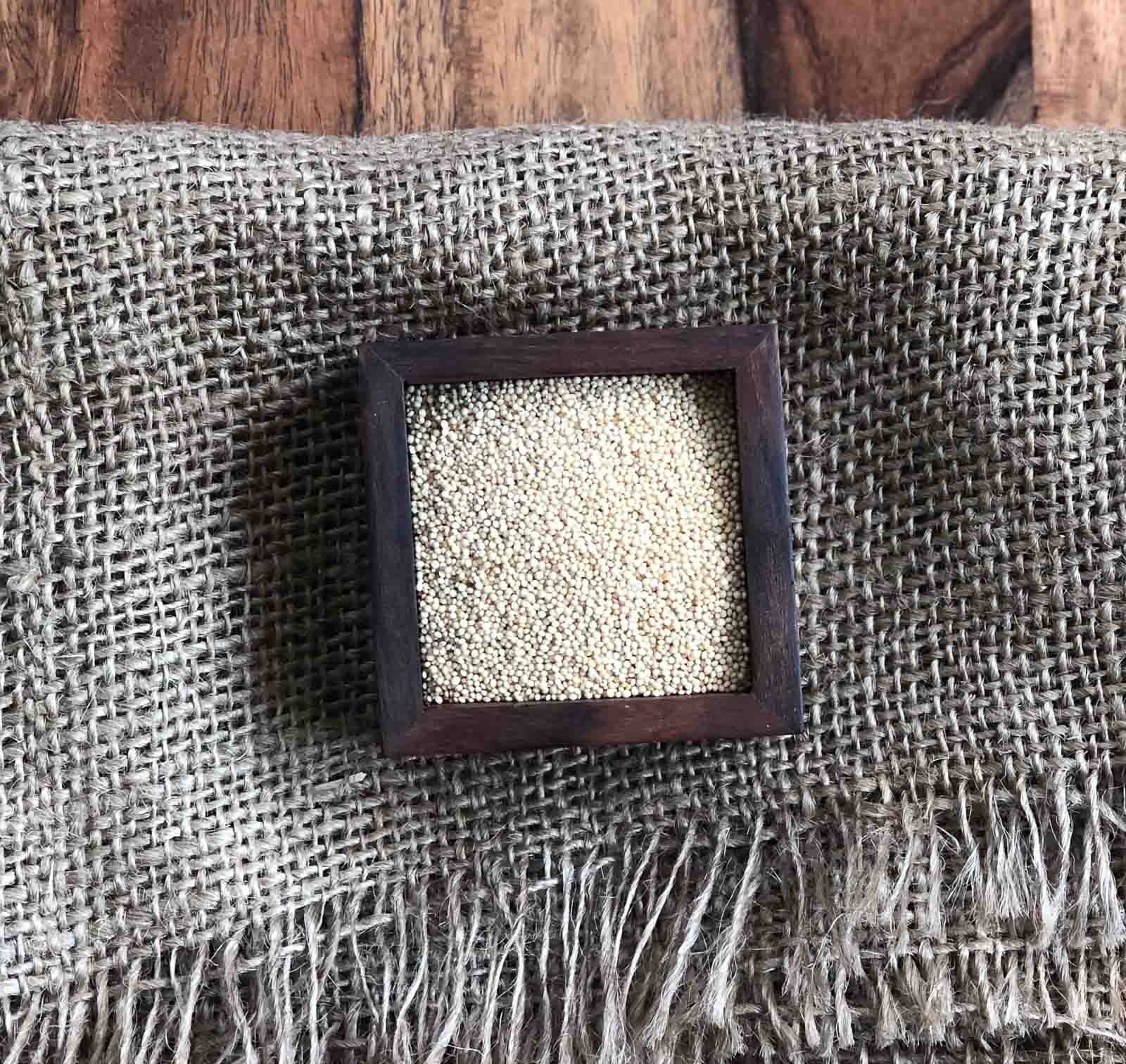 Poppy seeds are obtained from the dry pod of the poppy plant. It is widely used in Indian cooking, from gravies to sweet dishes, it adds a nice nuttiness in the dish it is added. Also used as a top sprinkle on homemade breads, it adds a lovely bite to the bread.
Other Ingredients
---
39. Split Urad Dal
Split Urad dal is the skinned black lentil that is split. This dal is mostly used in tadka down south, be it in poriyals, palyas or chutneys. It adds crunch to the dish.
40. Kasuri Methi/ Dried Fenugreek Leaves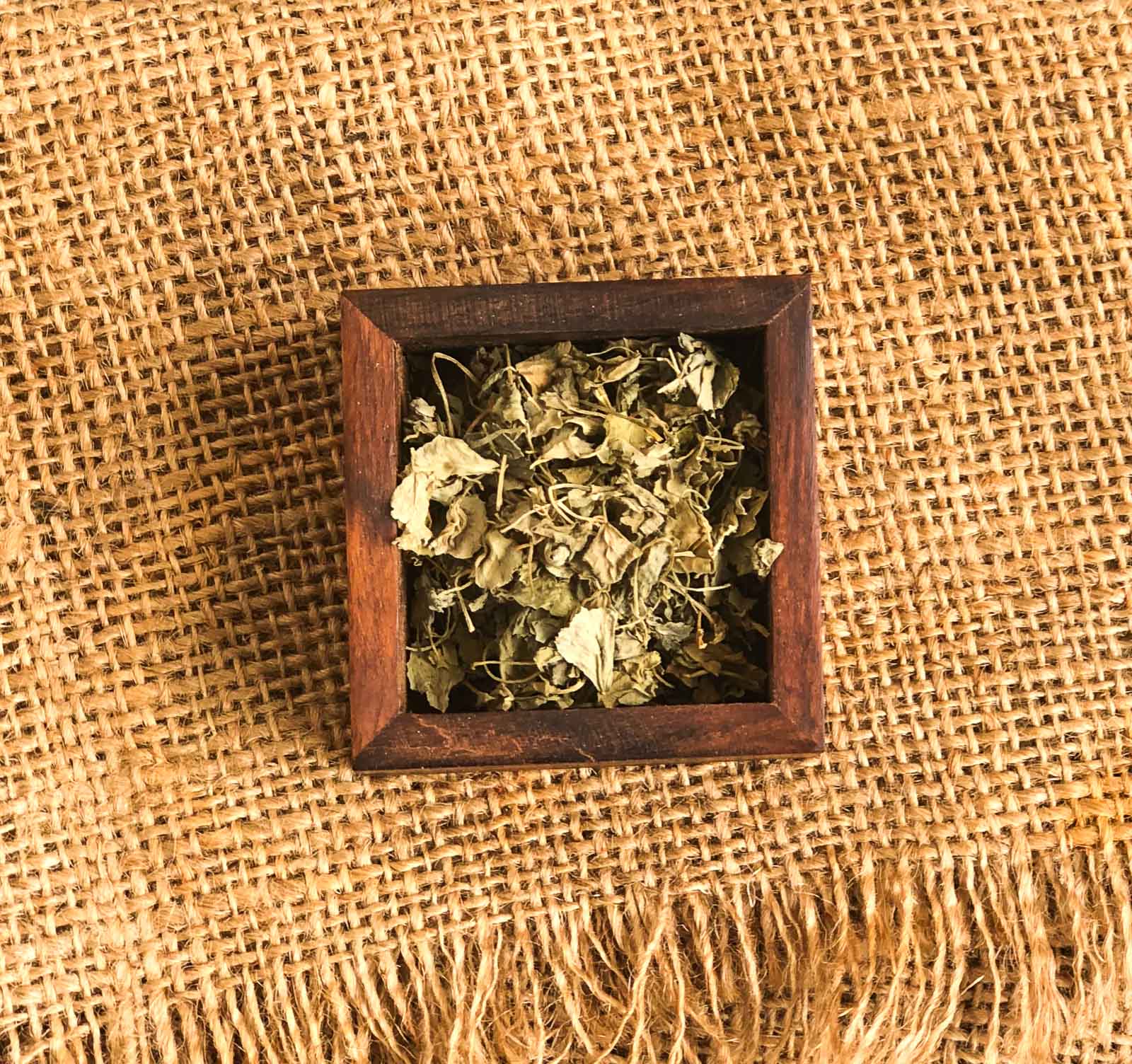 Kasuri Methi is essentially methi that is sun dried and stored, that can be used for dishes.Typically these dried leaves are crumbled and sprinkled over non vegetarian and certain North Indian Vegetarian dishes before serving