Office Lunch Box Recipes & Kids Lunch Box Recipes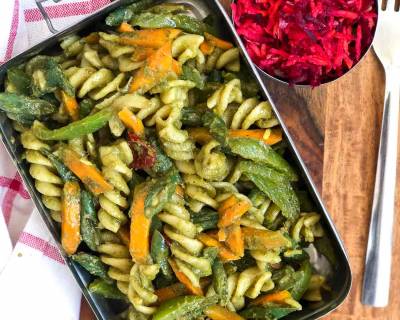 Lunch Box Recipes: Lemongrass Pesto Pasta & Beetroot Salad
Packing pasta for your kids is the best lunch that they can look forward for. Pasta is one of the favourite dish that the kids would love to much on. This way you can add vegetables that are essential for the kids into your pasta dish that can help them gain nutrition necessary for their body.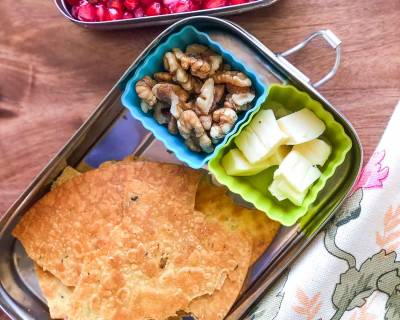 Kids Lunch Box Recipes: Methi Khakhra, Pomegranate, Walnuts & Cheese Cubes
Here's a simple and yummy Snack Box Idea for your kids which includes Methi Khakra, Pomegranate, Walnuts and Cheese Cubes. Methi Khakra is a yummy Gujarati snack which is liked by the kids. They love to munch on them during their snacks break. This Khakra is flavoured with methi which makes it more flavourful and tasty.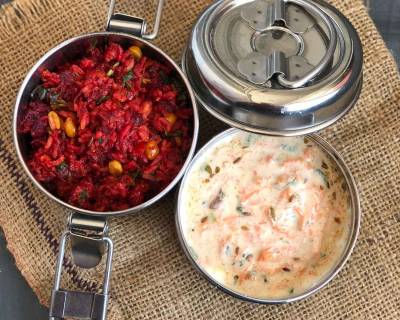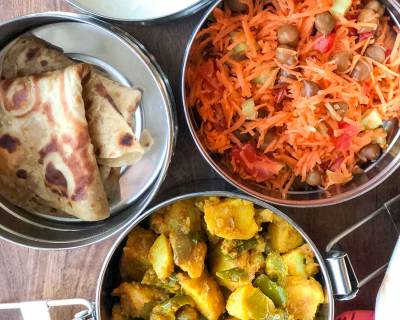 Lunch Box Recipes: Aloo Simla Mirch Sabzi, Kala Chana Salad & Tawa Paratha
Pack your kids or Office lunch box with Aloo Simla Mirch Ki Sabzi, Kala Chana Salad & Tawa Paratha to keep their diet healthy and fit. It is always a big task for all mothers to decide on what to make for their kids lunch box. But we have made it simple for you by adding dishes that your kids would love to try them out. At the same time keeping the shortage in time in mind we have planned the menu plan can be made in a jiffy.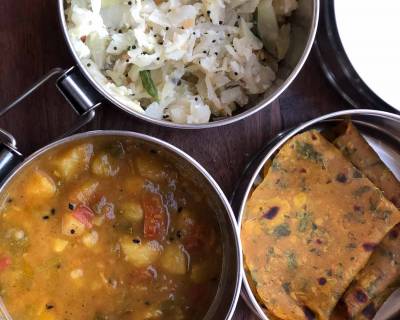 Lunch Box Recipes: Muttaikose Poriyal, Aloo Shaak, Thepla & Curd
Here is a simple lunch box plan with Muttaikose Poriyal, Aloo Shaak, Thepla & Curd .The basic lunch box meal that goes really well for office meal or it can be even packed for your kids meal box s well. Do not worry on how long this will take to make in your busy morning schedule. The recipes that we have added into the box are simple to make and quick to cook.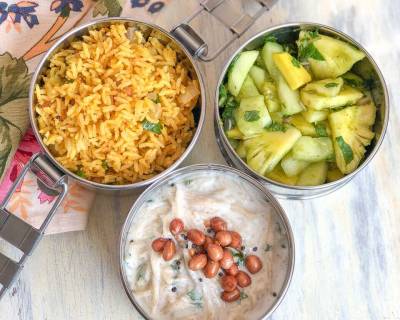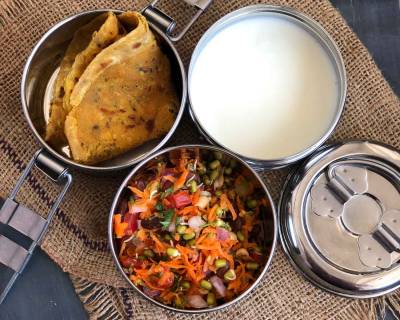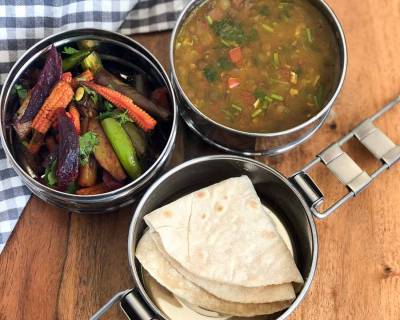 Lunch Box Recipes: Beetroot Baby Corn Sabzi, Masoor Dal & Roti
Start your week's Kids Lunch box meal with a healthy option of Aloo Beetroot Baby Corn Sabzi, Tadkewali Masoor Dal & Phulka. In this meal box we have filled in as many vegetables to keep it rich and healthy. The sabzi is made with good crunch of vegetables and goes really well with creamy masoor dal.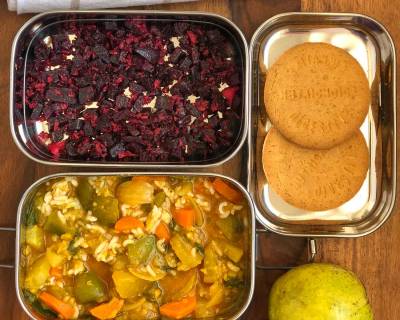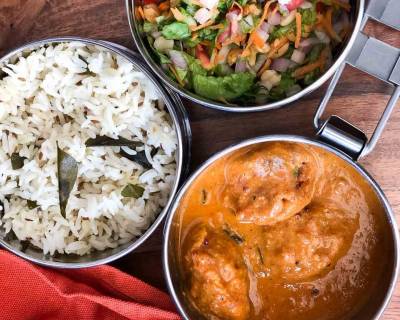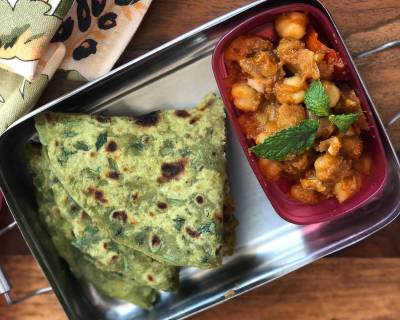 Lunch Box Ideas: Tamatari Chole And Palak Paratha
Here is a wholesome Lunch Box idea which has Tamatari Chole along with Palak Paratha. You can pack this delicious and healthy Indian Lunch Box for your office lunch or even for your kid school lunch box.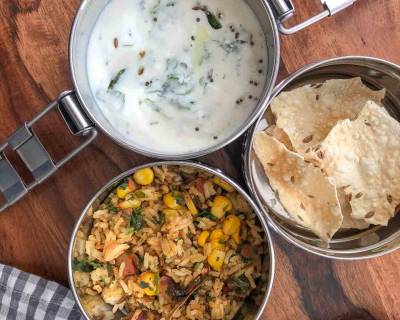 Lunch Box Idea: Methi Pulao, Palak Raita & Papad
The summer calls for light and refreshing meals with minimal spices, served along with sides that are cooling for the body. Here is one such lunch box meal that can be packed for both kids school lunch box or even an office lunch box.