Bhujia a crispy snack that is obtained from a small town called "Bikaner" in Rajasthan. The Bhujias are usually made from two main ingredients, which are moth beans and besan (nothing but gram flour). They are fried and flavoured with different kind of spice mixes to create various flavour.
Tasty Treat, has launched a range of lip smacking Bhujias with Firangi flavours like Barbeque, Peri Peri, Wasabi, and Schezwan. We loved each one of them and decided to top them over our favorite dishes.
Open Burger with Vegetable Patty Recipe – Barbeque Bhujia
Barbeque Bhujia has the right smoky and tangy flavour that is present in the barbecue sauce. The tanginess is well balanced by the sweetness and enriched with spices like mustard and pepper.
Guess how we decided to serve this Bhujia? Over a lip smacking Veggie Burger, to add to the crunch! We have to tell you, that it transported us to America! You can also add the Barbeque Bhujia over a French Roast, Chicken Hot Dogs, Grilled Chicken and more to give a crunch to your meal.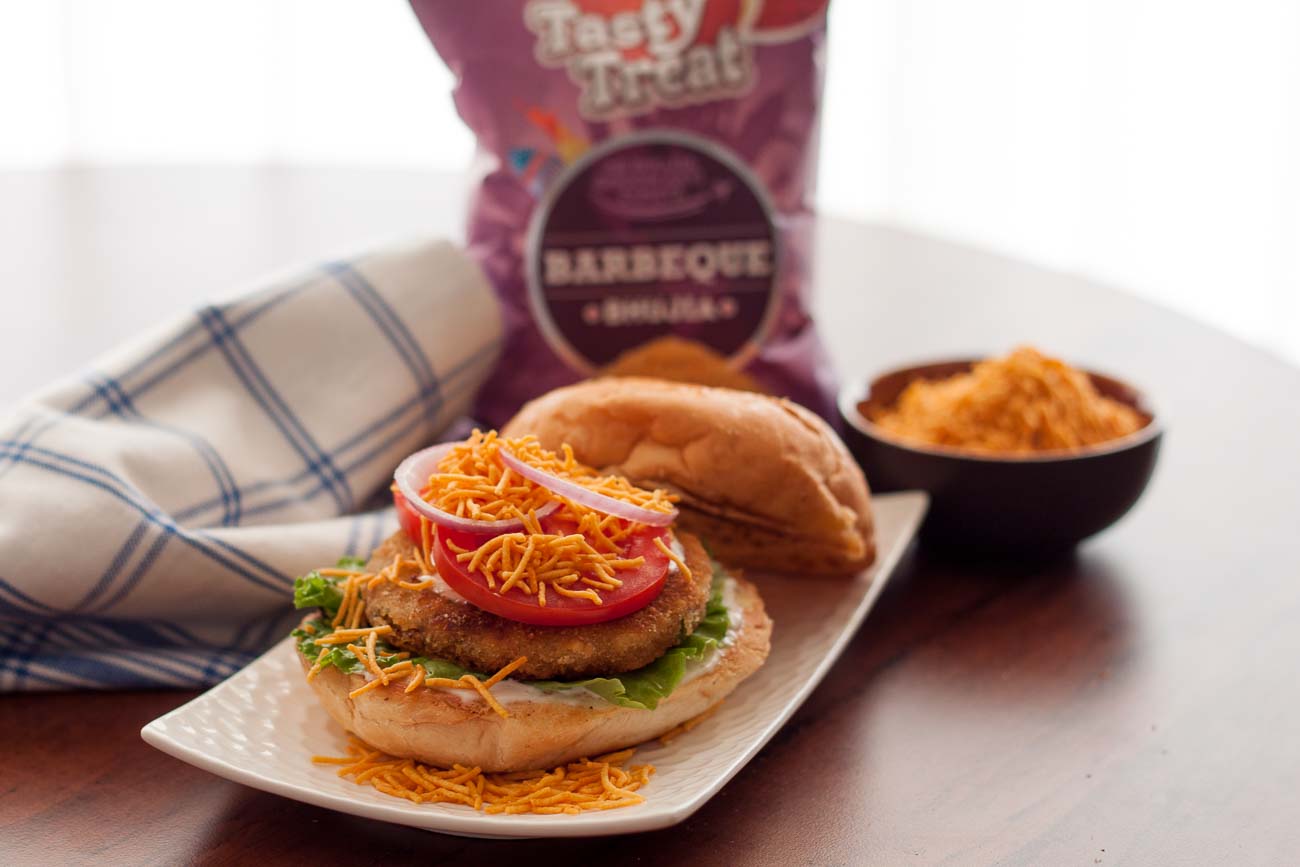 Honey and Sesame Flat Noodles with Toasted Tofu – Wasabi Bhujia
Wasabi Bhujia as we all know has been acquired from Horseradish, a popular root vegetable hailing from Japan. It has a very strong flavour and is very pungent in flavour similar to that of mustard or red chili family. The wasabi in this Bhujia will tickle your taste buds with excitement and transport you to the Sushi Land.
We got excited and decided to make a Rice noodles and add some American Chopsuey crunch to it - and it blew our palates to the moon. And guess what, top this bhujia over a peanut butter jelly open sandwich and trust us, the wasabi over the peanut butter jelly will make you want to keep eating more and more.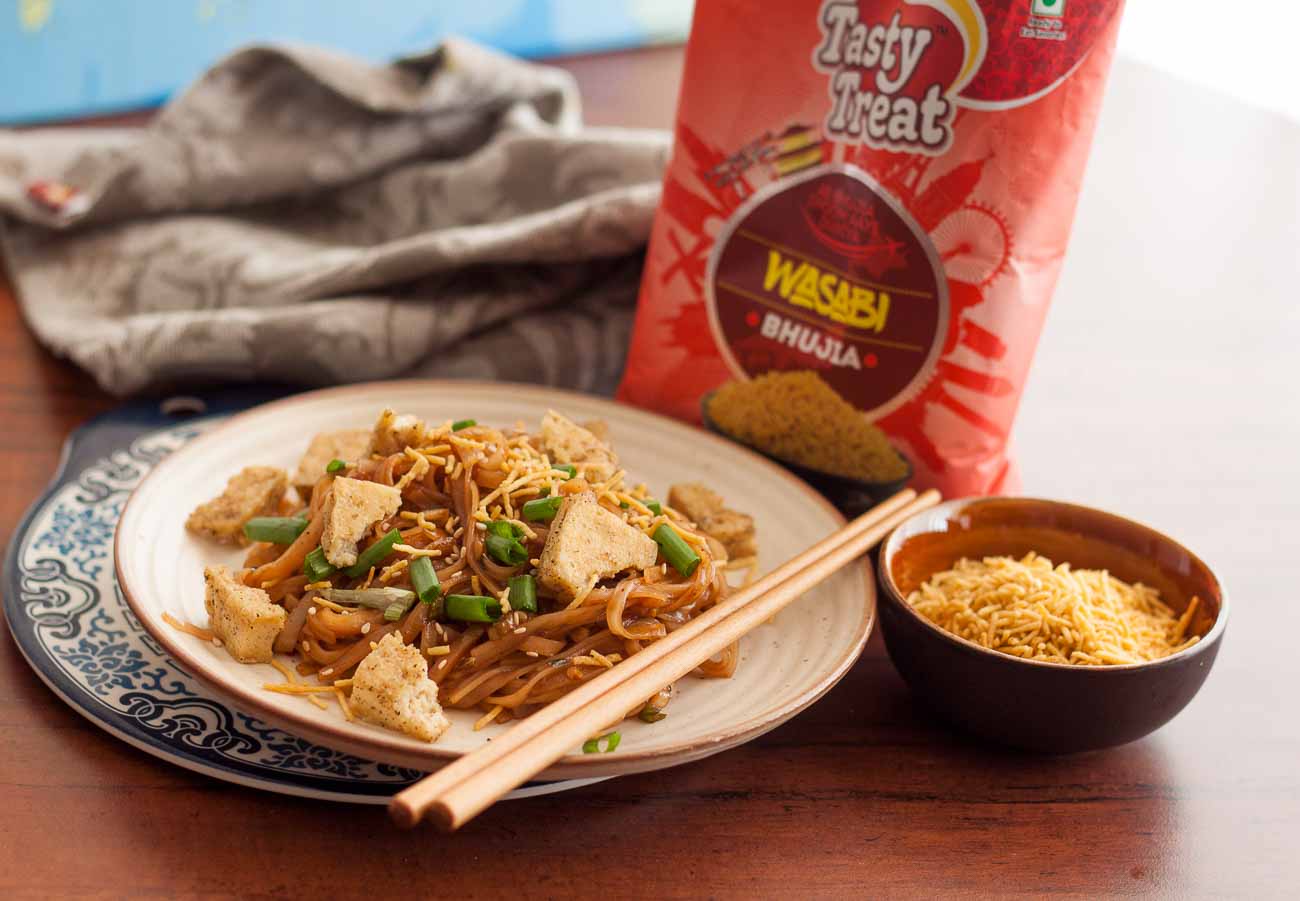 Vegetable Manchow Soup – Schezwan Bhujia
When we think of Schezwan, it is Gobi Manchurian and Indo Chinese like Hakka Noodles, Manchow Soup and more. And don't we love our crunch in the American Chopsuey?
Oh yea! This Schezwan Bhujia was just what we needed to add to the crunch to our Indo Chinese. It had the bold flavours and a hot and spicy taste. It was one of those days, when we wanted to have a Manchow Soup and add that crunch on the top and this Schezwan Bhujia came handy right there! And guess what, not just the soup, top this Bhujia over Hakka Noodles, Fried Rice, Gobi Manchurian and anything that you need a crunch factor and the result will be simply YUM!!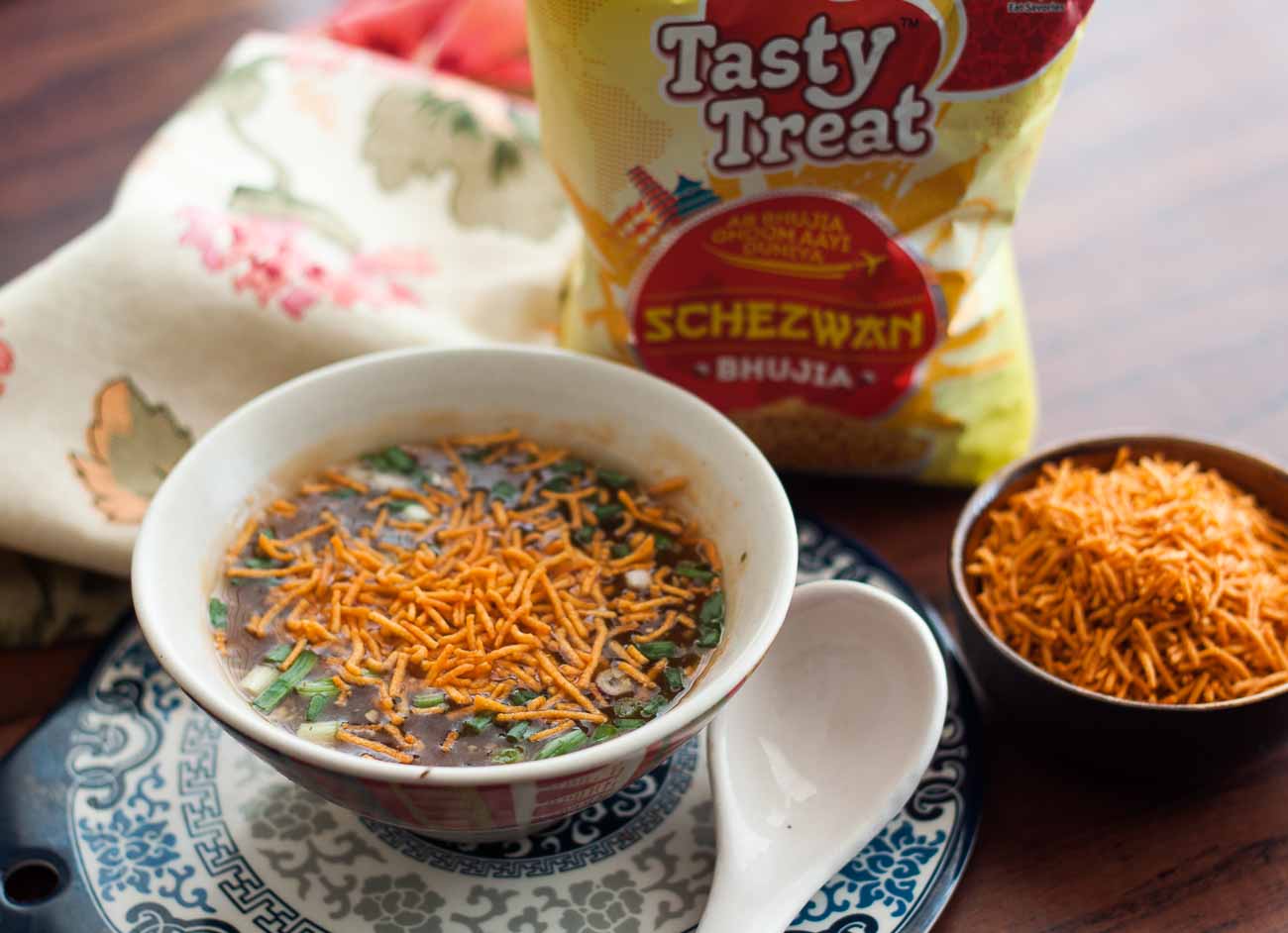 Stuffed Deviled Eggs with Parsley and Mayonnaise – Peri Peri Bhujia
Did you know Peri Peri Bhujia is a flavour originated from Africa - and when we tasted the Peri Peri Bhujia, it had the perfect hint of flavours from the African peppers and felt this was one Bhujia, we can simply have as a snack along with a cup of tea or coffee. But guess what, since we are experts in making a dish of everything, we served the Deviled Eggs that we made for a party and topped it with Peri Peri Bhujia and it was an absolute hit! So there you go, top this Bhujia over your favorite continental appetizers and we promise you will love the crunch and the flavours from the African region!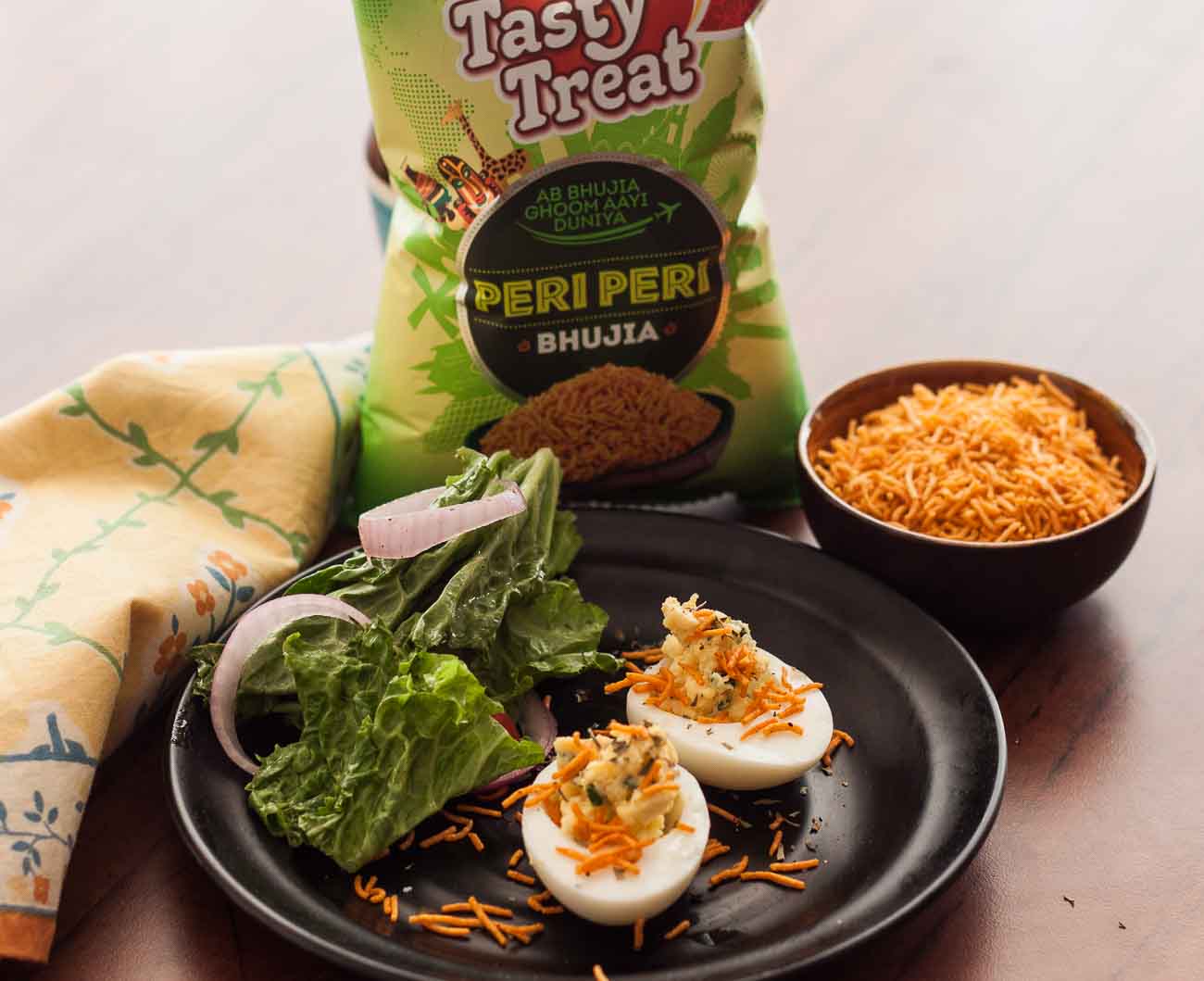 Priced at just Rs.45/-, the Firangi Bhujia is available at most departmental stores like Big Bazaar, Foodhall, Star Bazaar, Hyper City, Nilgiris, Easy Day etc and online stores as well. Also, do check out their website for more information and a lot of fun!