A Creamy & Delicious Gulkand Kulfi Recipe
You must try this classic Indian Gulkand Kulfi recipe for the festival of Holi. It is packed with creaminess from the condensed milk along with perfect blend of flavors of rose petals from the Gulkand.

Archana Doshi
On

Tuesday, 15 March 2016 00:01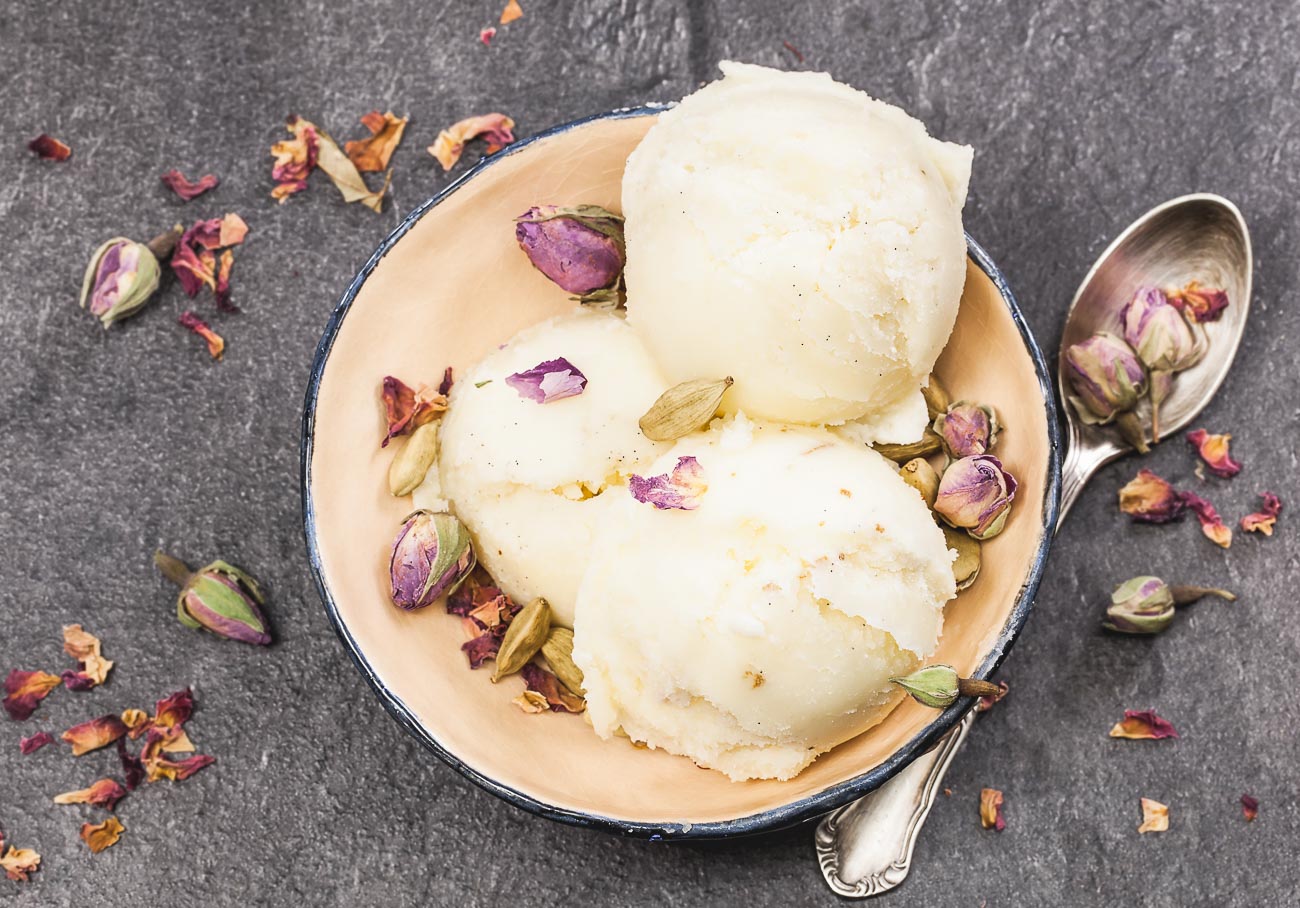 Gulkand Kulfi Recipe is makes a great twist to the classic Kulfi recipe where milk is thickened and nuts are added to it and set in kulfi moulds. In this recipe, we have added a twist to the traditional kulfi by adding Gulkand to make it more refreshing and inviting.
There would be a riot of flavours in your mouth as you dig in the first bite, a smooth creamy texture of milk, the fragrance of gulkand (rose petal jam) and along with the refreshing taste of fennel seeds.
Serve Gulkand Kulfi Recipe as a Indian dessert after your delicious Holi dinner with your friends and family.
If you are looking to make indian dessert recipes for parties, for the festivals like Holi or Dilwai, below are some of our favorites.
Ingredients
3 liter

Milk

, (use 2% fat milk)
1/2 cup

Sugar

1 teaspoon

Fennel seeds (Saunf)

, powdered
1/4 cup

Gulkand

1/4 cup

Whole Almonds (Badam)

, powdered
1 teaspoon

Gulkand

1/2 teaspoon

Betel Nut (Supari)
How to make A Creamy & Delicious Gulkand Kulfi Recipe
To begin making the Creamy Gulkand Kulfi Recipe, we will first have to condense the milk. For this heat milk in a heavy bottomed saucepan and bring the milk to a boil.

Once the milk comes to a boil, turn the heat to low and simmer the milk with almost continuous stirring and reduce the milk to more than half its quantity.

It is important to note that during the initial stages of milk condensation frequent stirring is important, but as it begins to start condensing and reaches less than half the quantity it is absolutely important that you stir continuously.

This is because condensed milk tends to get stuck to the bottom and sides of the pan and burn; leading to a very unpleasant taste. Burning of milk is also toxic so you want to be extra careful.

Once it is reduced to about more than half of its quantity stir in the sugar until it dissolves completely. Finally stir in the fennel seed powder, almond powder saffron and gulkand into the Kulfi milk mixture.

Turn off the heat and allow the Gulkand Kulfi mixture to cool completely. Pour the Gulkand Kulfi mixture in the moulds until 3/4th full, seal them airtight and freeze them in the refrigerator.

The Gulkand Kulfi takes a good fifteen hours or more to freeze. If you get wooden ice cream sticks in the market, you can insert them in and freeze the Kulfis.

Once frozen you can run the Gulkand Kulfi moulds under water to enable easy release onto the plate and serve.

Serve the Gulkand Kulfi Recipe for your Holi or Diwali Party or when you have an elaborate Indian Dinner Menu planned for your parties.